I've been meaning to try this pu'er for awhile – Mandala Tea "Heart of the Old Tree" 2012 Raw Pu'er. This tea is a raw/sheng tea from Nan Mei Village, with material picked from 300+ year old trees.
The name of this tea is interesting. Wild Monk, a big favorite of mine also from Mandala Tea, has that exotic feel to it. Old tree? I do like big old trees. Great artwork on the pu'er wrapper, I love the purple tint to the trees.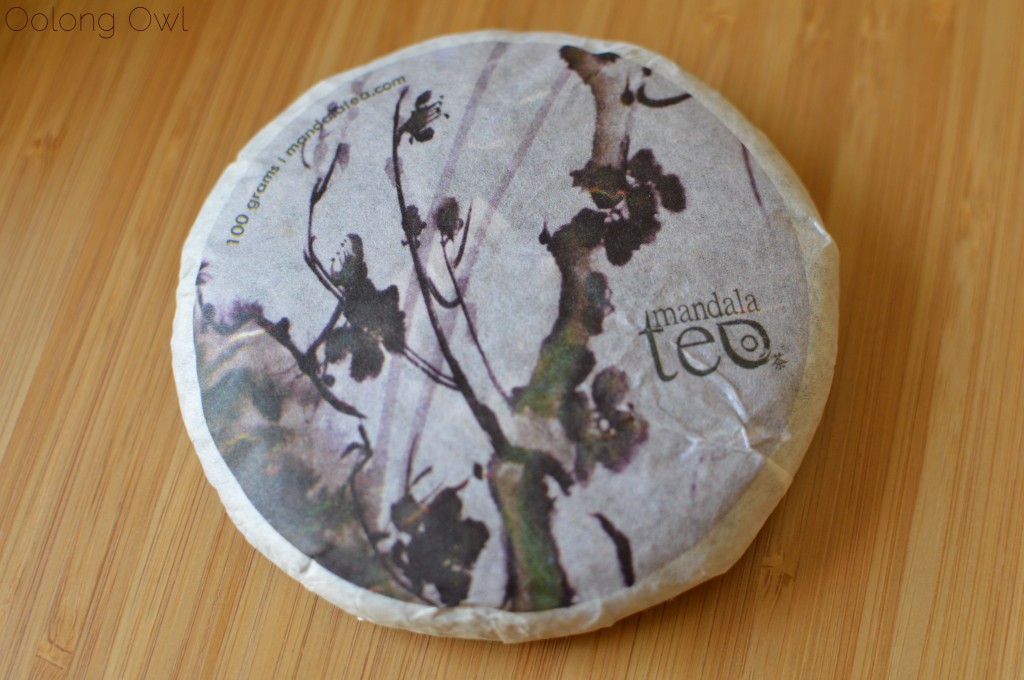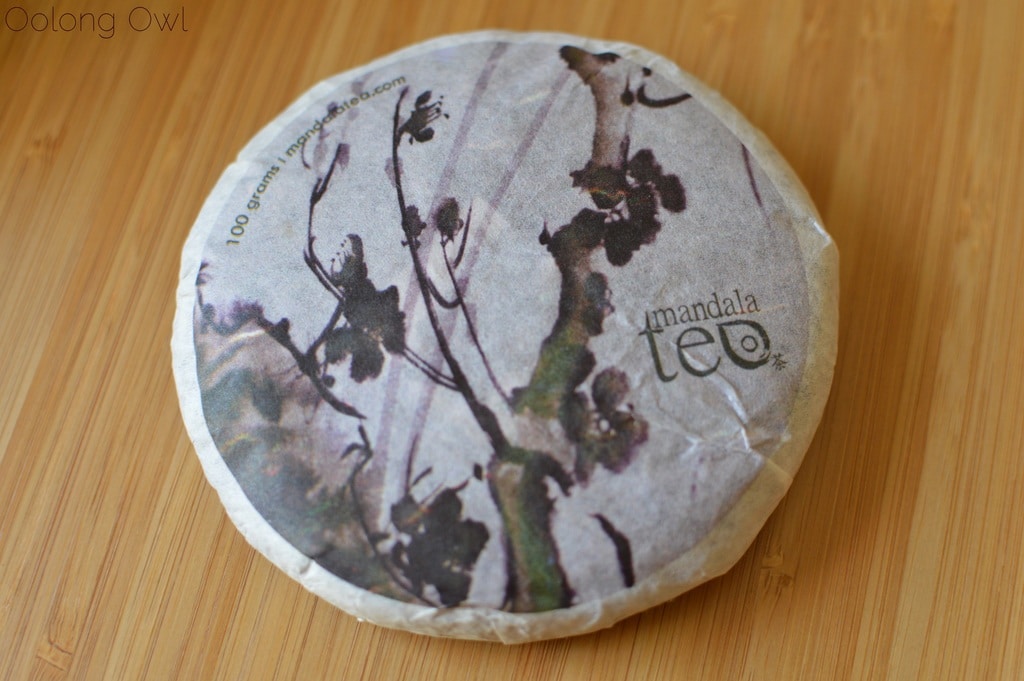 The "Old tree" aspect of this tea attracted my moonkin, Boomy. He's my amigurumi druid Owlbear so he was hoping to see a big old tree to do some ritualistic hip thrust dancing around it.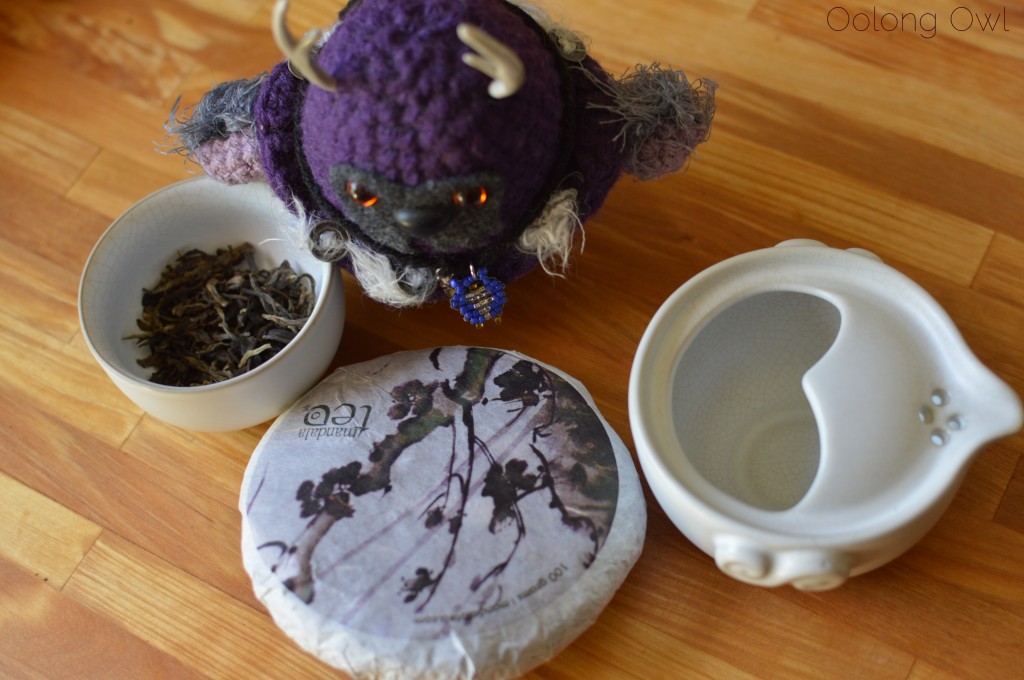 Dry Leaf
The leaf is silvery low saturation with touches of creams and olive greens. Light dry tea scent.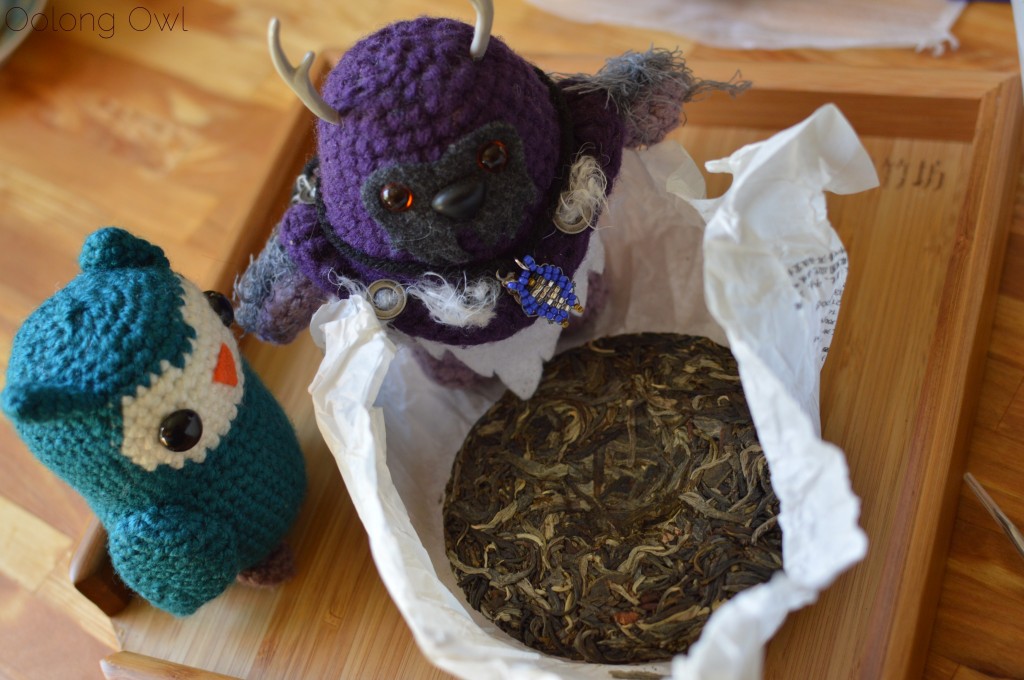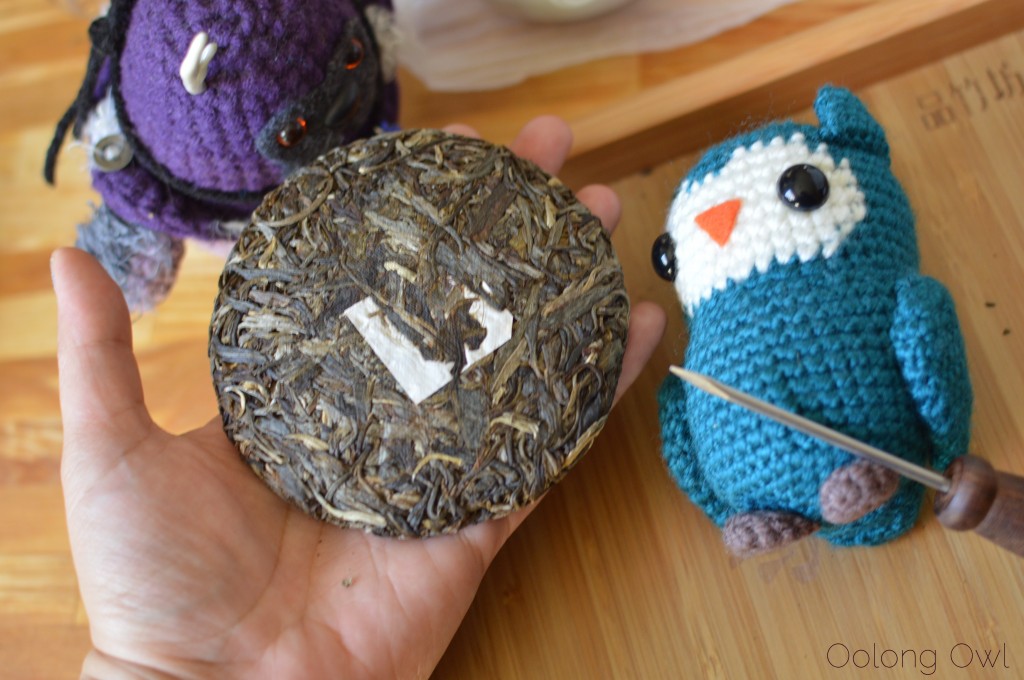 The dry leaf is quite heavy, Teal "Pu'er Pick" Owl actually over picked this time!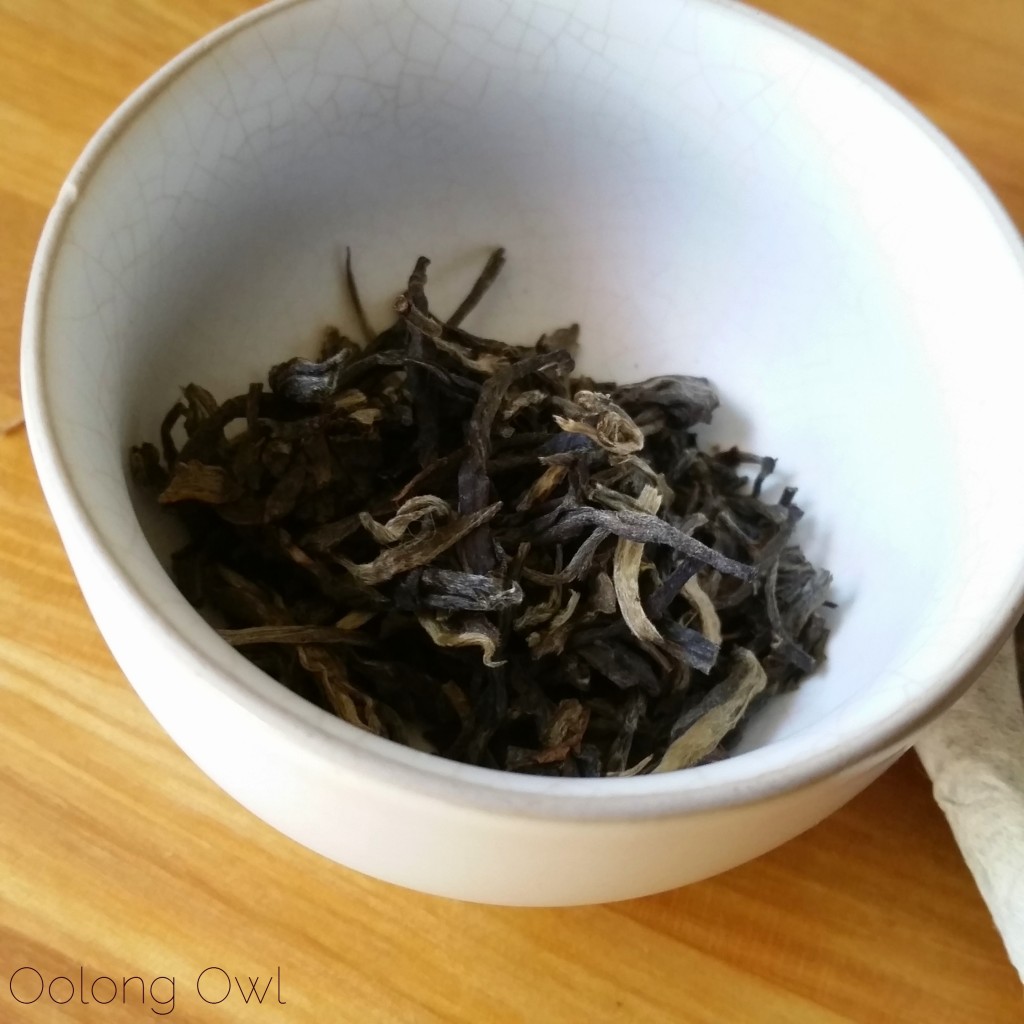 Steeping Instructions
I leafed heavy here because YOLO (Oolong Owl YOLO Pu'er use #2!). With that said, 1 gram of tea per 15ml steeped with 200F water. I did a short rinse and began with 5 second steepings.
Tasting of Mandala Tea Heart of the Old Tree 2012 Raw Pu'er
First Infusion: The colour of Heart of the Old Tree 2012 Raw Pu'er is a light yellow brew with bronze halo inside the cup.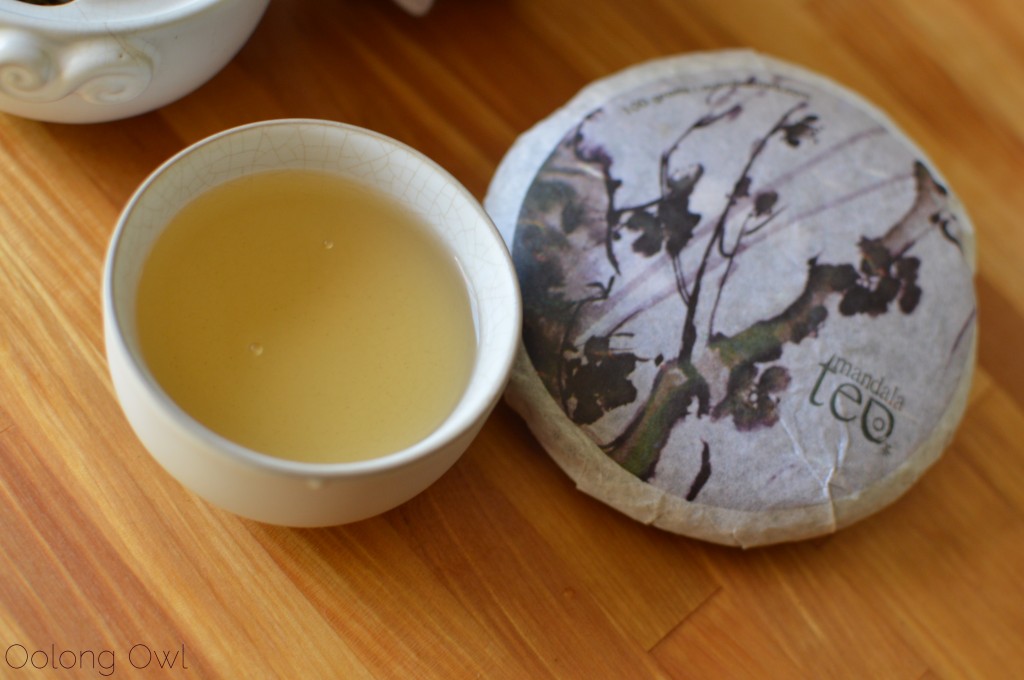 The pu'er sips in sweet, pure and clean. I'm getting a creamy mouth feel that adds a lovely silkyness to the lips. The flavor is quite gentle with a bit of soft wood notes.
Second, Third, Fourth, Fifth and Sixth Infusion: Boom, the tea ramps up with the second infusion! Up front, Heart of the Old Tree" 2012 Raw Pu'er has a bit of sweetness that reminds me of rice syrup and crisp asian pear. There are some woodsy birch notes with an echo of smoke floating in the background. That asian pear description fits with  Heart of the Old Tree" 2012 Raw Pu'er as there is a bit of gritty 1/10 astringency that settles in the back of the throat, like the core of the pear. With each steeping I'm getting some light floral notes, with the 3rd infusion I pick out the floral notes with an magnolia edge to it.
By the way, Heart of the Old Tree" 2012 Raw Pu'er another side to it that emerged with my 3rd infusion. With each sip I felt like my heart was jammed up, similar to feeling breathless and high from exercising hard. I needed to take a big breath in between sips and then I felt super invigoratingly tea drunk. WOOOOOOO! The tea owl describes it as he needs to do a big hoot. Boomy says he feels like his mana bar is full.  I've had this from other teas, but Heart of the Old Tree" 2012 Raw Pu'er packs a punch like getting hit by an old tree in the solar plexus.
Seventh, Eighth, and Ninth Infusion: I increased the steep times here to add an additional 10 seconds to each infusion. The flavor has shifted slightly with the silky texture is reduced to a silky lip. The flavor is more crisp, faint caramel sweetness with an apricot floral aftertaste. End of sip Heart of the Old Tree" 2012 Raw Pu'er has an increased amount of dryness that coats the cheeks, 3/10 on the astringency meter.
While I was sipping away, I spotted a big butterfly chilling by my window!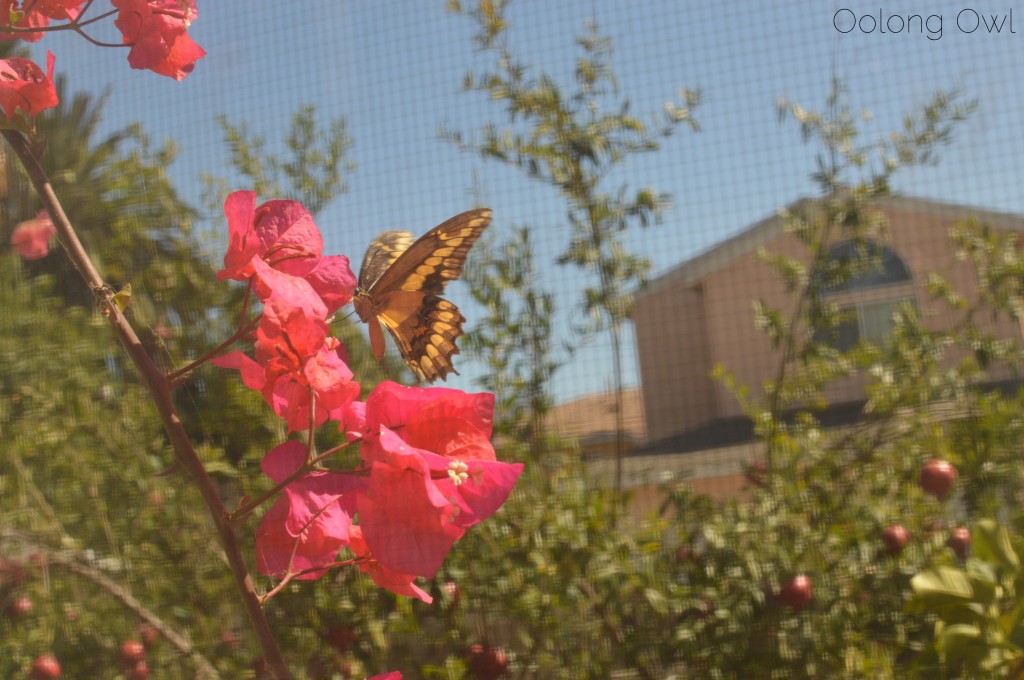 Tenth, Eleventh Infusion: I've increased the steep times again to 15 seconds. The flavor is starting to revert to the first steeping by being soft and woodsy. After all these infusions, I'm still feeling breathless.
Twelfth, Thirteenth, Fourteenth, Fifteenth Infusion: I'm struggling to keep Heart of the Old Tree" 2012 Raw Pu'er going, so I increased the infusion times again. The flavor has aligned, making this my favorite stretch of infusions. There are white wine/green grape notes, birch and some butter flavor. With each steeping the sweetness increases with a more caramel hit and apricot finish.
Color has also lightened to a soft peach…and we dropped the old tree in the cup. Whoops.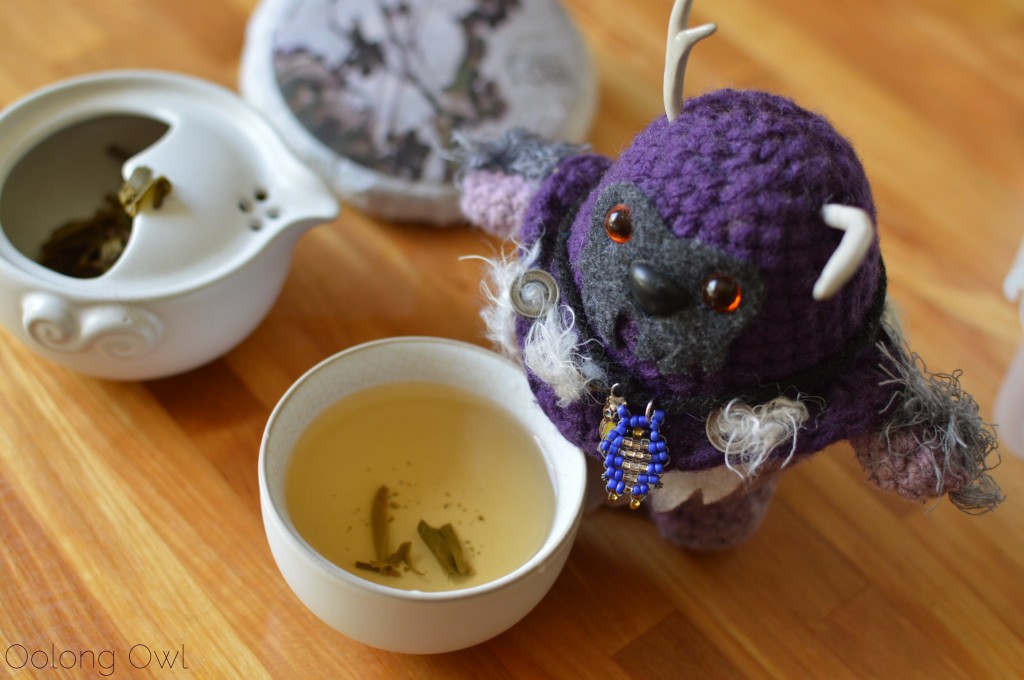 Sixteenth and Seventeenth Infusion: Another infusion time increase, so I'm waiting 5 minutes for a steep to be ready, just to inhale the tea faster than I can steep it. It is really easy to drink with the soft sweet and woodsyness that I could chug it if each sip didn't make me breathless. To be honest I didn't think Heart of the Old Tree" 2012 Raw Pu'er would last this long, I thought 11 or 12 infusions tops.
Eighteenth and Nineteenth Infusion: I did a 10 minute and a 30 minute infusion. The flavor is light and mostly caramel fruity sweet, but slips away quickly after each sip. The brew isn't anymore dry as before.
I love a nice full gaiwan!
Comments
Described in one word – Breathless.
The whole Heart of the Old Tree" 2012 Raw Pu'er tea experience was like being in an old forest that gas regrow after a dry spelled fire. A lone old tree grows by the rock overseeing and providing wisdom and inspiration to the forest to keep going with the high altitude breathless air. Later on, as you drink the tea the forest restores its equilibrium and sips into the fog.
It's delicate in flavor but in experience it packs a heavy punch in texture and experience. It sounds weird if you haven't had this type of bodily reaction to tea before but it is amazing! The dryness isn't that high and the sweetness is amazing, making for an easy to drink tea. There's a simplicity to this tea but also everlasting and clean pure.
In the end, an Oolong Owl favorite!