Of all the public tea festivals I've been to, the Northwest Tea Festival is the most epic, busy, and has the most interesting of tea selections. The Northwest Tea Festival is certainly worth attending if you wanted to travel for tea. I went to both days of the tea festival!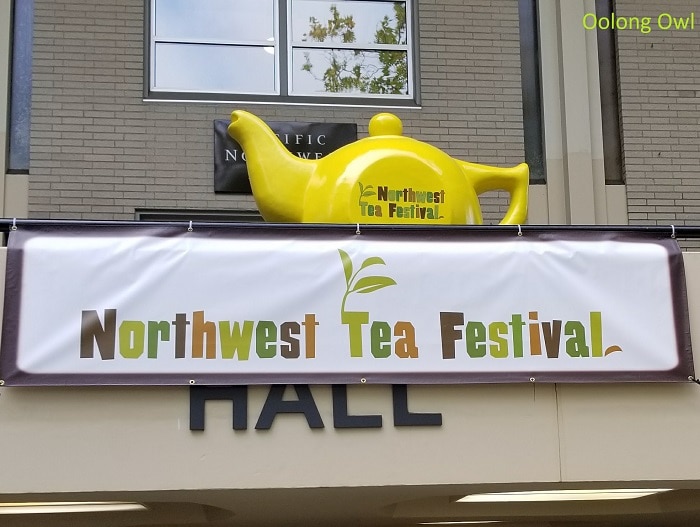 Both days had a huge line to get in! I arrived 30-40 minutes early and I still waited 15 minutes in the Will Call line after the doors opened. That said, once I did get inside the festival was quiet, but it slowly filled up with people. I did most of my photos and checking booths out Saturday morning, then spent the rest of the time parking my owl butt at favorites, wandering around tea drunk or talking with tea friends. What I love about the Northwest Tea Festival is the variety – everyone is selling something different and the majority of the booths were local or from Oregon.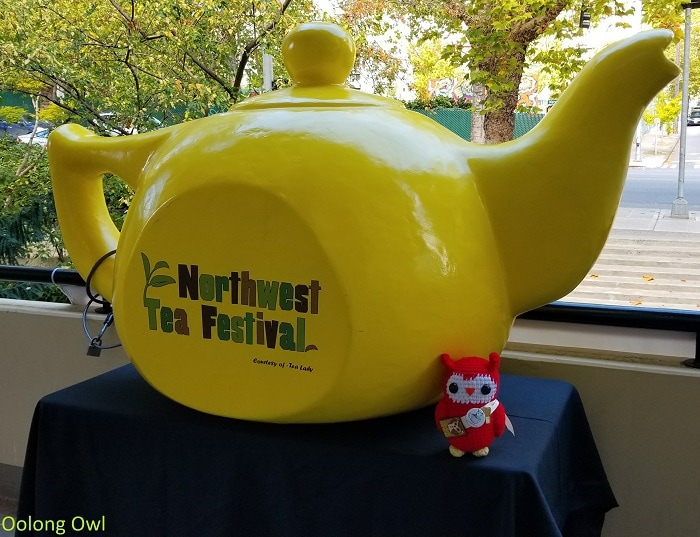 Crimson Lotus Tea was my first stop. I did an Instagram live stream on Sunday and I spent quite a bit of time at Crimson Lotus Tea. The unofficial shou winner was their 2017 Nannuo Mini Mushrooms (review coming soon!) that shou is so smooooooth yet also unique with interesting herbal notes. Glen had his amazing wooden tea table set up, sampling up various sheng region planets. I managed to try their new shou, 2017 Storm Breaker… which we renamed Storm Wrecker as it has plenty of energy to wreck people.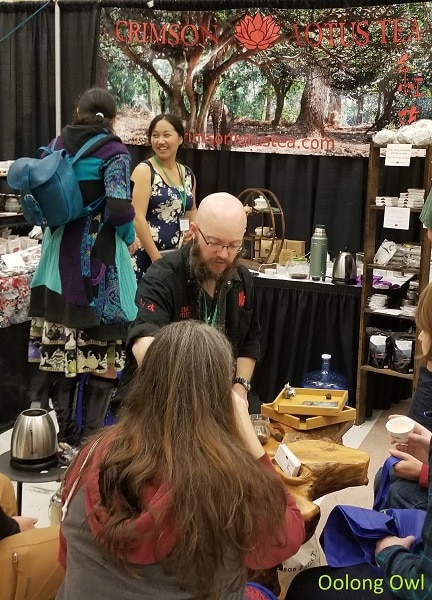 Also in attendance was THE MOST METAL \m/ tea pet frog.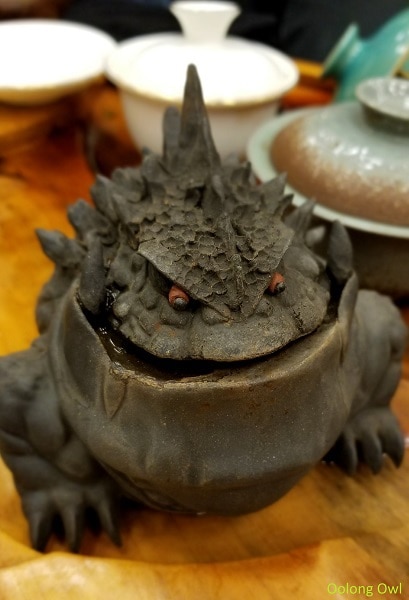 After a few infusions of Storm Wrecker, I swore this tea pet looked like Jabba the Hutt.
The next really cool booth was Phoenix Tea. As always, their tea pets are unique. I should have purchased this guy, but I procrastinated and missed out.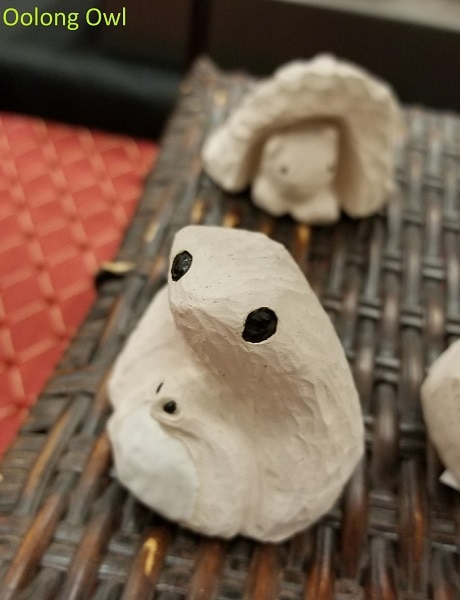 I sampled tea from Georgia but mostly timed out to try their chocolate husk tea, which was outstanding.
I parked at Floating Leaves Tea often during the festival. Floating Leaves Tea is starting to feel like my tea home away from home as it is Seattle tea shop I visit regularly. To my surprise, Floating Leaves Tea was selling and had in the sample rotation, their 1966 Beipu Oolong. The 1966 Beipu, as well as Everyday Tea's 2017 Hekai (which I will go into more later), was the most fun to watch people's reaction to drinking it. The Beipu tastes old, and likely the oldest tea there.  The old oolong flavor is a huge contrast to other common samples like matcha, turmeric herbs, and cinnamon spiced teas.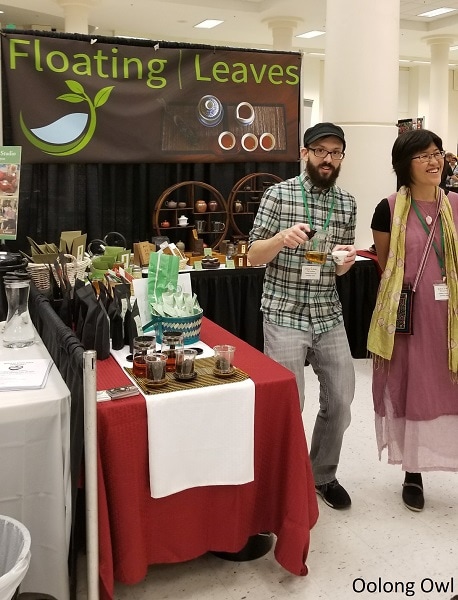 Miro Tea had some cool teaware, including a good selection of tea tables. Sadly, there wasn't too much in teaware this year other than Miro Tea, Crimson Lotus, Phoenix Tea, Teabook and a few stragglers selling the odd teapot, cup set, or matcha bowl.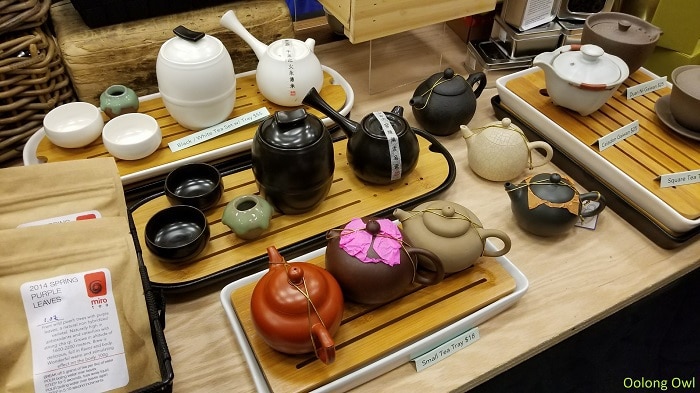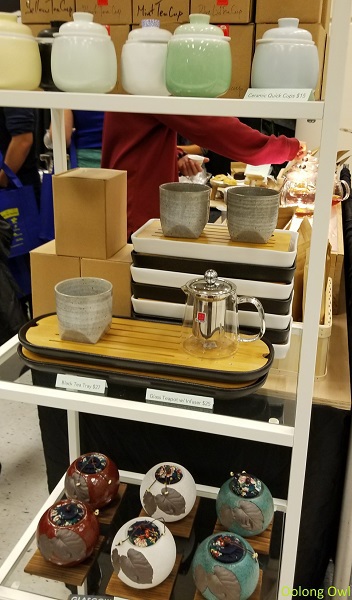 I was tempted by these puer bags, but the DIYer in me said I could make it. Thinking about it, I know myself to never getting around to crafting it myself.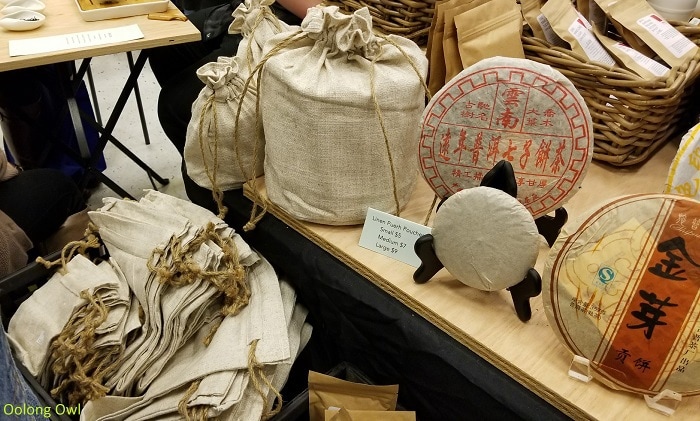 Pearl Soda Company, who I saw in Portland PDX Tea Fest but could not get near, was here with tea sodas! I sampled a Sarsaprilla Puer which was delicious! I was actually supposed to go back and buy a kit but I forgot!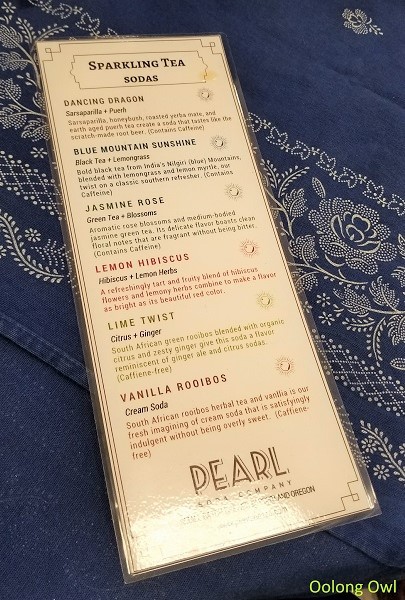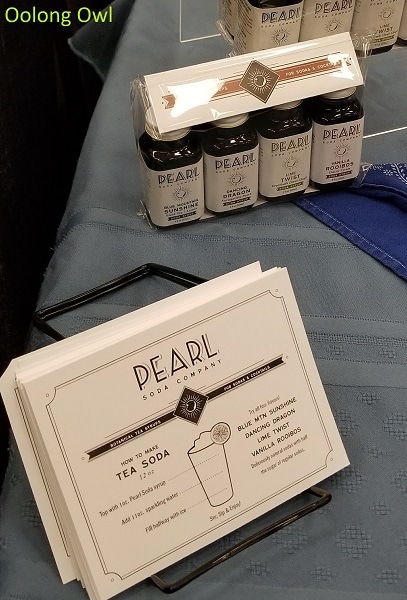 There was a number of matcha vendors in attendance – Ito En/Matcha Love, Sugimoto America, and My Matcha Life. My favorite was My Matcha Life, which I have written about before. However, all the matchas were all good.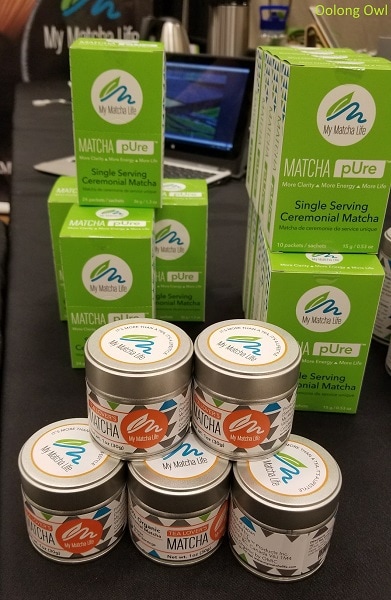 On the topic of matchas, Saku Tea was in the house! I enjoyed their latte mixes as they are quite delicious. They were quite popular, I actually missed their booth on Saturday as it was a wall of people.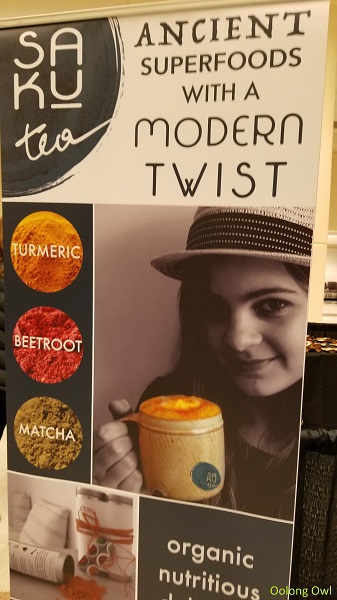 Other cool local tea sellers I saw that I kicked myself for not visiting their retail shop was Lizzy Kate and B. Fuller's. Lizzy Kate has a killer breakfast blend of theirs that is a mix of Indian and Chinese black teas with Taiwanese Oolong. I have no photos as I was wobbling too much and only took photos of blur and feet.
B. Fuller's Mortar & Pestle certainly attracted a crowd with their Steampunk vibe. I love their packaging and presentation – you can't help but look at everything and take photos.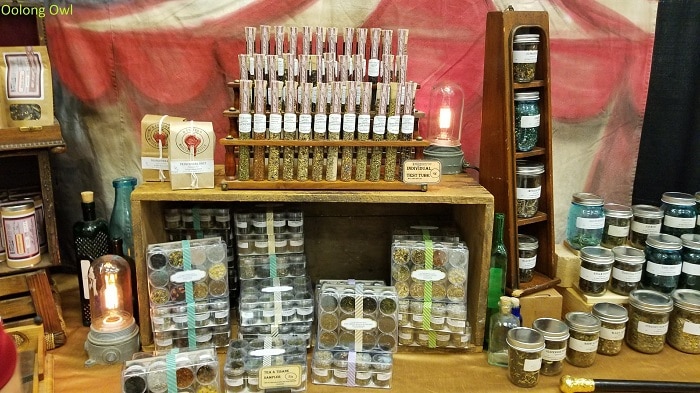 Friday Afternoon Tea is another Seattle seller that I patiently waiting for their retail space to open. They have fun geeky teas!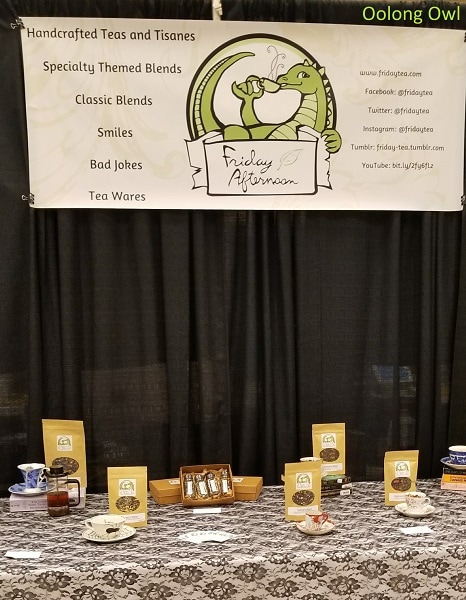 I was happy to see Chariteas and try their Japanese Black Oolong. To my surprise, the Black Oolong wasn't as horrible as other Japanese oolongs I have tried.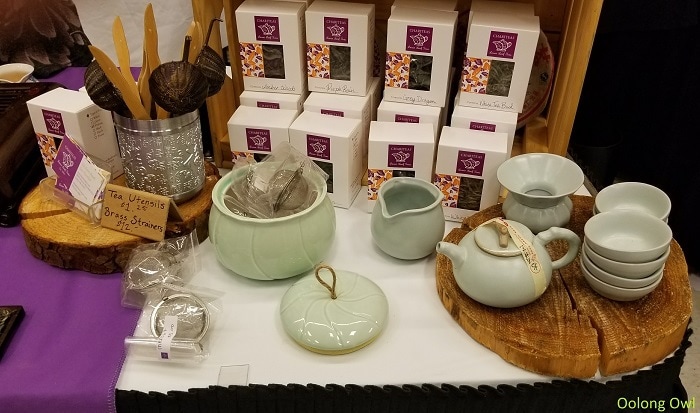 To my surprise, Everyday Teas was at the festival. They are based in New Jersey and I know them on the wholesaler side – the retail side of Everyday Teas was new to me. What interested me the most was the puer collection – those 100 gram cakes are the perfect way to try some decent puer and taste various regions without breaking the bank. They also had a 2017 Hekai, which is a solid tea but also in the strong bitter side – not a new puer person tea so I got to see some sunken cheek action. Ravi is also great to have tea with as he's passionate about the puer.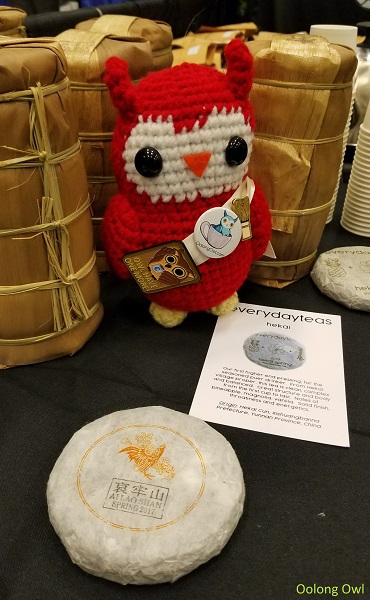 On Saturday I met up with a tea friend that combined shipping with me on some teas. I ended up carrying a pair of very stinky 1995 Jinchas around in a box, leaving a trail of old tea smell behind me. I was terrible in making everyone smell my tea. Ravi was awesome enough to steep it up this delicious methol dank of a tea.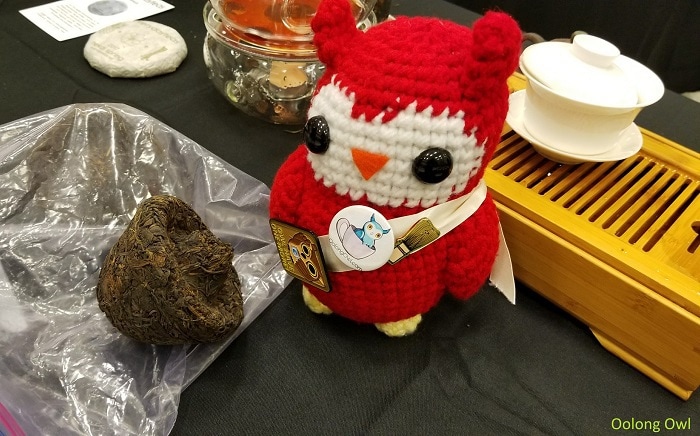 In other weird things I drank, Choice Organic Teas has some weird stuff. They are Seattle local, and not the kind of tea I drink as it is mostly very common loose leaf stuff (jasmine green, chai, and decafs), with some tags of "wellness" on it which usually scare me off.  What caught my eye and fed my sense of adventure or potential masochistic tea drinking is their new MUSHROOM teas. I tasted 3 different ones and Reishi Matcha was the best as the flavor just worked adding extra umami to the mix. It was surprisingly good for matcha and mushrooms in a tea bag.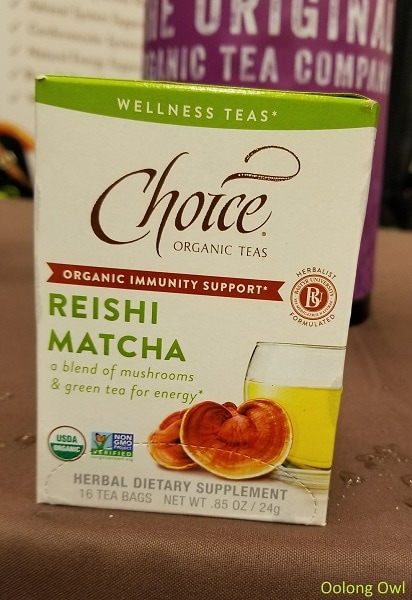 I reviewed Bitaco Tea a while back and seen them at World Tea Expo – they are first in growing and processing tea in Colombia. I was surprised they were here in Seattle with their amazing Cococa Kisses for sample! Interestingly, DavidsTea had a small booth but showed off a small selection of teaware and samples. Rishi Tea was also in attendance but was mostly pushing herbals teas.
If you ever visit Seattle, likely you will visit Pike Place Market and see Market Spice Tea, then be directed to their famous Cinnamon Orange Tea. I didn't look around much, mostly deal hunting for their non-tea things, but check out this giant display!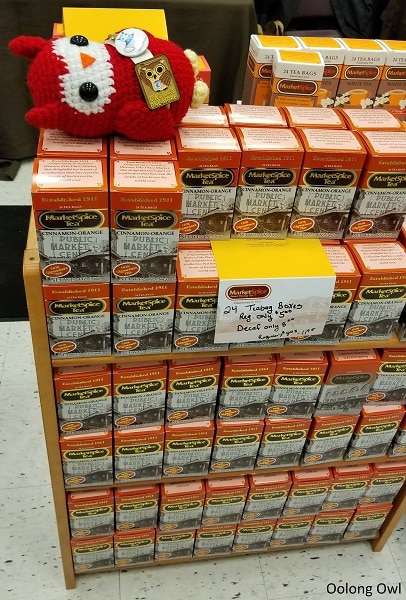 Teasopia smelled really fricking good. They were quite dangerous for my wallet.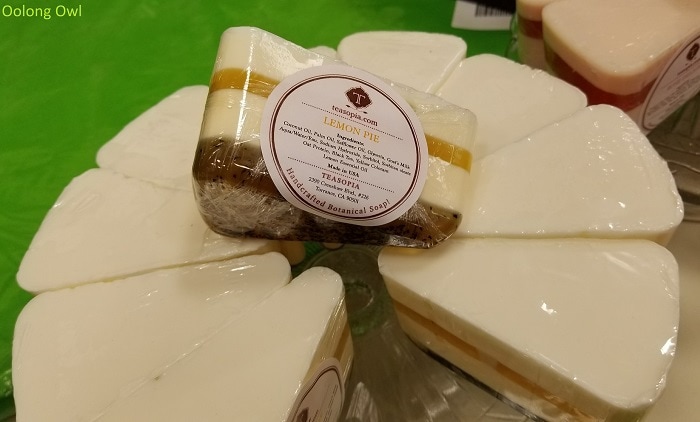 The unique attraction of the Northwest Tea Festival is the Tea Bar. They do intense 5 minute tea tastings. Neat ones I spotted was comparing electric to charcoal roast, wild tree to old tree, and so much more. I felt I didn't hang out there enough.
I only attended one class and it was one I did last year – Fenghuang Wulongs by Andy Buckman aka Great Horse Teas. He had amazing rock teas and I was blown away by his Jin Mu Dan and Milan Dancong. The star of the show was the 1996 Lao cha dancong.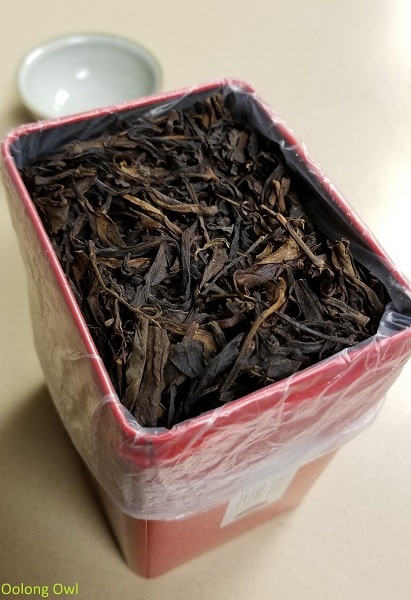 It was clean and smooth, but the energy in it was strong enough to feel it in the fingertips. You know when you are in a good tea tasting when everyone takes a sip of tea and the room goes quiet.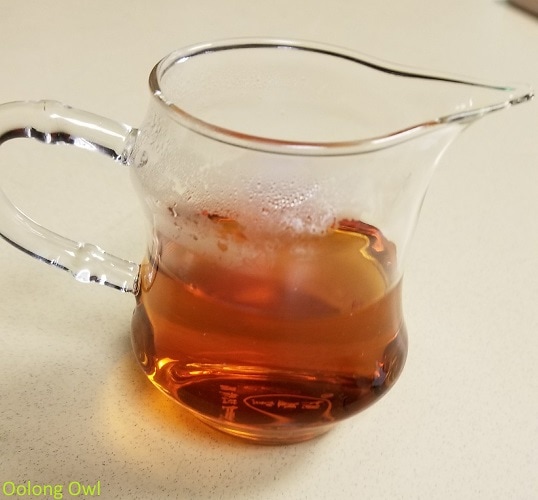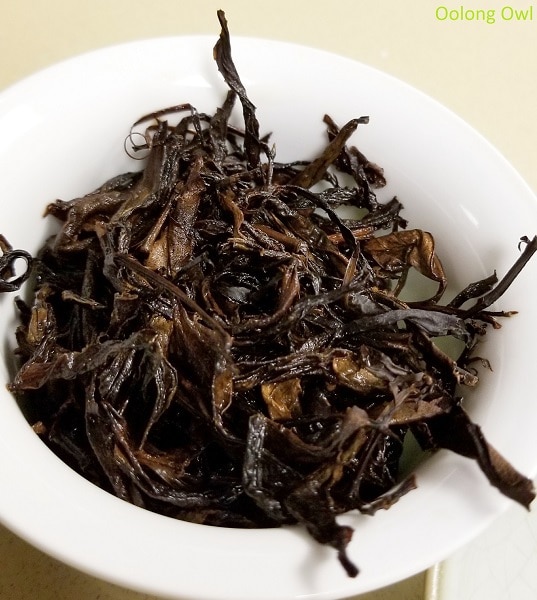 I stumbled out that tea sessions completely out of my mind, drank a couple infusions of Crimson Lotus Tea's Stormbreaker, then hit the tea bar for a 1998 sheng puer. After all those hard-hitting teas, I was not processing conversation that well, nor stringing sensical sentences.
This year was a little different as I was hosting a focused tasting class on aged white teas, which sold out both days with people lurking outside hoping there might be empty seats.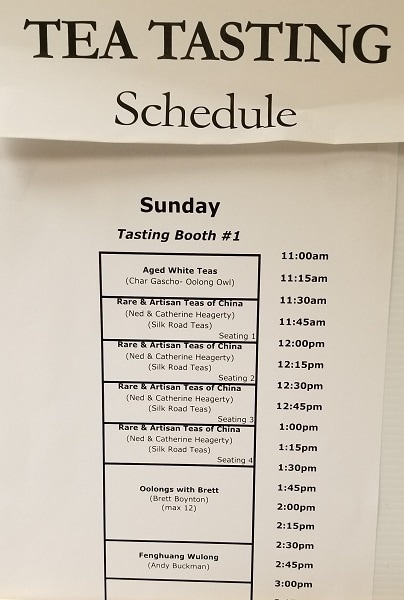 We drank White2Tea's 2017 Turtle Dove, Chinese Tea Shop's 2006 Shou Mei, and 2000 Fuding Baicha. Here is my expensive waste bucket. All us presenters had the same experience – we only got time to resteep maybe 2-4 times and had to pitch the leaf to move on.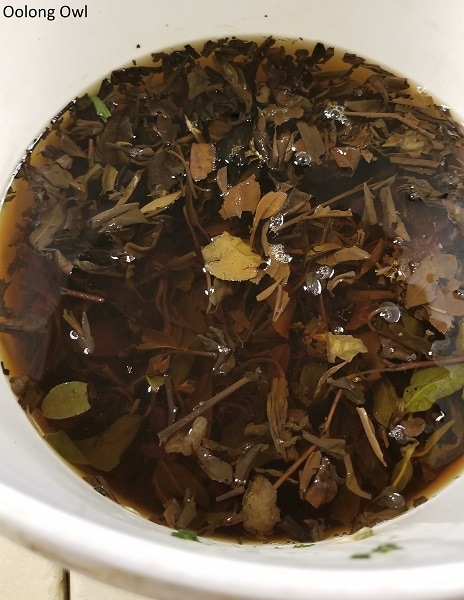 I also was a panelist for the Tea Bloggers Roundtable. We had a discussion on various topics such why we write, impact on the online community, what blog posts we are proud of, what post you had to edit, and our review policies. It was an interesting selection of questions that moderator Cinnabar @ Gongfu Girl/ Phoenix Tea owner asked. We also had a diverse selection of bloggers – Hanamichi, Steph's Cup of Tea, Oolong Owl (hoot), Tea Squirrel, and Steep Stories of the Lazy Literatus.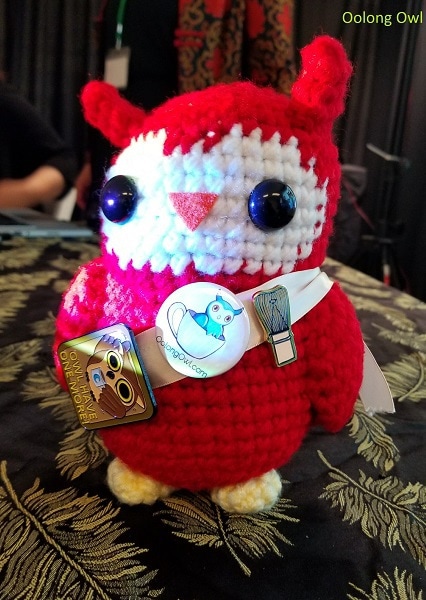 After Saturday there was an after party at Phoenix Teas. There is ALWAYS an afterparty, sometimes even preparties.  You certainly need that the constitution similar to the tea equivalent of being able to drink an entire pot of coffee and go to bed to survive a tea after party. I drank this: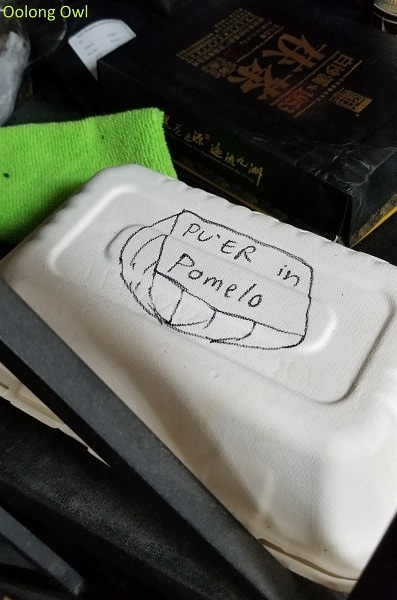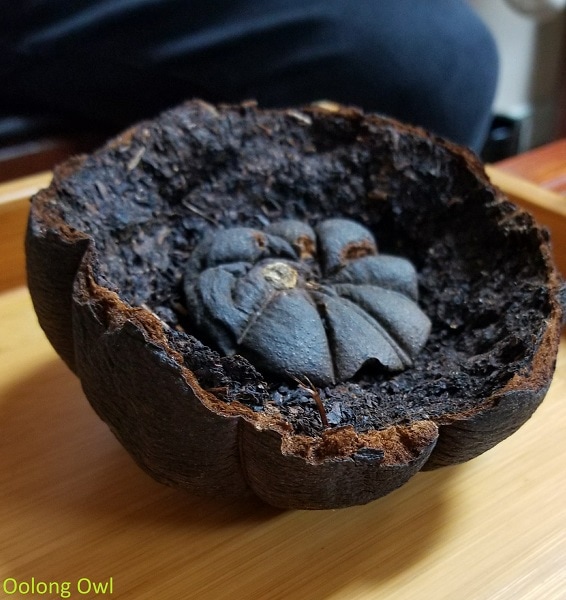 After drinking tea non stop for 8 hours, then drinking tea again at around 8pm, I barely lasted an hour. I spent my time wobbling around Phoenix Tea – the best tea shop to be tea drunk in as you always see something new no matter how many times you've been there.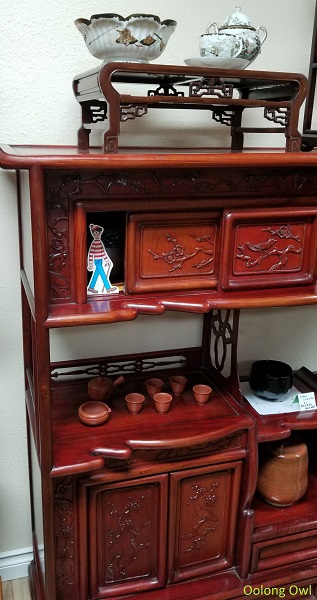 The longer I've been in the tea community, the more and more these tea festivals are more social gatherings than drinking samples and buying things. I had a blast with Lazy Literatus, Teadb, along with the bloggers I finally got to meet at the Tea Bloggers Roundtable. It was very cool to meet some of you readers too!
Oolong Owl's 2017 Northwest Tea Festival Haul
Surprisingly, I didn't buy that much. Since I was there for two days, I had the intention of looking at everything then going back. However, going back was never a good plan as I had so much tea I forgot about things.
Freebies
With entrance into the Northwest Tea Festival, you get a tote bag and cup. I like to bring my own cup and ended up using this as a spare cup to hold leaves during my tea tasting presentation.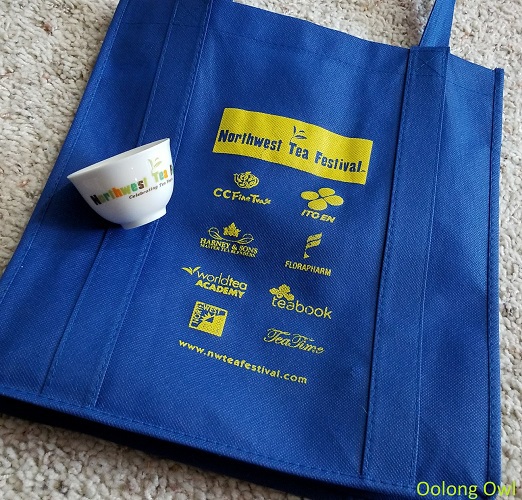 Inside the bag was a schedule (that I discovered my focus tasting was missing off the schedule but seemed that didn't affect attendance), the usual business cards/coupons, and the required Tea Time Magazine.
The World Tea Academy were giving away posters.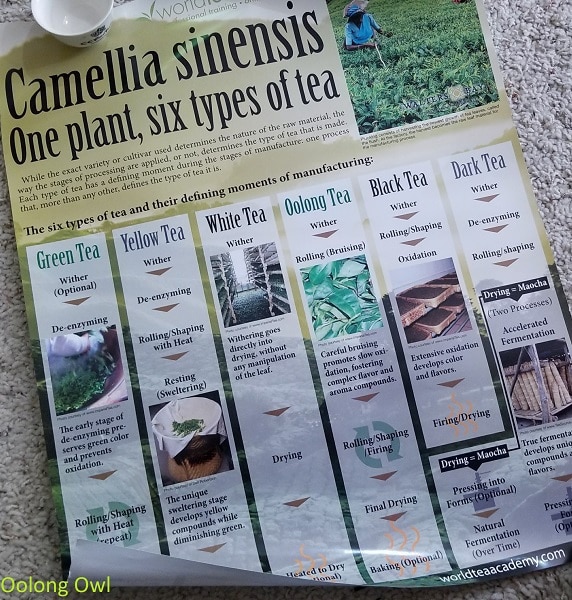 I got the entire lineup from Bitaco. I am looking forward to trying their 2017 teas.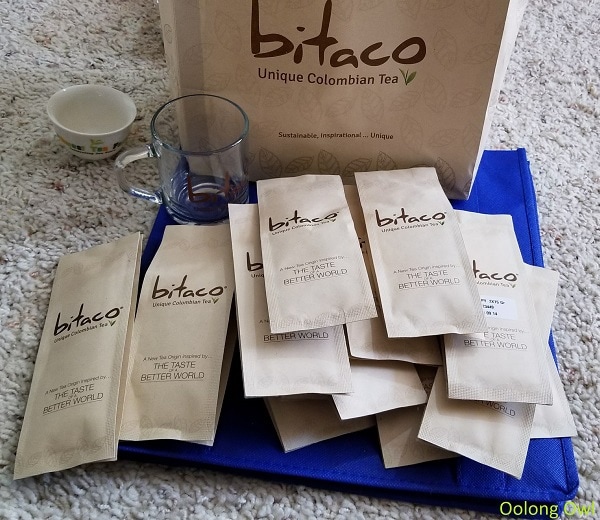 The 2017 Hekai Sheng Puer from Everyday Teas.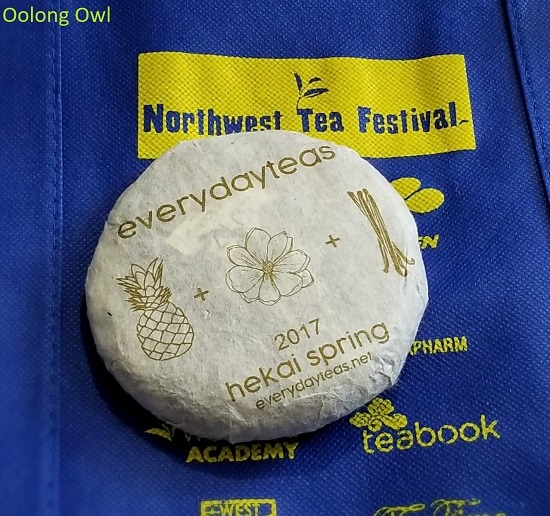 I thought I grabbed some Choice Organic Reishi Matcha tea bags, but I couldn't find them when I was taking haul photos. Either I misplaced them or they fell out of my bag.
Purchases
Phoenix Tea had beautiful tea leaf jewelry. They are cast from a spent sheng puer leaf! I had to have it in silver, but they also had bronze. There was also an earring option.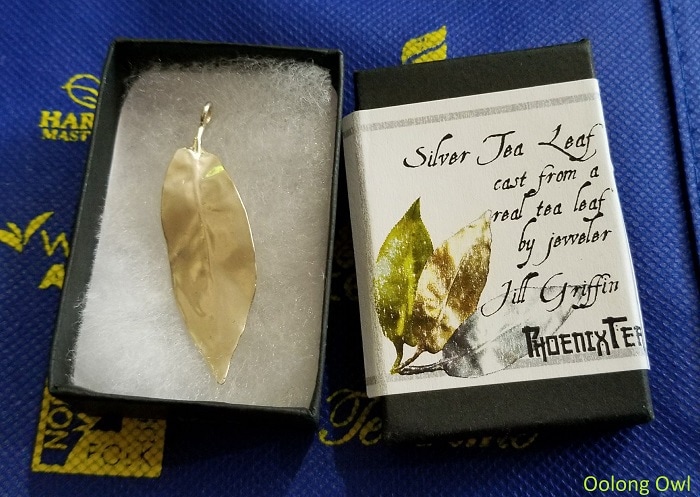 I needed more 2017 Nannuo Mini Shou Mushrooms from Crimson Lotus Tea.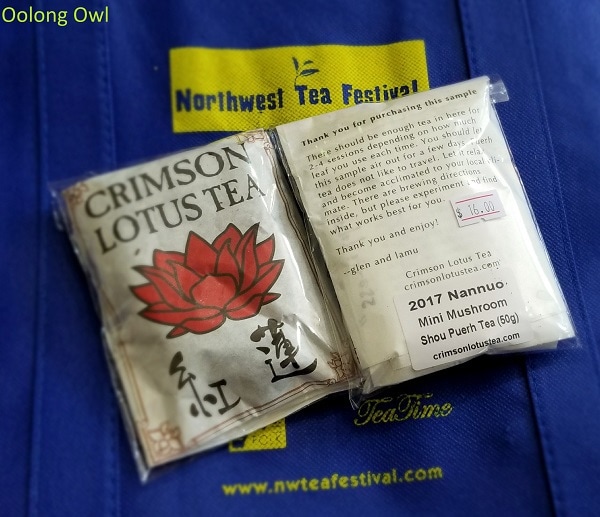 I bought a set of tea soaps from Teasoapia. These soaps stood out to me as they have real tea in them!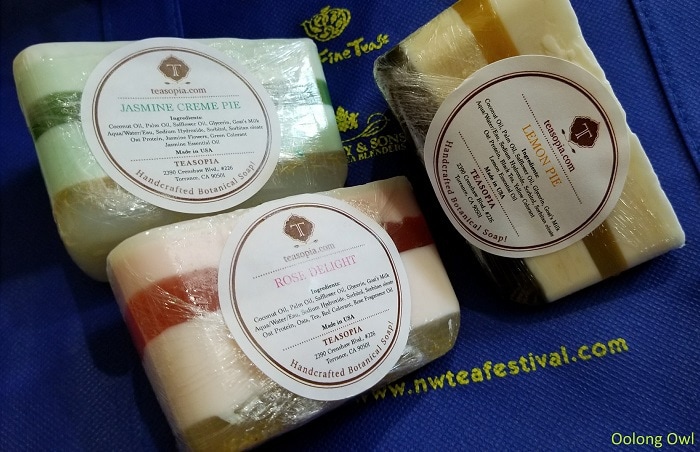 I also got honey from Market Spice. I had to bribe the tea hating husband with something for my weekend long absence.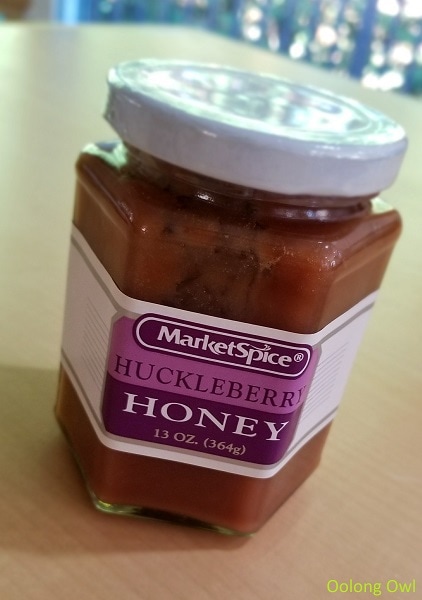 Northwest Tea Festival was awesome for 2017. I hope to be there again and you all consider visiting Seattle next year!