My second visit to Floating Leaves Tea was to one of the monthly tea tasting classes, which was a blind tasting of 2016 baozhong and high mountain oolong. I thought a blind tasting is the best way to figure out what oolong you like without bias of the mountain, grades, and price.
It is really cool that Floating Leaves Tea has classes. The class I went to was 7 people including myself. We were the second class of the day as the first one was full. Tasting the tea was great, learned some things, but it was also great to meet other fellow tea people. It was assumed going into this class that you should like green oolongs. I previously wasn't that excited about green oolongs until I tried Floating Leaves Tea's oolong at my first visit to the shop.
Let's start off first with a coupon code. This blog post is hella long so this'll save some scrolling if you just want the deal!
***Coupon code oolongowl35 for 35% off the Floating Leaves 2016 High Mountain Oolong Sampler! Coupon expires August 20, 2016.***
Blind Tea Tasting at Floating Leaves Tea
The first round was four Baozhongs steeped competition style. Three of the Baozhongs were competition (first, second, honorable mention) and a farmer's choice.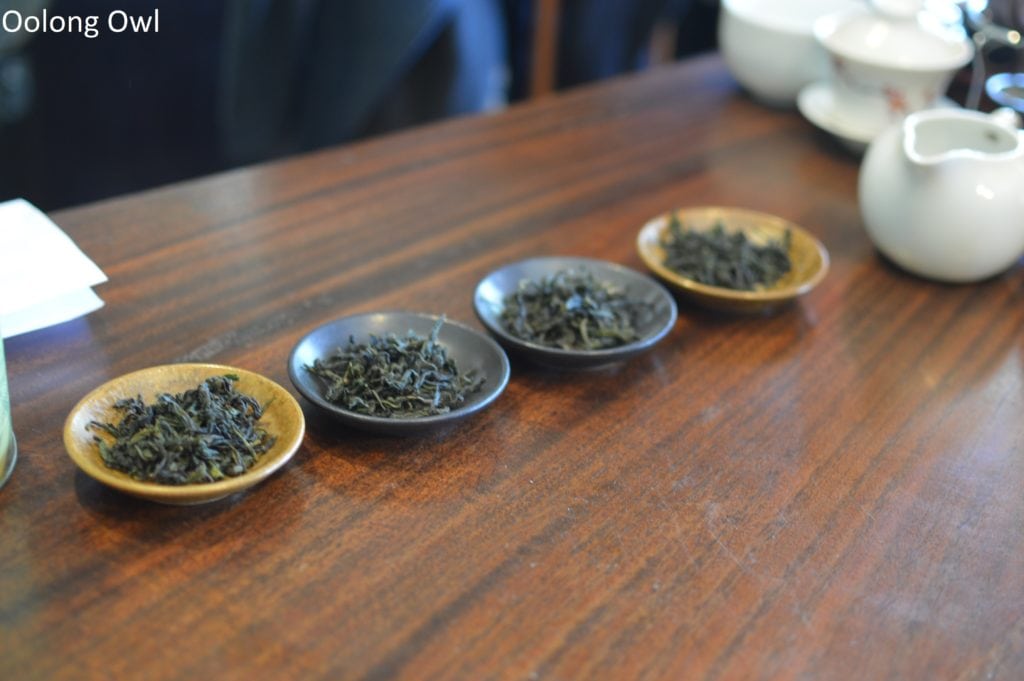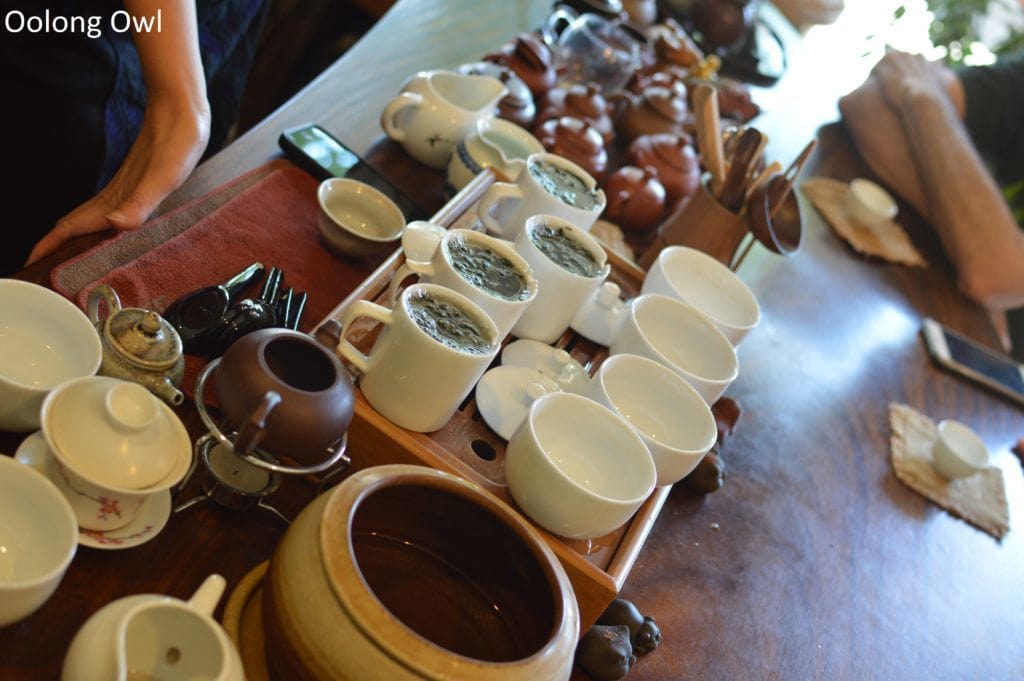 By colour, you can tell which one is the farmer's choice due to the dark colour. For the competition baozhong, I could tell which was honorable mention as the other two were more delicate floral bombs.
Out of the four, I think I'd buy the farmer's choice – it had more of an interesting body and more hearty flavor. My wallet was quite happy with this decision as the 1st place Baozhong is like $25 an ounce whereas the Farmer's Choice is $9.
---
The second round was five high mountain oolong steeped bowl style. The five high mountains were ShanLinXi, LiShan, Alishan, HeHuan Shan, and DaYuLing.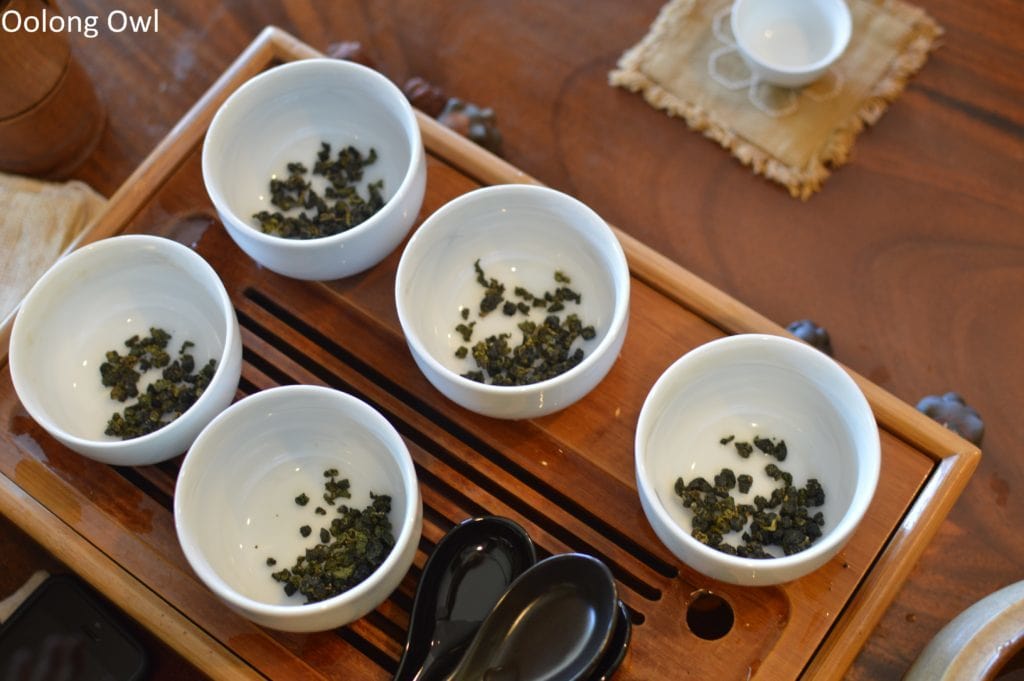 It was very difficult to figure what oolong was what. I picked up which one was the LiShan as that one is quite distinct, but the rest I could not tell! Out of the 6, I felt what turned out to be the Shan Lin Xi to be the best – it had a great body, beautiful leaf, and lasting fragrance. Everyone else was on the same page, and the class before us came to the same conclusion. I didn't like Da Yu Ling at all as it was dry and flat, however more on this later.
Floating Leaves Tea Haul… again
After the class I bought more tea. I got some ShanLinXi as I quite enjoyed it during the tasting. I also treated myself with an ounce of 2011 Tie Guan Yin. Not pictured is the Floating Leaves House Roast Oolong. I bought 2oz and it was finished quickly – it is that good and I gave a bunch away to my closest tea friends.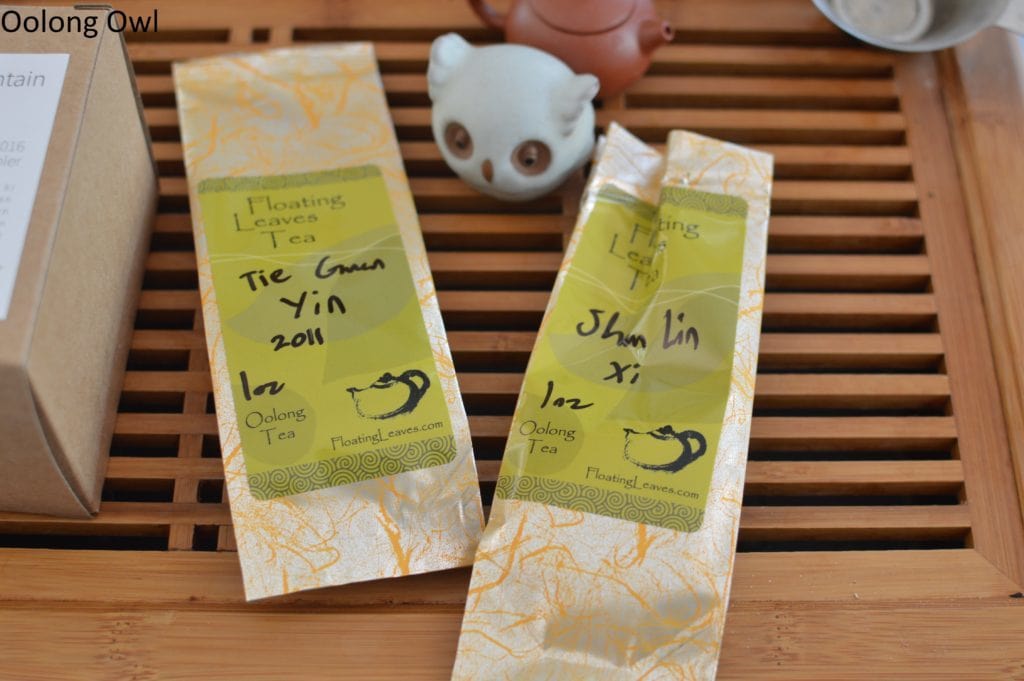 I was given a 2016 High Mountain Sampler for blogging purposes. The sampler contains all five of the teas we had at the high mountain oolong blind tasting! Again, there is a coupon code for this at the top of the article!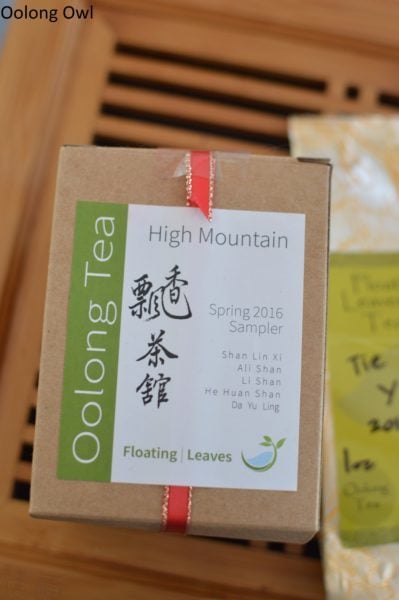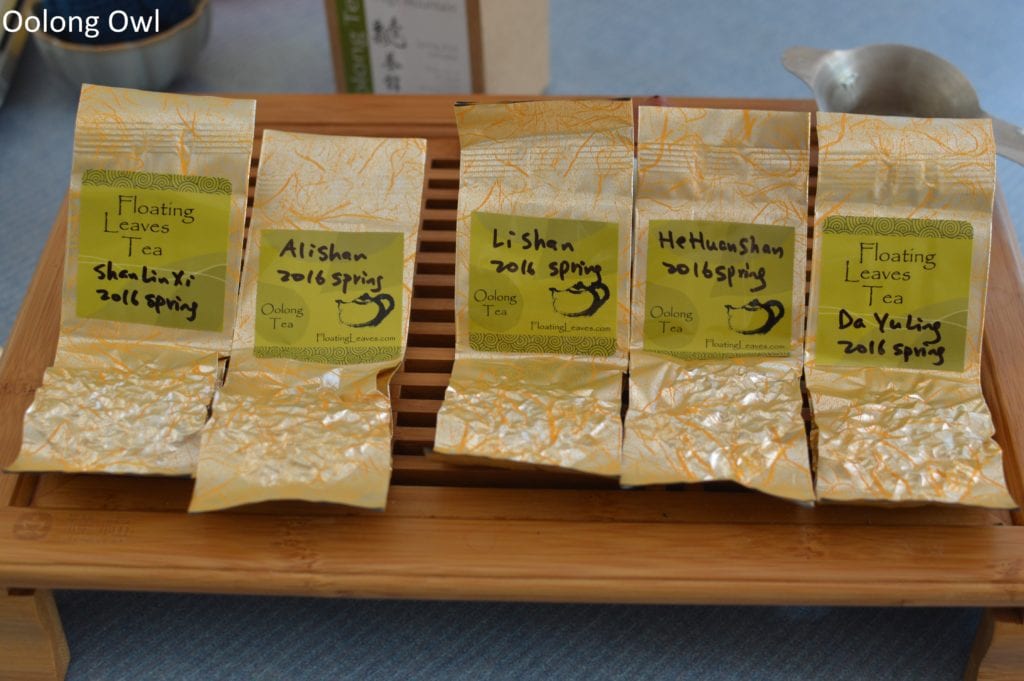 Tasting of Floating Leaves Tea's High Mountain Oolong at Oolong Owl
I decided to conduct my own high mountain oolong tasting with the sampler Floating Leaves Tea gave me. I steeped the oolongs as if I normally would, gaiwan, 1gram to 15ml, and boiling water. Yeah yeah, I can feel the angry twitch of some readers on boiling 2016 fresh oolong, but don't knock it until you tried it with good quality oolong.
Appearance wise they all more or less look the same – all rolled, all big, and all dark emerald green. The Lishan stands a bit more due to being less leaf but more monster sized.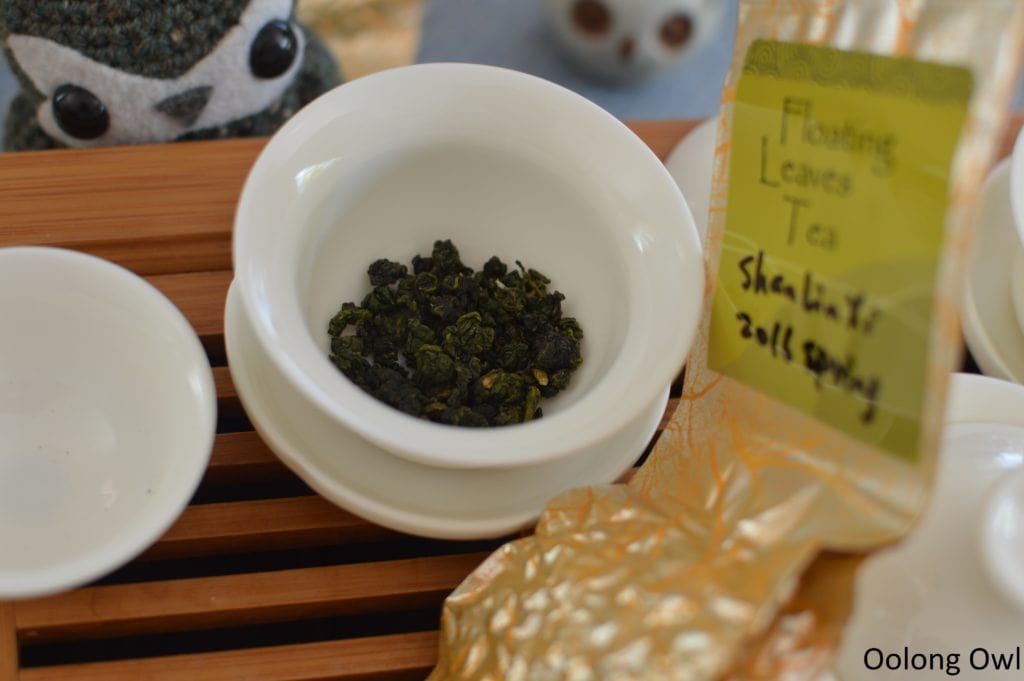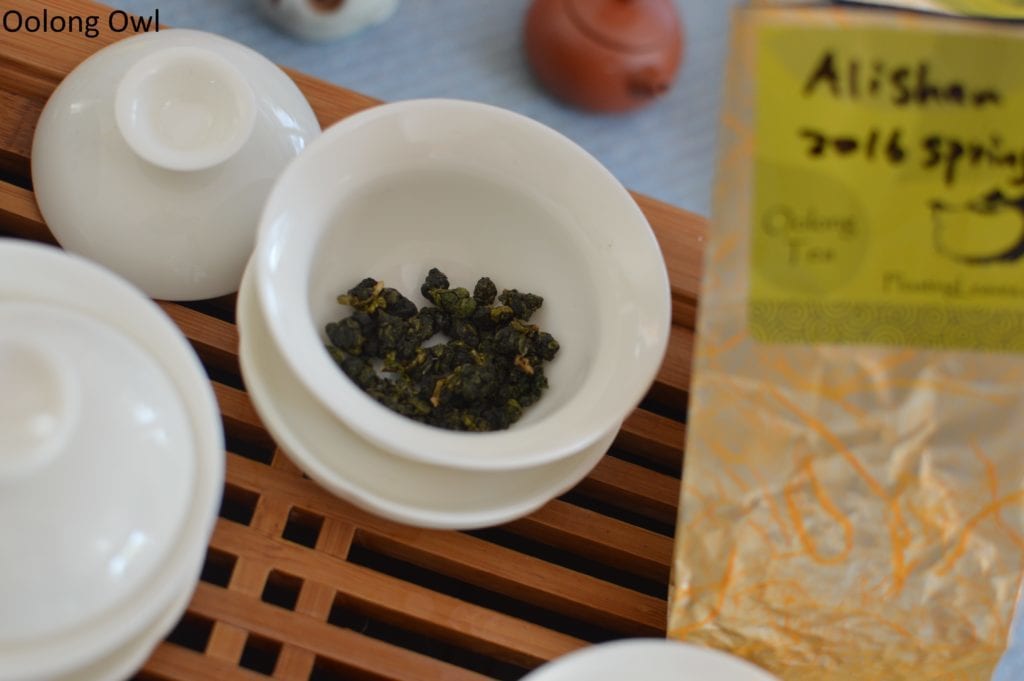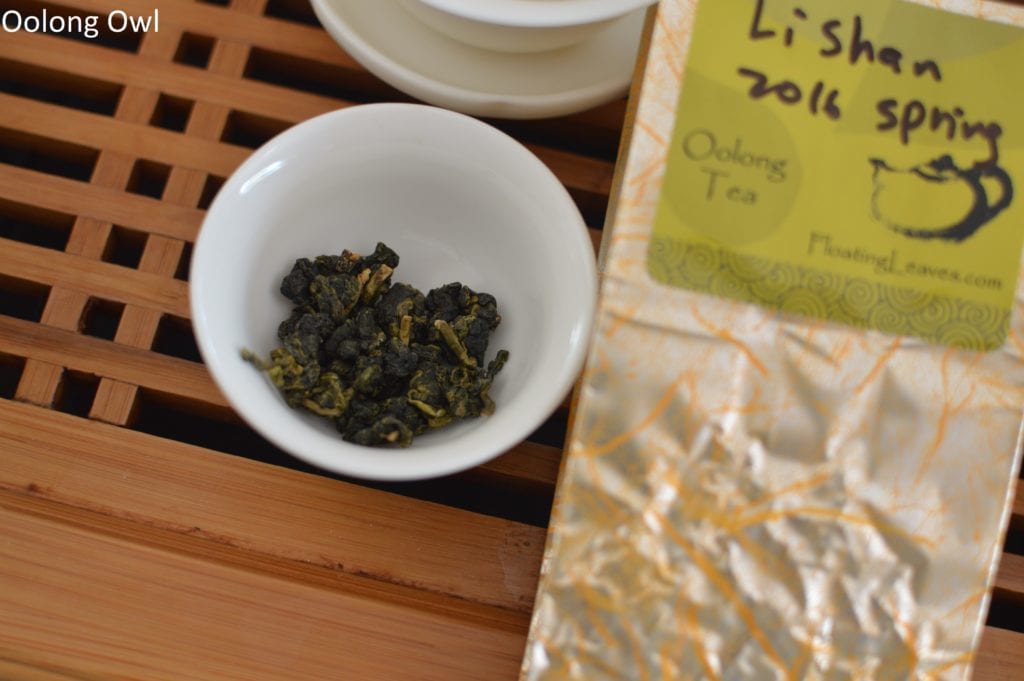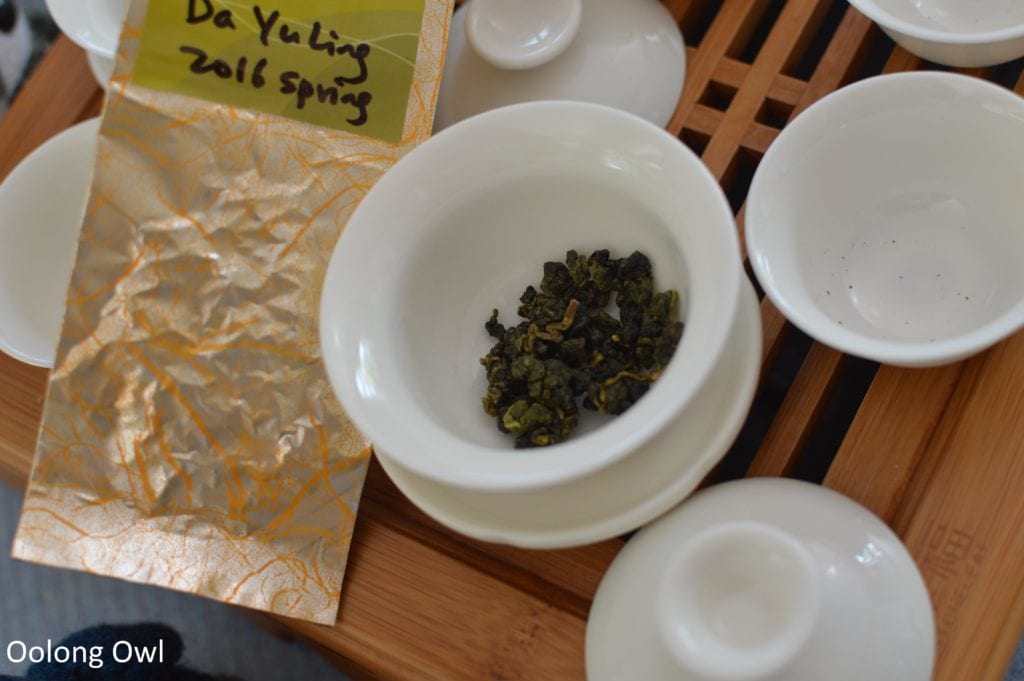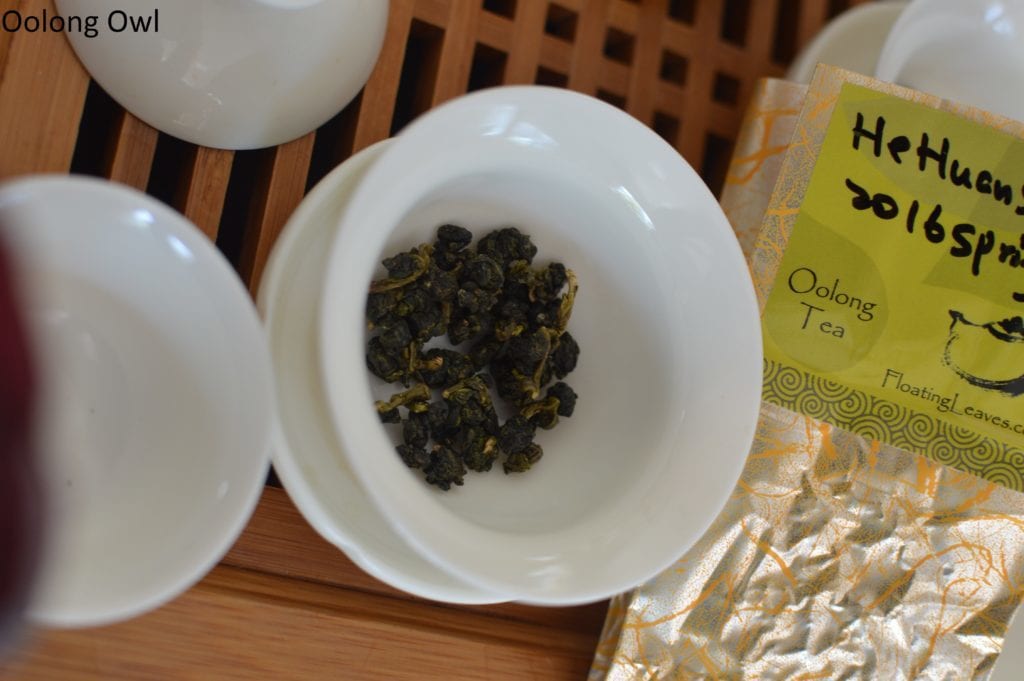 Scent wise, the ShanLinXi has a sweet buttery grass scent. The LiShan smells buttery. Alishan is also buttery smelling, but not as buttery as the LiShan. The DaYuLing smells grassy and buttery, whereas the HeHuanShan smelled grassy and fresh.
First and Second Infusion:
ShanLinXi sips in  smooth buttery popcorn with a clean sweet finish. The body leaves a light glaze on the tongue.  Out of the five, this one is the sweetest.
LiShan is super light and delicate. What I do taste is soft fresh grass.
Alishan is also sweet, but floral and brighter in flavor. The Alishan is the more floral of the pack.
DaYuLing tastes sweet, mellow, buttery with a bit of a tart finish. The flavor is pretty close to the Shan Lin Xi.
HeHuanShan tastes a little different than the others as it has a more savory and buttery flavor.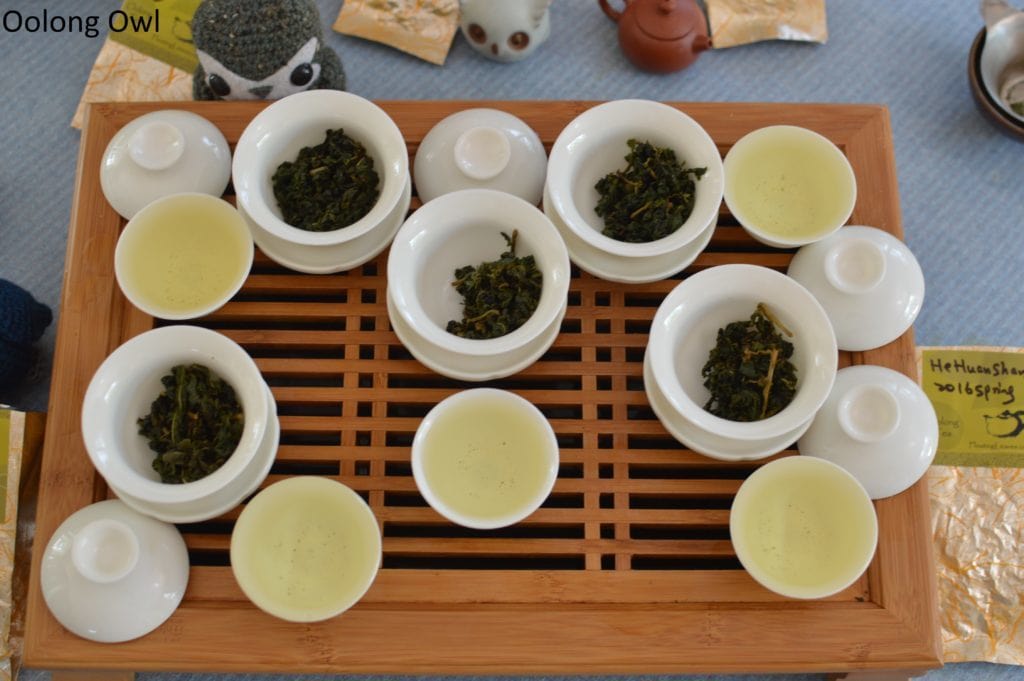 Third and Fourth Infusion:
ShanLinXi is pretty consistent with still a buttery, clean and sweet taste with a good body.
LiShan is building character – still light, hint of buttery. super fresh almost mint finish.
Alishan is blooming to even more floral. I quite like the sweetness developing in this tea too.
DaYuLing has an excellent rounded flavor of fruity, floral, and sweet grass.
HeHuan Shan again is the most different in taste out of the five. The taste is savory, grassy and a buttery green finish.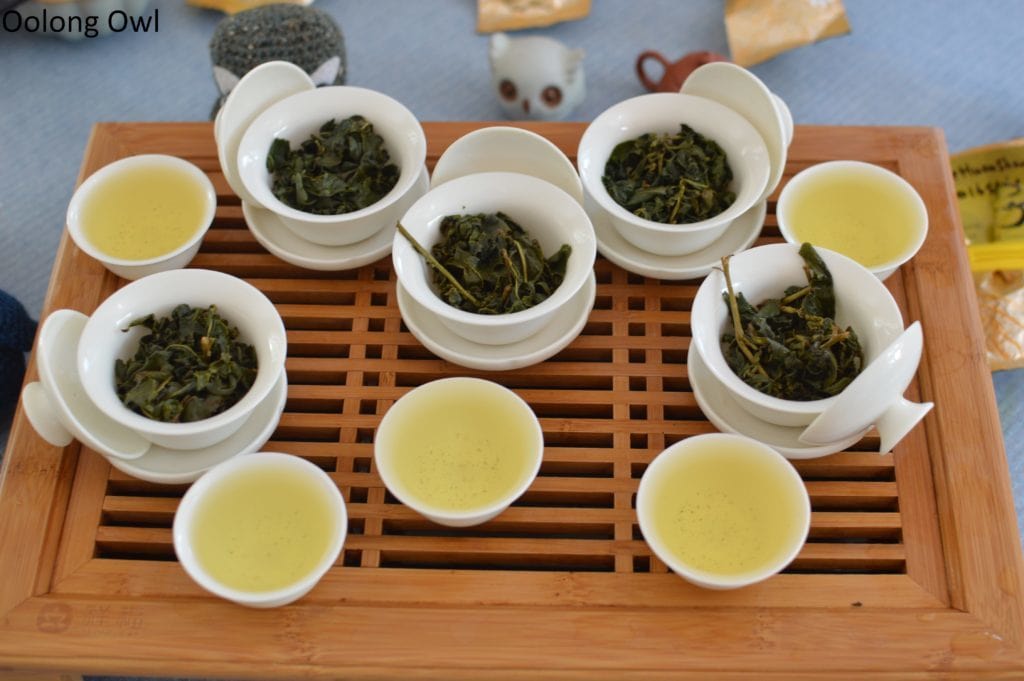 Fifth, Sixth, and Seventh Infusion:
ShanLinXi is slick and buttery with the finish being a fresh cut floral. I can see why I liked this tea as the body is really nice.
LiShan finally hits its peak at infusion six – thick buttery, super oily body.
Alishan sips in a strong floral with a buttery lip. The heavy floral finish leaves a bit of dryness. Ha, it took seven infusion to get dry effect from these oolongs and I am using boiling water!
DaYuLing came from behind and killed the others. The flavor is blooming  bright floral with a buttery finish. The taste is super clean and the fragrance has a lot of oomph with a freshly cut floral.
HeHuan Shan got a bit more rich savory, and still grassy. The body is thinner than the others.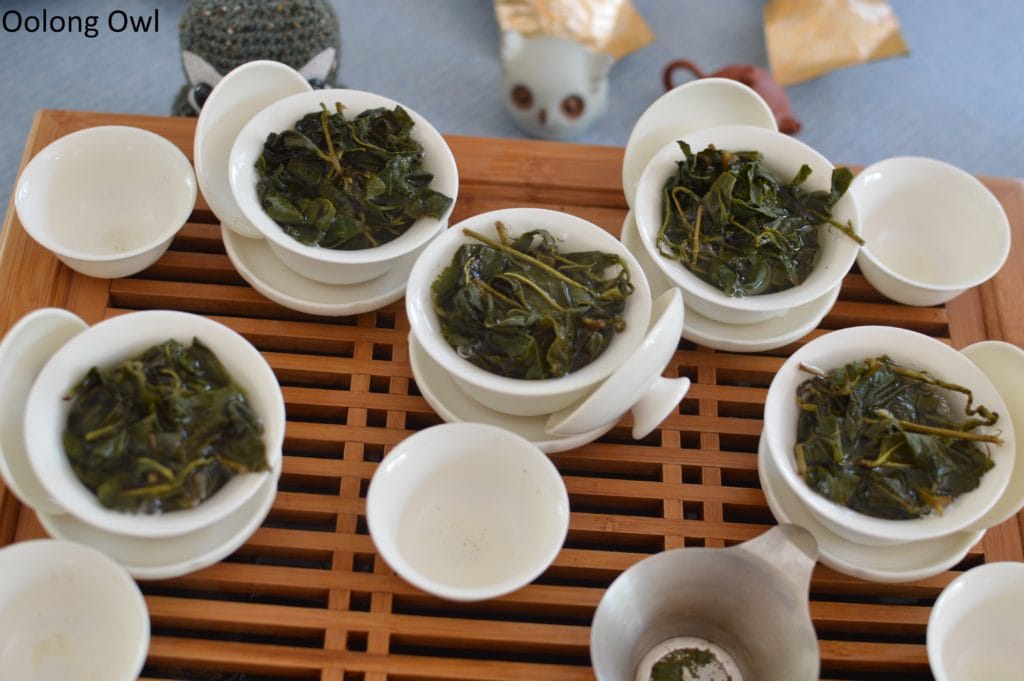 Eighth infusion: I did a long about 5-10 minute steep here. At this point all this oolong made me hangry and I was repeatedly opening the fridge to see what there was to eat.
ShanLinXi has softened to a sweet light floral.
LiShan is still excellent with a sweet, buttery with a bright fresh finish. Excellent steeping here! I likely could get another steeping out of this tea.
Alishan tastes cute. It is soft and floral sweet.
DaYuLing is king here. The floral is citrus like and lots of flavor. The flavor is decently strong and I could get another steeping.
HeHuan Shan died and I did not get really any flavor out of this last steeping.
Have a look at all the steeped leaves of the five High Mountain Oolongs: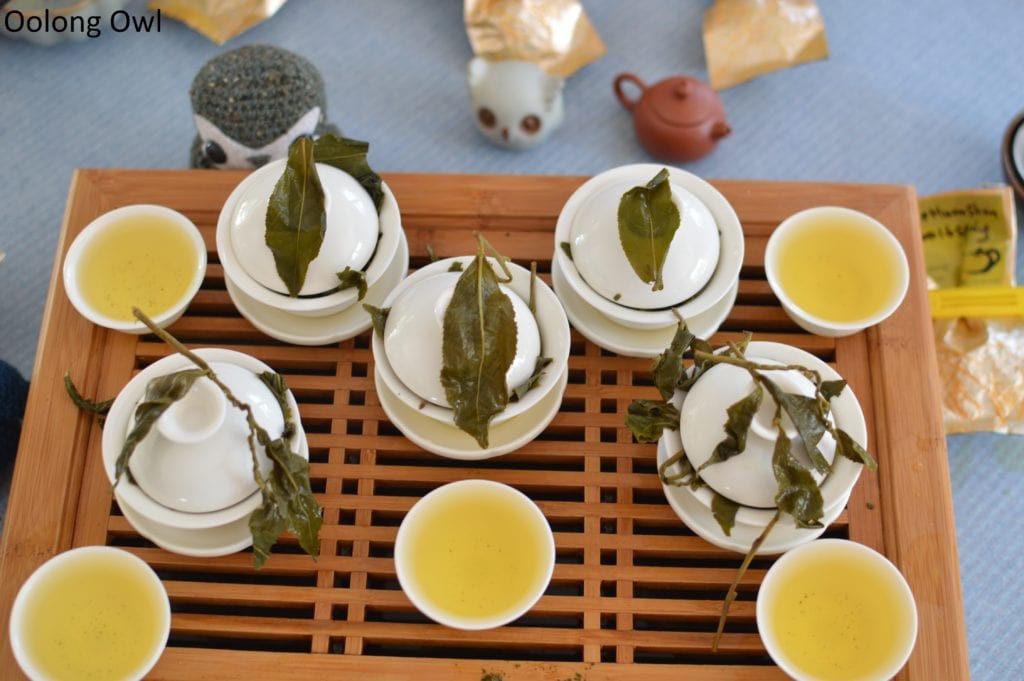 Starting top left – ShanLinXi has some big leaf. Li shan has the biggest leaf, wow! Alishan is mostly smaller leaves. Bottom row – DaYuLing has the crazy monster leaves. HeHuan is more twiggy with smaller leaves.
Comments
What I found the most interesting was how at the Blind Tasting at Floating Leaves Tea I found the DaYuLing not very good, likely due to bowl style. Made at home in a gaiwan, DaYuLing got better and better. At first I regret not buying any DaYuLing, but since I'm local now I can just buy more next time I visit. However, DaYuLing is not cheap – $20 an ounce! I think the ShanLinXi is pretty good and more affordable if you don't want to destroy your bank account.
TLDR of Floating Leaves Tea 2016 High Mountain Oolongs – ShanLinXi has good balance of flavor. Alishan is a floral bomb. LiShan takes time to ramp up but when it does it is super buttery. DaYuLing is flipping amazing, like a ShanLinXi 2.0 but expensive. HeHuan Shan is the oolong if you prefer something more savory.
You can purchased all these teas separately per ounce. Or buy the Floating Leaves 2016 High Mountain Oolong Sampler to try all five! Use coupon code oolongowl35 for 35% off! Coupon expires August 20, 2016.
(tea provided for review)