A few months back I visited the Seattle International District, looking for tea. I was meeting a friend, but I made good time enough to check out the scene…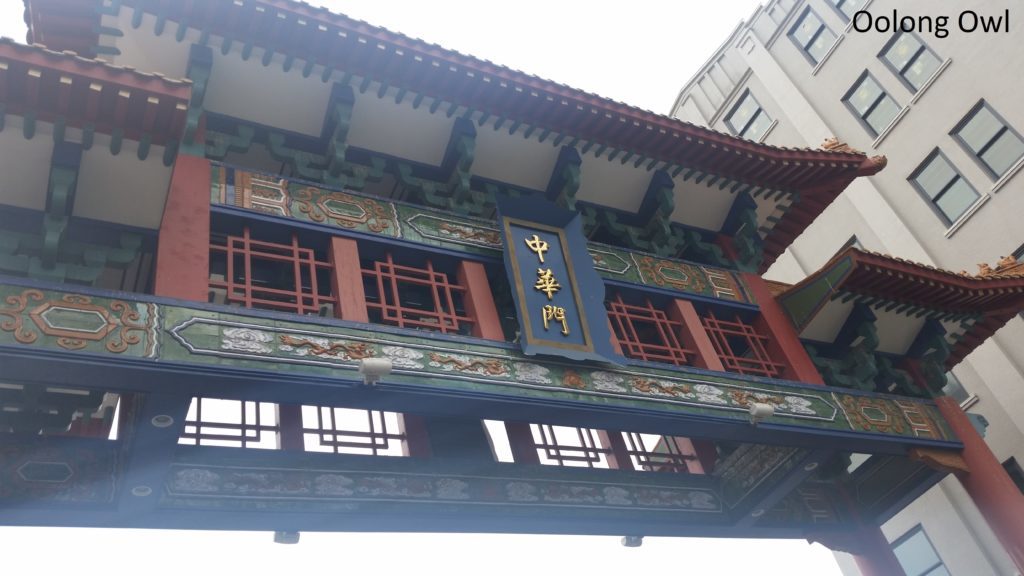 …and have a slice of green tea, taro, and chocolate mousse cake at a bakery.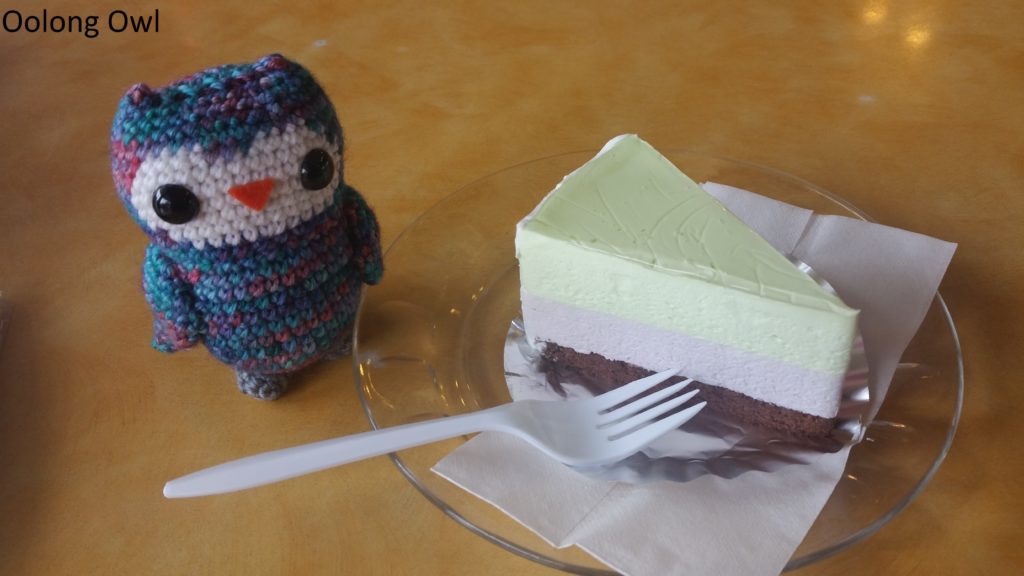 The highlight was two tea shops in the area – New Century Tea Gallery and Seattle's Best Tea. Both shops have an online website, but it doesn't give it justice to actually visiting the shop. While I was in the International District I found another two tea shops, one wasn't open yet, and the other didn't have much stuff, mostly selling trinkets.
---
New Century Tea Gallery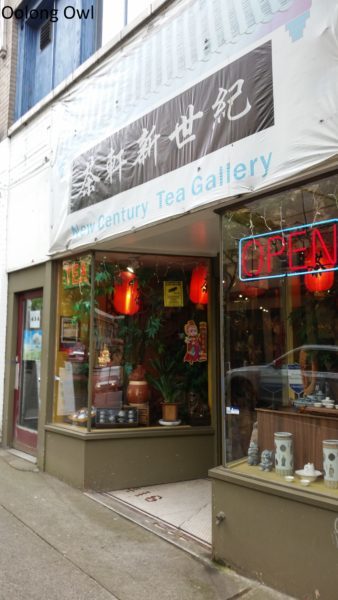 This tea shop is certainly a treasure of tea and teaware. You walk in and there is lots of goodies wall to wall! I found they had an interesting contrast of pricing – the bulk of their teaware was very affordable while their tea was much more money. They did have some expensive clay tea pots, but also some cheap ones. Either way, you will find something you have to have for your tea collection – I had a lot of will power to not buy 3 gaiwans and 2 clay pots.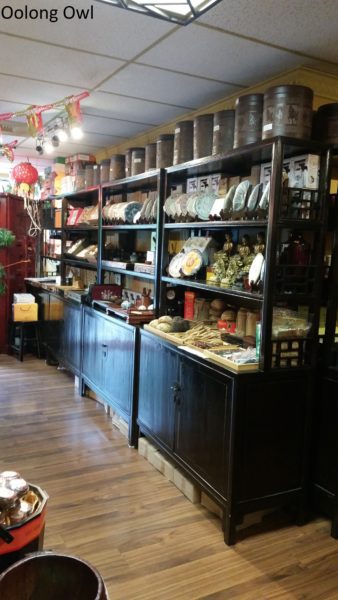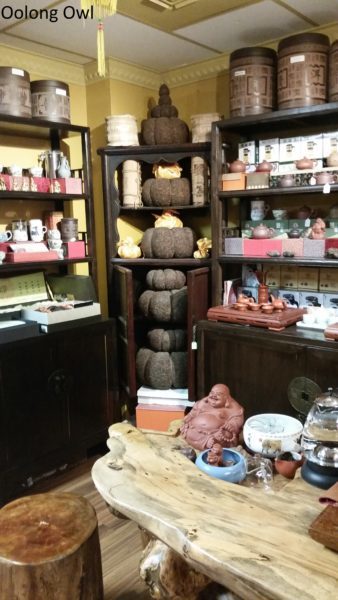 What really stood out for their teaware was their tea tables. They had a couple giant tea tables that were impressive to sit at, while you are in a store literally filled with tea!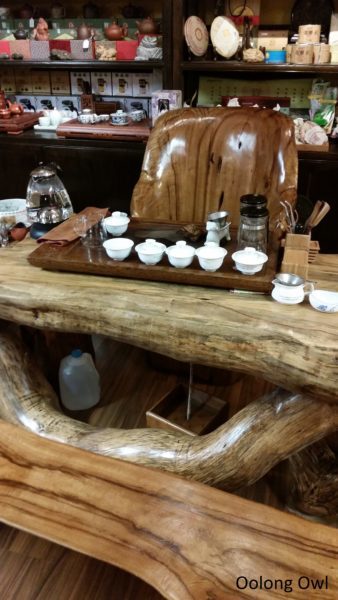 There was a lot of puer to look at, but I found the owners quite reserved. They served a number of teas to my friend and I but we drank quite silently. Everything we tried was quite nice, I ended up buying a green (of all things!) but found getting more information out of them tricky. It is certainly a tea shop I would visit again as there is so much to look at and I need to load up on cheap matching cups. I hope maybe after a few more visits the owners will warm up to me.
I ended up buying New Century's Special Grade Green and a ruyao cup. All the information she got was it was special and from her home town. I'm not big into greens, but it is quite special of a green tea.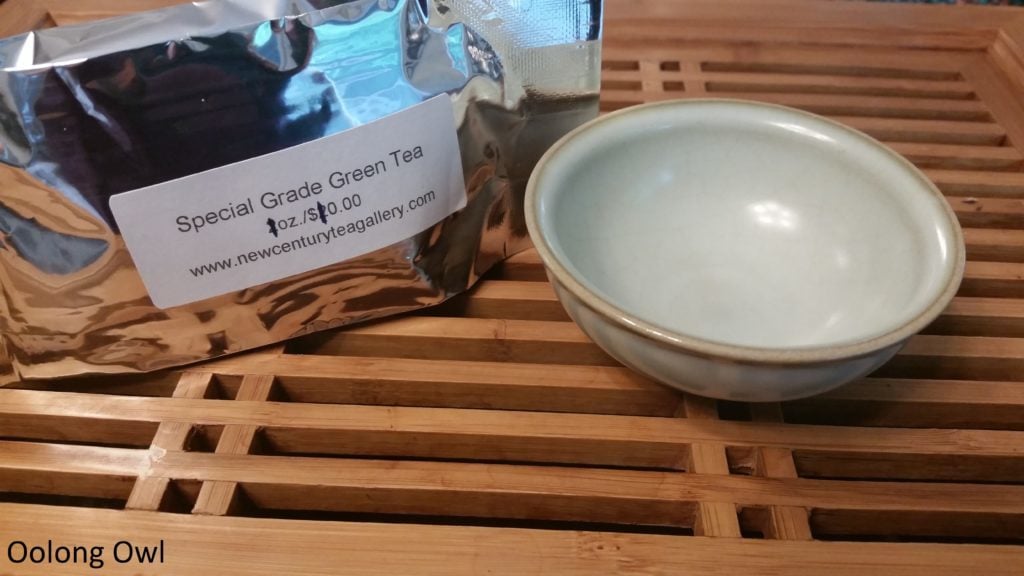 Special Grade green leaf smells like buttery vegetables.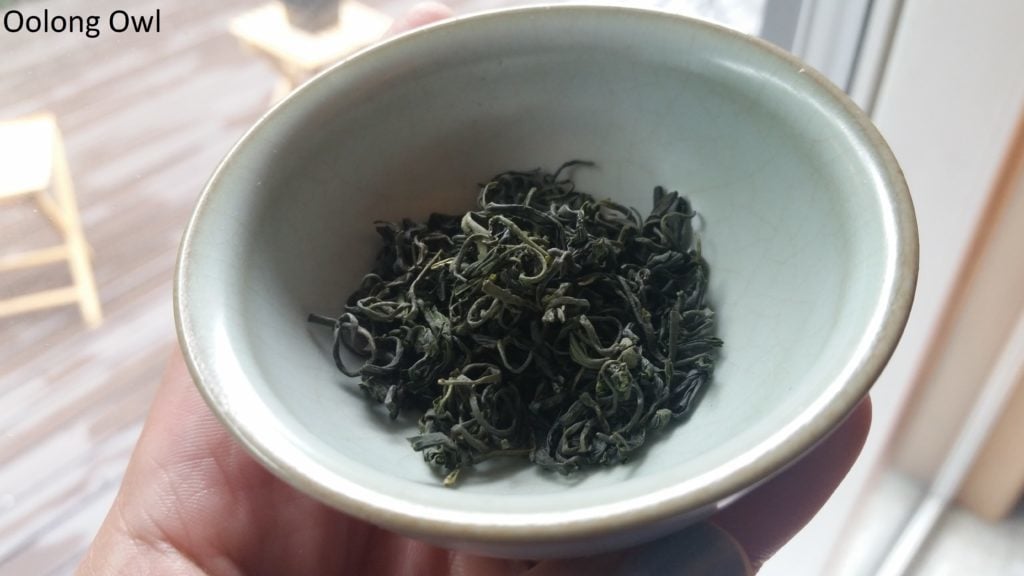 I made mine grandpa style with 175F water. The green tea sips in super clean, with notes of fresh spinach, buttery, stone fruit and with a thick creamy body. The aftertaste is fresh vegetal and a hint of sweet floral. The longer the session goes with the leaves being left in grandpa style, the more marine and thick the texture becomes. I got a little bitterness but is pretty mild.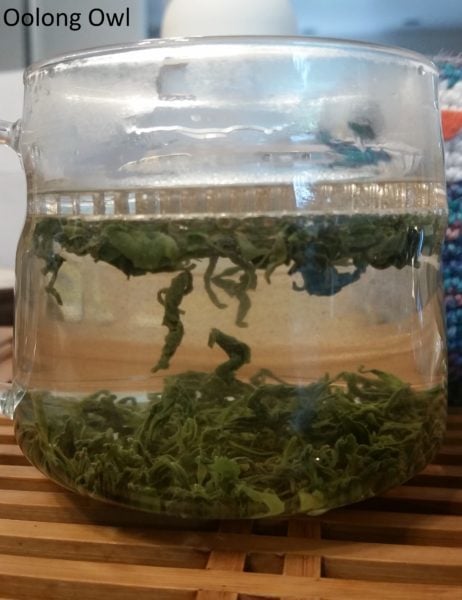 ---
Seattle's Best Tea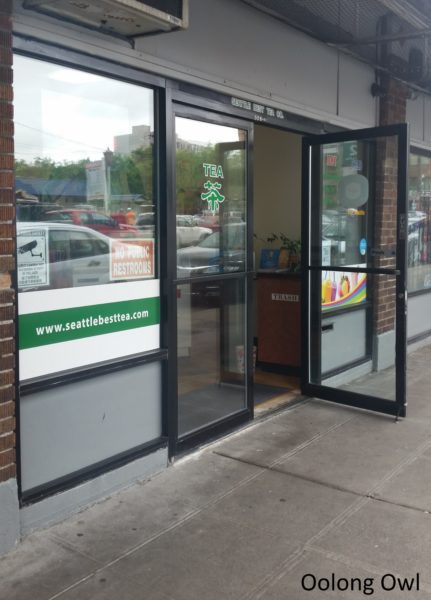 In contrast to New Century Tea Gallery is Seattle's Best Tea. Apparently Lydia is a city legend and I was told by many people I needed to meet her. Seattle's Best Tea is a small shop, but located close to the main hub station of the International District. Out front it looks like a bubble tea place and apparently according to yelp, the bubble tea is very good. In the back of the shop is a couple tea tables and where all the action happens.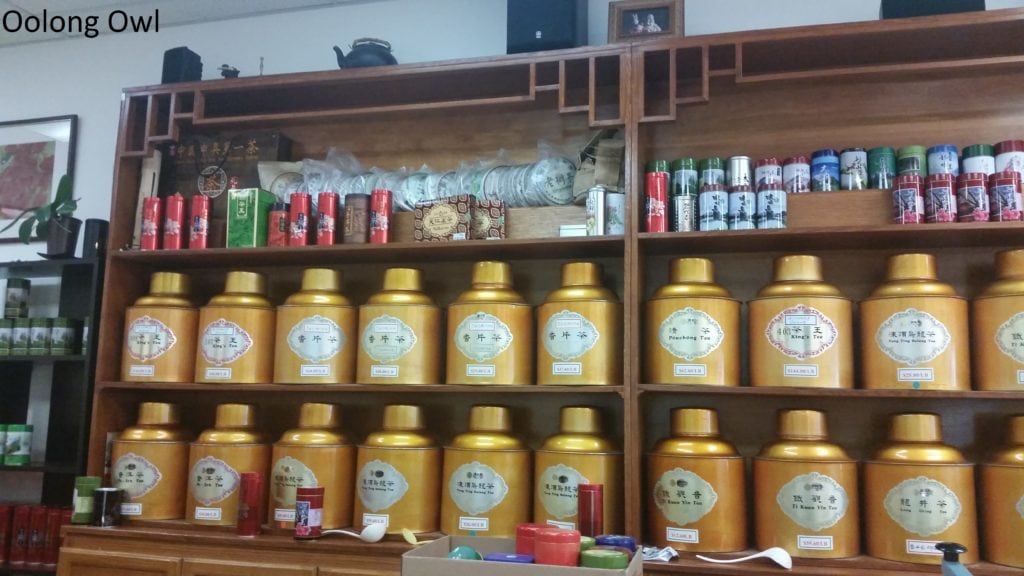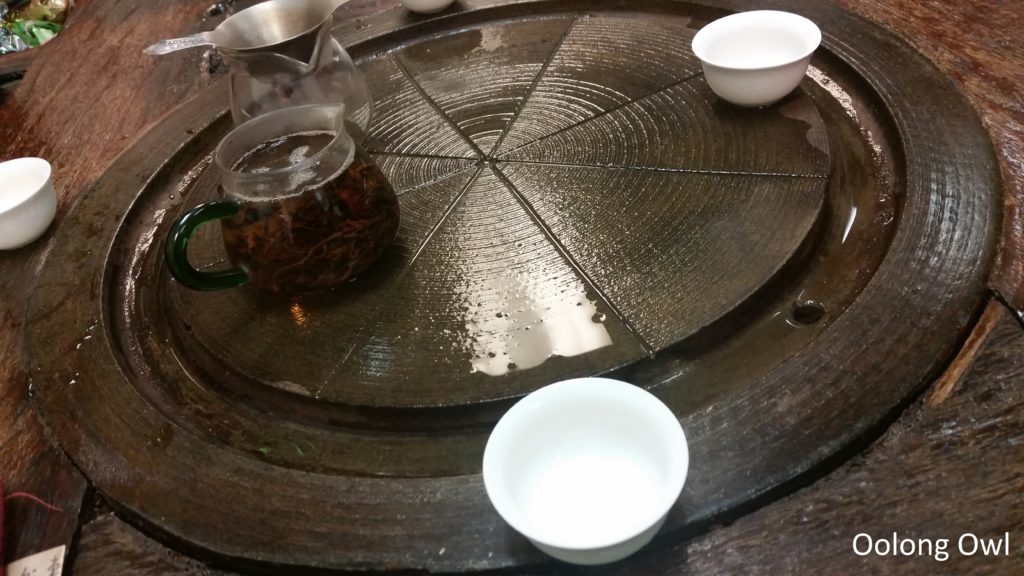 I came on a crazy day. There was 2 monks having tea, Lydia had family visiting from overseas, and 2 or 3 regulars came by so it was practically a party. We drank some excellent Li Shan and listened to Lydia. Lydia is very charming, talkative and a beacon of energy. She is happy to share tea knowledge with you, so this is a great shop to learn about Taiwanese teas. She also steeps tea what I saw Teadb.org refers to as "Auntie Style" where she uses two pitchers, putting the leaf in one, and pouring the steeped tea into the other pitcher. As the session goes on you watch the entire pitcher swell with leaf.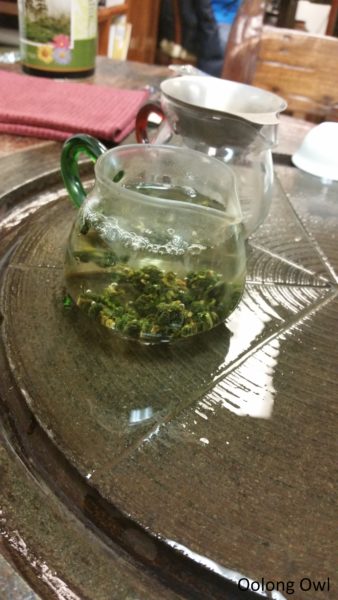 At the time I was there, the teaware for sale was your basic tea making stuff. You go to Seattle's Best Tea for the tea and company.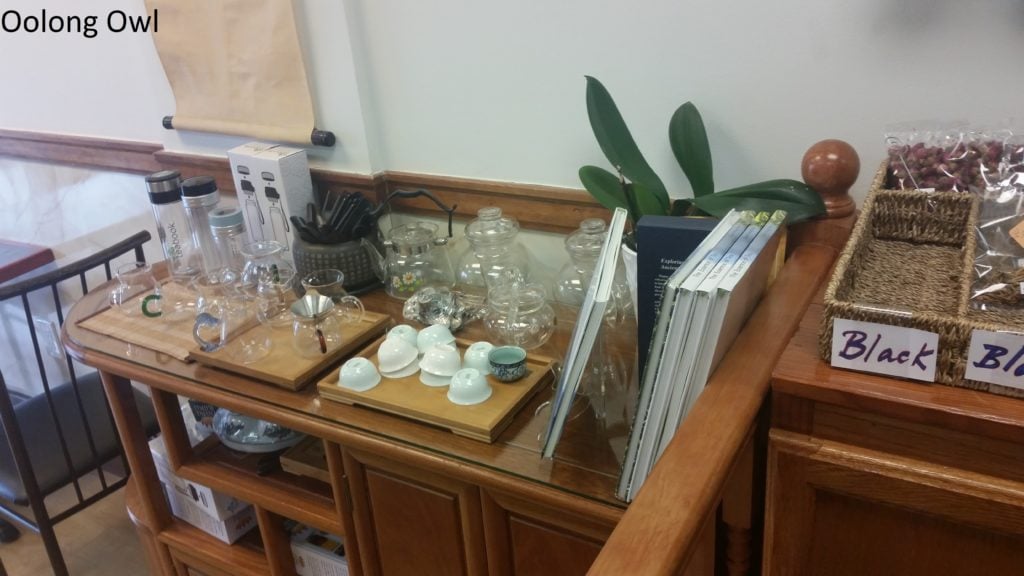 I ended up buying two teas – the high roast dong ding and a ruby 18. The teas were sampled packed at the store, I added labels after as I will forget. I am saving the Ruby 18 for another day, but lets have the Dong Ding!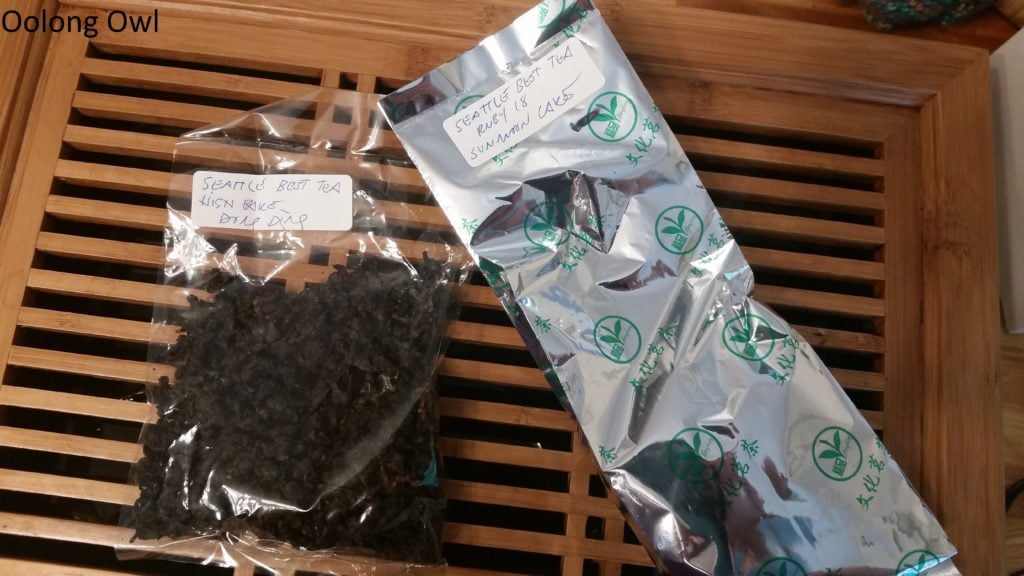 The leaf is black and what I like to see. I steeped it fairly aggressively with boiling water and was very pleased with the results. Admittedly I was tempted to "Auntie" style it but that is too much tea for me to drink!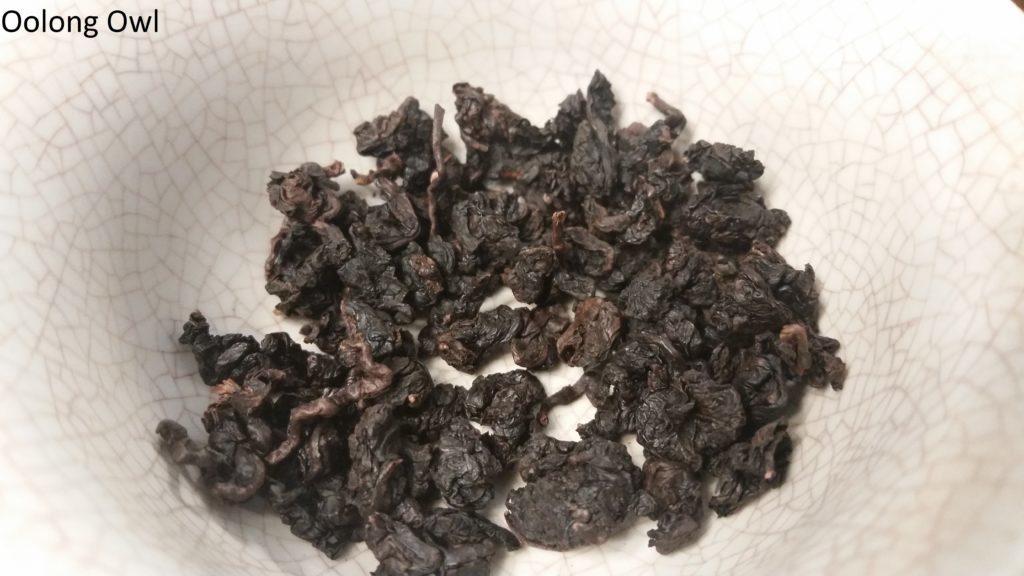 The dong ding is thick and like drinking tea grease. It is so oily that it is coating my throat. The tea is sweet, mineral, and clean, then develops a rich toasty, raisin bread. It dances right before having char notes. That texture is amazing though, it is like drinking something sinfully deep fried… maybe a deep fried cinnamon roll? Oh my. I got 8 infusions in and this tea is not quitting.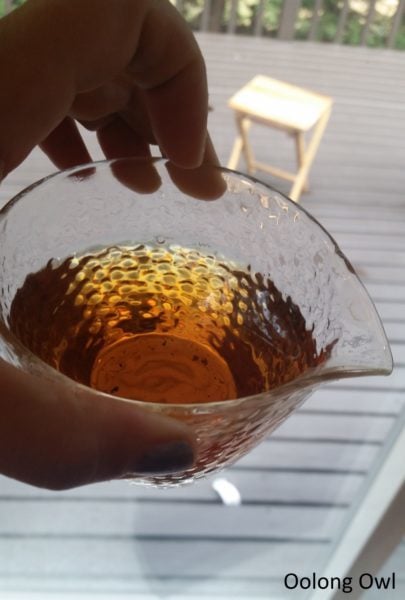 Well I'm off to face plant in this lovingly greasebomb of an oolong. I will certainly visit the International District again. I highly suggest you all make a trip over when in Seattle!