I recently received a sweet sample pack from Wymm tea, a new online tea seller. Awesomely, Wymm Tea is also from Vancouver! Man I really to do a trip home as the tea scene in Vancouver must be killer! Anyways, Wymm Tea has a gorgeous website with plenty of information on their teas, good looking pu'er and pretty packaging! I decided to try their Jingmai, a raw/sheng from ancient tea trees, pressed Spring 2013. I've been noticing that I tend to really like raw Jing Mai pu'ers.
Here is the sample packing from Wymm Tea –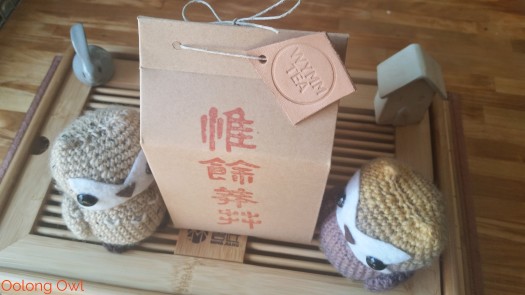 With samples inside wrapped in stamped pu'er paper. They were originally folded nicer, I unfolded some to see which tea was what and then folded them back.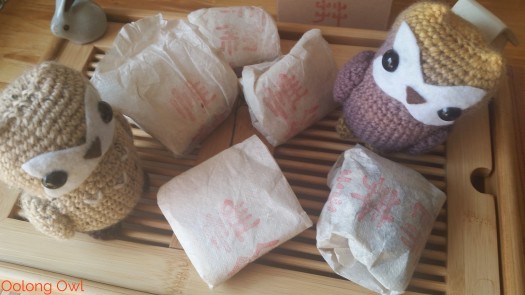 Dry Leaf
The leaf has a pretty silver tint with a dry scent. Admittedly a little hard to say the scent when the tea was packed with a bunch of other pu'er.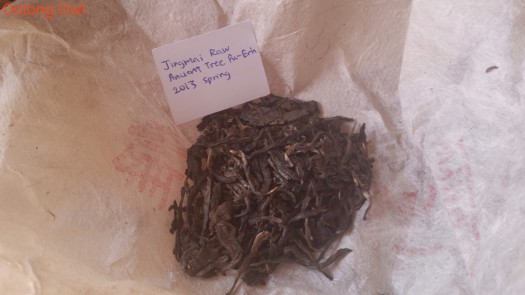 Steeping Instructions
I decided to use 200f water and a gaiwan to steep this sheng pu'er. I did a rinse and started with 10 second infusions, increase time as I steeped on.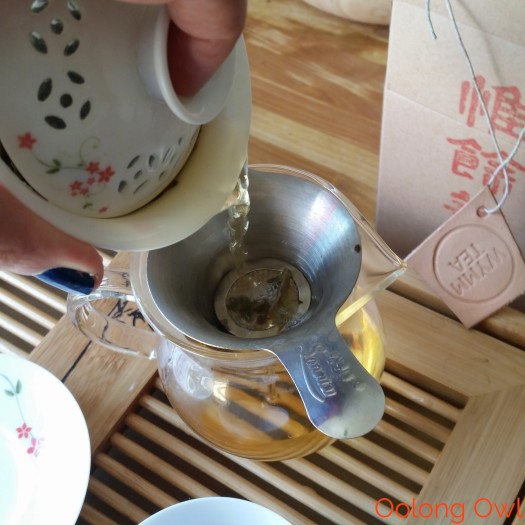 Tasting of Wymm Tea's 2013 Spring Jingmai Sheng Ancient Tree Pu'er
First infusion: The tea is a pretty light peach color.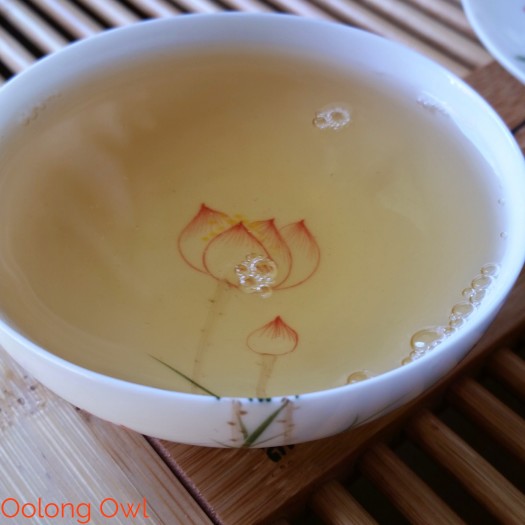 Wymm Tea's Jingmai Sheng sips in sweet, light, with a hint of little smoke, stone fruit and floral. The taste is so light that I probably should of done a second rinse.
Second, Third, and Fourth Infusion: Now we are talking! Thick thick body with flavor gets stronger throughout the sip. Wymm Tea's Jingmai Sheng has a buttery cream sweet flavor with a floral orchid finish. The orchid floral lingers after each sip. The floral is low moderate level of 3/10 on the floral meter. That hint of smoke is not present anymore. With each infusion the flavor gets stronger and a bit of dryness emerges tingling my cheeks. Starting at 2/10 and finishing at a moderate dryness level of 4/10 on the Astringency Meter. I'm not kidding about the orchid floral lingering – I took a Nintendo Pokemon Shuffle game break and tasted floral until I came back to the tea.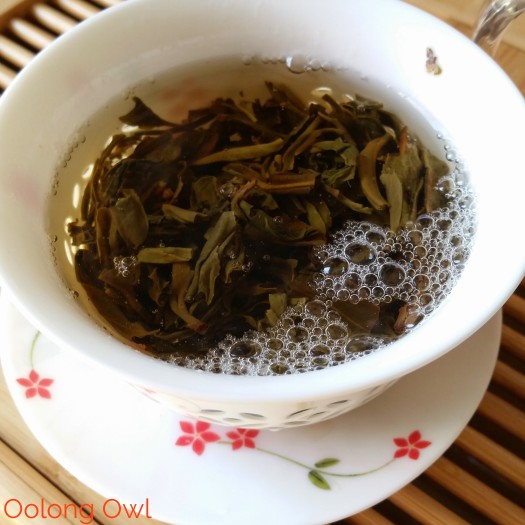 Fifth, Sixth and Seventh Infusion: The tea color got vibrant, so pretty!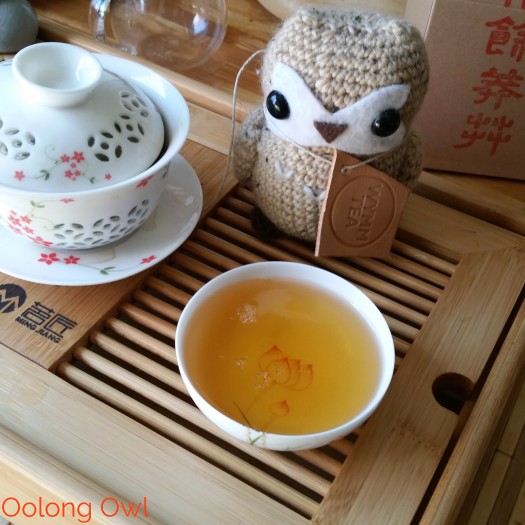 The flavor of  at its peak here. Wymm Tea's Jingmai Sheng still has a thick body with a blooming orchid flavor (now stronger, 5/10 on the floral meter) and a little creamy sweet. There is a stone fruit taste, kinda peach apricot, that you often taste with florals. Tastes like spring! I wish I could send you all over in the wintery east coast a cup of spring!
Eighth, Ninth and Tenth Infusion: Wymm Tea's Jingmai Sheng is starting to chill out now as it is getting lighter a creamy with less floral. As the floral escapes, it leaves room for a peachy flavor. There are some interesting amber notes coming out here too. The tea is getting sweeter as the flavor slips away. There is still a long orchid aftertaste.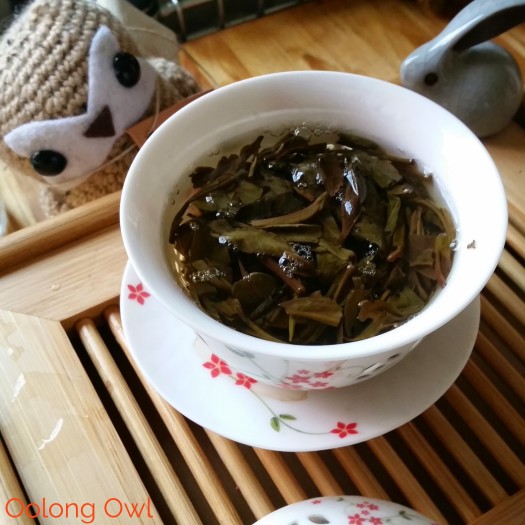 Eleventh and Twelfth Infusion: The final infusions of Wymm Tea's Jingmai Sheng were light on flavor but big on orchid aftertaste. I found the dryness didn't increase making for drinkable steeps throughout the entire tea experience.
Comments
Wymm Tea's 2013 Spring Jingmai sheng is a delicious Jing Mai. I'd say this is a great pu'er for the type that want a floral sweet sheng and a nice starter pu'er for a white or oolong drinker to get their paws into pu'er.
I love a good floral tea especially to match the season and this tea certainly sings flowers and spring. With the fantastic aftertaste, I found Wymm Tea's Jingmai Sheng makes you progress through the session slowly to enjoy the aftertaste.
Wymm Tea sells their pu'er in cakes, as well as in sampler packs so that you can try all their teas.
(tea provided for review)