For the July 2020 White2tea Club we have an exclusive pressed white tea, and samples of 2020 Demon Slayer sheng puer and Daily Jin Jun Mei Black tea.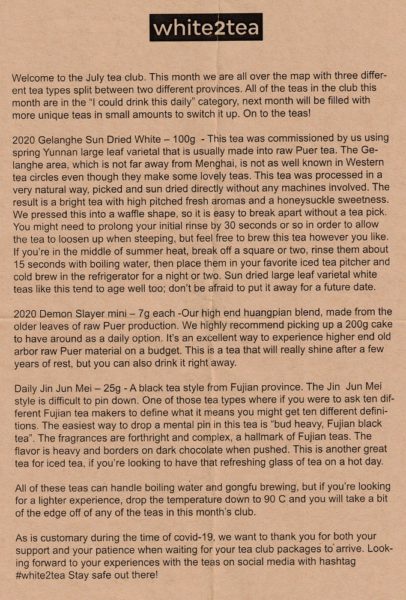 2020 Gelanghe Sun Dried White Tea
This 100g cake is exclusive to the White2tea club.
Oooo a waffle cake! The Gelanghe cake has a sweet golden raisin scent. Each full-sized square clocked in around 4g. The compression is wicked tight, just snapping off pieces was a bit tricky.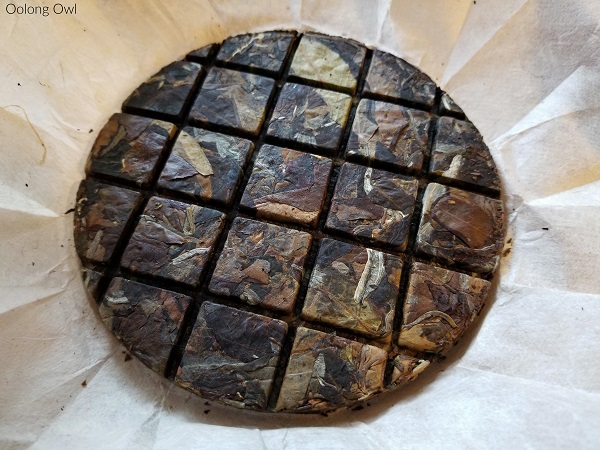 I used 1 gram of leaf per 20ml of vessel size, steeped in boiling water, gongfu style. I did a long rinse and this waffle piece just doesn't want to open up. After the rinse, I let the leaves steam in a closed gaiwan for a few minutes. The wet leaves continue to smell like golden raisins.
First, Second, Third, and Fourth Infusion: The first infusion of 2020 Gelanghe Sun Dried White Tea is very light as the leaves are still a solid brick. Gelanghe has honeysuckle floral, juicy herby stems, and mineral notes. With each infusion, the flavor bumps up a bit but mostly gains sweetness. The texture of this tea is silky smooth and delicate so far.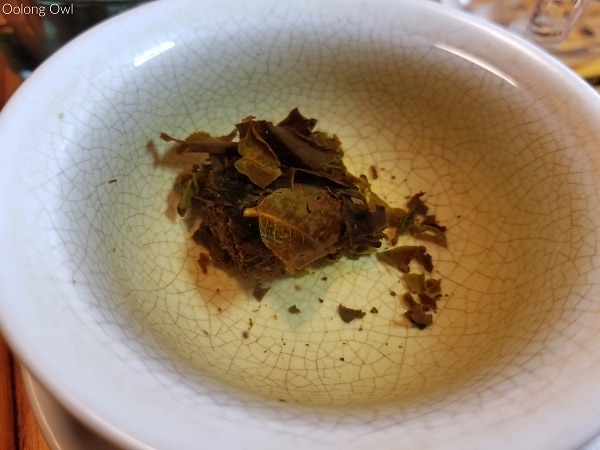 Fifth and Sixth Infusion: I am a bit of a savage with asbestos fingers – I reached in and pried the brick piece into half, the middle was bone dry. The flavor jumped up to be sweet honeysuckle, cucumber floral, with a creamy texture.
Seventh, Eighth, Ninth, Tenth, and Eleventh Infusion: Gelanghe White Tea switched to a copper hue. After all these infusions, the flavor is still kicking honeysuckle floral but is getting a dark profile of dark raisin, but has some bitter cucumber and dryness, likely due to some of the exterior leaves that got resteeped and exposed the most.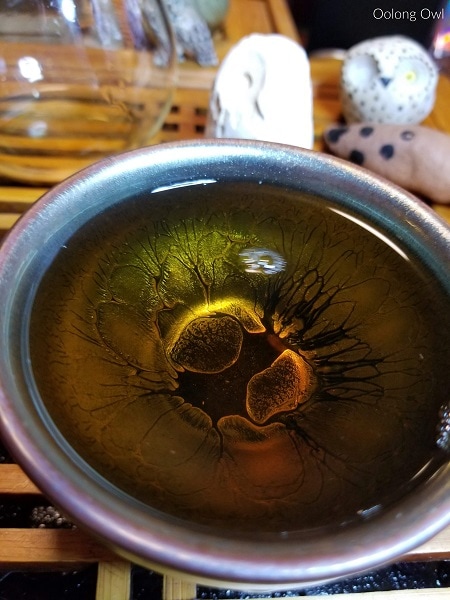 Twelfth Infusion: I did a 30-minute infusion here. This infusion was the best – Gelanghe White is honey date sweet upfront, but bitter cucumber at the end of the sip. I can't wait for this tea to be aged and I can stove boil it!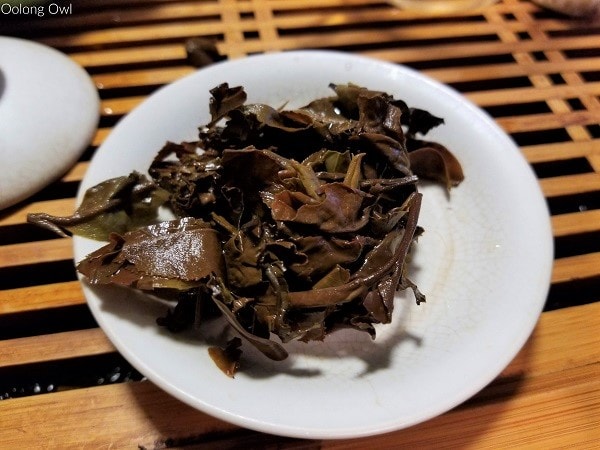 Comments
If you aren't in the White2Tea Club, you missed out! I am going to age 2020 Gelanghe Sun Dried White Tea for sure. I liked how dark it got in later infusions and the tight compression I love for holding onto aroma as time goes on.
---
2020 Demon Slayer Sheng Puer
July 2020 White2tea Club included two 2020 Demon Slayer 8 gram Minis. This tea is also in 200gram cakes in 2020 and 2018 material.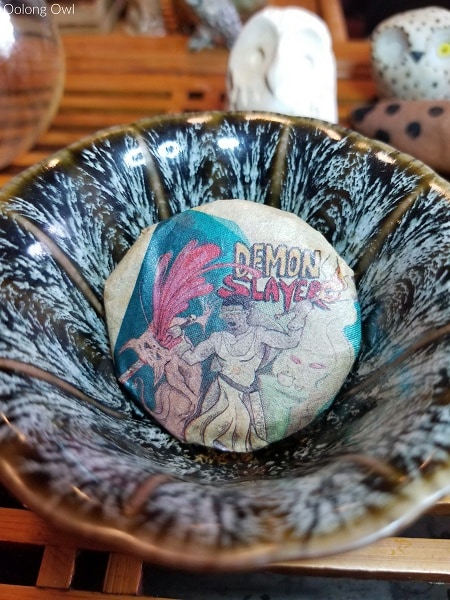 The leaf has a faint grassy hay scent. Steeped up the leaves have a pungent acidic vegetal scent.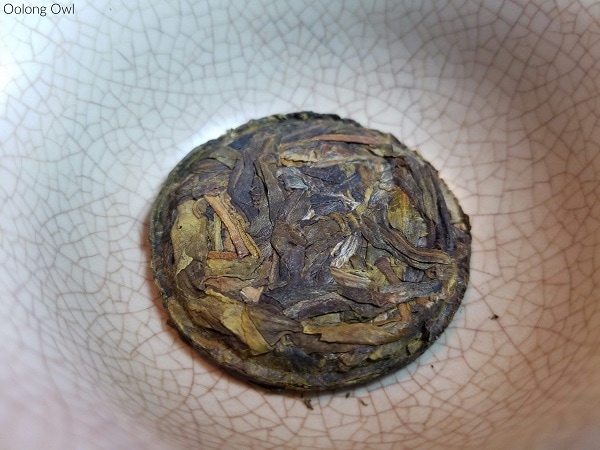 First and Second Infusion: Despite the acidic scent, the flavor of Demon Slayer is pretty mellow. The notes are fresh green peppers, bay leaf, and pandan leaves being overall a vegetal experience that is lightly sweet. The tea broth is thick and creamy, making for a satisfying sip.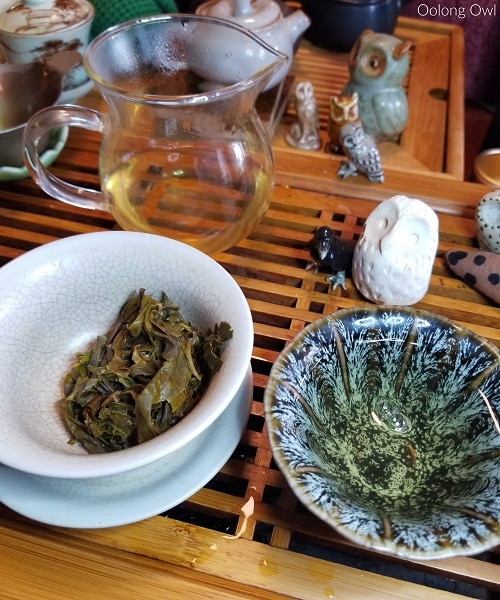 Third, Fourth, Fifth, and Sixth Infusion: Demon Slayer got swampy.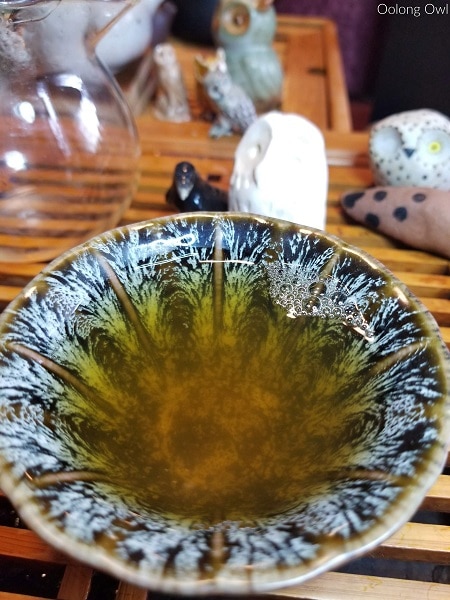 I hit the wall and Demon Slayer sheng puer has a potent savory charred roasted pepper flavor with some bitterness. The first few infusions were so easy going and this one is a wake up slap to the face. Each infusion of Demon Slayer gets more bitter and sharp tasting to the point that this isn't for the faint of heart. However, breaking through the bitterness is an excellent floral apricot perfume in the aftertaste.
Seventh, Eighth, and Ninth Infusion: Demon Slayer is tannic and acidic, over a stewed bitter roasted pepper with more face slapping bitterness at the end of the sip. There is a bit of astringency causing my teeth to feel dry, but I am mostly distracted by the bitterness. There is still tea flavor left, but man this is bitter that I can't take it anymore. I need a taco.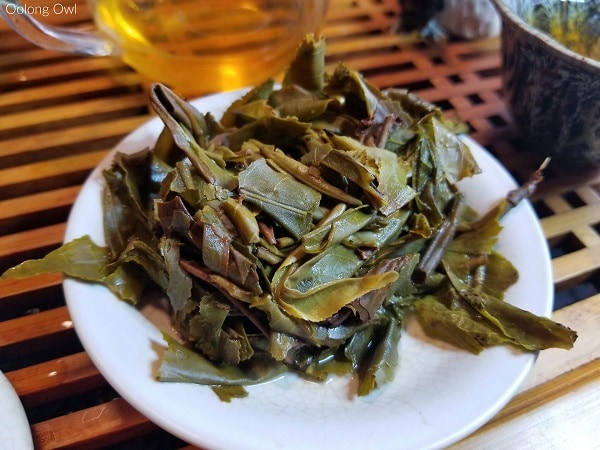 Comments
Demon Slayer is only $32 a cake, or $9 for a stack of minis (at this time of writing). That is a pretty good price for a tea that kicks like a mule and has interesting complexity. 2020 Demon Slayer would be a good inexpensive sheng to squirrel away to age or drink now for the bitter lovers.
---
Daily Jin Jun Mei Black Tea
The bag is dusty as it is full of honey and malt scented fuzzy tea hairs.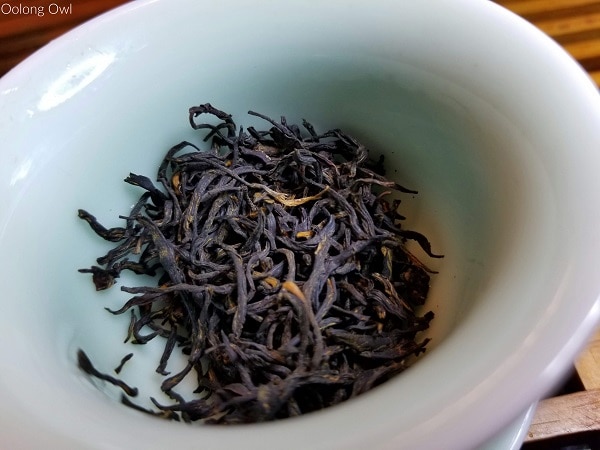 I used around 1 gram of leaf per 15ml of vessel size, gongfu steeped at a boil. Steeped up, the leaves have a rich woody and malty scent.
First and Second Infusion: Daily Jin Jun Mei is creamy textured and smooth tea, tasting like malty Ovaltine and chocolate. I had hundreds of memories rush in of my grandma feeding me the Ovaltine mix as a kid. The aftertaste is sugarcane sweetness that lingers briefly.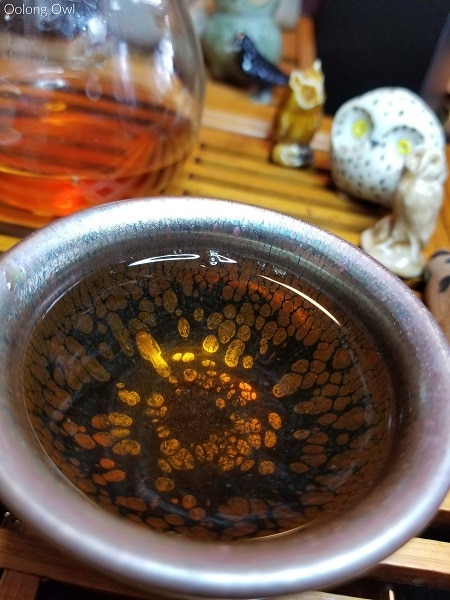 Third, Fourth, and Fifth Infusion: A bittersweet note arrived, mixing more to malt, rich dark chocolate, with a dryness that pecks the back of the throat. Each infusion of Daily Jin Jun Mei gets more dry and brisk.
Sixth and Seventh Infusion: Daily Jin Jun Mei is still rich and malty but is getting a little watery and very dry. The final infusion lost all bitterness but settled into a very throat drying astringency.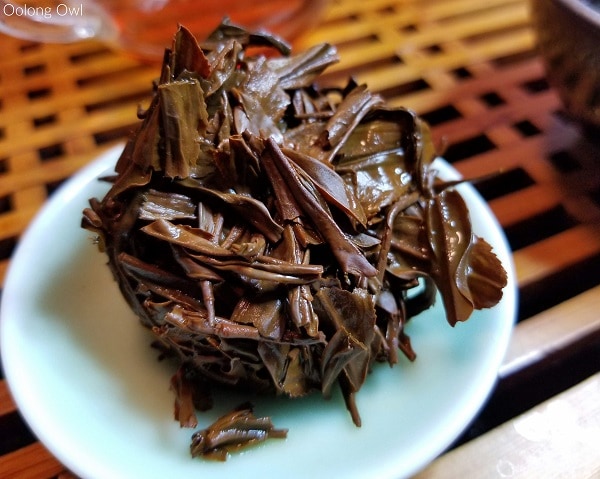 Comments
White2Tea's Daily Jin Jun Mei is a lovely, malty heavy black. I did the malt and bittersweet notes. You Hong-o-holics you'll probably love this tea and the price is right. $6.50 for 50g, cheaper if you buy 250g.