Laoshan Black Chocolate Genmaicha is a genmaicha blend from Verdant Tea.
This blend features Verdant's Laoshan Black, a little Shui Jin Gui Wuyi Oolong, hand crafted wild rice from Minnesota, and organic fair trade toasted jasmine rice. Oh, and organic cacao nibs.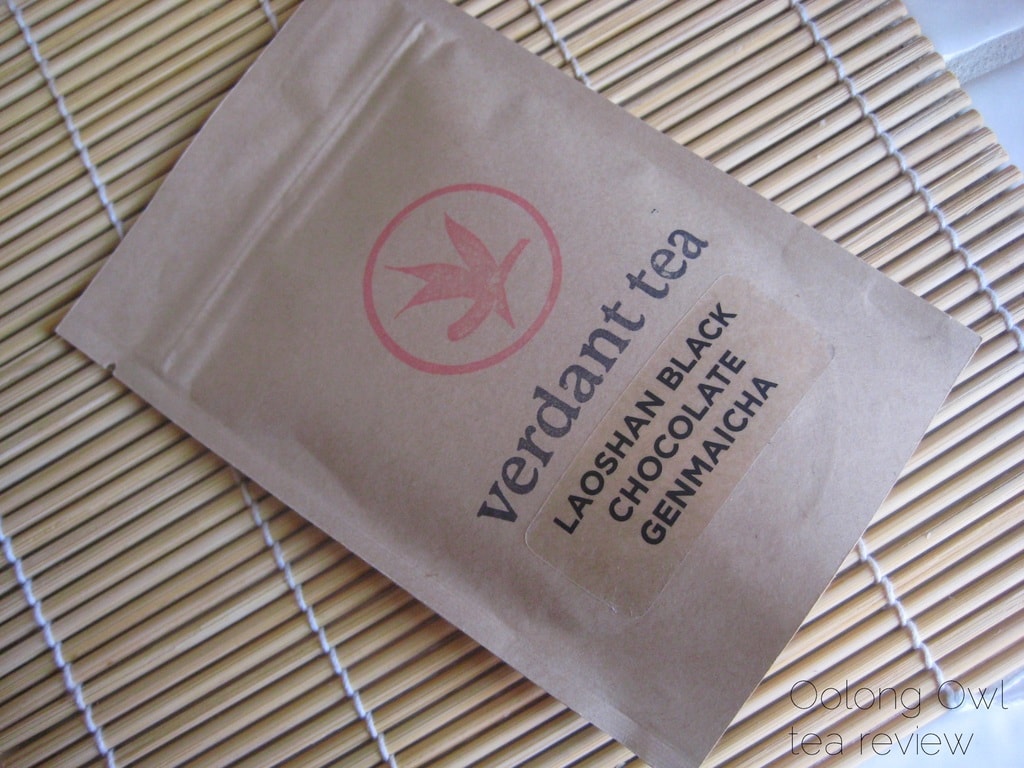 I really wanted to try Laoshan Black and this blend, but I was on a budget. So I opted to get an 1 oz of this blend, as I tend to drink more blends than straight unflavored teas.
DRY LEAF: The tea smells like dark chocolate! Good dark chocolate, kinda like Lindt's Dark Chocolate – Ohh yum, I love that chocolate!
I found the rice and chocolate nibs settled to the bottom of my bag, so I gave it a good stir to make sure I get a good mix of tasty tea bits. As always, lovely dry leaf appearance – mix of dark black tea leaves, giant dark green oolong leaves, chocolate lumps and a toasted rice.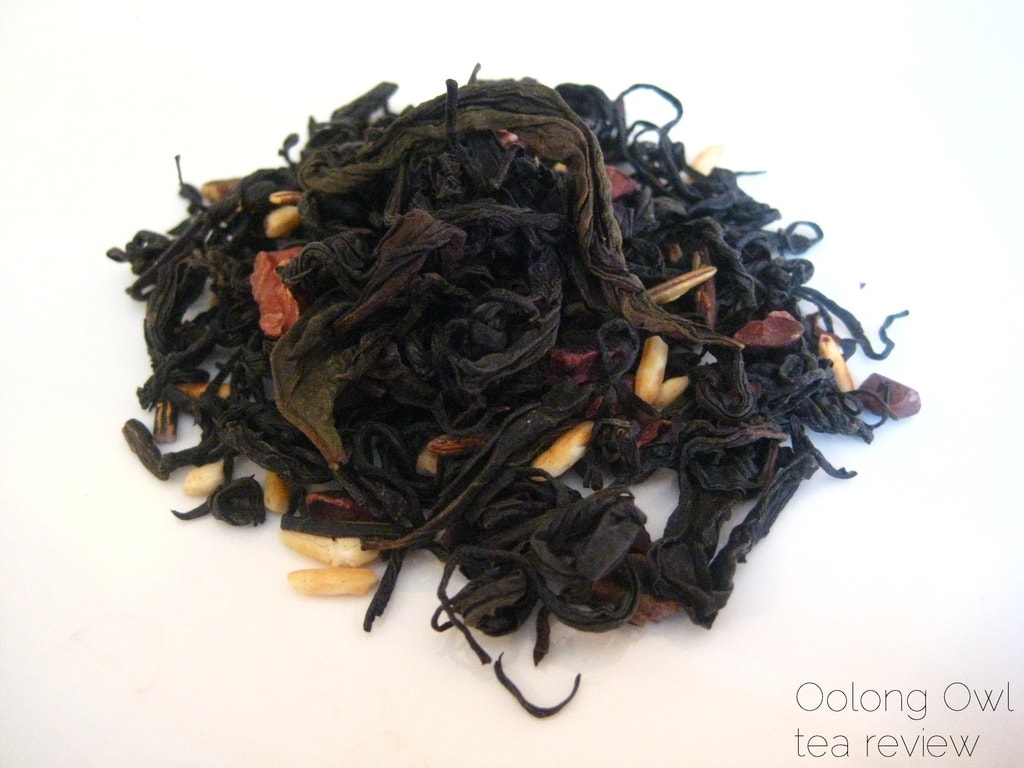 Get a load of this giant leaf I found in my tea!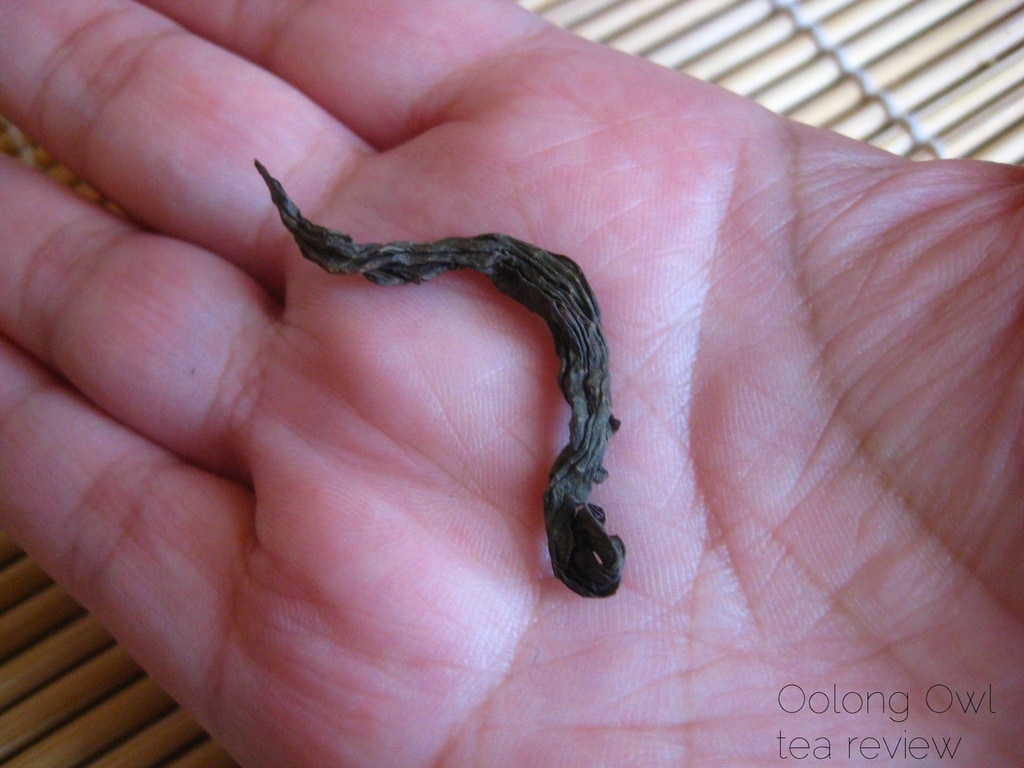 STEEPED: I brewed this tea as per the brewing instructions listed at Verdant Tea, so 200F for 3 minutes.
Uh oh, steeping up a Verdant Tea attracted that green owl again!
Gah, he brought reinforcements! A little teal owl!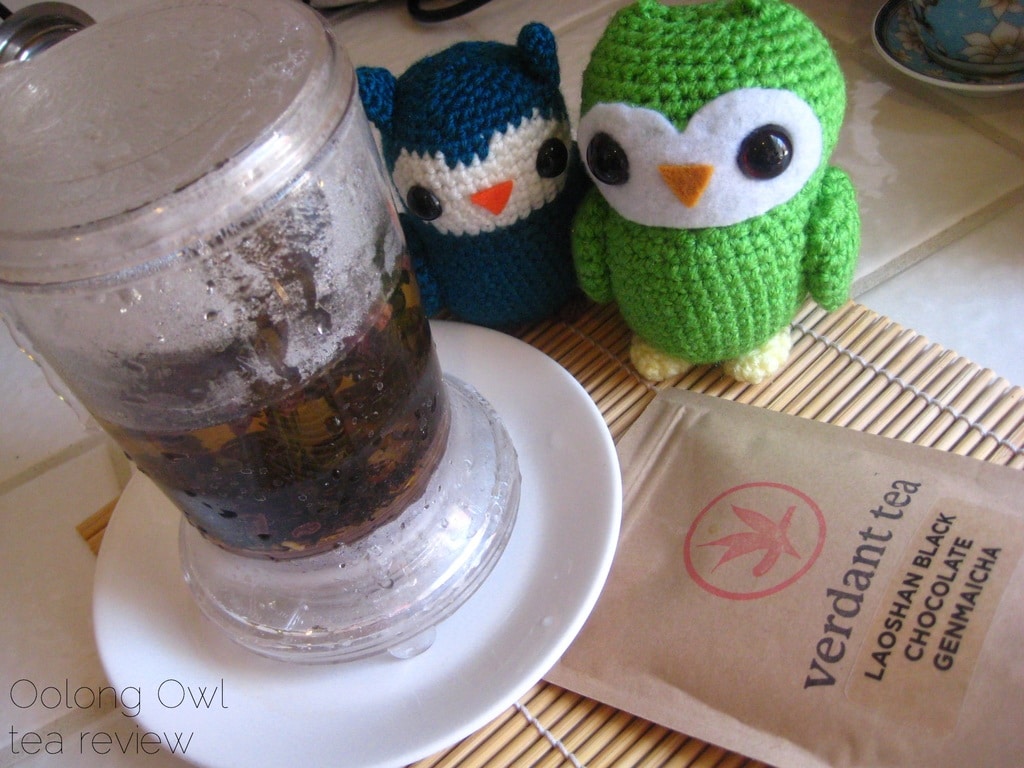 I love the colour of the steeped Laoshan Black Chocolate Genmaicha – a dusty, woodsy, dark brown. The Owls approve!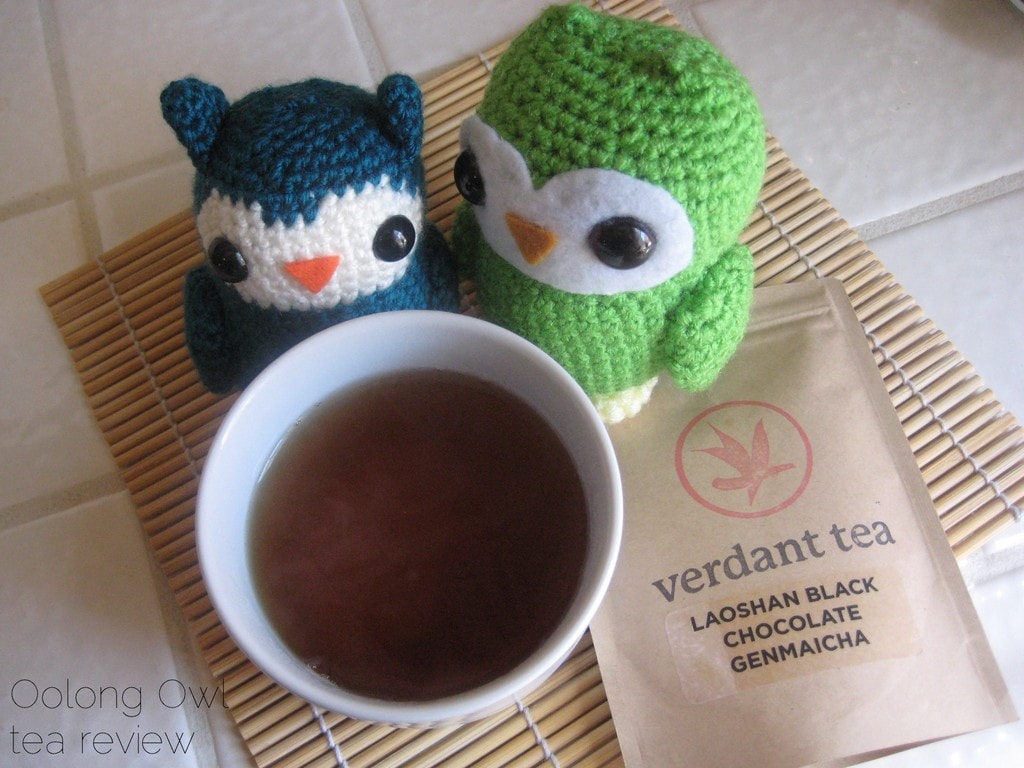 Actually, the colour of my tea reminds me of something. Hold on….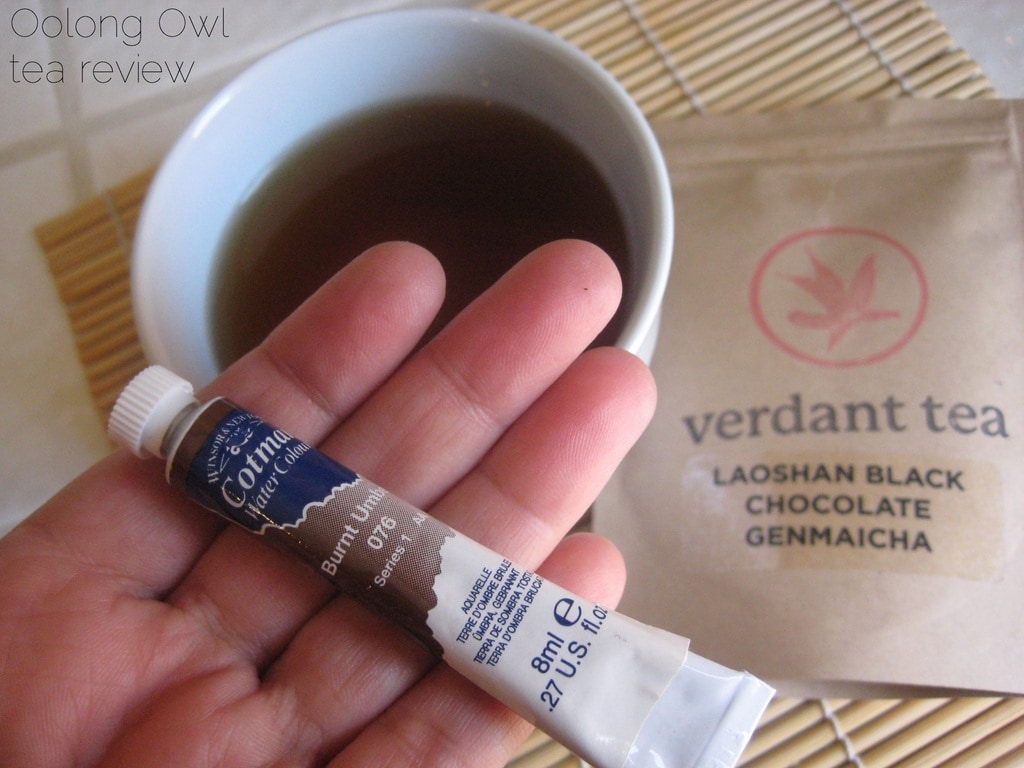 Yep, I colour matched my cup of Laoshan Black Chocolate Genmaicha with my tube of Burnt Umber watercolour paint. Perfect match! (>_>) yeah, kinda random.
Lovely smell! Reminds me of a mix of burnt dark chocolate of a s'more and roasted rice cakes! OOH YEA MUST DRINK NOW!
TASTE: Super roasty! Laoshan Black Chocolate Genmaicha has an amazing flavor of a coffee like roasty taste, mixed with chocolate, dark caramel, nutty, and with a malty hum. The aftertaste is a lovely dark chocolate that lingers. I cleared my throat and more chocolate taste came up. All those flavors go together so amazingly and make me feel warm and snuggly! Absolutely no bitterness or astringency.  This is luxury in my cup!  Annnnd, I drank it all in record time! Reflecting, I think I could steep this a little longer, I'd like a stronger taste out of this. Resteep time!
RESTEEP: I did a 4 minute resteep with 200F water. The Laoshan Black Chocolate Genmaicha came out lighter, but with some sweetness this time. This resteep isn't malty or nutty, but still dripping dark chocolate, roasty and with a soft toffee like sweetness. YUM!
RESTEEP #2: I had to try another resteep. Tea this good, you need to figure out how to get the most out of it without going broke. I did a 6 minute resteep. This tea is much much lighter, with a gentle wave of dark chocolate. The tea is still sweet, honey like, with a faint aftertaste of toasted rice. I think I could squeeze another desperate resteep, but it wouldn't be that great. Oh well.
COMMENTS:
/DROOOOOL
Laoshan Black Chocolate Genmaicha is good! Really really good! I-refuse-to-share-it Good! I love how there is lots going on in this tea, something you just don't get in a regular green genmaicha! The blend is very warm and comforting, I wanna snuggle up with a cup of this – all I need is a nice large cookie to go with it!
I found Laoshan Black Chocolate Genmaicha perfect as is without sweetener. I didn't want to try this with sweetener as I found the resteeps were sweet enough for me.
If you are a dark chocolate or rich roasty tea fan – this tea is for you!
BONUS PIC: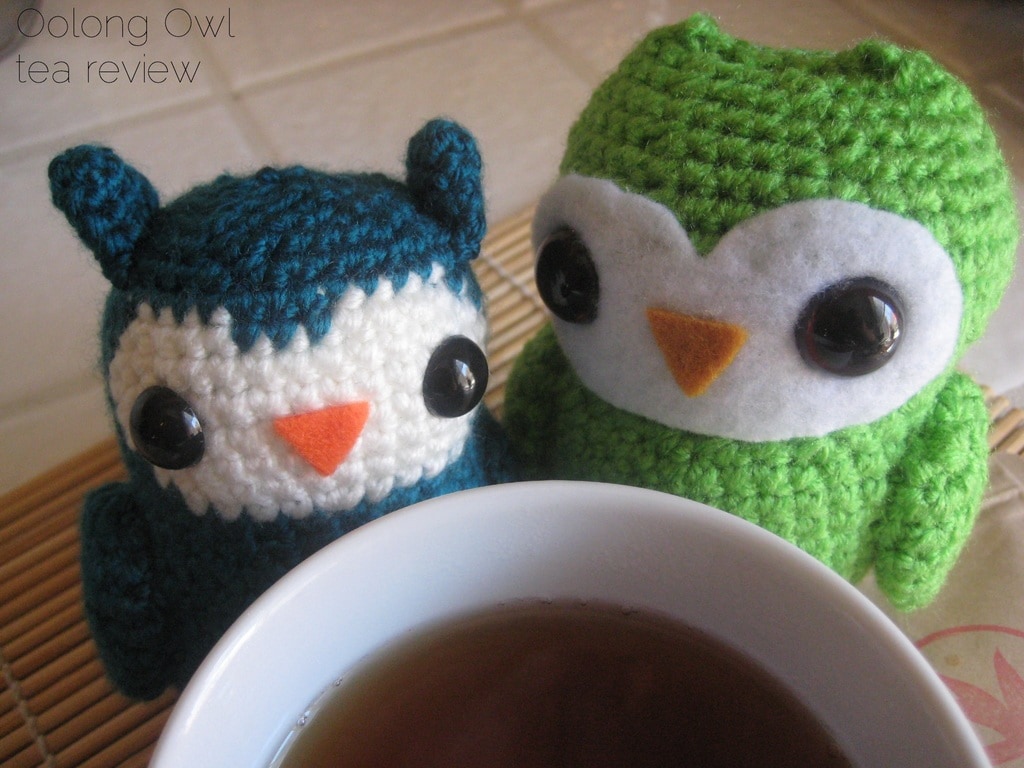 Owls bonding with tea