Lemon Rose White tea features Silver Tips White tea, Green Tea, Peony Petals, and Lemongrass. This tea is from Whittard of Chelsea.
From what I can tell, I only see Lemon and Rose White tea listed on the UK side of the site and not the US side. Actually, all the interesting blends are on the UK shop side – I hope they bring those teas to their US shop!
I always have a lemon green or white tea on hand – they make great iced teas! I also enjoy a lemon tea when I'm sick – I can doctor it up with fresh lemon and loads of honey to make me feel better.
This Lemon and Rose White tea sounds like a good combination of flavors. Let's sip!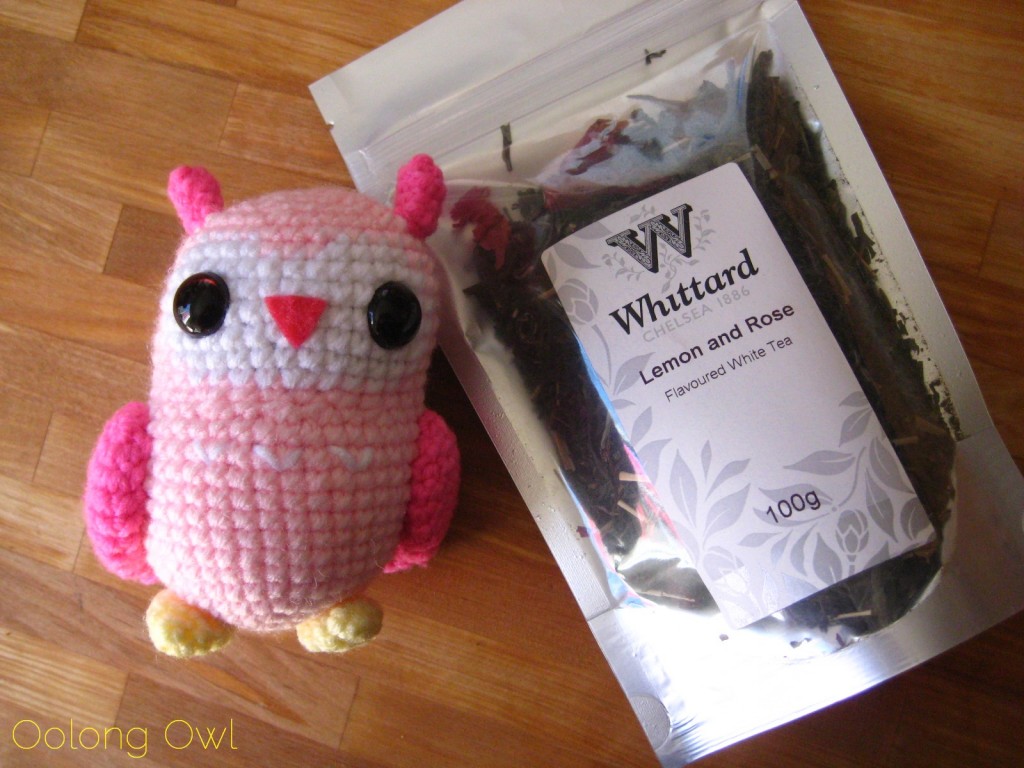 Dry Leaf
Opening the bag of Lemon and Rose White tea is a treat – it smells like fresh, ripe lemons accented with a rose garden!
The dry leaf has an interesting appearance – large red petals, dark curls of green tea and grey white tea, along with light sticks of lemon grass pieces.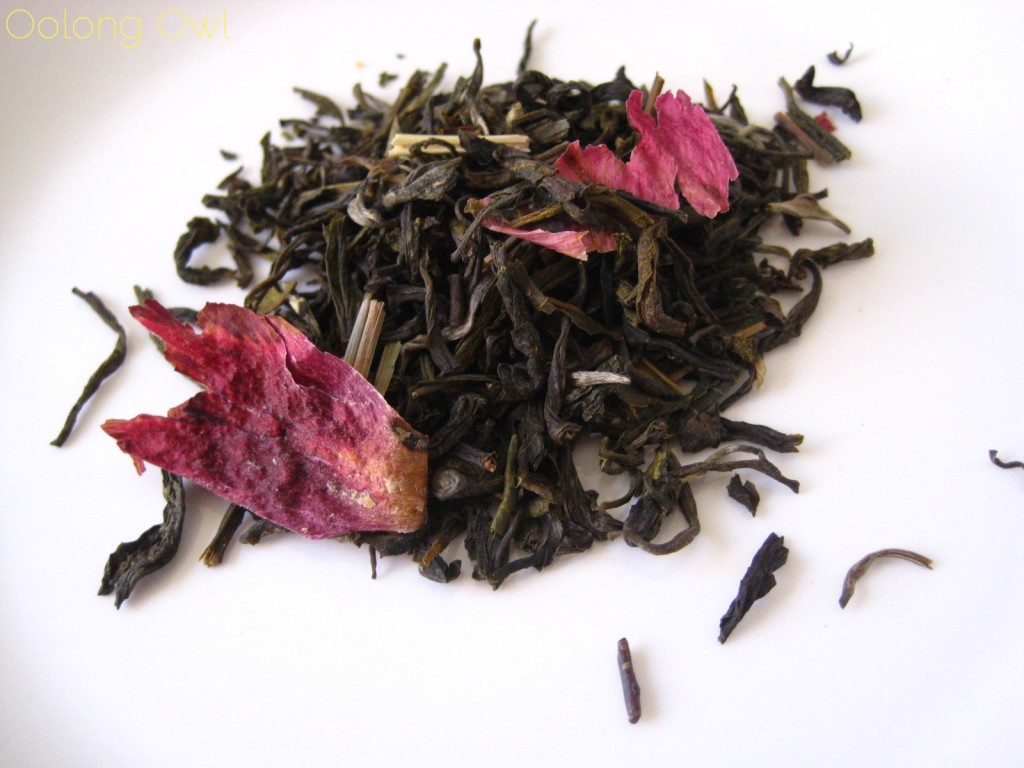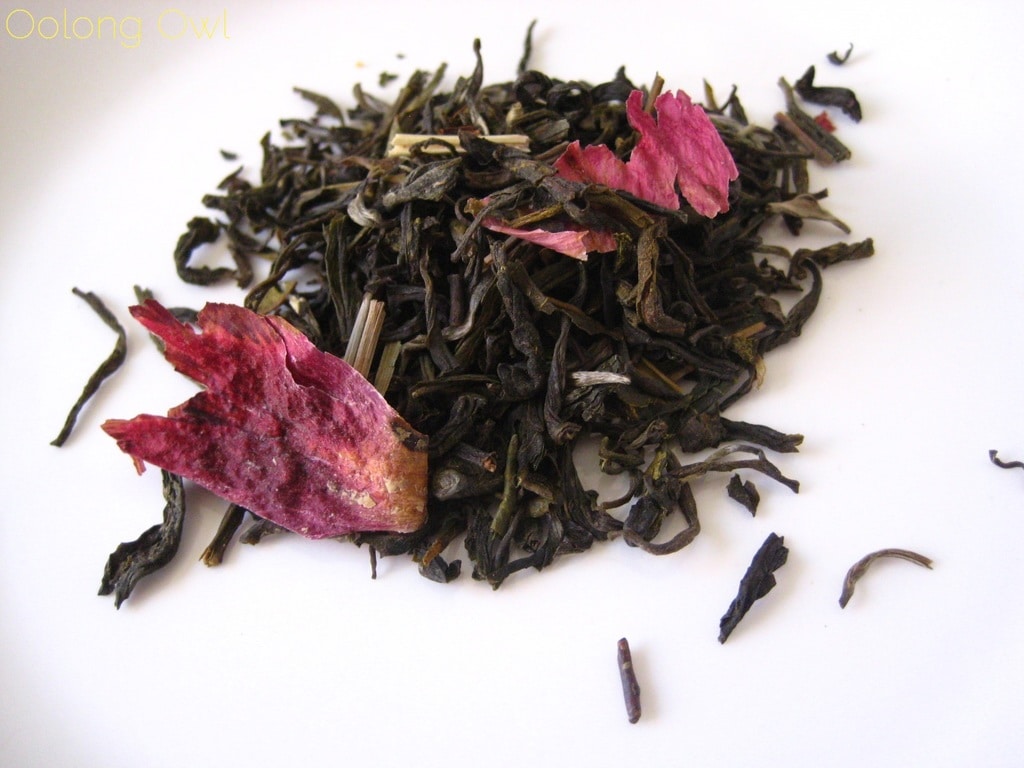 Emphasis on giant flower petals – biggest I've seen in tea so far!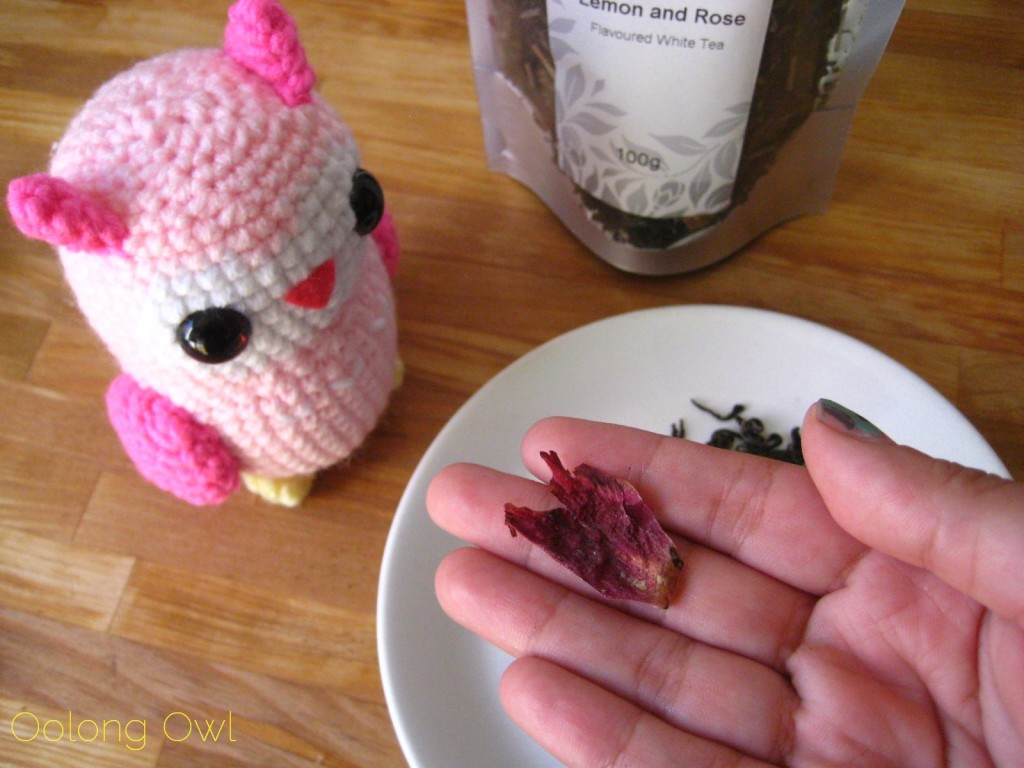 I did find something interesting in my bag of tea. After steeping tea for this review, I put the rest of my tea into a tin and found this: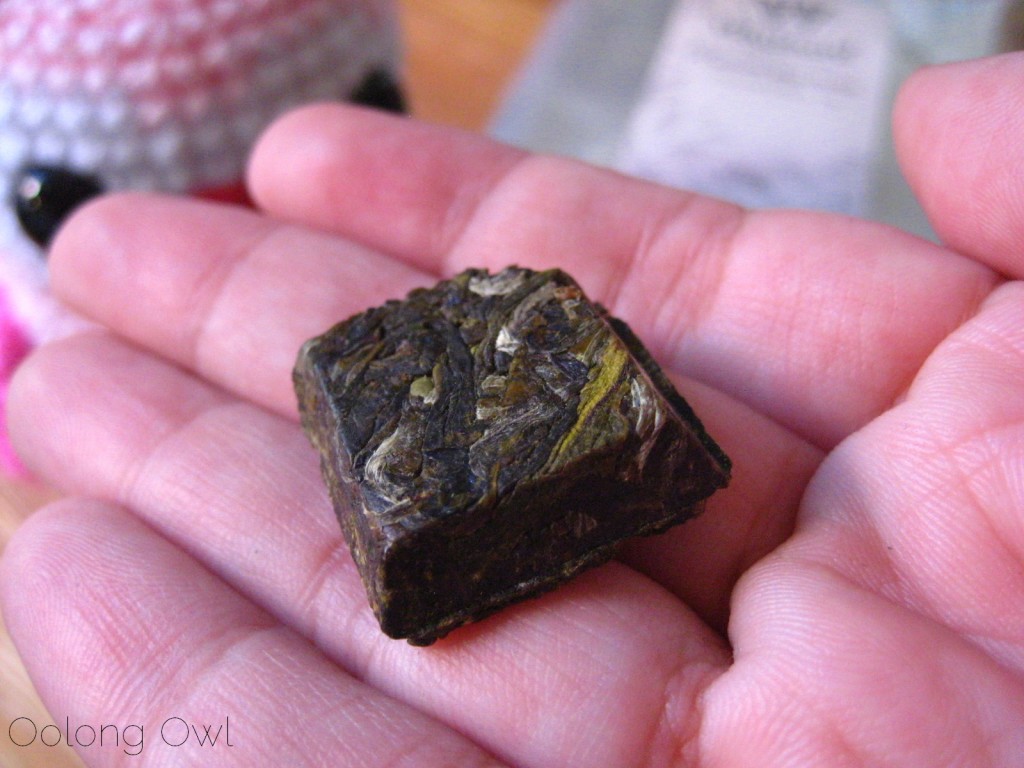 Hmm. It's a teeny brick of compressed tea that's not pu'er. Interesting. Not sure how it got in my bag, but cool either way!
Steeping Instructions
Whittard of Chelsea suggests to steep Lemon and Rose White tea in 80c / 175F water for 2 to 3 minutes. I steeped mine for 2 minutes in my gravity steeper before transferring it to my cute rose tea set.
Lemon and Rose White tea steeps up to a deep golden colour, scented strongly of lemon drops and rose.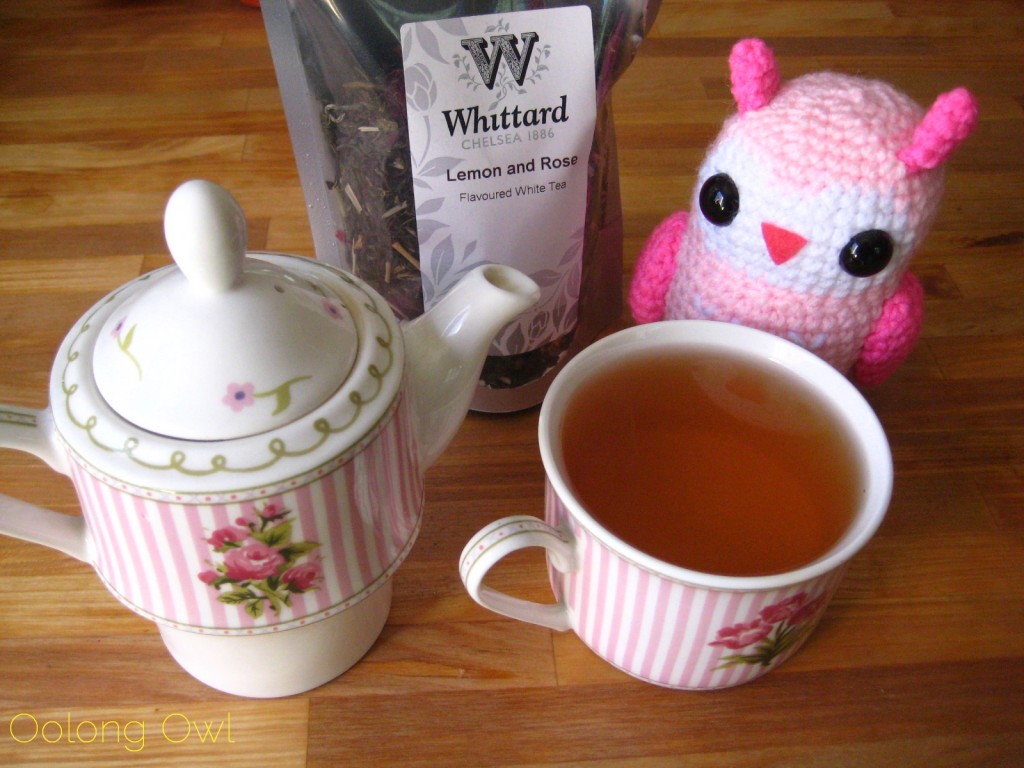 Taste of Whittard of Chelsea's Lemon Rose White tea
Quite a strong cup of tea for a white blend! The white and green tea are mixed together in taste, creating a strong, fresh, yet delicate flavor of floral and buttery. I'd say the floral level is a 3/10 on the floral-o-meter – a low moderate range mix of the white and rose flavor. The lemon adds a bit of tart and sweetness, similar to a lemon candy. though more natural in flavor.  The tart is interesting here, a 3/10 on the tart-o-meter – the tart isn't overpowering, but enough to dry the throat. Lemon Rose White tea has an interesting light sweetness elements that tastes on sips like lemon drops, others of sweet rose.
Iced: I made a pint jar full of iced Lemon Rose White tea, with additions of lemon and honey. The taste is quite refreshing lemon with the aftertaste of rosey floral. The tea is still tart with a bit of a dry finish.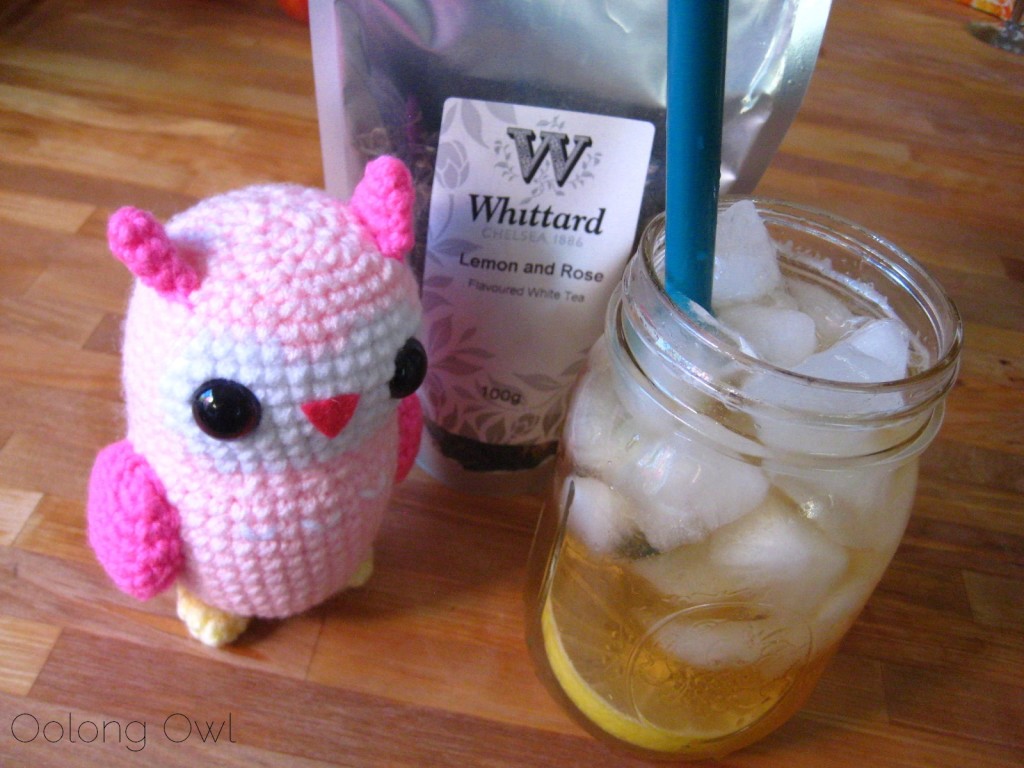 Comments
Lemon Rose White tea is a dainty tea, yet full of personality and flavor. Hot, I'd love to have this tea with icing sugar dusted lemon sugar cookies… maybe some lemon pound cake. This tea is also good iced – try it both ways! If you are like me and like having a lemon tea on hand, give this Lemon Rose White tea a try!
Bonus:
Pink Tea Owl reflects over a cup of tea. She wants a yellow Tea Owl friend!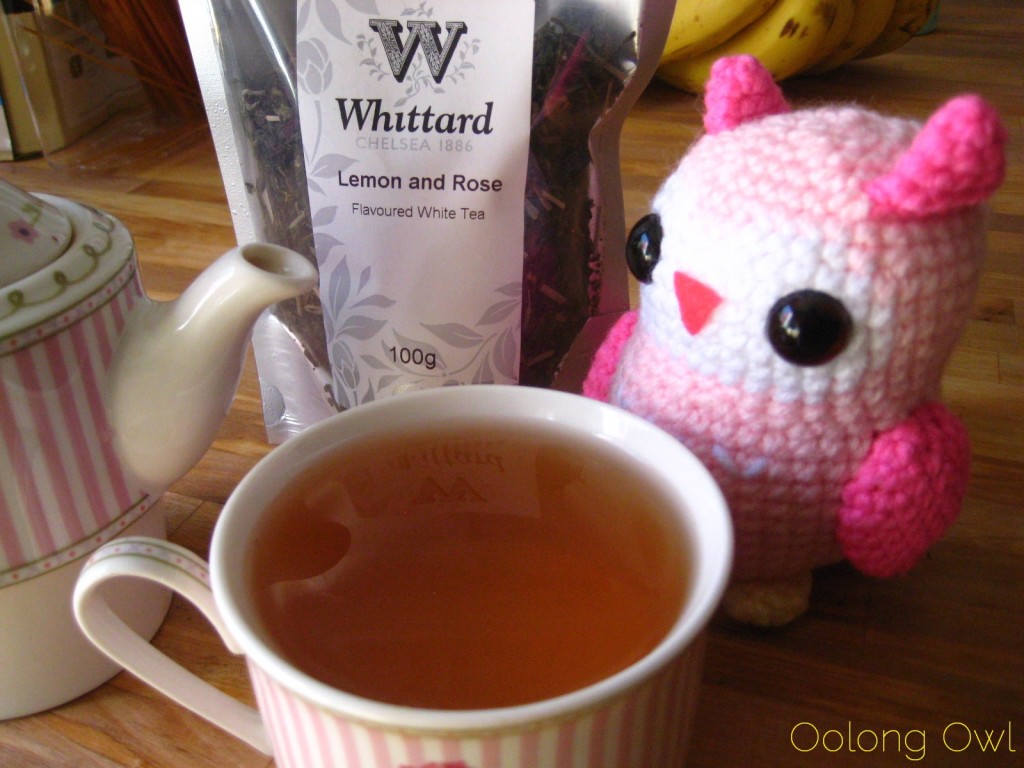 (tea provided for review)