When I was at the World Tea Expo, I ran into Libre – makers are attractive Loose Leaf tea travel tea tumblers. They were super sweet to give me one to review here on Oolong Owl.
Admittedly, I have a Libre already which I bought in 2010. I used it at everyday at work for over a year. Back then, it was the only good looking tea tumbler I could find in Canada. This glass has taken a beating and it shows. Back when I purchased this Libre, all they had was the metal lids and a few different sizes. Now Libres come in a bunch of really pretty colours (OMG the pink and teal!). Oolong Owl confession #2 – I don't like my original Libre as it leaks. My work purse got tea stained from it. They have offered to replace my old one when I reviewed it on Steepster years ago, but that point I was "meh" as I already purchased other tumblers. Fast forward to today, I was hoping their new ones have improved or my old one was a dud.
So I now have a new model Libre in Black Brush – let's review!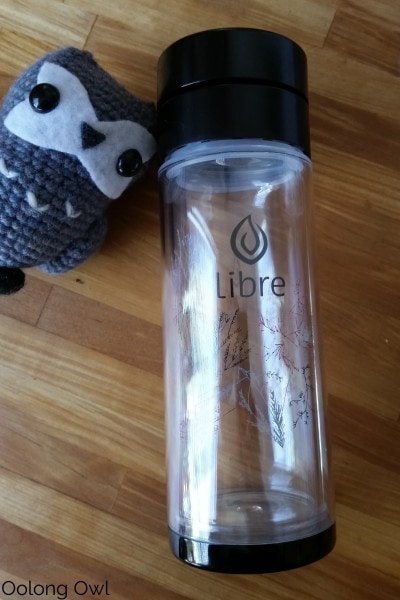 Libre Tea Infuser, Libre Life Model 9oz
Specs:
Many colours and designs to choose from – Black, Pink, Green, Teal, Classic silver.
9oz or 14oz models (260ml or 420ml) in all colours!
Double walled design – Borosilicate glass interior, BPA Free poly Tritan exterior
Stainless steel filter screen
Double lid design for different steeping methods
Hand wash only
Available on Libre's site, or on Amazon.com
Add tea/fruit to the main chamber. The filter screen will stop the leaf from escaping while drinking.
Add tea to the top of the lid, and invert the unit for desired steep time, like the following picture: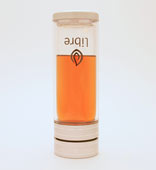 Box and instructions. I shoulda read those but this owl lives dangerously with tea.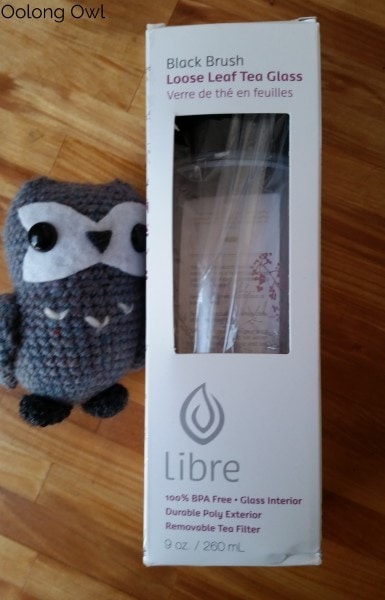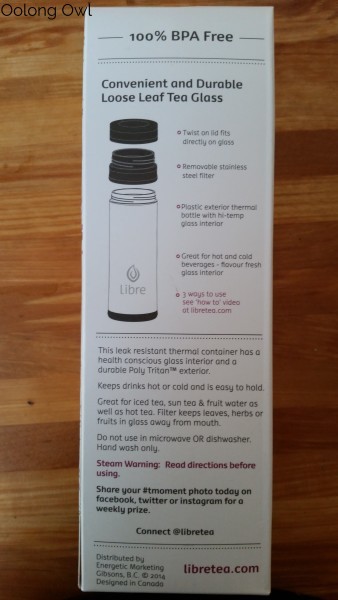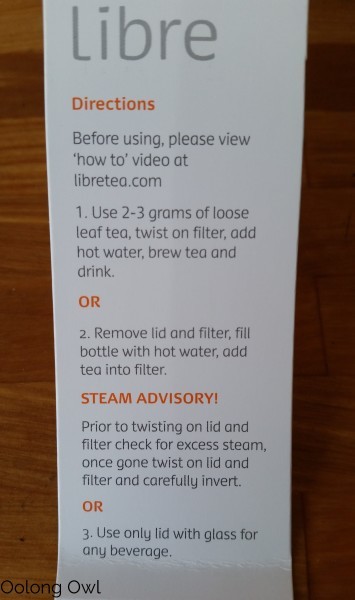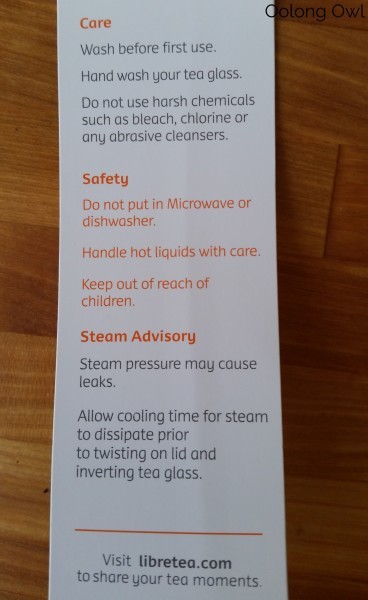 All the items in the box – tumbler, double lid filter design and a extra washer.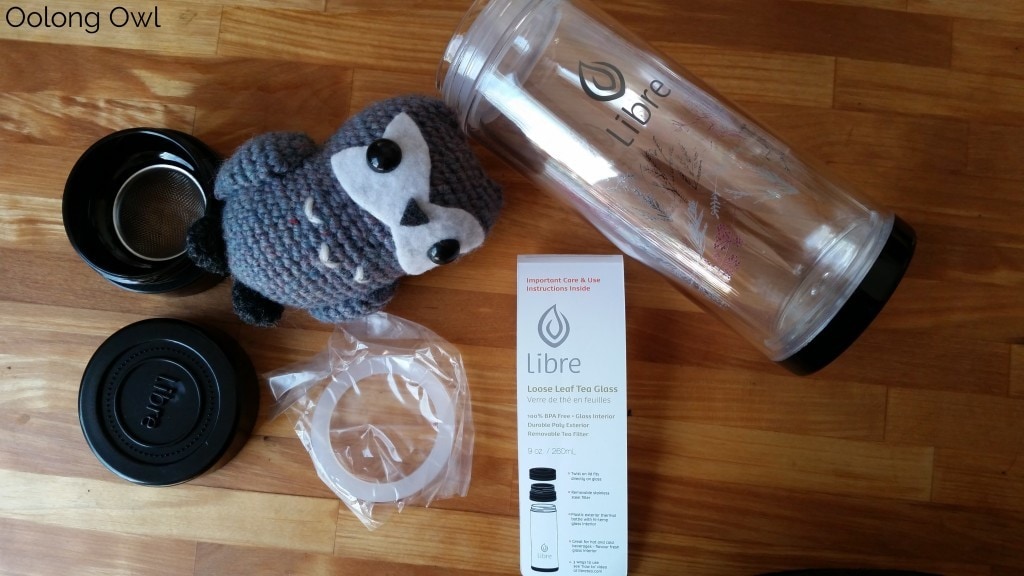 Lids close up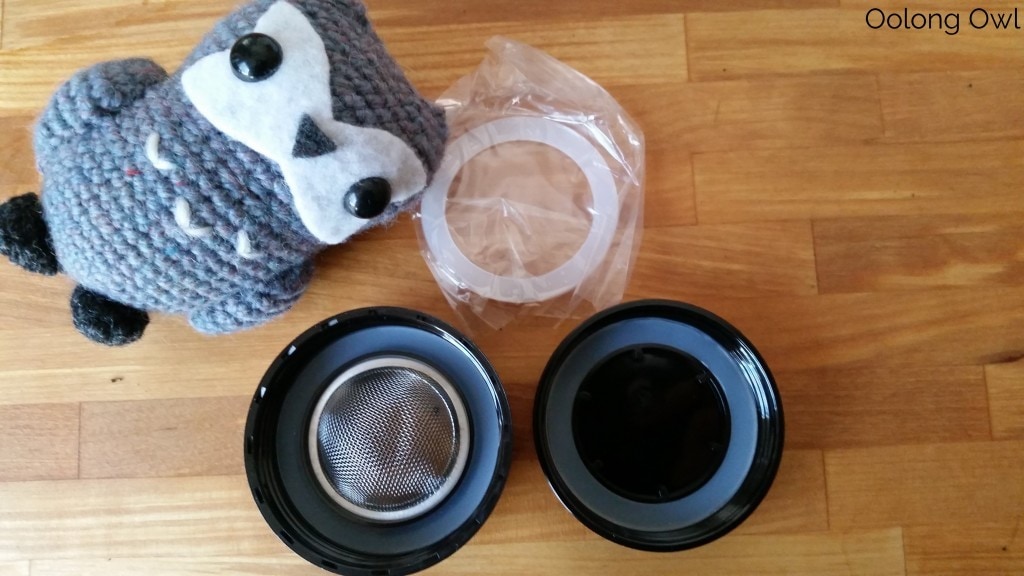 Additional Observations
A pleasure to drink out of – the Libre lip is nice and thin, making it a really nice sip. The lip is also plastic so it's not too hot. No fat dribbly, hot metal thermos mouths here, so sipping boiling beverages is easy. I love this design choice of the libre and is the single best quality of this tea glass.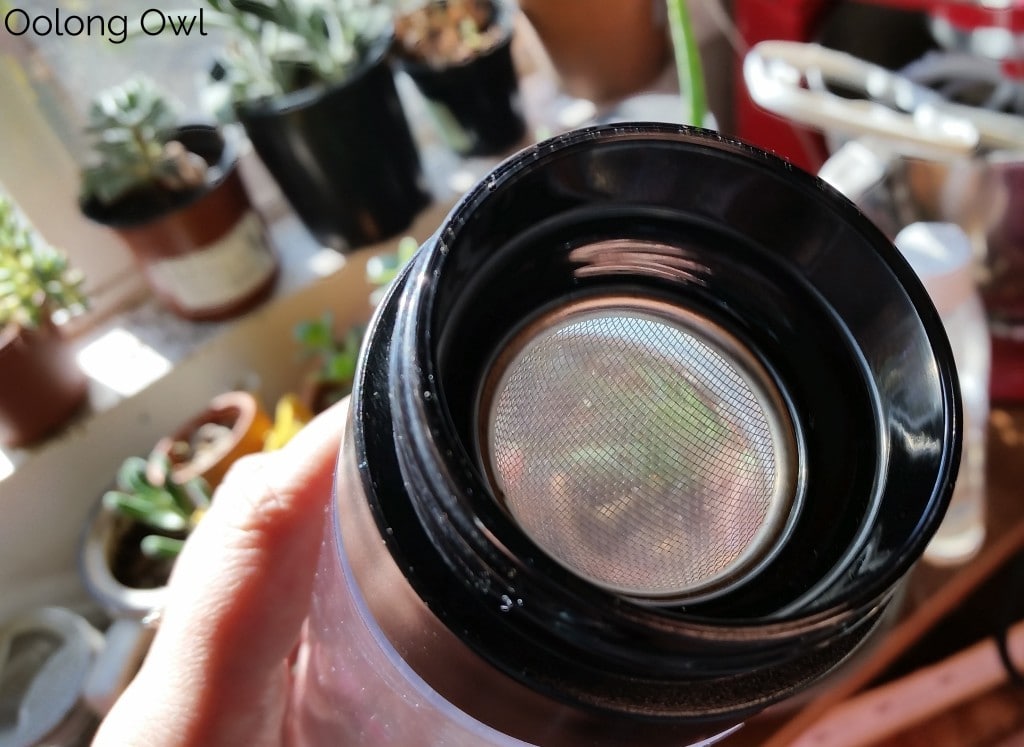 It's not too hot to hold – the Libre is warm to the touch but not enough to burn your hands due to the double wall design, and even more so with the outer layer being plastic instead of glass.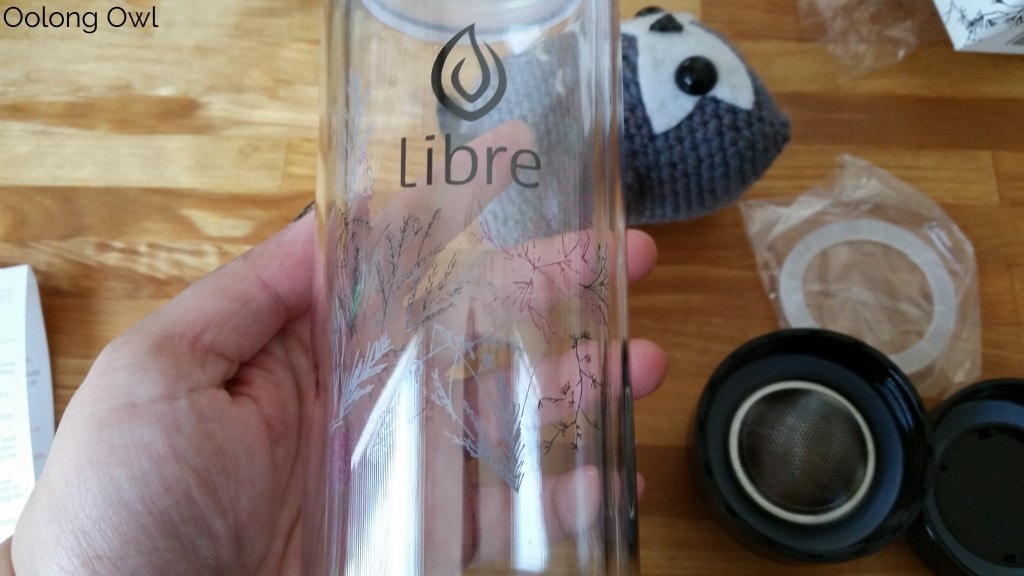 Body Durability – I like this inner glass chamber – it won't tea stain or stink over time. The plastic outer coating adds some extra durability – best of both worlds if you want a glass tea tumbler but know if you can't be trusted with an all glass one.
Light weight – this tumbler, due to the plastic content, is light to carry.
Other Considerations
Does not free pour well – If you look at the design of the lip and screen, it makes for a nice sip, but you cannot free pour with the filter in place as it glugs out all awkwardly. Often I like to use my tumbler as a impromptu tea pot and this tumbler does not do that with the filter cap in place.
Heat Retention – I tested the Libre's heat retention. With an ambient temperature 64 to 69F, and a starting temperature 200F I got 1 Hour = 130f, 2 hour 96F. Though I think a big factor here is size as the Libre is smaller and holds less water, but having a plastic lid is also a reason why there is more heat loss. Either way, you got less than an hour of hot water, less if you are opening and closing the lid. However, as you'll read later, you aren't supposed to close the lid until the water temperature has cooled, so my heat retention numbers are off.
Again, like all other glass travel tea tumblers, if you want heat retention you shouldn't be getting a glass one and should opt for an all stainless steel model.
Plastic – Hello again plastic disliking people. Yes, the Libre is BPA-free, but there is plastic/water contact at all times on in the infuser and lids.
Cons
I had plenty of problems with the Libre Tea glass, and the main ones are all connected issues, thus it's a little crazy to explain.
Leaking Drama – I've seen other bloggers' reviews on the Libre and state no leaks or minor dribbling. I had mine PROJECTILE SPRAY ME WITH BOILING WATER without fail and intermittently leak all over my purse and car up holder. When I was testing my tumbler, it was leaking a steady stream of liquid, even if I swapped in a new washer or used another lid, just like my old Libre.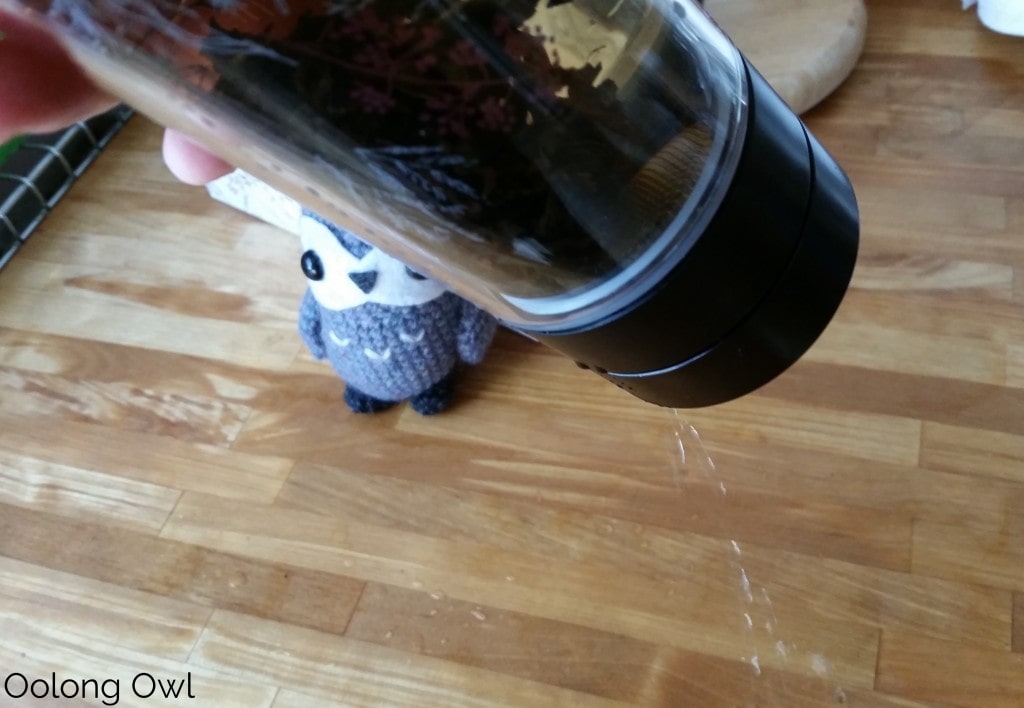 I ranted a bit on Instagram that this thing leaks and sprays badly, maybe I got a dud but others complained too, yet I see no reviews reporting this.
Experimenting and watching Libre's videos, for it not to leak you gotta follow the instructions to the dot. I guess all those reviews are following perfect use and of course I was using the Libre like all my other travel tea glasses and testing with boiling water. So for perfect use:
Do not use boiling water or close the lid while too hot. Steam is why the unit will sprays and leaks. This is the "Ah Ha" moment I caught on the Libre's instructions that you are supposed to wait 2-3 minutes to screw on the lid. That said, the heat retention on this unit is less than I stated above as you are starting with probably 175F water temperature. This stopped the spraying, but occasionally the unit will dribble.
Oolong Owl leak proofing hack –  found a fix to stop the leaking regardless and it is not ideal – pop in the extra washer. I thought the washer was a replacement, but the extra washer creates more padding and a better seal, so the Libre was preforming much better. However, the double seal makes the lid fit higher up, I dunno if that will compromise everything. Maybe we are supposed to add the second washer? I don't know, just don't hurt me. You still don't want to invert it with boiling water as you'll learn below.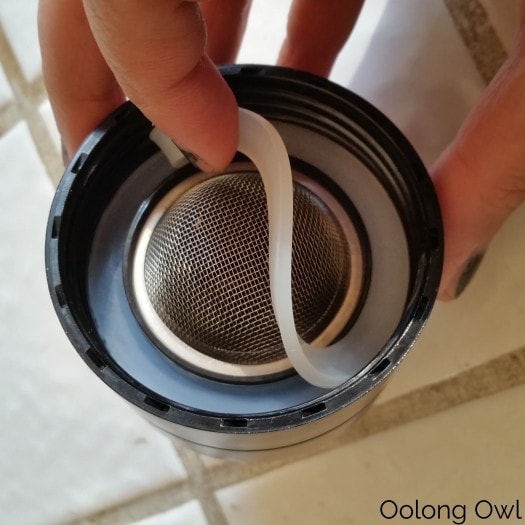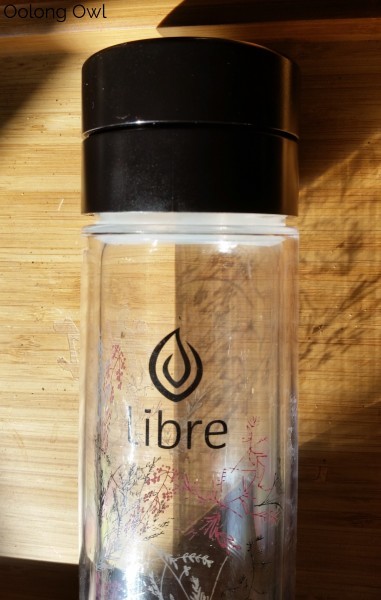 Inverted Steeping Method – This just doesn't work unless you are using cool water, 2 to 3 minutes from the boil which would rule of thumb put it at 175f, so only delicate green teas and again, don't fill it up all the way.
There is no air release for steam and jostling around a screwed on lid like that is likely why this thing projectile sprays people due to pressure and the double lid gives it more exit points to try and punch through. Under the top lid doesn't have much steeping room as well, here it is with 2 grams of Bang Dong Hong black tea, presteep. If you use a cut/fanning/smaller leaf tea you shouldn't have issues with the small sized unit.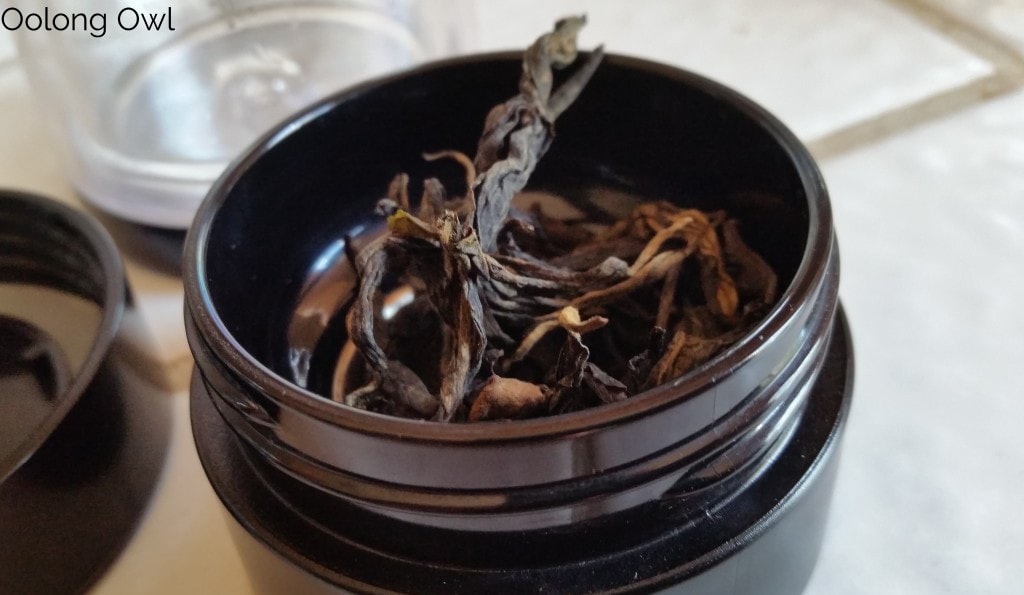 That said, there is another tea tumbler that uses this flip steep method, but is discontinued due to projectile water blasting (sounds familiar) and lids exploding, the GongFu2Go from Crimson Lotus Tea. However another tea tumbler, DAVIDsTea Matcha Maker, is intended for shaking and inversion – it has an air/steam release button which releases the pressure. For this inverted steeping method to be fool-proof, it needs an air release valve.
Water tends to hang out on the top – It's a part of the filter design and just physics, if the glass is tipped or inverted for steeping, water will collect over the filter. A few tea tumblers with sunken tea filters have this issue, but the Libre takes the longest to drip down as the diameter of the filter is narrow. A solution is to gently pick up the tumbler and tap the base on the counter before opening, or give it plenty of time to redistribute.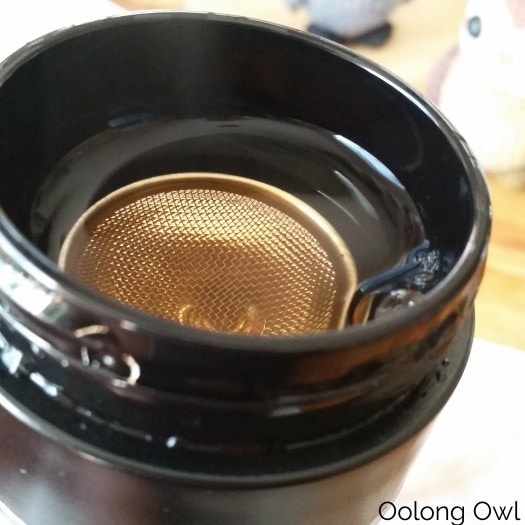 Often it would spill on me if it was up to brim full of hot tea. Worst is you can't see if there's liquid snuggled up there until you open it! Let's throw in another variable – you are inverted steeping and the leaf is jamming the filter, increasing time for the water to move.
Weak Plastic Lid – Maybe all this weight lifting has made me scary, but I can squeeze the lid and it bends. I can bend the lid on its own or screwed on the unit, it's just one piece of molded plastic. I'm sure I can give it to someone with old man strength and they'll snap it. It's not as solid construction as the Libre Classic (my old model)  which has metal casing the exterior of the lid. I'm guessing the lid cracking will be the first thing to break on me with this tea tumbler. However, Libre does sell extra lids and on their site if you destroy yours.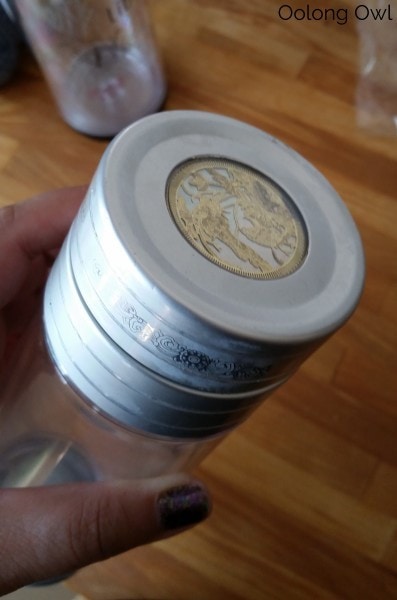 Comments
The Libre Tea Infuser is an attractive, best of both worlds tea tumbler made of double walled glass plastic combo for durability and is great to drink out of. The colours are pretty and the designs on the glass are lovely – you'll catch some heads carrying this tea tumbler around town. Pricing ranges depending on style, size and where you purchase from, right now $22 to $31 USD.
However, the performance isn't consistent and the Libre seems more ideal for cold brewing and low temperature teas, like green teas, or someone who isn't in a hurry to let it cool. This isn't the travel tea glass to stuff a bunch of black tea, fill with boiling water, shut the lid and leave the house.
If you love the look of this tumbler, slow down and use according to their instructions. I would go with the Classic metal lidded ones over the plastic design for a more sturdy lid and probably better heat retention.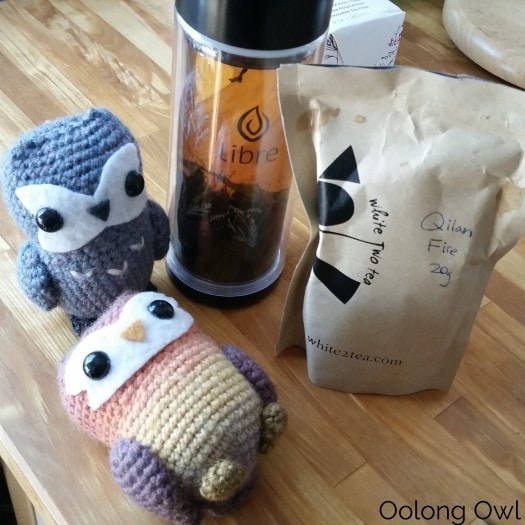 (Teaware provided for review / Amazon Affiliate links)