Mandala Phatty Cake is an exclusive, ripe (shu) pu'er 2011 cake from Mandala Tea!
My tea collection is on the high side and as 2013 first flush teas are starting to be sold, I'm freaking out. All those greens and white teas I have in my stash that I need to drink now! I dislike stale tea. Then I started thinking, hey, pu'er teas get better with age! I should get some and I don't have to worry about my teas going stale. So I researched! Mandala Tea caught my eye for having some good pu'er. After trying to figure out what to get, conversation with Mandala Tea themselves, I put in an order of a couple cakes and other goodies. Mandala Phatty Cake was on my list, but I went with another ripe cake instead – and Mandala was super cool in giving me a surprise sample of Phatty cake!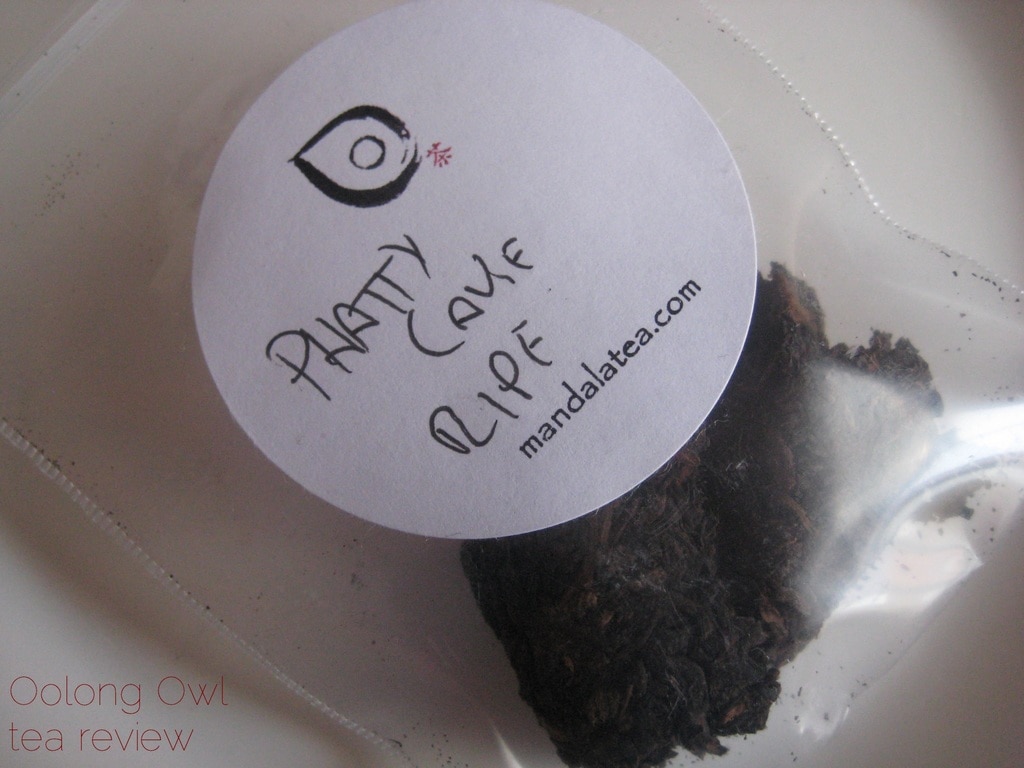 I thought I'd start off trying this sample before I start tea knifing my cakes!
DRY CAKE: Mmmmm, the chunks of this tea smell like incense that has burned down and earth.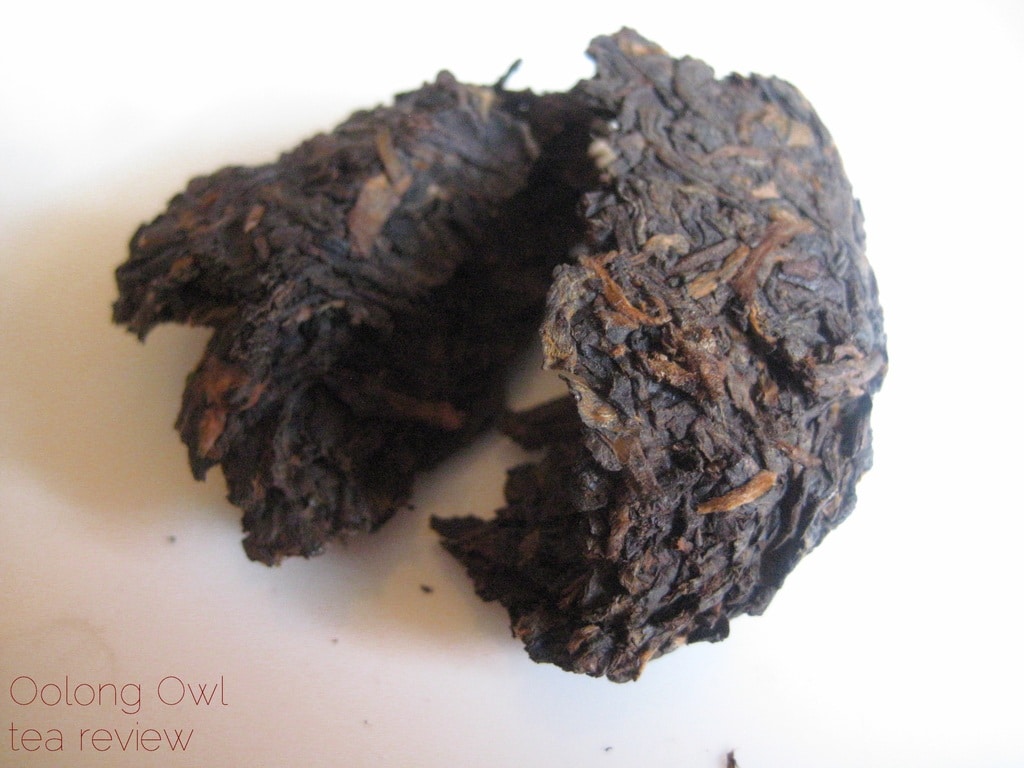 Gaiwan time!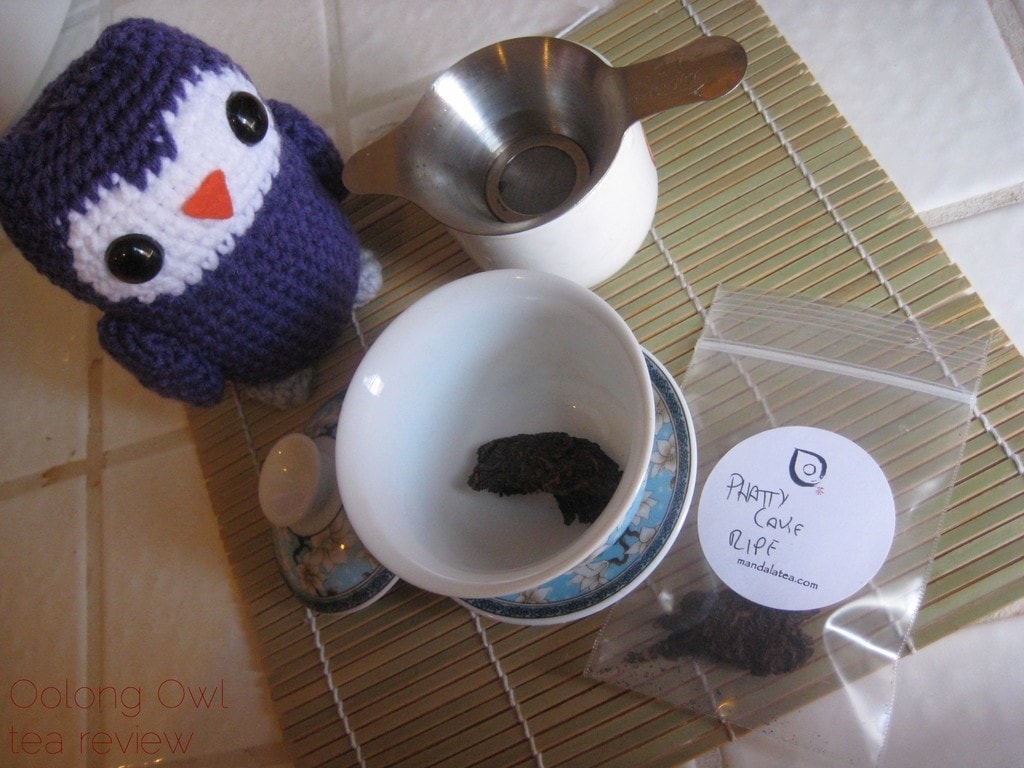 Steeping instructions: I did a quick rinse and used boiling water for this tea. Mandala Tea also has Tea Brewing 101 on instructions how to steep their teas. I like shorter steeps, so I started at 15 seconds for the first couple steepings and added 15 seconds to each infusion.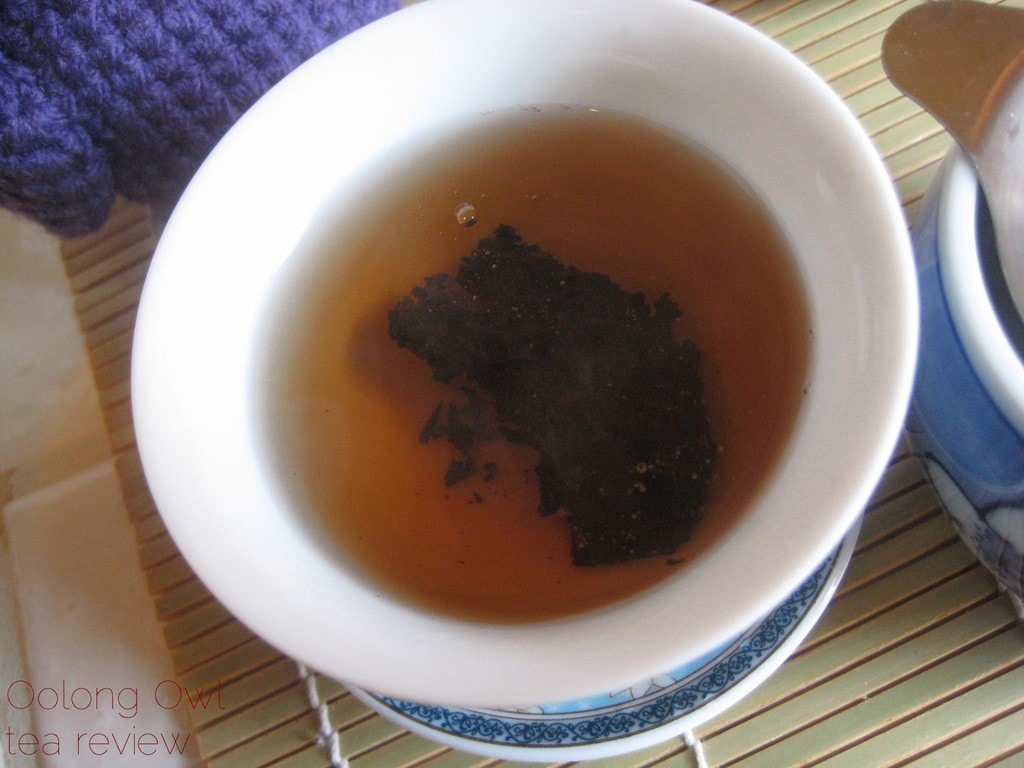 First Infusion: The colour seems a little light. Maybe I should of done a second rinse. The cup smells deliciously earthy and like wild mushrooms. No fishyness or funky fermentation funk! The cup of very clean tasting, like as if I'm drinking the vibrant earth from the forest where elves live (NERRRD!). A little light though.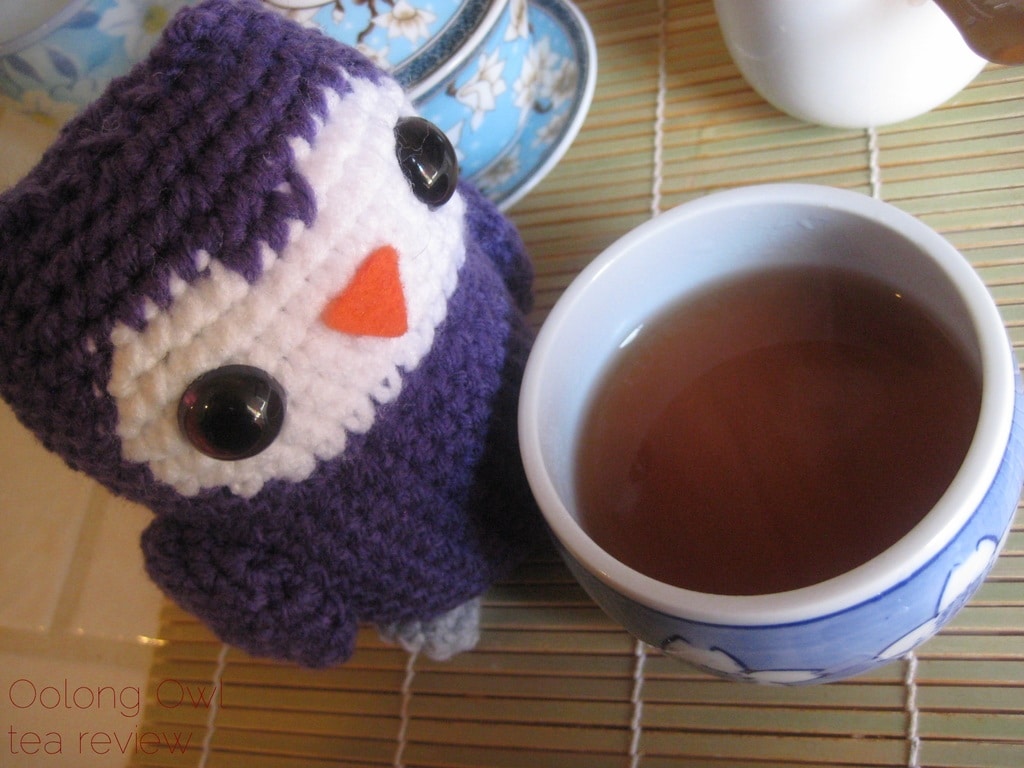 Second Infusion: Mandala Phatty Cake is now a deep, black brown colour of tea. It's bold, it's full flavored, it's sweet! It has earthy, dark chocolate, wild mushroom and smokey notes. Very smooth and addictive texture too!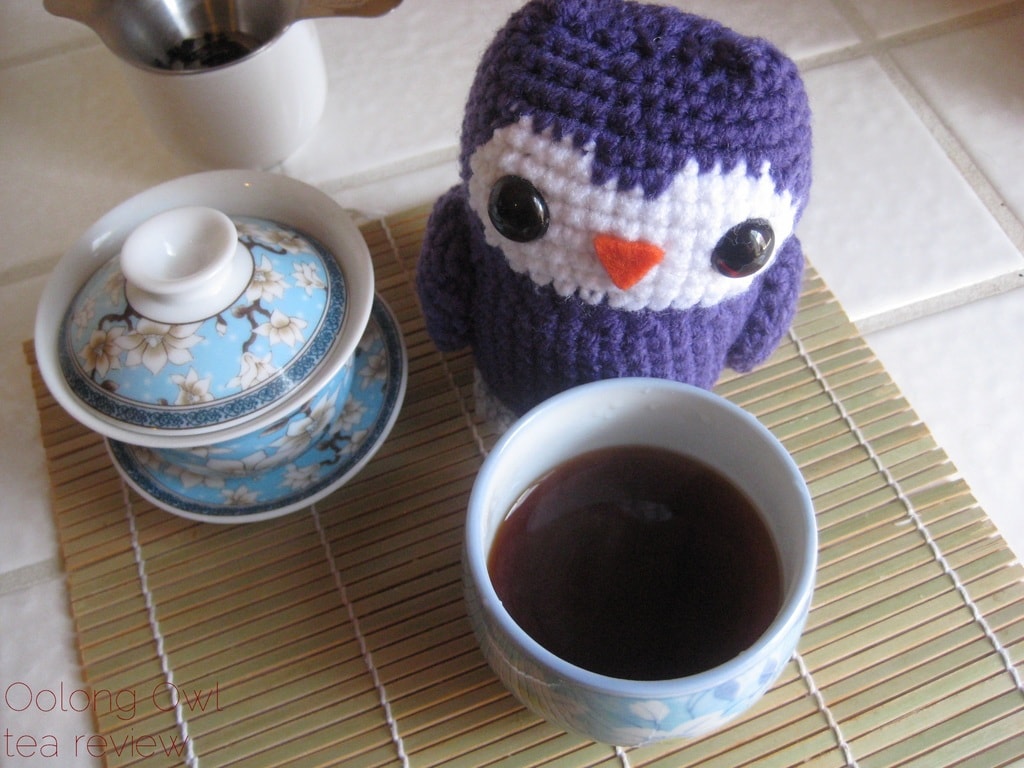 Third Infusion: … and POW, Mandala Phatty Cake is switching into high gear! This cup is the darkest round of tea and loaded with flavor. So bold, tabaccoy and a hint of spice, but also sweet. It's like tucking into a really rich coffee cake with raisins. Oh man, I'd love to have a slice of coffee cake with this tea! No bitterness or astringency, by the way.
I'm starting to feel invigorated!
Fourth and Fifth Infusion: Another flavor shift, despite being a touch lighter in colour than the last infusion. Much more earthy, bright and sweet – love it! I'd love to eat a cinnamon roll with this tea.
Sixth, Seventh Infusion: SUPER CHARGED TEA DRUNK! Each sip is a surge of life! I'm getting a little salty mineral notes, like dark soy sauce, mushrooms, raisins and earth. Can I make this tea into a stir fry sauce? Freaking fantastic infusions!
I am a metal music gal at heart, but I think it's time to bust out some K-pop dance moves. I should of bought those pastel green pants at Forever 21 last month…

Eighth and Ninth Infusion: The Mandala Phatty Cake has shifted lighter, but we are still partying here at Oolong Owl! It has that crisp, saturated, earthy flavor of steamed banana leaf wrapped around sticky rice. Sweet, roasty, smokey, smooth and fresh.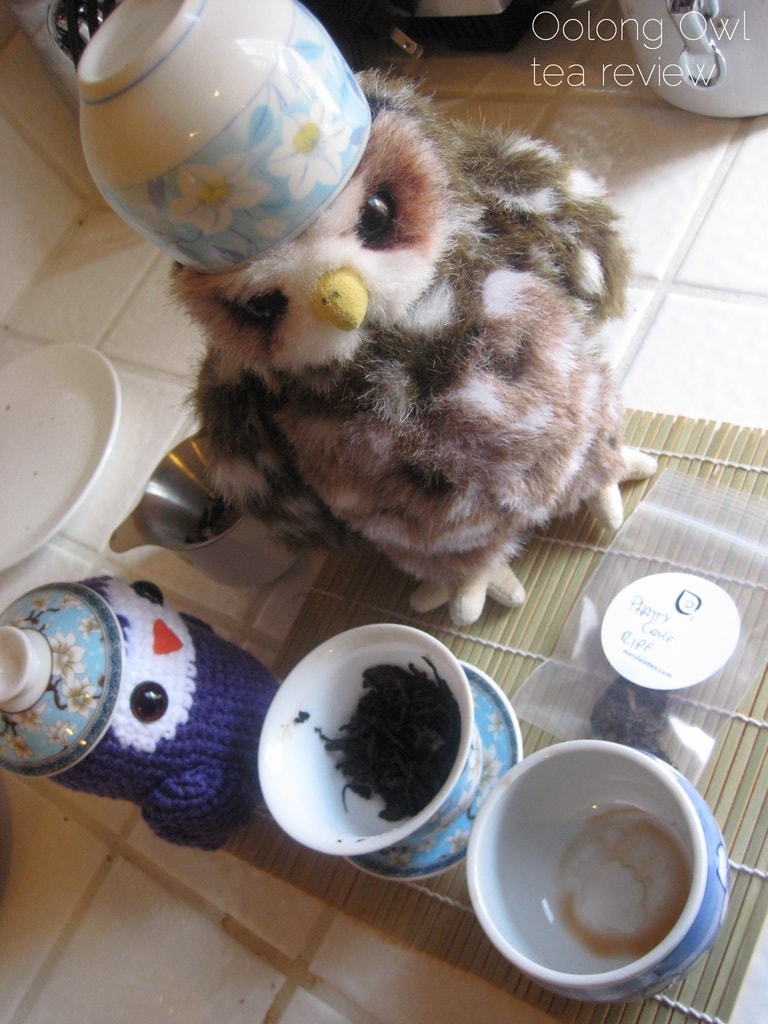 Tenth, Eleventh, Twelfth Infusion: The bold, mushroom flavor is greatly stripped away and I'm left with smokey sweet earth with a kiss of spice. Since the 7th or so steeping, I've found this tea easy to drink, drinking each cup faster each time.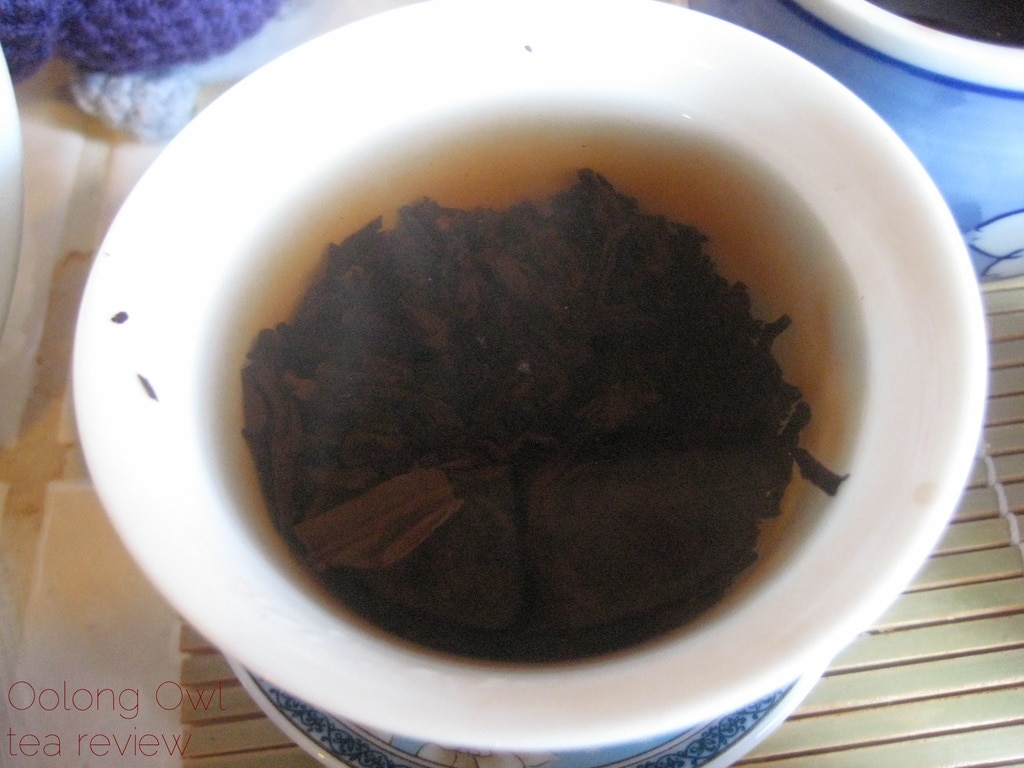 mmm, delicious!
Thirteenth and Fourteenth infusions: The smokey notes have disappeared now but there are still plenty of sweetness and savory woodsyness left. I think I could get a few more infusions, but I'm done for the day!
COMMENTS: Why is Mandala Phatty Cake called phatty cake? I'm guessing since it's a chubby-shaped cake? To me, it's all the munchies this tea took me through, without having to eat them!
My favorite infusions were the middle and last ones, though the first 3 infusions really slammed me with great boldness!
I gotta say, though I'm new to pu'er cakes, this  Mandala Phatty Cake sample was a great experience. I love the transition of the flavor and the raisin sweetness was very appealing to me. $15 for a little cake is inexpensive step into the world of ripe pu'er! For a future Mandala Tea order, I could see the entire Phatty Cake sneaking into my cart!
Now if you excuse me, me and the owls are gonna crash.