MY FIRST PU'ER CAKE! WOOOOOOOOOOOOOOOOT!
I mentioned previously that I've been shopping for pu'er cakes. I did lots of research and set a budget. After checking ratings, I discovered Mandala Tea has a great lineup, along with their own exclusive cakes. They also have really great customer support!
This Mandala "Wild Monk" Raw Pu'er 2012 caught my eye for it's promise of smokey and creamy notes, without any bitterness. It is also a 100g cake, so it is small enough to be affordable and low risk for a new to pu'er cake tea owl like me to try. I got this cake, and a ripe/shu one. I felt kinda weird as every tea article said "Buy a ripe/shu first!" but the raw/sheng pu'er attracted me the most. Pffffft, whatever. I've probably established, here at Oolong Owl, I'm a little unconventional.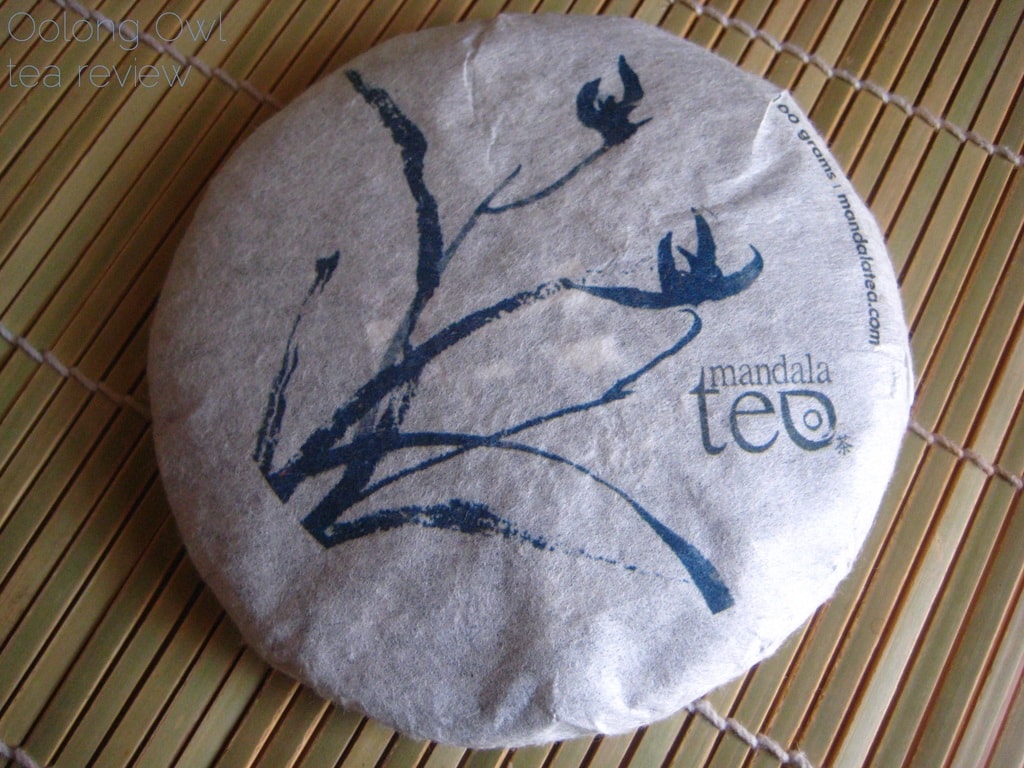 I was waiting for the right day to try this cake, however Mandala Tea put the other cake I was thinking about on sale. NOOO! So, if I love this Wild Monk cake, I'm going to make another order. Hey, the pu'er cakes seem awesome! I don't feel forced to drink the tea within a year (or less) and it gets better with age? YES. I CAN HORDE THESE PU'ER CAKES! FILL MY DRESSER FULL!
Okay, time to crack open my first pu'er cake! The Owls gathered for this pu'er cake event!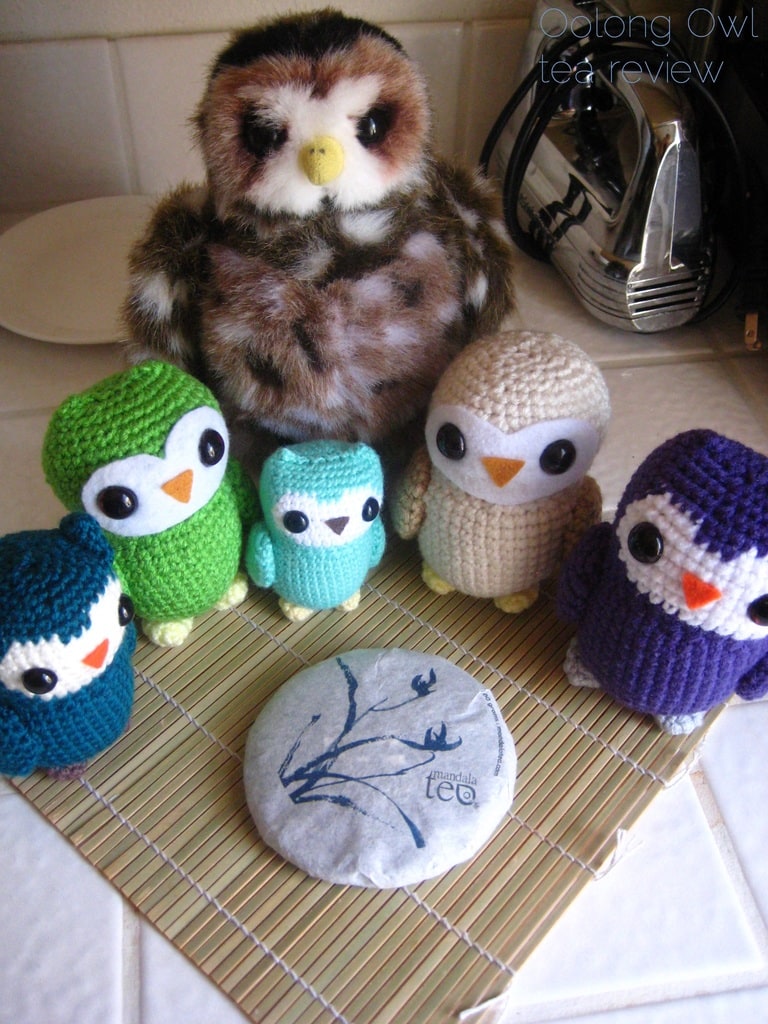 Unwrapping! The cake was surprisingly easy to unfold.
CAKE! It smells earthy and like smokey incense.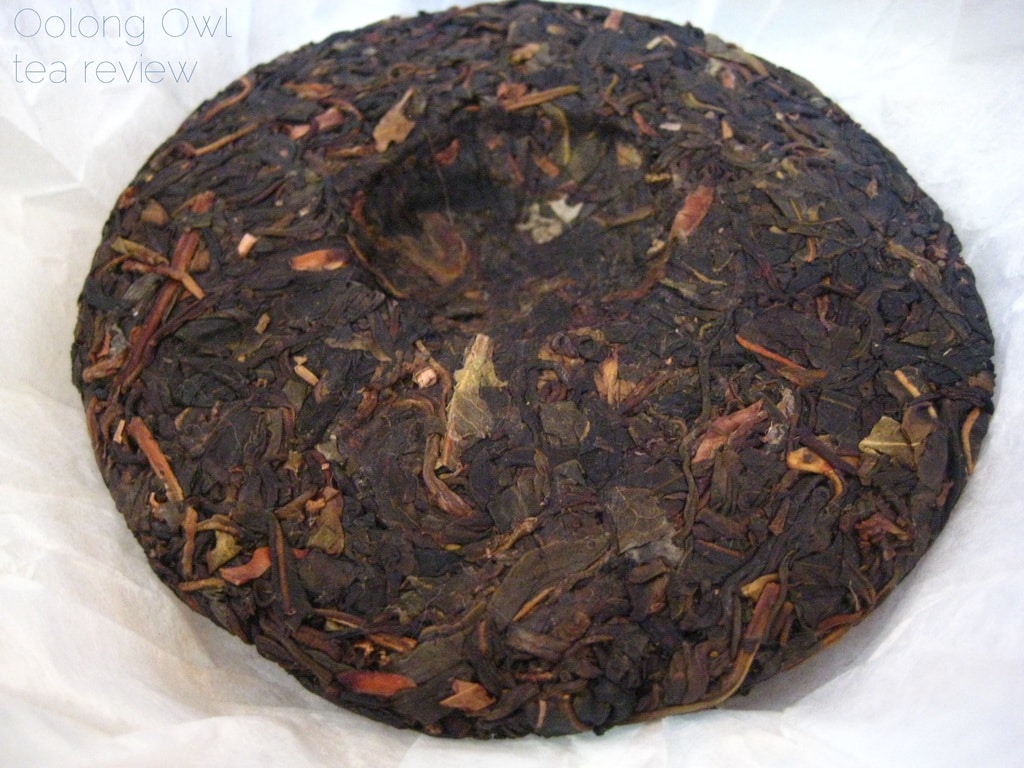 The Owls seemed impressed. Owly is just standing there looking serious.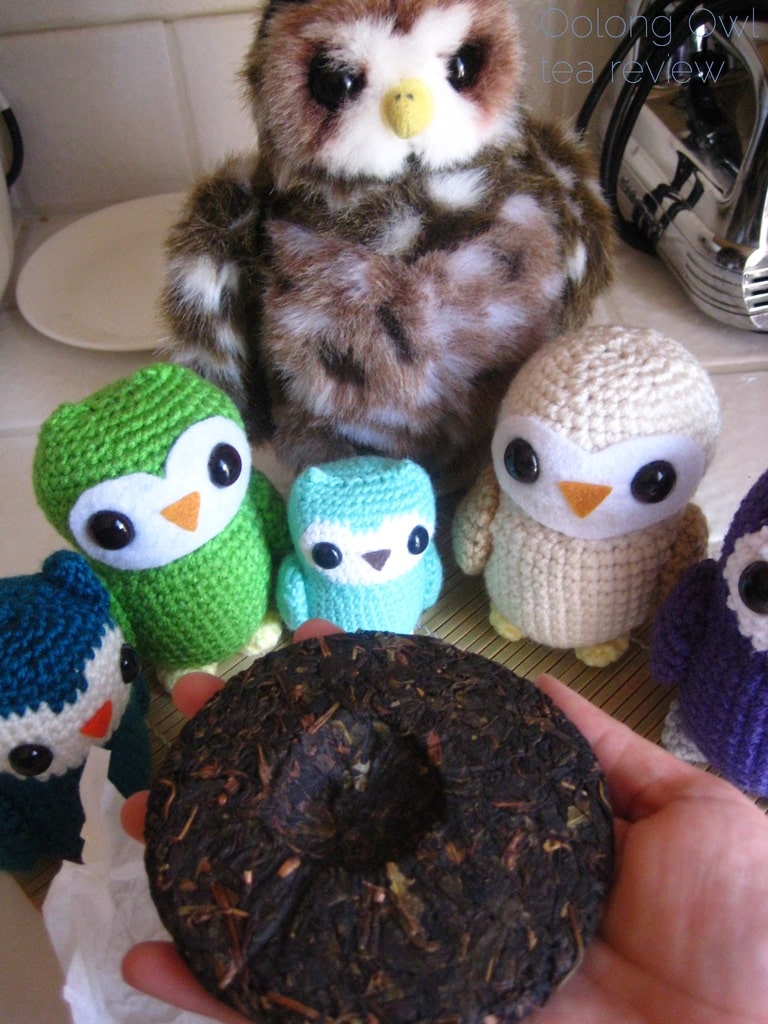 I didn't get a pu'er knife/pick/axe as I figured I could find something around the house. After searching around, I found a thin crochet hook I use for adding beads to my lace work. I found a loose section on the back of the cake and went to work.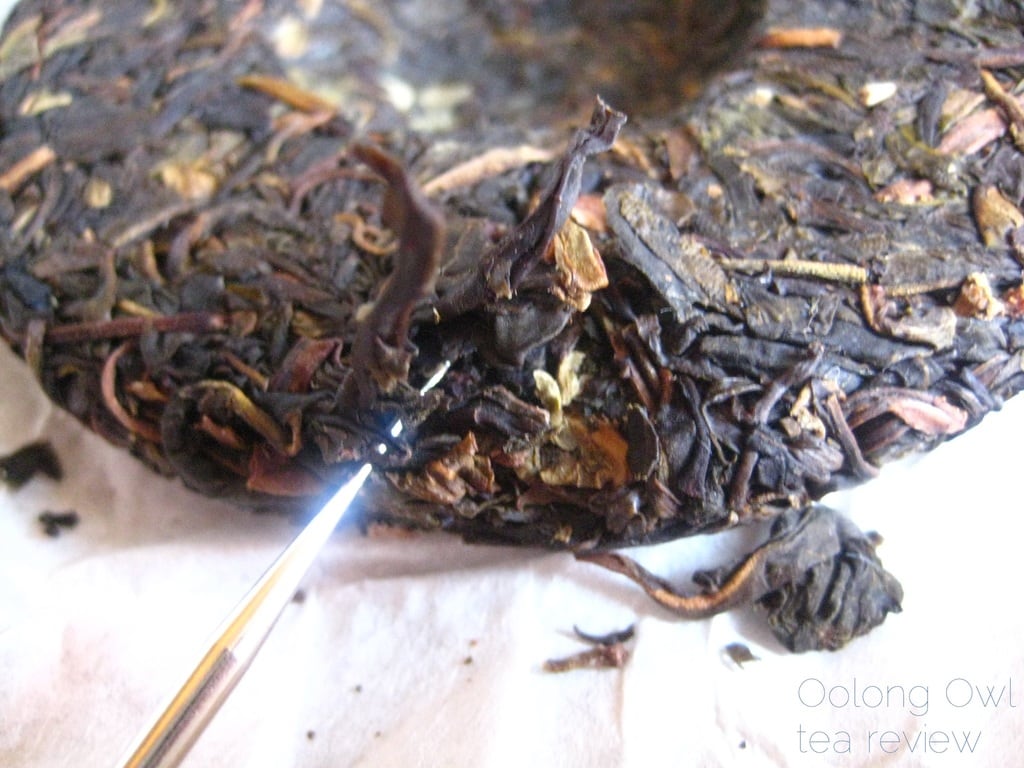 … which didn't work. I was just splintering the cake. I'm sure all you experienced Pu'er owlets are crying right now. I then tried a small eyeglass flat-head screw driver, which worked really well. However, I wish the screw driver was longer. !@)!$$@@$%! I'm buying a pu'er knife!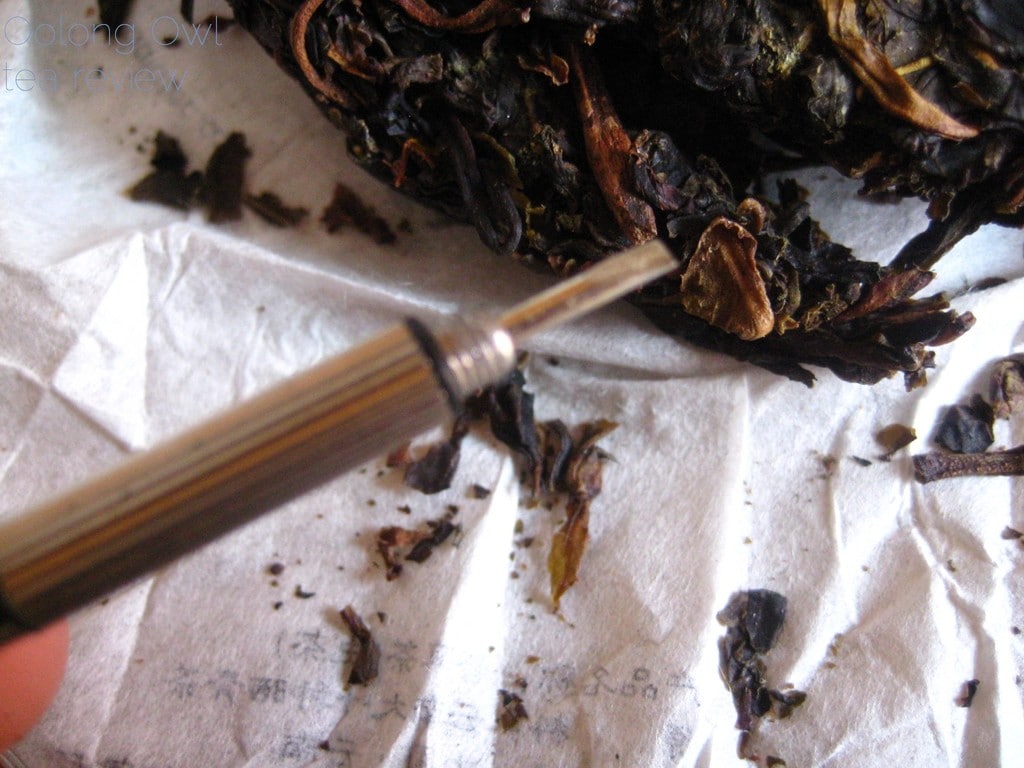 After I broke apart chunks, my cake looked like a big cookie with a bite taken out of it!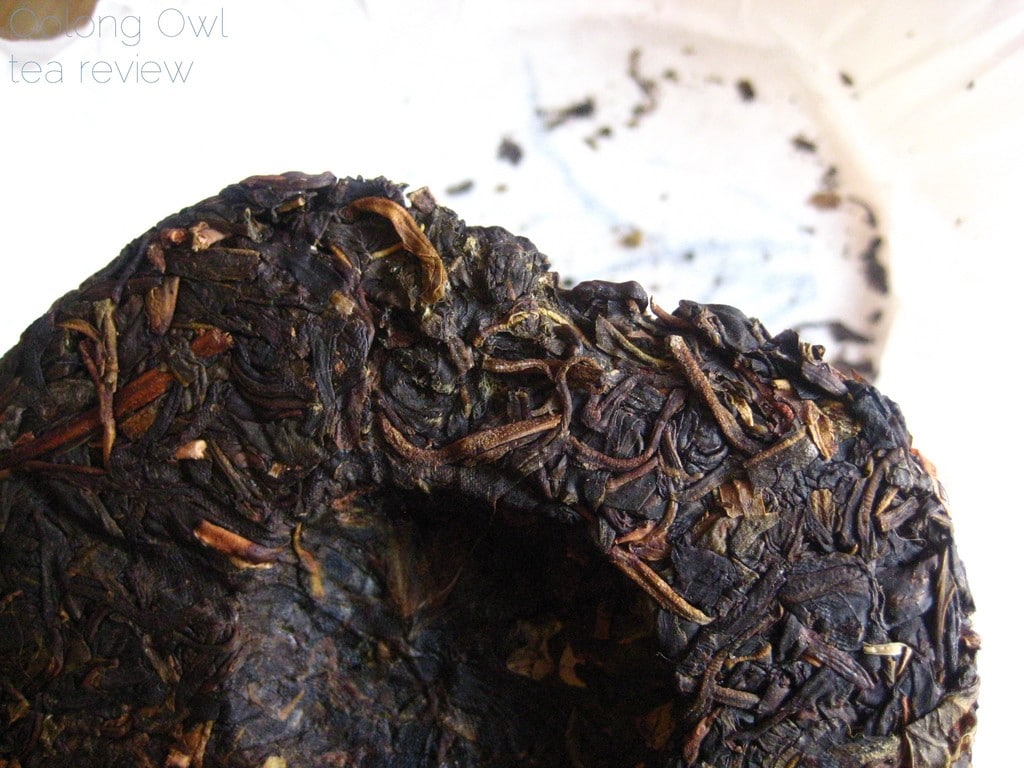 To the gaiwan!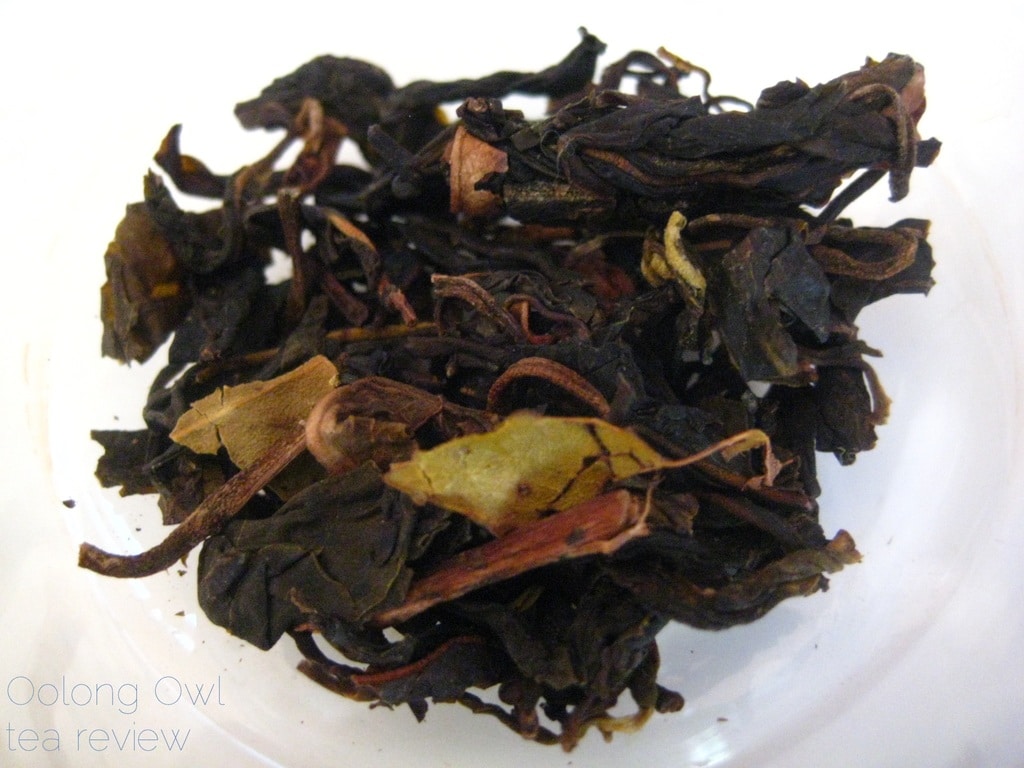 STEEPING: It sounds like Wild Monk is pretty flexible on temperature, ranging from 175F to 205F. With that said, I went with 185F starting at 15 seconds, and adding 15 seconds to each infusion. For the later infusions, I raised the steeping time by 30 seconds.
During the rinse, wow, fabulous smell – smokey!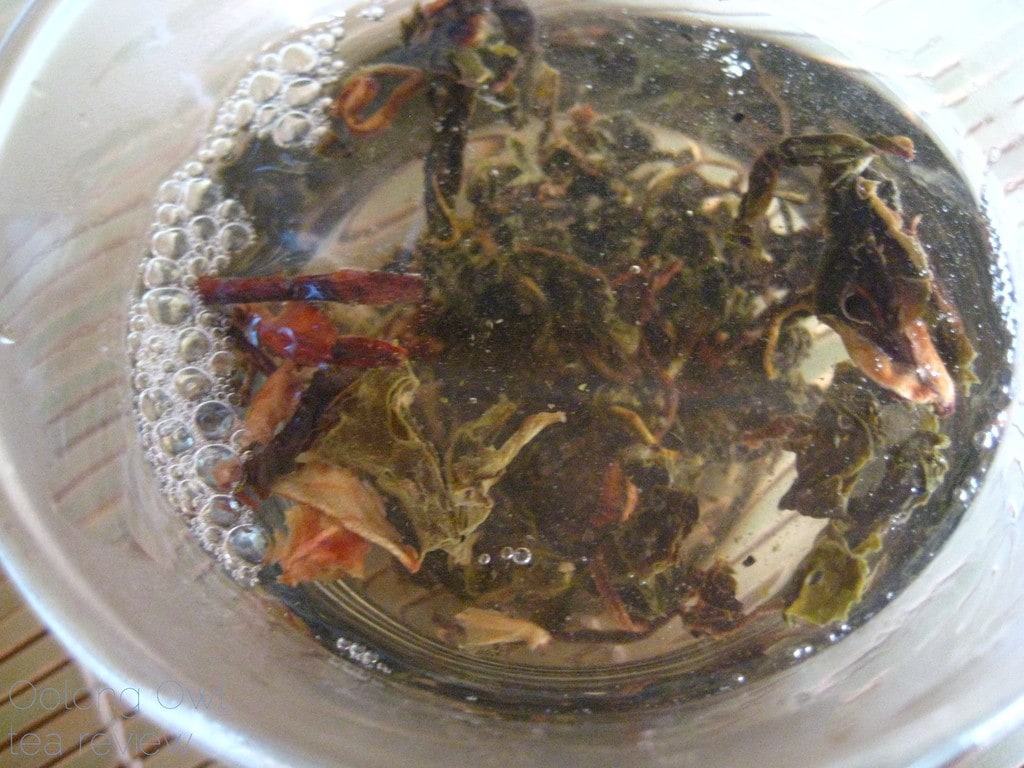 First Infusion: Lovely pale gold colour. The taste is softly sweet, like a mix of grassy sweet hay. The smokeyness is the most dominate note – it reminds me of camping in the early summer. Like, you are waking up and the sun is coming up, the fire is humming smoke, slowly cooking trout. The camp fire also has remnants of last nights creamy marshmallow roasting. Wild Monk also has a small peep of creamy. After my cup, I was left with a smokey sweet taste in my mouth. AMAZING!!!!! Oh.. no bitterness, dryness or pu'er funky fish taste in this tea!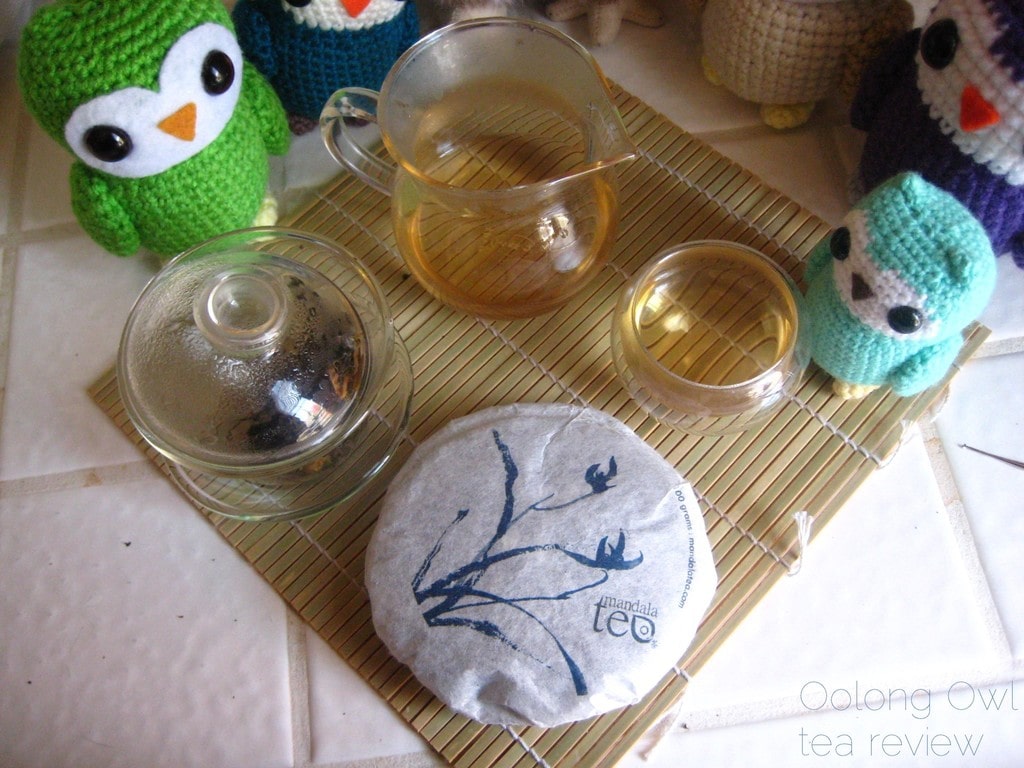 Second Infusion: Even more smokey! WOW. The smokeyness smells and tastes almost like sweet hickery smoke. Wild Monk finishes off on a sweet apple note.
Third, Fourth Infusion: The smokey and sweet notes are starting to meld. The sweet aftertaste tastes like fresh apricots to me! As the tea cools, I found the sweetness also reminded me of persimmons – that gentle fruit, light tang, slight earthy flavor on the tongue with a soft creamy texture.
I love the appearance of this tea leaves steeped – there is a beautiful set of colours of various greens and reddy browns!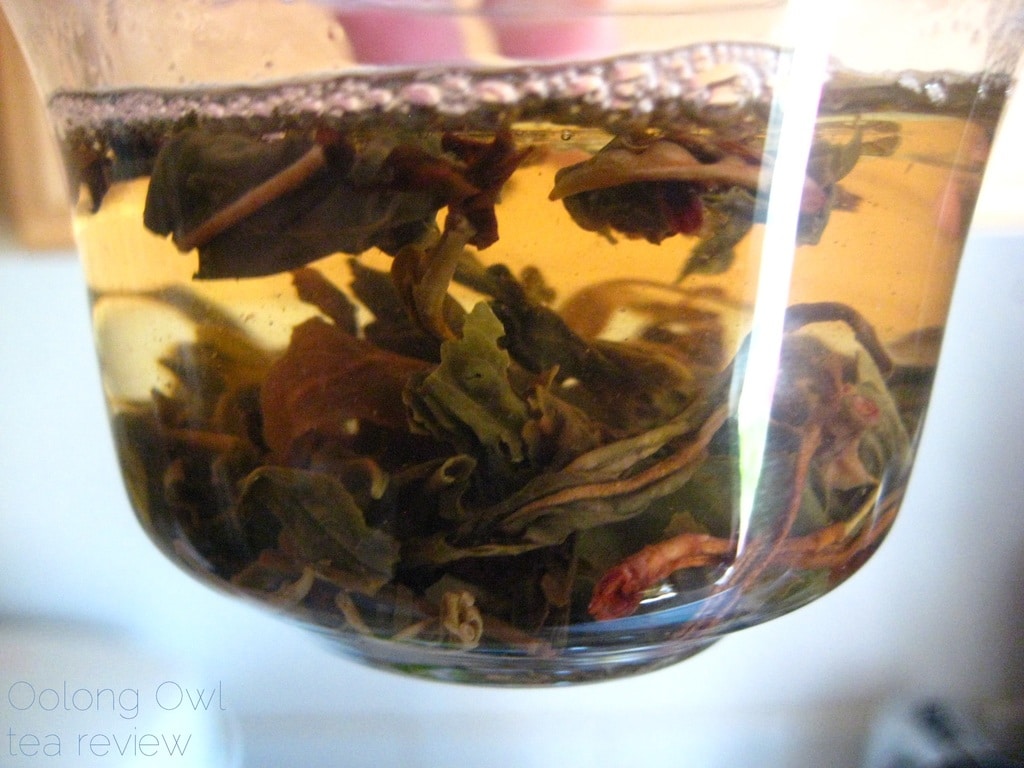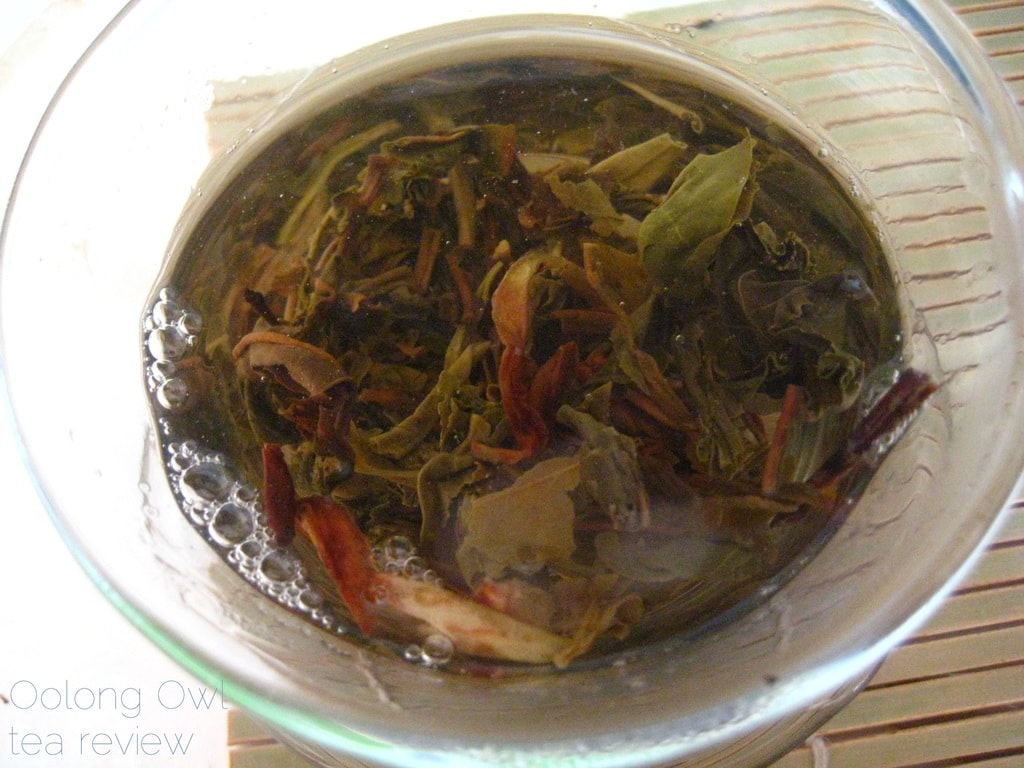 Fifth, Sixth, Seventh Infusion: The tea changed – the smokeyness is still there, but the sweetness is brighter and taking over. I'm getting a slight dryness, 2/10 on the Astringe-o-meter, which is sticking to my teeth. I'm still getting that lovely persimmon note that has a little floral cream aftertaste.
I'm finding this tea more inspiring in an energetic way, rather than lamp shade pu'er party time like Mandala's Phatty Cake pu'er. The smokey tones and fall colours are calling me to play some pretty Folk or symphonic metal, like Eluveitie or Within Temptation.  Let's go with Within Temptation – there's an Owl in the video!

Eighth, Ninth Infusion: Wild Monk has grown lighter in flavor. The smokey notes are very faint, with the persimmon/apricot note very soft. What is interesting is even though the flavor is light, the persimmon/apricot after taste lingers for a long time in my mouth.
The leaves have expanded greatly, taking up lots of space in my gaiwan!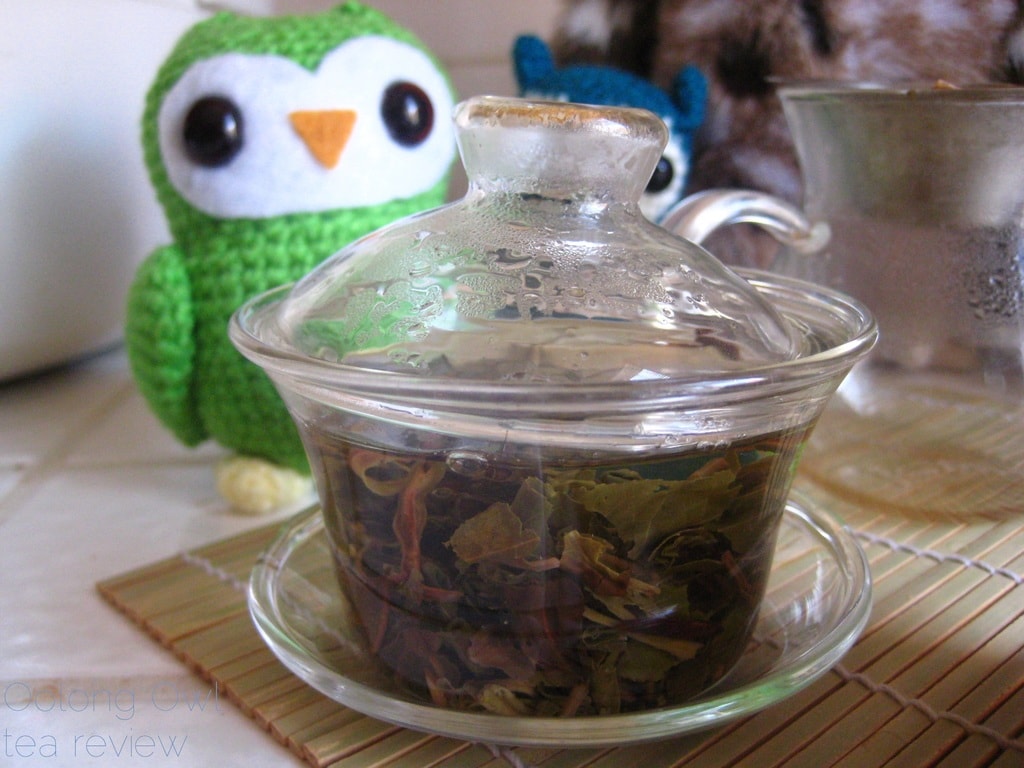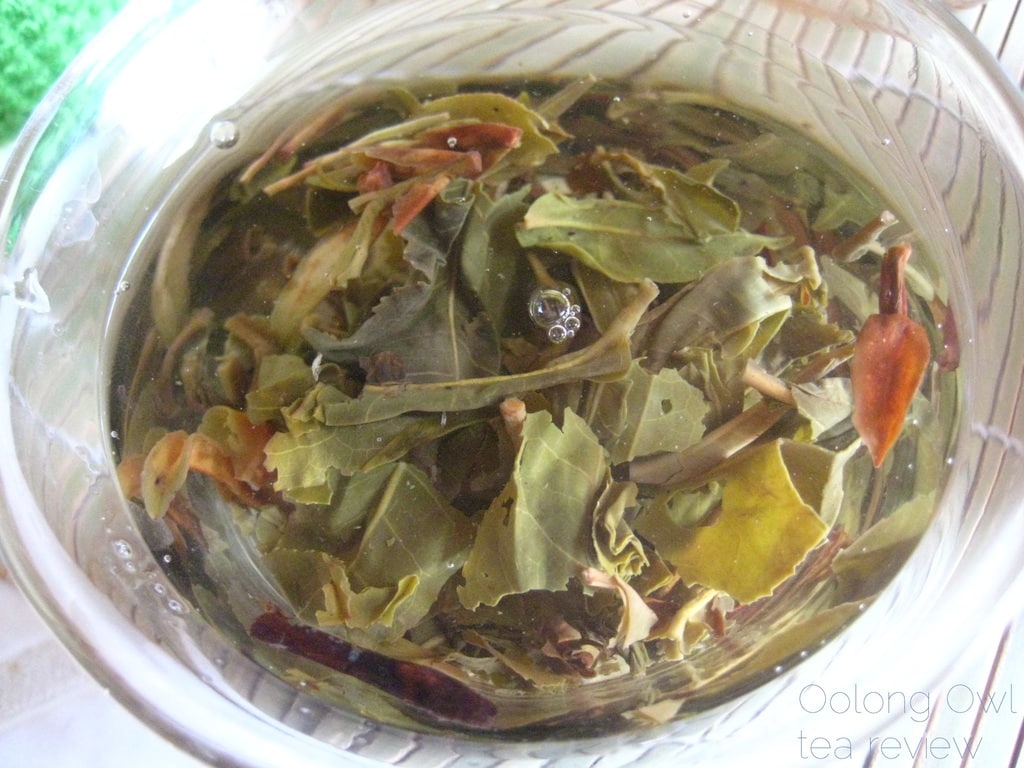 Tenth, Eleventh Infusion: Flavor is practically gone, but the presence of the light astringency is still here. I'm just drinking these because I want this tea to last forever.
COMMENTS: Tea Owlets, I love persimmon fruit and I've never seen it in a tea yet! The fruity notes here are fantastic! I've had a couple smokey teas, but this Wild Monk smokey is really easy to drink and pleasant tasting. I really enjoyed the transition of flavors and the complexity, but yet all easy to taste.
I was planning on aging this cake and doing blog posts years later reporting on how this tea changed. BUT HOW WILL I KEEP MY HANDS OFF THIS CAKE??? Crap, I might have to buy another one! My poor tea budget!
My poor tea-hating husband too. He's going to cry when he sees more of these pu'er cakes showing up as he's admittedly freaked out by them for some reason. However, as a psychology major, I believe he secretly likes the concept of pu'er cakes and feels conflicted about his dislike of tea. He's expressed interest in the pu'er cake process when we watched youtube videos about pu'er.
I do enjoy that full body rich ripe/shu pu'er, but raw/sheng pu'erh is on a completely different level. If you prefer greens/whites over black tea, a nice raw/sheng pu'er would greatly appeal to you! Overall, check out this Mandala "Wild Monk" Raw Pu'er 2012! If I have some left next year, I'll report back on the flavor!