Mango Spiced Chai Tea is a black tea chai mix sold by Hula Girl.
I bought this tea mix from Hilo Hattie when I was in Hawaii, however it looks like you can buy from Hula Girl The Store online, or from Amazon.com. Trip to Hawaii not required!
I got this out of desperation as early into my tours of Hawaii, I didn't see any loose leaf tea, just the bagged stuff. I thought the promise of mango flavor sounded really neat for a chai. I used to drink, I think Tazo Chai Concentrate mix, but moved onto loose leaf chai as I had more control over the sweetener, plus loose leaf chais are much much cheaper and barely extra work to make. Hula Girl's Mango Spiced Chai Tea is on the pricey side compared to loose leaf chai blends – I paid $14.99 (annoyingly, it's $12.99 on Amazon.com, hey island markup!) and the bag contains 10 servings.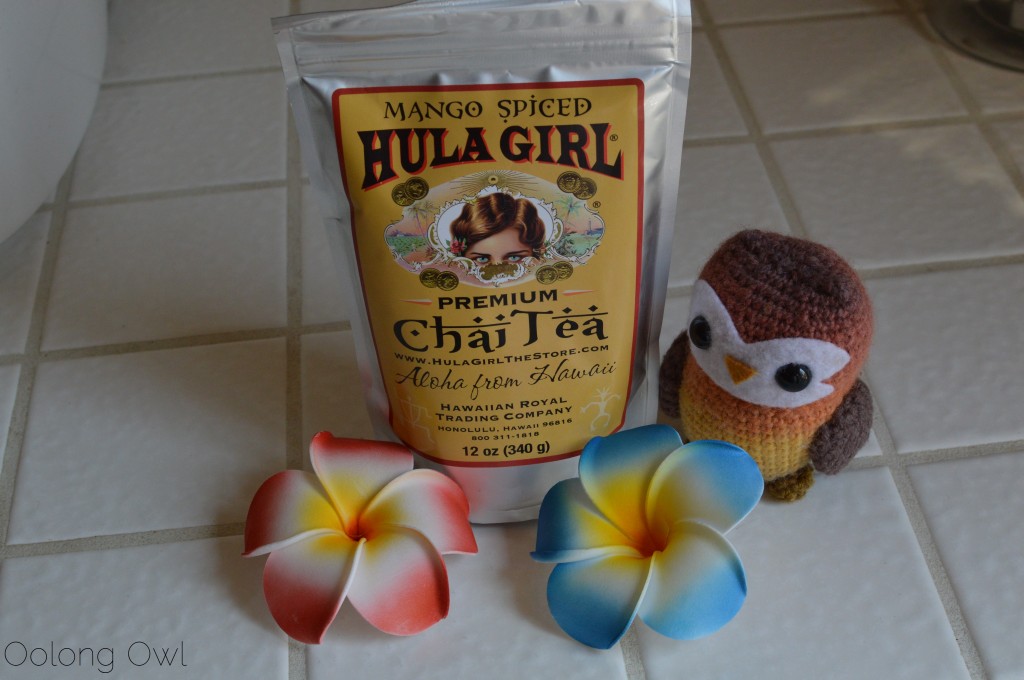 Back of the package – ouch 140 calories! Mango Spiced Chai Tea contains milk, lots of sugar and black tea powder.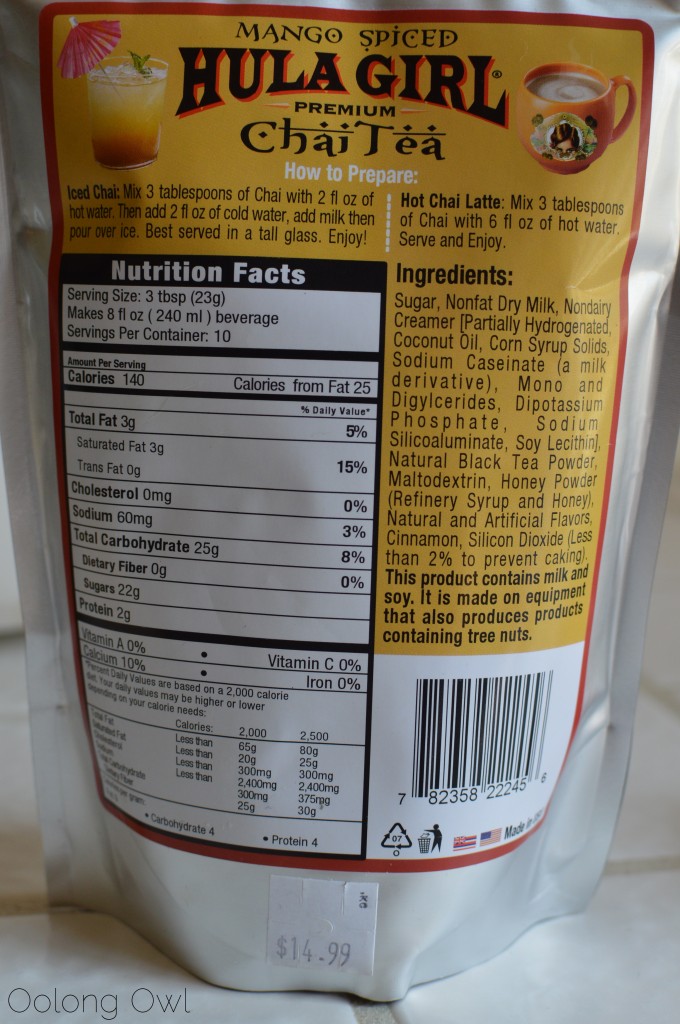 Dry Mix
Mango Spiced Chai Tea smells mysteriously fruity with a moderate amount of spice. I didn't sniff the tea mix after I got a bunch up my nose from the first sniffing. UGGG.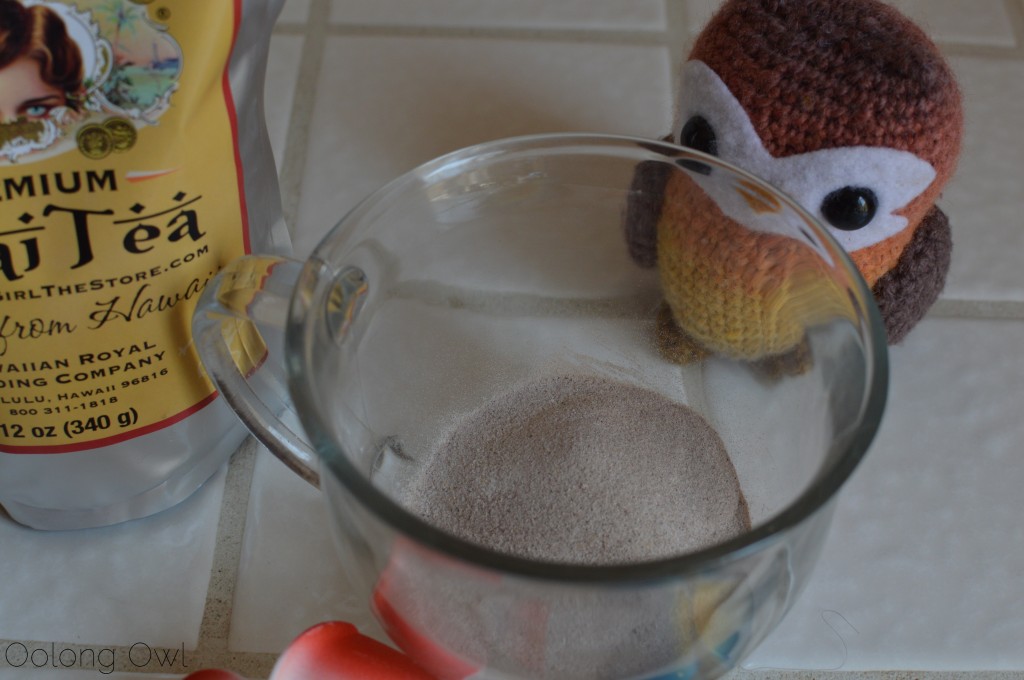 Instructions
As per the package instructions, 3 Tablespoons makes an 8oz serving of the chai. Simply add 3 T to hot water, or dissolve it in a bit of hot water and pour over ice and milk. I recommend using boiling water to ensure the mix dissolves as I found it can be grainy.
Steeped…? Mixed up I get a creamy brown brew that smells lightly like spice and tropical fruit.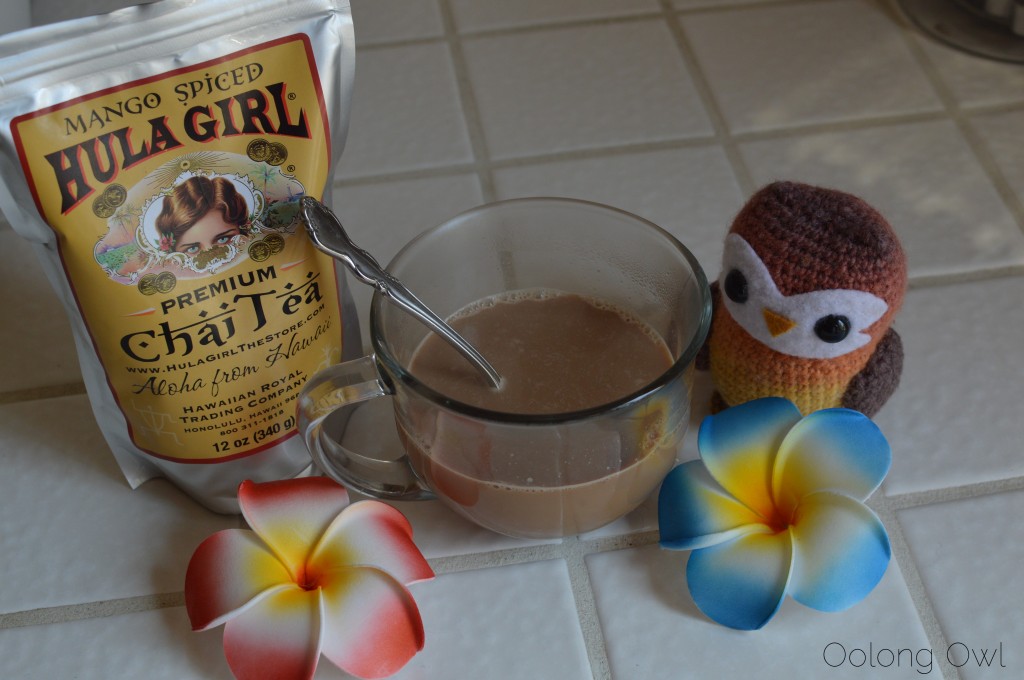 Tasting of Hula Girl's Mango Spiced Chai Tea Mix
Hot: Wow, pretty tasty! Very milky creamy, quite sweet – a little sweeter than I'd make it myself. The fruity flavor tastes like jam, but slightly mango, I'd simply pick this up as "fruity" if I didn't know it was supposed to be mango. There is a bread pastry note – overall tastes like eating a jam topped danish, with a hit of cinnamon spice end of sip. The spice level is on the light side, a 2/10 on the Spice-o-meter. Mango Spiced Chai Tea doesn't have much of a tea taste, maybe since its doctored so much with sugar and cream dust. I wonder…
Tea Hating Husband Review: Tastes good. I'd drink it again. You want me to finish for you?
Uh oh.. Mango Spiced Chai Tea  is Tea Hating Husband Approved! Wait, this is a good thing, that means we can split another cup, so I'm not drinking 300 calories of chai mix.
Iced Latte: Very rich! My iced latte came out a little grainy, so in the future I'd take better care to dissolve the mix. Iced, the mango is identifiable. I found the iced latte Mango Spiced Chai Tea to be much more sweeter and rich, probably since I added milk. The graininess is interesting as those grain bits taste like tea! Ha. I left the glass in front of my tea hating husband and the iced tea latte disappeared.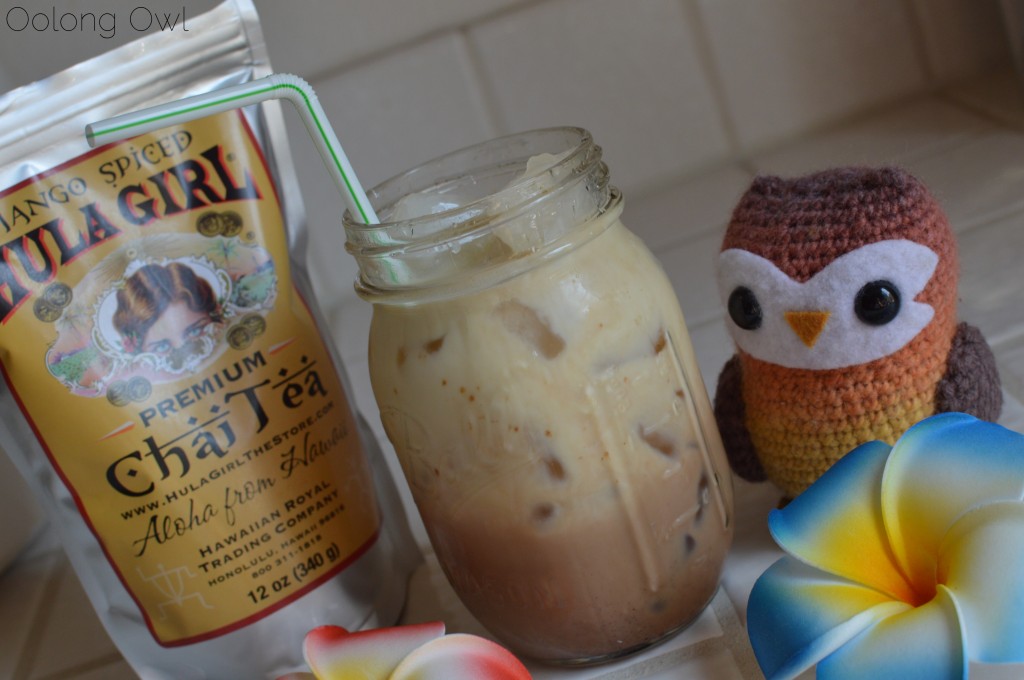 Comments
Hula Girl's Mango Spiced Chai Tea is a uniquely exotic chai blend that is easy to prepare. There needs to be more fruity chai teas – there are lots of chocolate and coffee chais, why not fruit?
Compared to chai concentrates I've had in the past, Mango Spiced Chai Tea is a fun fruity twist. This be a great gift for that "I drink chai concentrate" tea friend. Actually, Mango Spiced Chai Tea would be a great chai mix to take travelling or to the office as it's more portable than a liquid chai mix. From a loose leaf drinker standpoint – chai concentrates are expensive and not much control for cream and sugar levels. Mango Spiced Chai Tea in particular doesn't have much of a black tea taste and mild on spice, but is still a rich tasty treat. I'd personally not buy more of this, but I could see myself buying it for gifts.
Psst, there is also a Hula Girl Coconut Spiced Chai mix too.