If you follow my matcha reviews, I can be pretty unforgiving about matcha. Honestly, the concept of "Cold Brew Matcha" was a laugh to me. There is nothing stopping anyone from just adding matcha powder to ice water and call it cold brewed. There is no brewing time with matcha, it is already ground up and an instant product. I drink cold matcha all the time when I'm lazy, it is hot, or I got crappy matcha, as cold brings out the sweetness.
I came across Matcha Ninja, who makes cold brew matcha, and had a question for them. I asked Matcha Ninja what made their matcha so special and cold brew-able vs regular matcha.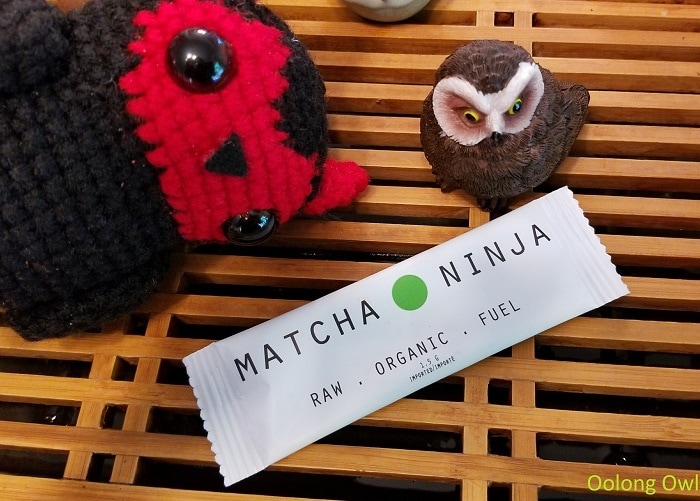 Matcha Ninja said their use selected de-stemmed tencha leaves and do a longer, finer ground than other matchas. This extra grinding and lack of stem make for a more water soluble matcha. I had a sample and felt it tasted fine. Matcha Ninja is also organic matcha, but is a Zhejiang, China source. Their tea is also heavy metal and pesticide tested.
I got a 1.5 gram sample packet to do EVIL comparisons with. As far as I can tell, their website just sells a 70 gram bag.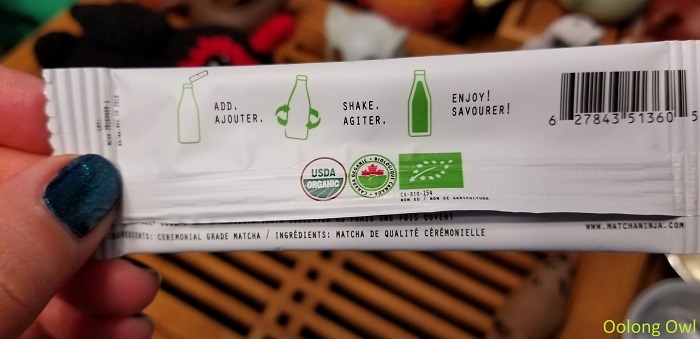 Matcha Powder Comparison and Preparation Method
The powder color is meh as it is unsaturated and a bit chalky.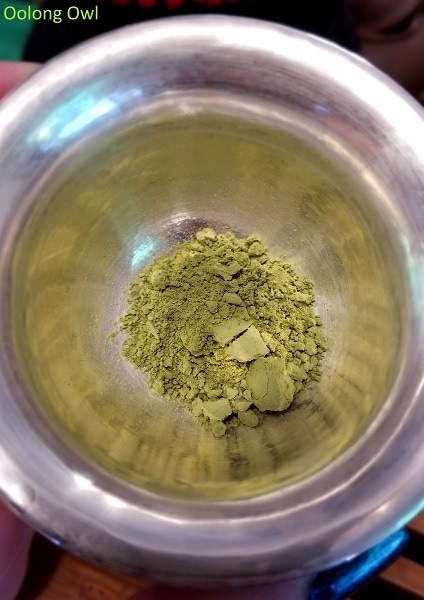 For our comparison, I pulled out a pretty good matcha from my stash. I won't say which one, but is one I personally drink. You can see the colour difference. This is an unfair comparison as Matcha Ninja goes for about $0.50 a gram and is an organic Chinese matcha, whereas comparison matcha is $0.93 a gram and a Japanese matcha, not organic. Non Organic matchas tend to be much more green.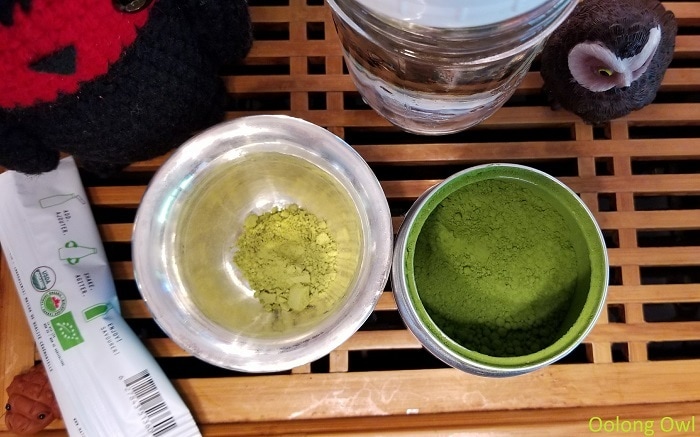 The Matcha Ninja powder does feel pretty darn silky and smooth. I felt up my other matcha and it was clumpy.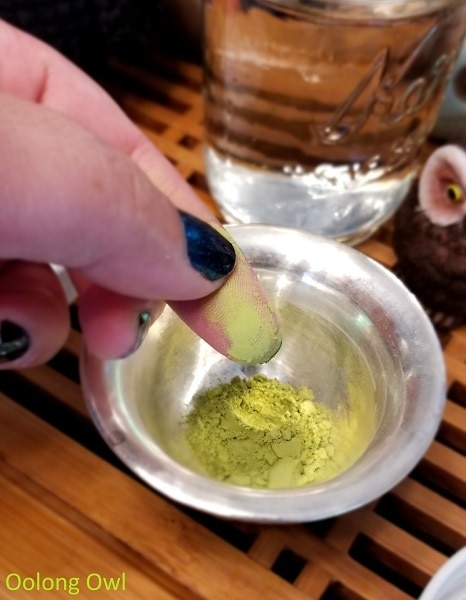 For the comparison, I used equal amounts (1.5 grams) and about 6-7oz of water. I did not sift the comparison matcha to be fair. I shook each one for 20 seconds. Matcha Ninja did not clump or nor have floaties.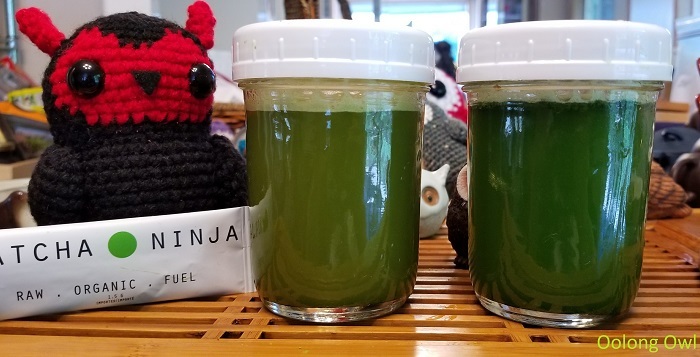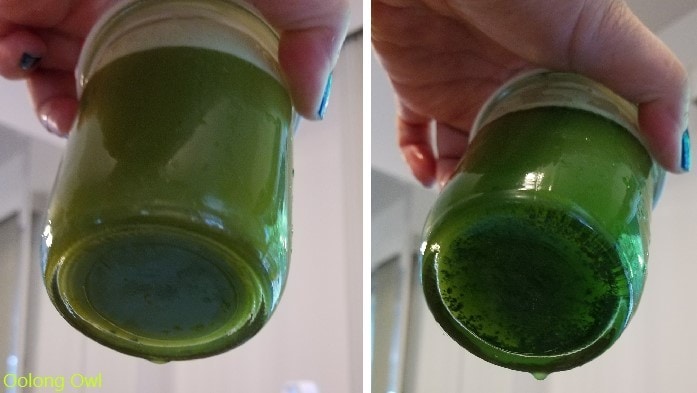 Tasting of Matcha Ninja Cold Brew Matcha
Matcha Ninja's flavor is quite strong. It is a sweet grass and slight herb profile with a hint of bitterness. I can tell if I made this matcha hot it would be quite grassy and bitter. It was pretty easy drinking, and the bottom of the cup had no sludge, clumps, or thickness. Matcha Ninja was right – it is quite finely ground and no clumps.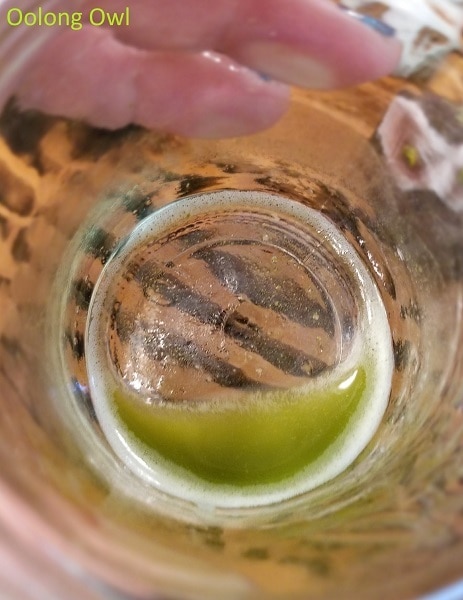 I then realized our comparison matcha is very unfair in regards to taste and quality.  The comparison matcha looked and tasted better, but was clumpy, lumpy, and I was spitting out floaters often. When I do iced matcha I often use a blender bottle, which the whisk does a good job breaking up stuff, or I sift. I cringed at the amount of waste of expensive matcha that was on the bottom of the cup.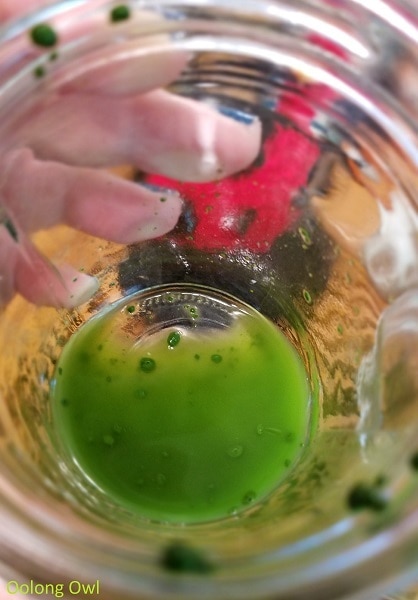 Let's try this again, I repeated the same ratio and shaking, but I sifted the comparison matcha. This time there was no floaters, but when I got to the bottom I had small chunks and sludge. That said, Matcha Ninja has this more expensive matcha beat on water solubleness right out of the gate.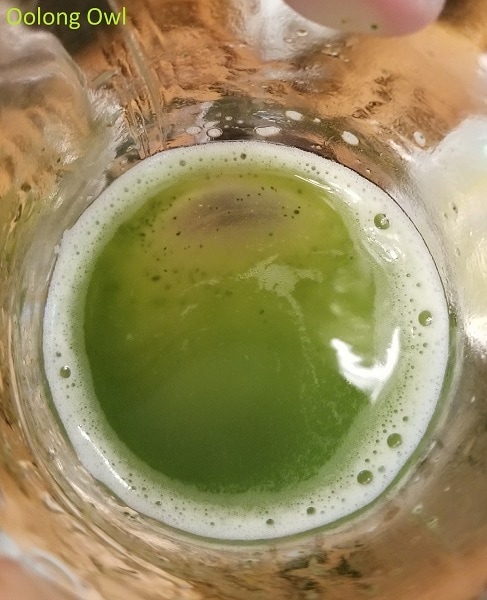 Comments
Matcha Ninja is ideal for those who purely drink matcha iced or "cold brewed" as there is no sifting required and it mixes perfectly with cold water. Flavor wise it is okay and on the high side for the quality, but you are likely paying that extra for the additional processing to make the matcha more finely ground for your convenience, plus organic and testing.  If you really hate floaters in your iced matcha, Matcha Ninja is for you. In addition, if you have concerns about your tea's origin – Matcha Ninja also is organic, tested for heavy metals, and they've gone out of their way to ensure a radiation free source. However, if you only care about flavor and cost, there are better matchas out there.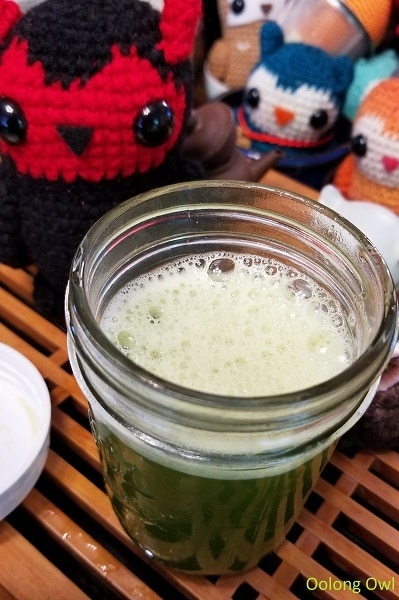 One critical concern I have is Matcha Ninja is sold in 70 gram size right now. 70 grams is a lot of matcha to get through, and if you don't go through it fast enough whether fridge storage will make it clumpy. I do think the 1.5 gram prepackaged packs are very convenient for Matcha Ninja, making it perfect for on-the-go cold matcha, but I don't see those online.
(free tea I snagged at World Tea Expo that wasn't
specificed
for reviewed but I reviewed it anyway | Amazon affiliate links)