It has been on my mind for awhile that I should get a good little digital pocket scale for tea. The more I drink unflavored teas, especially big leafy greens, oolongs and blacks, the more I felt I needed a scale. Majority of the steeping instructions will have you use a teaspoon or two. Those big leafy teas are really hard to measure, it seems I either have to smash up the leaves to fit the spoon, or be a little more generous as "error".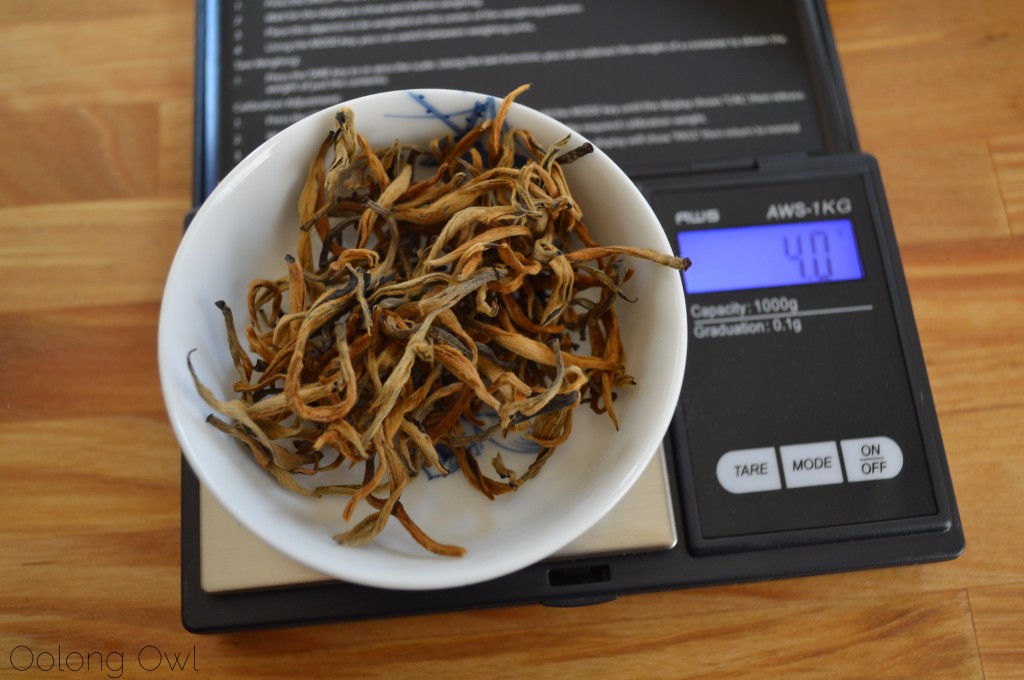 Then there are other teas, like rolled oolongs and pu'er, that are dense and heavy, causing you to overleaf if measured by teaspoon.
Of course, pu'er chipped off a cake is really annoying to measure by teaspoon, as it can also be weighty chunks that don't fit in a spoon, nor should be hacked to bits to fit.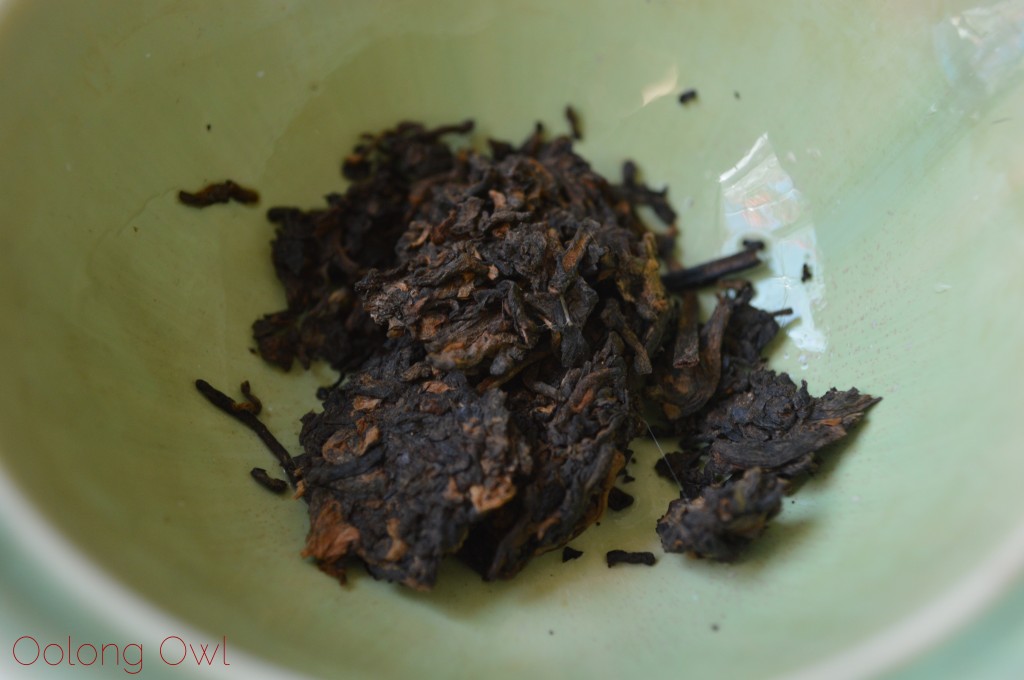 Since my husband and I do lots of cooking, we own kitchen scales. Unfortunately, those standard food scales are quite bad at measuring light things. My kitchen scale couldn't really tell stuff apart in gram increments under 10 grams.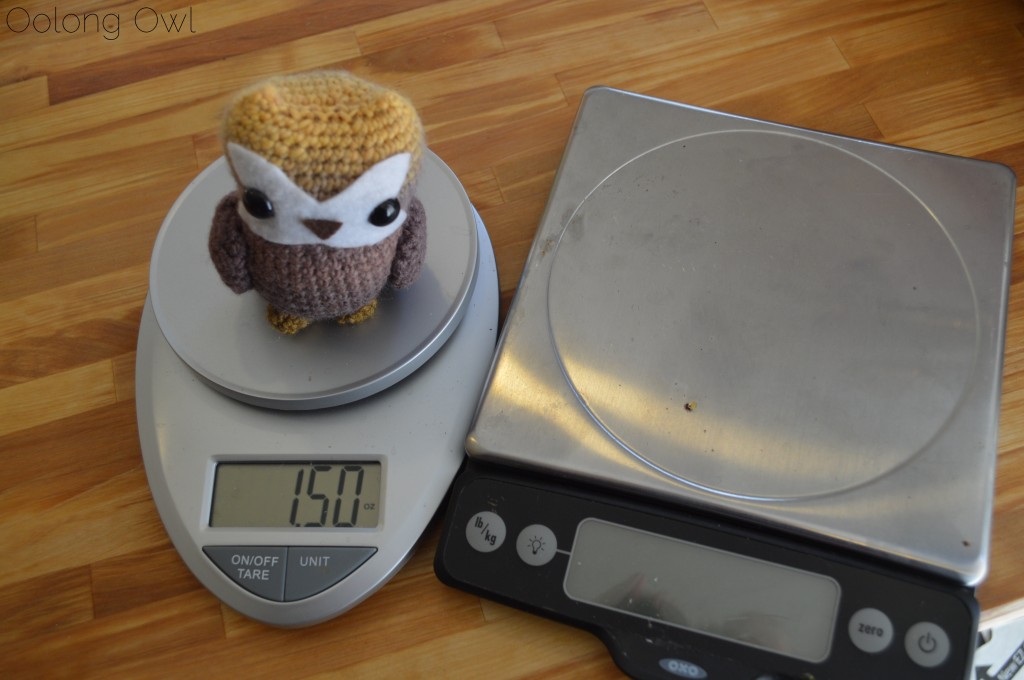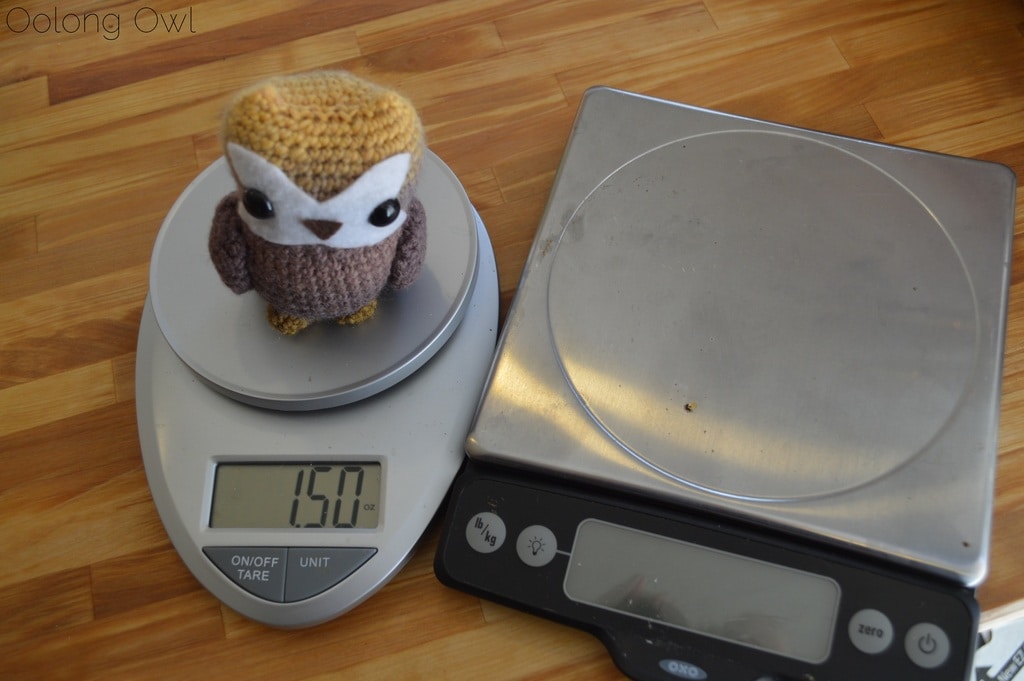 With that said, I snagged a digital pocket scale. I went with American Weigh Scales AWS-1KG-BLK Signature Series Digital Pocket Scale, 1000 by 0.1G, which I purchased off Amazon for like $8 USD. This scale measures in 0.1 gram increments, up to 1000 grams, which I thought would be sufficient for tea. There are also scales that to 0.01 gram increments, but I thought that was a little overboard for tea.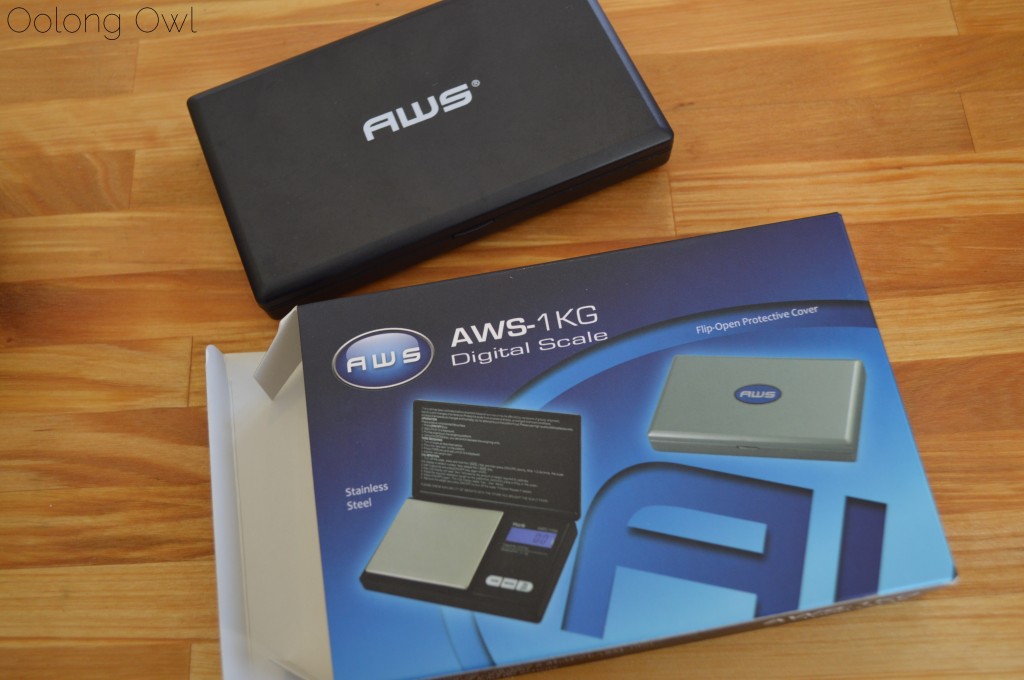 Close up of the box.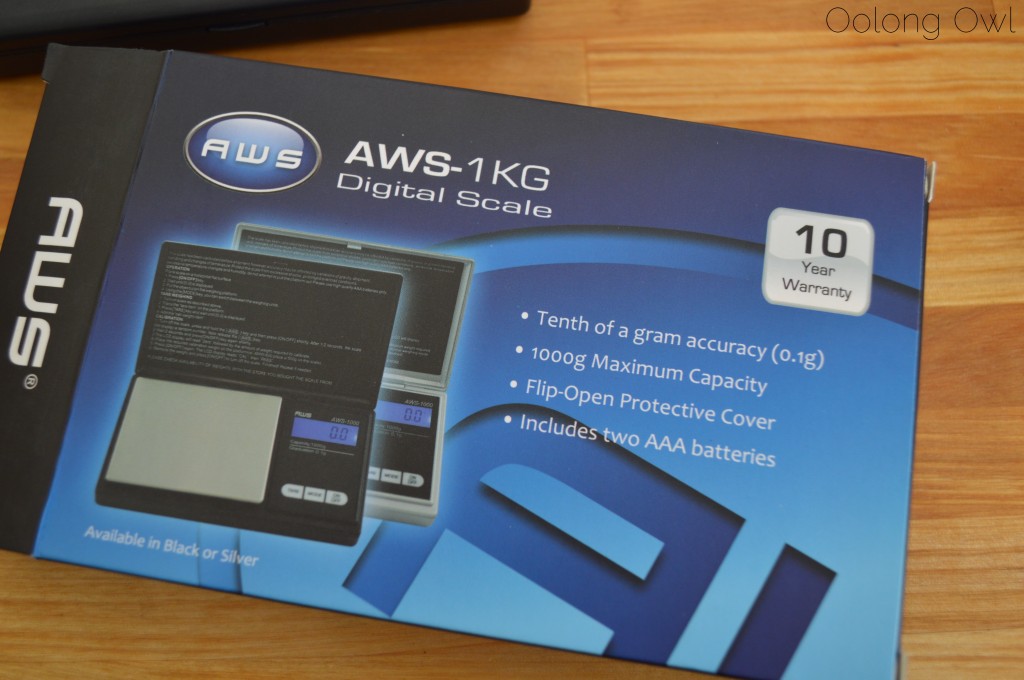 American Weigh Scales AWS-1KG-BLK Signature Series Digital Pocket Scale, 1000 by 0.1G is a very sturdy little scale. It does what it is designed to do: weigh little things. The sensitivity is good and it is quick to display the weight. The buttons work and is super easy to use. More instructions are printed on the cover, so no need to dig around for a manual.. if you need it. The display is also easy to read. Awesomely, this scale came with batteries and so far I haven't had to change the batteries.
The size is compact and the cover is convenient. More importantly, the scale doesn't take huge amounts of space on my tea shelf.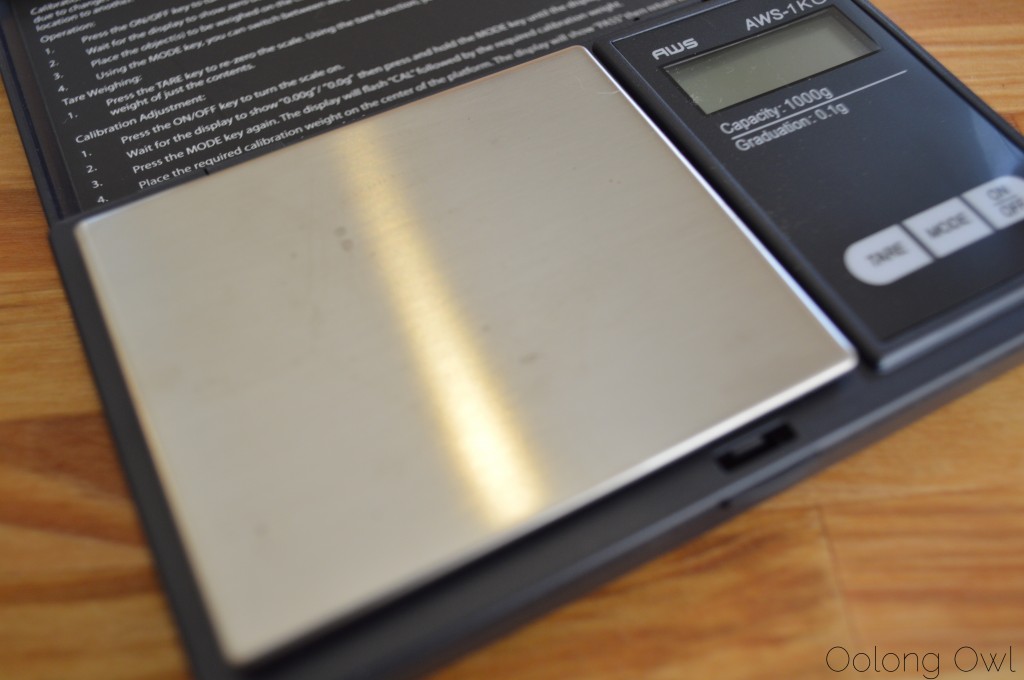 One thing I found that made using this scale with tea super easy is to use an obnoxiously small tea cup as a vessel for tea and using the TARE function. Since the scale is quite compact, the tea is sometimes too big to simply put on the scale. Even if the tea can fit, it gets stuck on the edges of the scale! I tried using paper, but that also seemed the scale was too small to handle it. Again, I highly suggest using a little tea cup or bowl on this scale.
Calibration – they want to you buy a calibration weight as the scale could get out of wack during shipment. My scale is off by -0.1, which I figured by weighing a US nickel which is supposed to be 5 grams. I figured I could live with my scale being off that little. Annoyingly, calibration weights cost the same price as the scale! It is probably a good idea to buy one, but you can just take a gamble like I did, saving $8 which you can use to buy more tea with.
I admittedly procrastinated on buying a digital pocket scale as it seems like a "mono-tasker", though I found other uses like weighing spices, yarn and Tea Owls. Golden Tipped Owl thinks he's a little bloated today.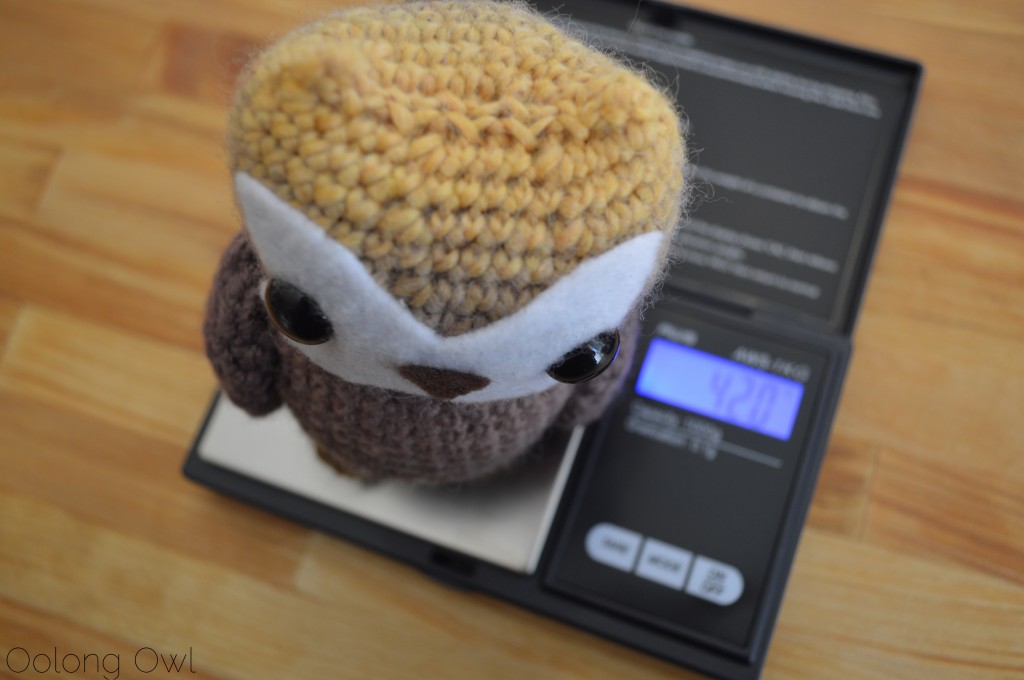 However, using a digital pocket scale, like the American Weigh Scales, I found to be highly useful and valuable for the avid tea drinker that enjoys high quality loose leaf teas. Since using this scale for 3 months, it has become an essential tool in making tea and I don't think I could drink some teas without it. For around $8 to $16, a digital pocket scale is a small investment for helping one make even better tea!
(amazon links are affiliate)