Oolong Owl invades the World Tea Expo 2015
It was a mysteriously cool day here in Long Beach for Day 1 of the World Tea Expo. I rolled in downtown Long Beach looking for some hot tea!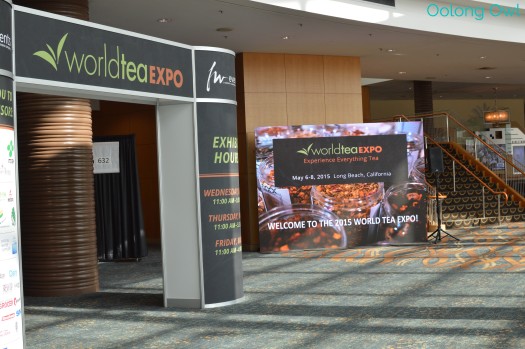 On the schedule today: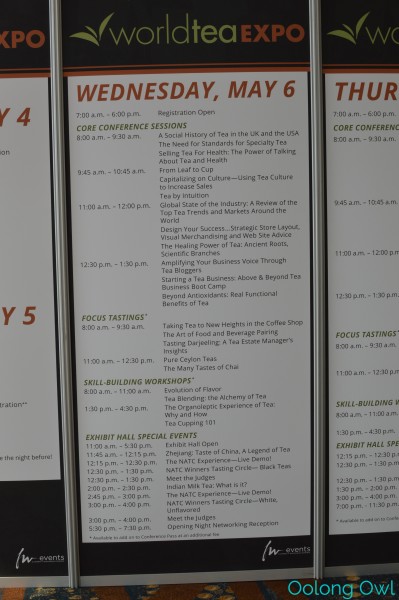 I got just under half of all the booths checked out, which was a pretty good track record compared to last year. The catch this year is many of the booths now have scheduled tasting – either certain times of day they'll steep up different teas to compare, or they only made certain teas today and will have the other part of their line up tomorrow. I thought that was pretty smart – it gets me to come back and I'm not standing around drinking 10 teas in a row with everyone else.
On my first day, I saw a lot of cool tea ware items. Trends I saw was lots of Matcha and lots of people looking for matcha too! There was also quite a bit of cold brews for sample, or cold brew marketed teas. It is interesting as years ago cold brewing wasn't well known, now it is getting popular due to ease of making tea.
Samples sampled: I lost count in the first hour. Easily 50.
Bathroom trips from drinking so much tea: 7. I got real familiar with that bathroom. Damn that soap dispenser.
Cool Tea Ware!
Summus organic high mountain tea. Their main focus is Taiwanese cold brew teas but they have amazing origami-like packaging and beautiful tea ware that changes color. The cold brewed tea is delicious tea too! This was the first time I tried a cold brew black and it was so tasty that I wanted to take the whole bottle and run into the night.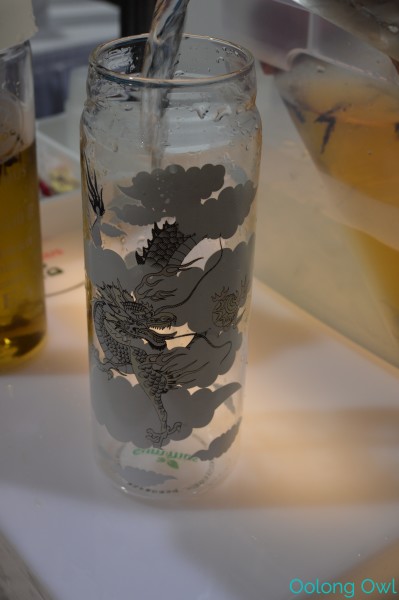 I purchased something from here, you'll have to wait until my World Tea Expo 2015 Haul post (coming once the World Tea Expo is done).
The Tea spot has a new travel tea thermos made out of thick glass, designed for hot teas. This tea bottle felt very durable and I love the cork accents. You can unscrew the bottom to get at the leaf too!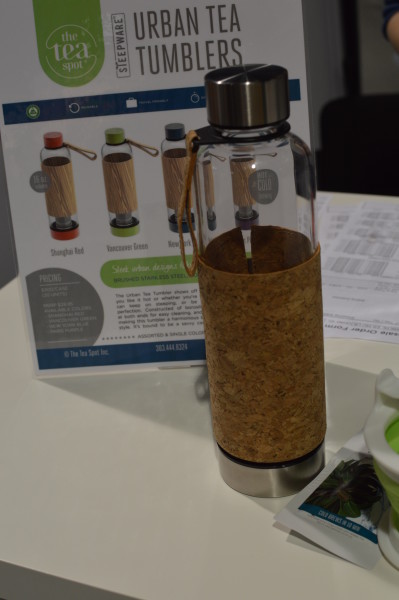 Lin's Ceramics – On quick googling, a few vendors carry their pots. GORGEOUS POTS.
LOOK AT THIS MODERN SEXYNESS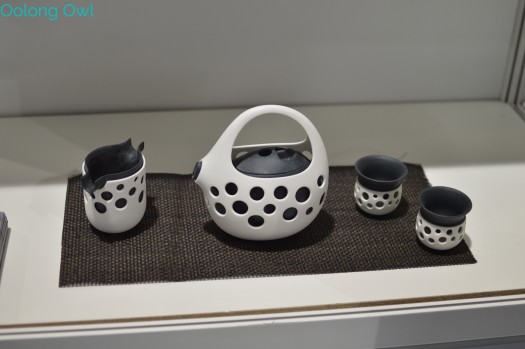 OMG these tea pots are hot too!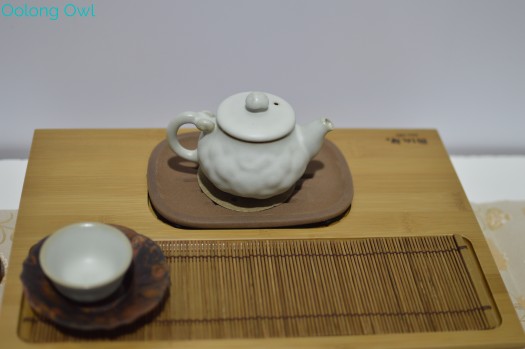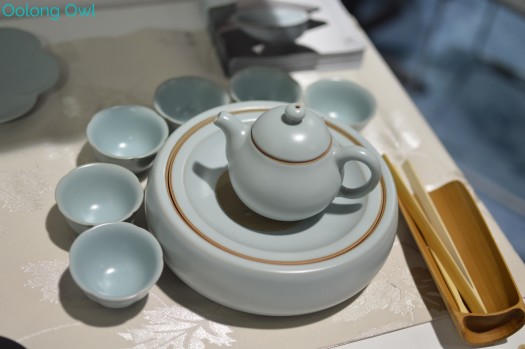 The highlight for me was their spiffy tea roaster.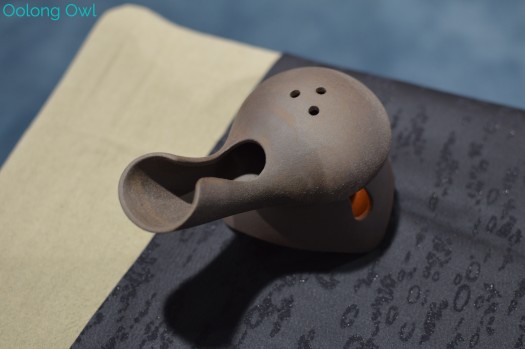 They added oolong and right away the smell was amazing, like freshly opened roasted oolong x10000000! This was one of my first stops and I had a hard time leaving as it smelled so good! The item is clay similar to yixing from what was described.
Sharp's Tea-cere Matcha Maker!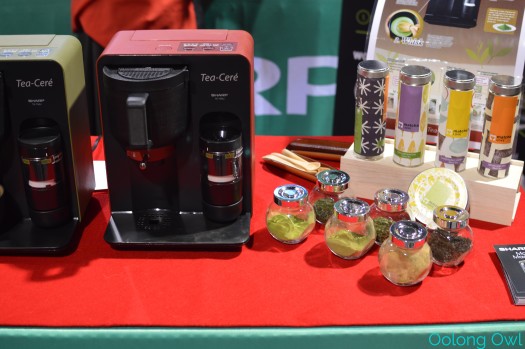 This gadget will grind your green tea to matcha as well as whisk it for you. You can use any tea you like too! This product already hit Japan and now coming to North America. I dunno if I should have one of these… I will get into too much trouble making weird oolong pu'er dust or more tea owl prime rib matcha.
Den's tea – I've eye'd this tea pot off their website. Seeing this tea pot in person put a tea ware lust in me that I will need to stop denying. Swoooon! (They have tasty ceremonial matcha t00).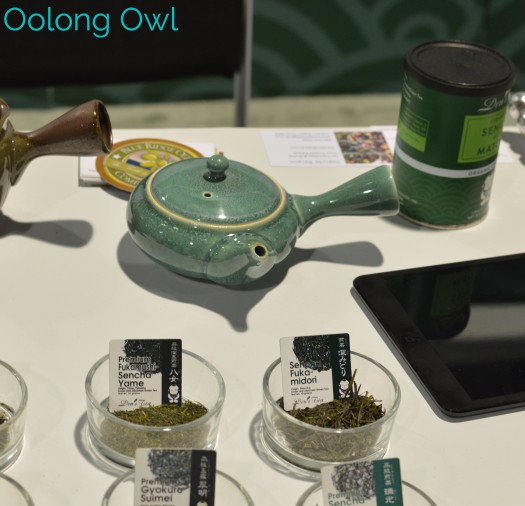 Forlife had some really gorgeous glass tea steepware as well – I love the colors!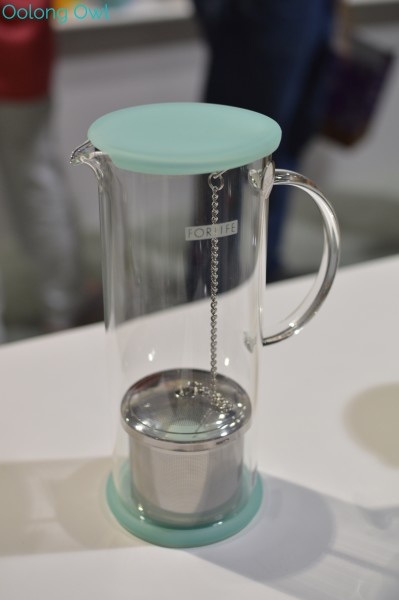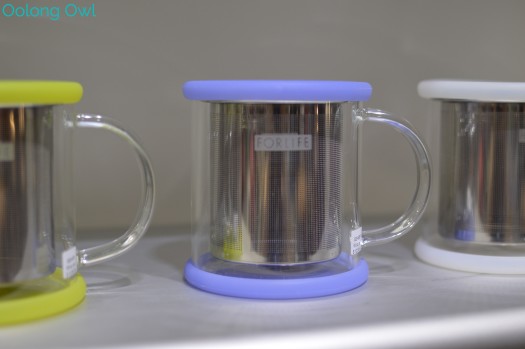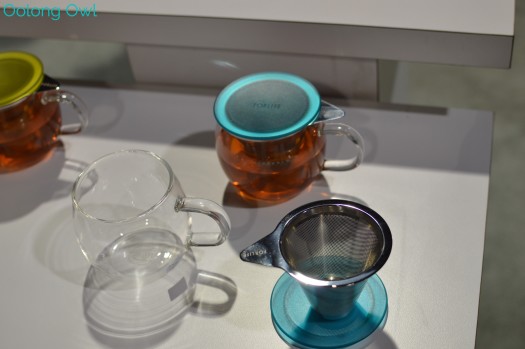 More sexy tea ware from various other vendors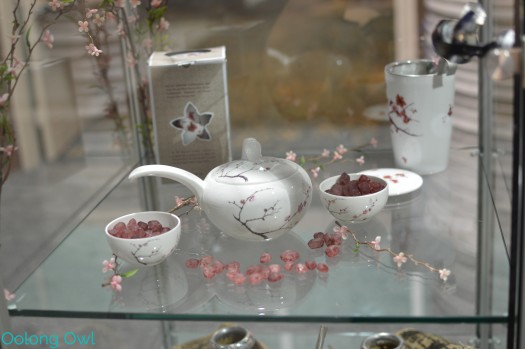 Rice pattern!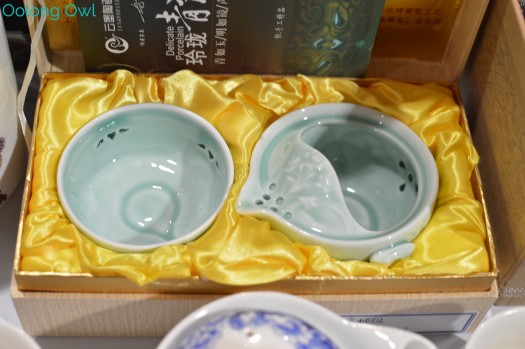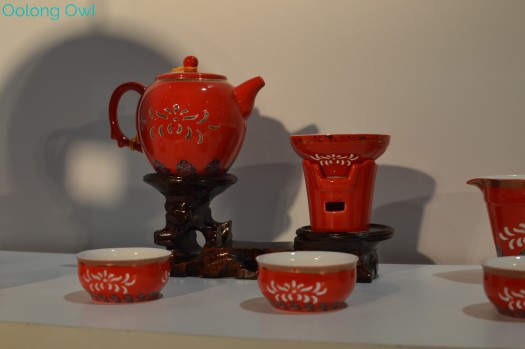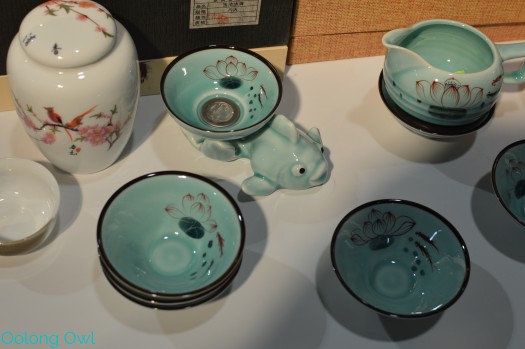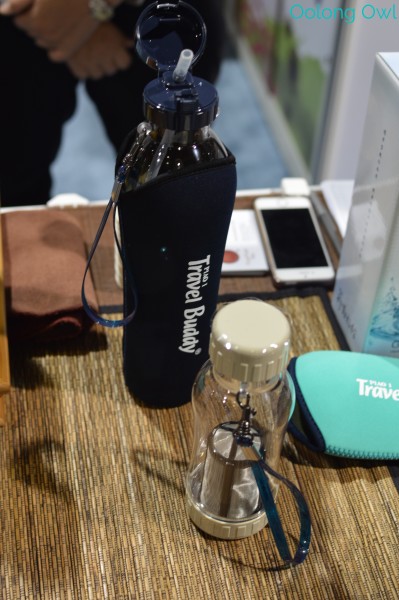 OMG owl tea set! I couldn't buy one as it's wholesale but apparently they are sold locally for me in LA, so yay! you Cannot escape me owl tea set, YOU WILL BE MINE OWL TEA SET. MINE.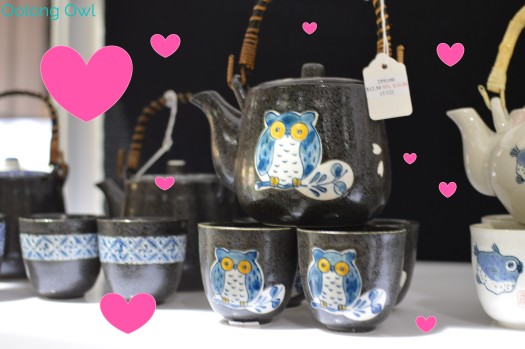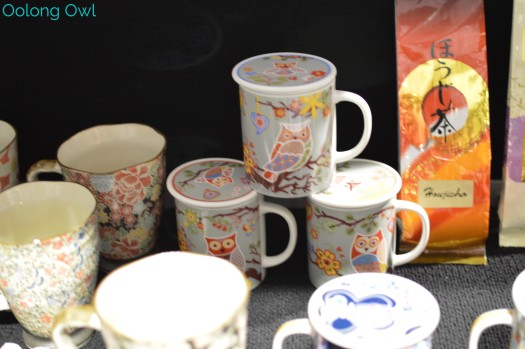 Amazing Teas
Dethlefsen & Balk These guys had wild blends that were eye catchingly creative. Teas with marshmallow and peanut butter and jelly flavored green! I got samples so expect reviews!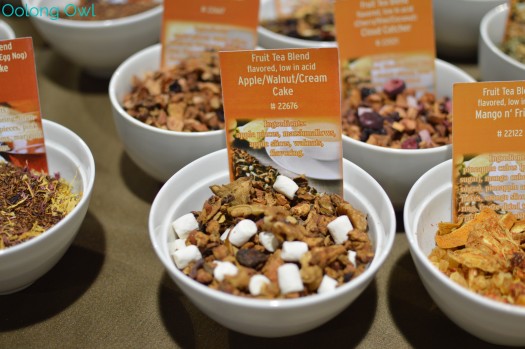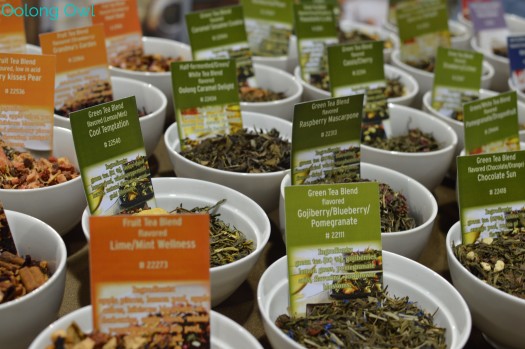 World Flavorz – this tea company had a huge spread of different blends. On sample was a really good tumeric tea, which was the best tumeric blend I've had as it wasn't chalky weird. They blend their own and their Orchid Vanilla was very fragrant. Checking out their site they have Rice Pudding White Tea, OMG OMG! If you love fun blends, check these guys out!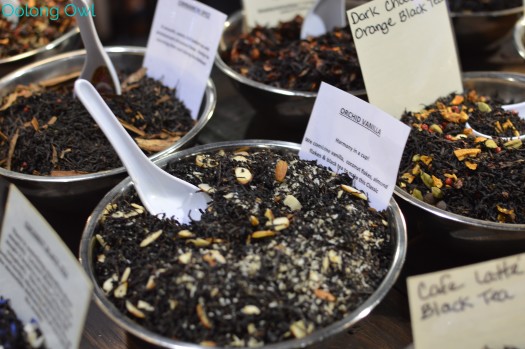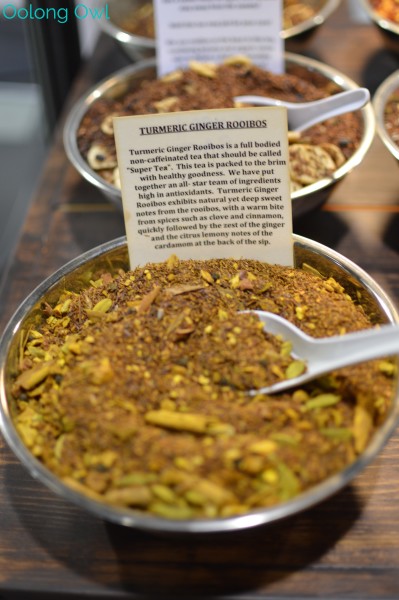 Wize monkey – I went out of my way to go to the part of the expo I was saving for the next day to say hi.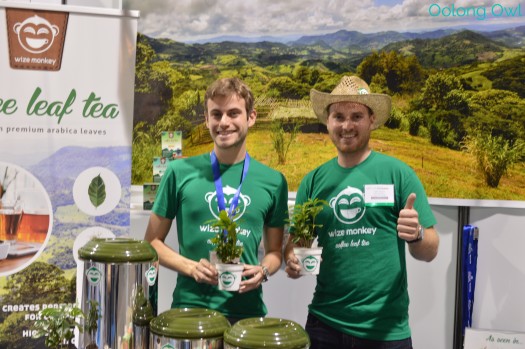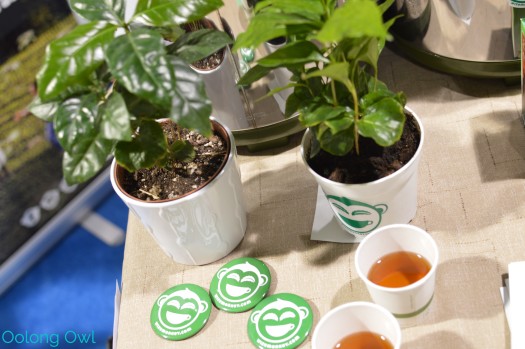 Turned out it was a good call as they had different flavors each day on tap. I really liked the jasmine it just worked really well with the base! The cookies made with the coffee leaf powder were fantastic!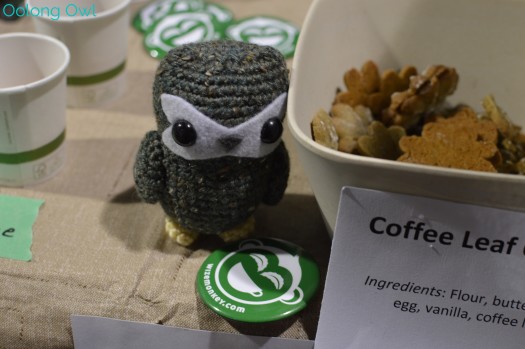 Tea source – Last year Tea Source had a giant 80lb+ heicha and I went questing for it for tea porn shots.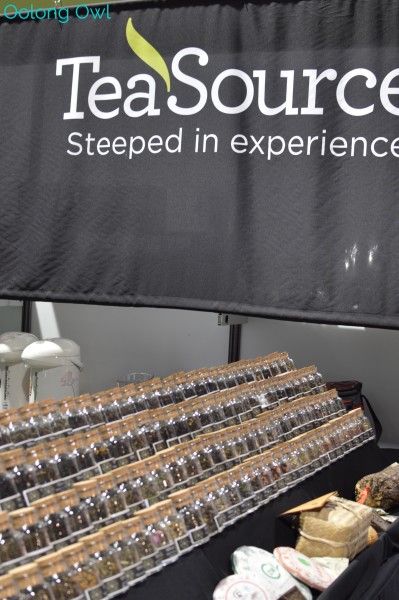 Sadly it didn't make it out this year and I was concerned they hacked it up for tasting Tea Source assured me it's still intact, it is just taking this year off from being on the road for 4 years. I couldn't be trusted with a 80lb+ log of Heicha, the Tea Owls and I will peck it to bits.
Adagio Tea – I'm a sucker for Tea Rex things.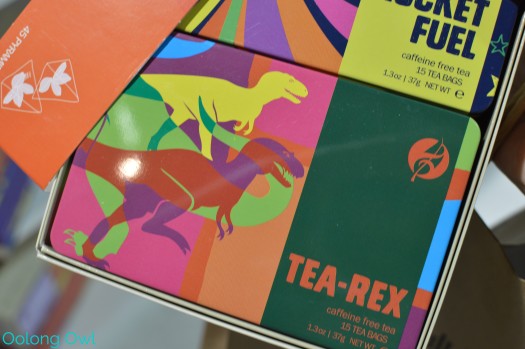 Harney & Sons – That ginger ale beer SO GOOD! The jasmine was a tasty surprise! I loved it and I'll keep an eye for it in stores.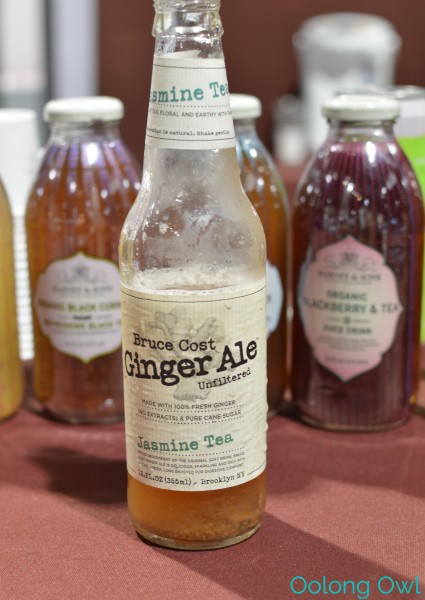 I love the Harney & Son's booth. They have luxurious display and the staff are fun and friendly.
North American Tea Championship – White and Black teas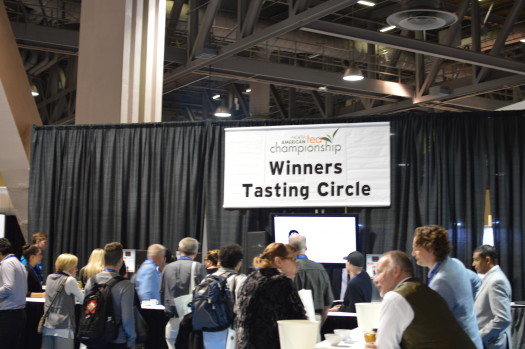 At first I thought I missed it. They must of had technical issues as I visited when the black tea tasting was supposed to be, but I guess it didn't happen. Then I came back during the white tea tasting and they combined them! All really good teas – photos of all the teas present.
Sample Swag
Various Tea magazines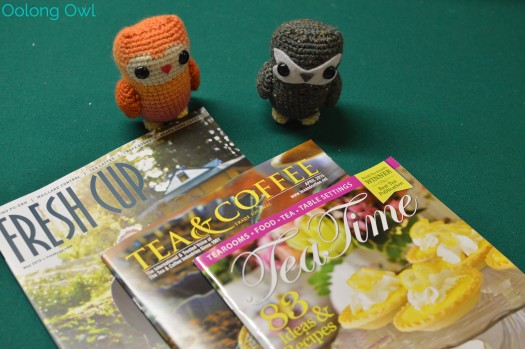 Tea pamphlets – actually pretty low in tree death compared to last year.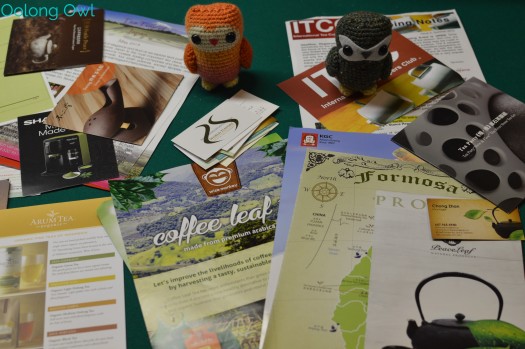 Tea goodies – USB drives, buttons, stickers, yeah!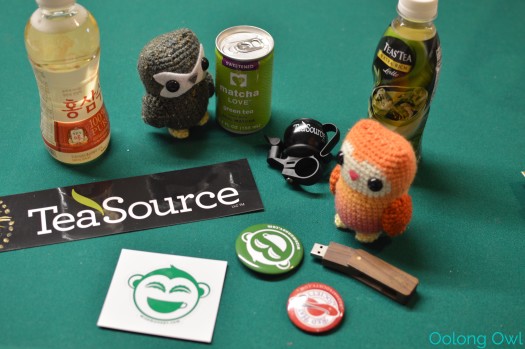 This is a Tea Source bicycle bell that kinda looks like a tea pot.
Tea samples! OOH YEAH! Arum Tea, Wize Monkey, Cameron Tea, 101 Tea Plantations, The Tea Spot, Do Matcha, Dethlefsen & Balk!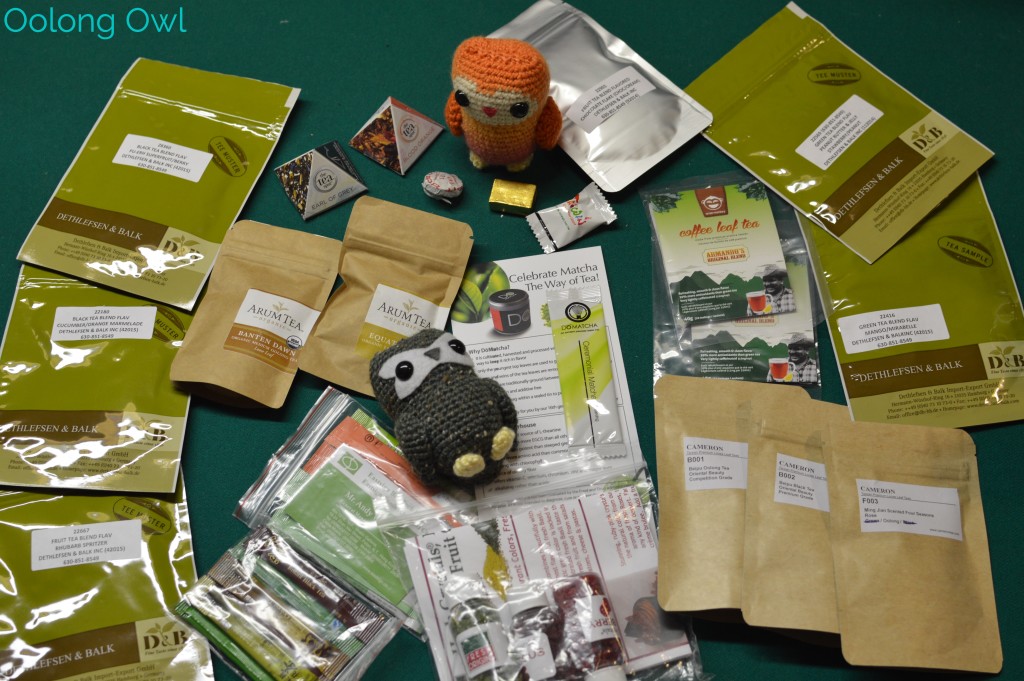 My purchases – more later!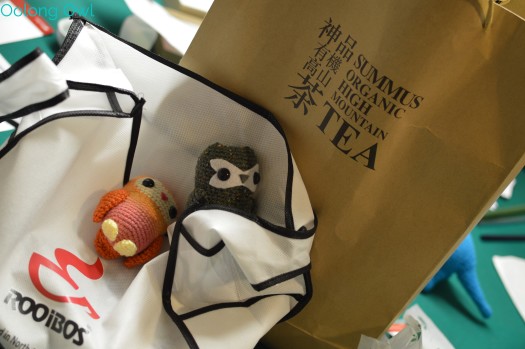 Sadly, I couldn't do any after events. My haul was too heavy plus the Tealet afterparty spot was too long of a commute home.
Finally.. what the..