I came across Golden Tea Leaf at the last World Tea Expo. Golden Leaf Tea had some delicious tea, but also award winning tea. Both teas I will be tasting today placed in the North American World Tea Championships, Pine Oolong first place and Honey Red Jade third place.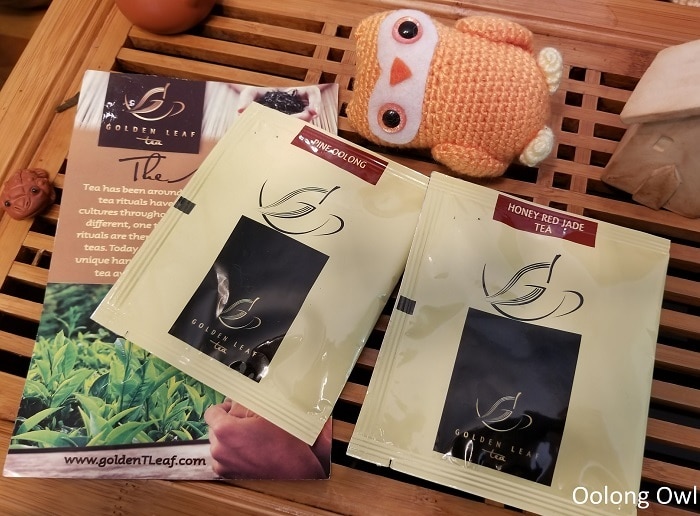 Pine Oolong
Pine Oolong is a blend of two Taiwanese High Mountain teas. Which high mountain teas? They don't say, so I guess a trade secret? I was only given sachets that contained 3 grams of leaf. The tea inside the sachets look great and appear to be whole leaf. With two sachets, I was able to gongfu!  I used 1 gram of leaf to 15ml of vessel size, and steeped in boiling water.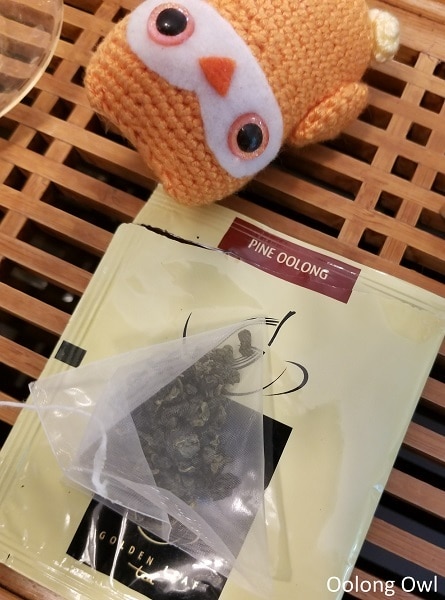 The leaf smells great – nicely sharp floral magnolia with a good background of fresh vegetal.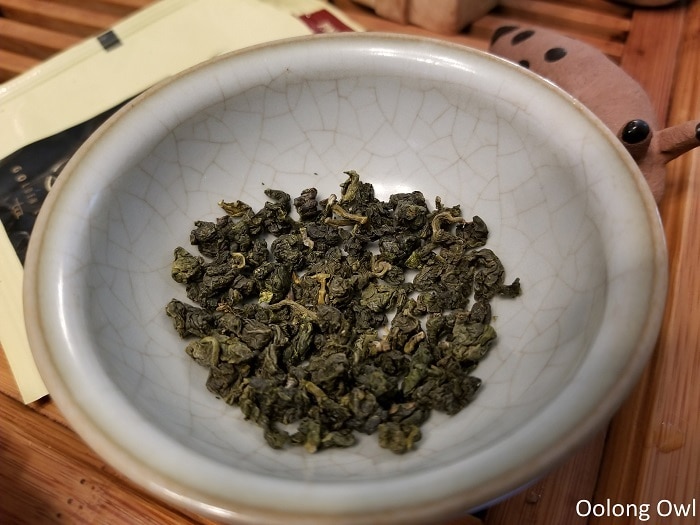 The hot leaf smells like sticky rice and fresh greens. The colour come out a very pale light yellow green. I didn't photo the rinse, but that was almost clear like water.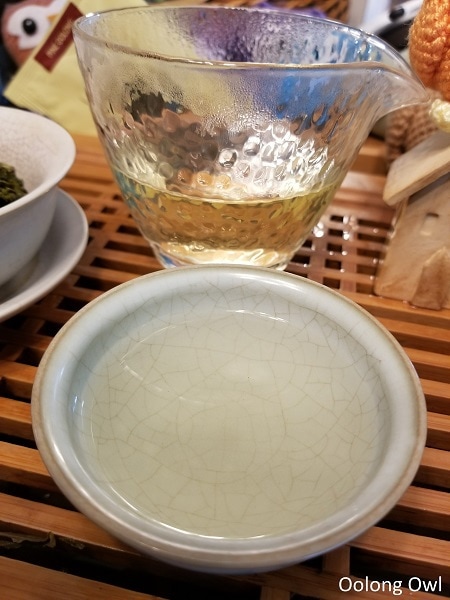 First and Second Infusion: The flavor is soft with notes of buttery, mineral, sweet peas, with a peachy floral finish. Overall flavor is quite crisp and sweet, but also quite buttery with the texture being nicely balmy. The floral is light and not overpowering.
Third, Fourth, and Fifth Infusion: The flavor has shifted to something quite savory here. It is clean and mellow, tasting like steamed white rice, peas and fresh spinach. The aftertaste slips in that peachy floral, layering over the vegetal savory flavor.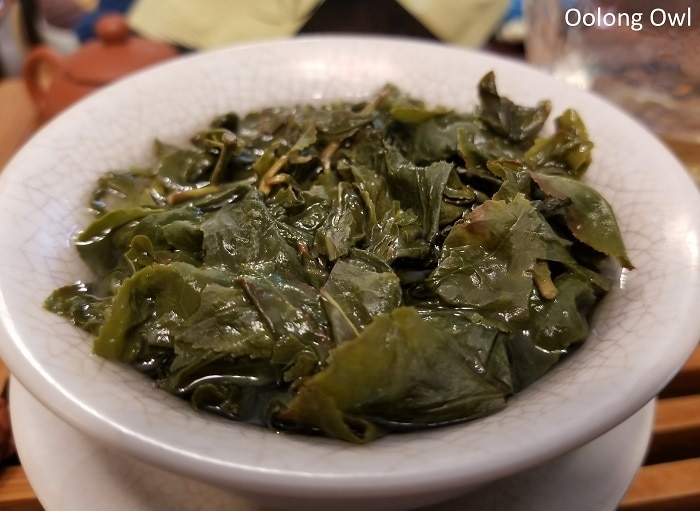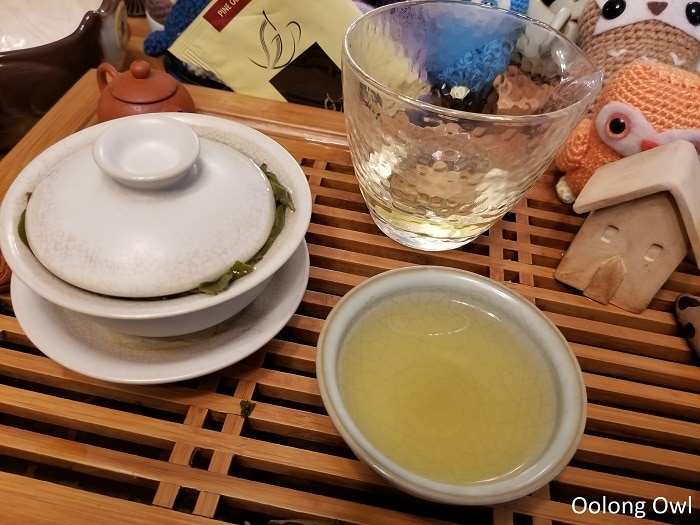 Sixth and Seventh Infusion: The sixth infusion was light on flavor, but had some dryness that was still pleasant to drink. The final infusion I pushed for about 5 minutes and it was too bitter to finish. Good looking leaf!
Overall, Pine Oolong is an interesting tea and a pretty good daily drinker. It is soft and well balance for buttery, vegetal, and floral, with buttery being the most dominate…maybe there is Lishan in this blend? Pine Oolong would be loved by high mountain drinkers looking for something a little different and fun to drink for a short session.  I can see this tea being great cold steeped. Golden Leaf was accurate in their posting saying Pine Oolong is a good everyday, delicate tea. I did find it easy going and certainly a good daily drinker but yet plenty of interest. Pine Oolong has my interest sparked on the potential of blending other high mountain oolongs to maybe construct the mightiest of oolong.
---
Honey Red Jade Tea
Honey Red Jade Tea is a "unique fermented black tea from the pristine hills of Taiwan," but also has been influenced with leaf hoppers.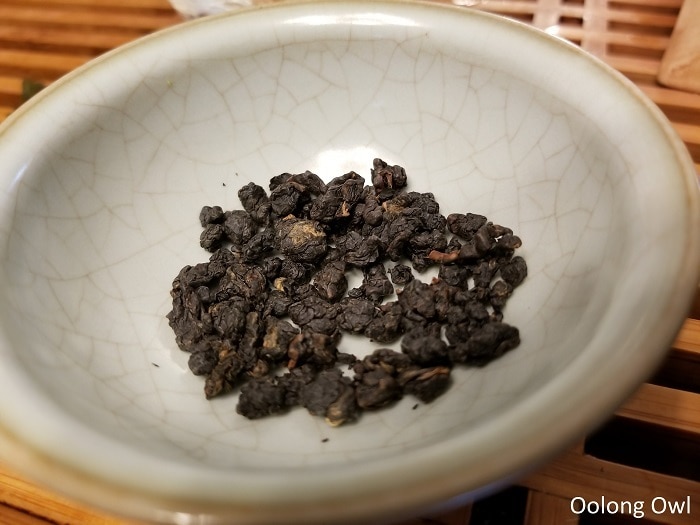 So sadly I only have a single sachet of this tea, which is 3 grams. I'd love to gongfu this rather than grandpa or western steep it. Luckily, I can gongfu Honey Red Jade with this 40ml clay pot I have on loan. I admit, this clay pot has not been tested with black teas, so I don't know what influence it has. This tasting is not very accurate compared to a gaiwan, which is more neutral. Looking at the steeping instructions, they consider Honey Red Jade to be steeped like their oolongs, not like their black teas.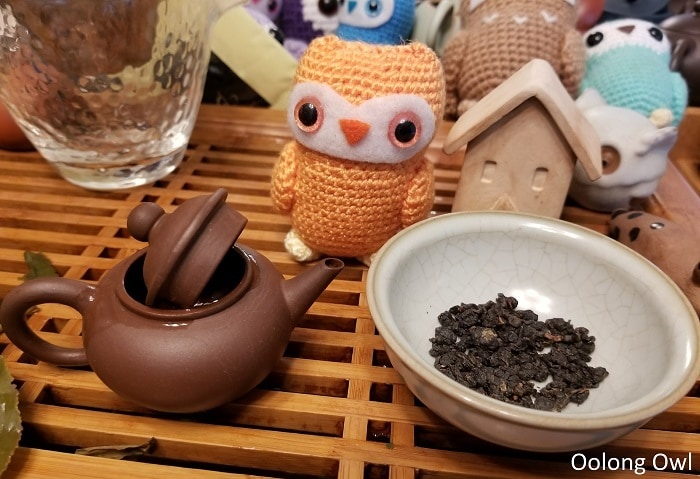 I leafed a little heavy, 3grams to 40ml, with boiling water. I used flash steeps to start to compensate with the tea pot pour being a bit slow. The hot leaf smells very fruity, reminding me of a mouth watering ruby black.
First and Second Infusion: Great golden colour made from this tea… in a teeny amount thanks to this tiny tea pot. Photo below is one infusion in the cup and the second in the pitcher.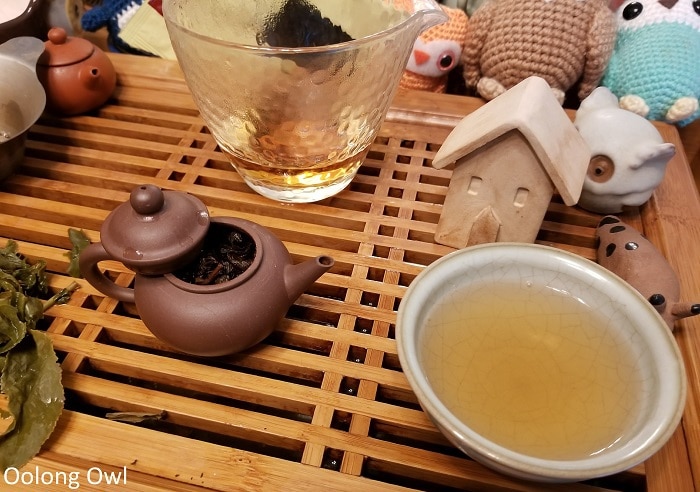 Honey Red Jade sips in mineral sweet.. really sweet! Likely this is one of the sweetest black teas I've had. It tastes like hydrangea leaf, which is naturally sweet in the mouth, but not how sweetness usually hits the tongue (but this isn't as funky as stevia is).
Third, Fourth, Fifth, Sixth, Seventh, and Eighth Infusion: The flavor is developing more. It is still quite sweet and mineral, but has a slight earthy background with a citrus zest to it. The overall flavor is quite bright. The body is a bit slippery, but I didn't focus on it until now as the sweetness is so dominating. With each infusion, I found this tea got more citrus like pomelos, but spoons of sugar on top. This black tea isn't heavy, malty, overly earthy like a typical black.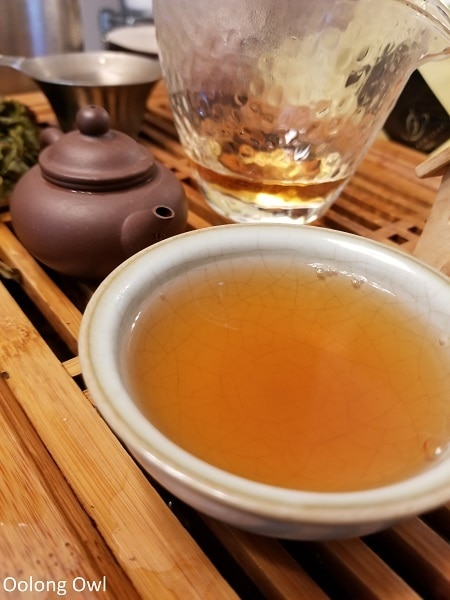 Ninth Infusion: I noticed at this point Honey Red Jade was just not expanding right. I put the leaves in my pitcher and let it steep one last time. I used a lot more water than I'd like, but with an extended run of 20 minutes I got a good infusion.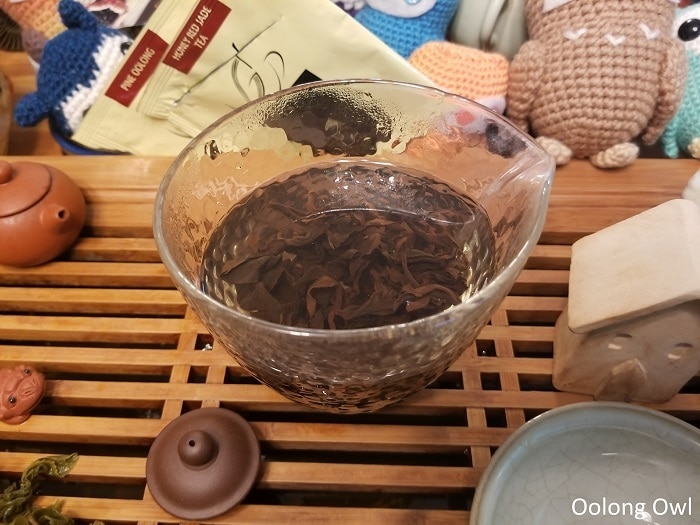 The tea was not bitter or dry at all. The flavor was light, but mineral and very sweet.
Overall, Honey Red Jade is an interesting black on the fruity sweet side. It is certainly for an oolong drinker who prefers something much more oxidized, or a black tea drinker looking for something lighter.  But honestly, this tea is really flipping sweet and took many multiple infusions with boiling water without getting dry or bitter. This is a bombproof tea, and I can see this being the perfect "convert from sugary drinks to tea" tea. I can see this tea being excellent iced and you'd likely not need sugar with it.
Hopefully again I will try more of Golden Tea Leaf. Both the Pine Oolong and Honey Red Jade were quite unique. On their Golden Tea Leaf site, they sell tea bags and loose leaf. Golden Leaf Tea also sells Pine Oolong and Honey Red Jade on Amazon if you are on the lookout for great tea (award winning at that) to burn Amazon gift cards on.
(Tea sample snagged for free at the World Tea Expo, Amazon Affiliate links)