Pique Tea Crystals is an interesting new organic tea product – it is tea that has been brewed, then crystallized. Pique is packaged in individual servings, making for a convenient tea on the go, all you need is a vessel and water.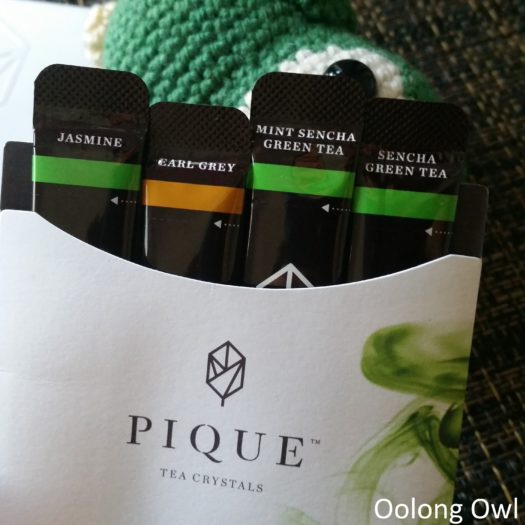 Steeping Instructions
I followed the instructions, which was 1 packet, to 8oz/1cup/250ml of hot water. They didn't specify water temperature so I figured I would just use these instant tea packets as if I was in the wild, so around 200F water.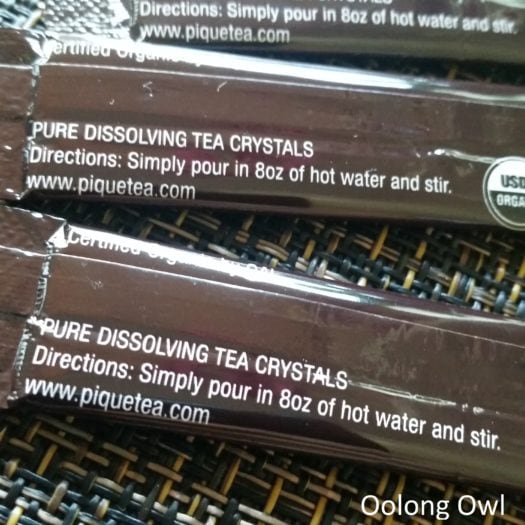 I already failed with instructions and with the first attempt I added the Pique Tea Crystals to a cup of hot water, which required stirring. I discovered with a later attempt if you add the crystals first, then add hot water, you don't need to stir it! Super easy!
I also went off the grid, not using hot water for some of the flavors.
Tasting of Pique Tea Crystals
Wat.. this is yellow! That is pretty weird. The scent is sugary, liked bottled iced tea. I wasn't expecting sweet scented tea.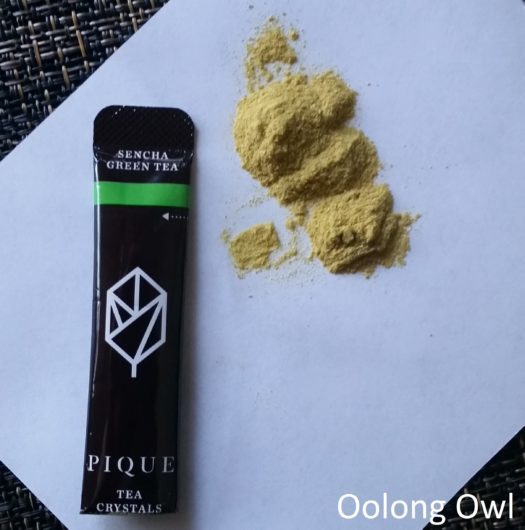 Sencha has a grassy marine scent with a dark yellow gold colour. The taste isn't sweet. What? the powder smelled like it was sweetened! The flavor is mellow, vegetal with a buttery marine bite to it, with a citrus finish. Slightly sweet finish, and overall a clean sip. It does lack a fresh taste I associate with sencha, however it is not overly grassy or bitter.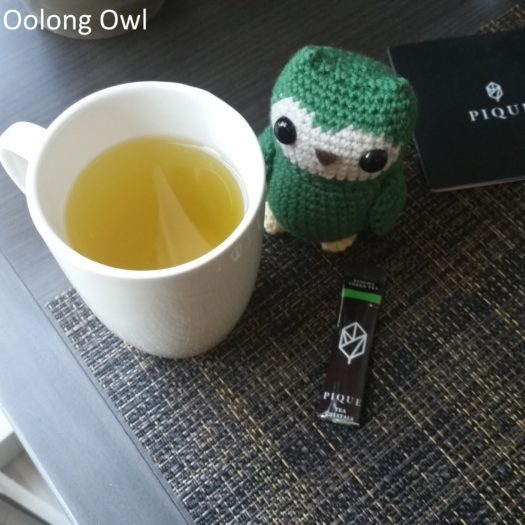 I just realized that I did this tea at 200f, much higher temperature than a green tea should be made with, but there is no bitterness!
Sencha Green Iced
I mixed a packet with ice and cold water. I'm not using the greatest vessel here but it did the job after a lot of shaking. I first under watered, so the sencha tastes oddly sweet and powdery just like the scent. Once I had the ratio right it was much better. It was a tangy fresh grassy sencha that is refreshing and clean. I think this tea does much better iced than hot!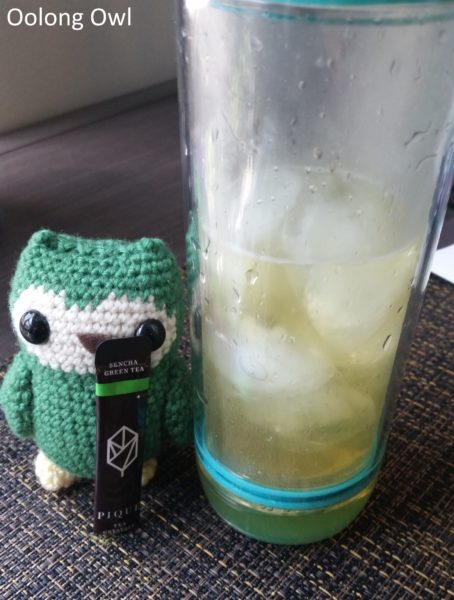 ---
Again, similar weird yellow colour with a sweet scent making me think I'm going to be drinking sweetened grocery store instant tea mix.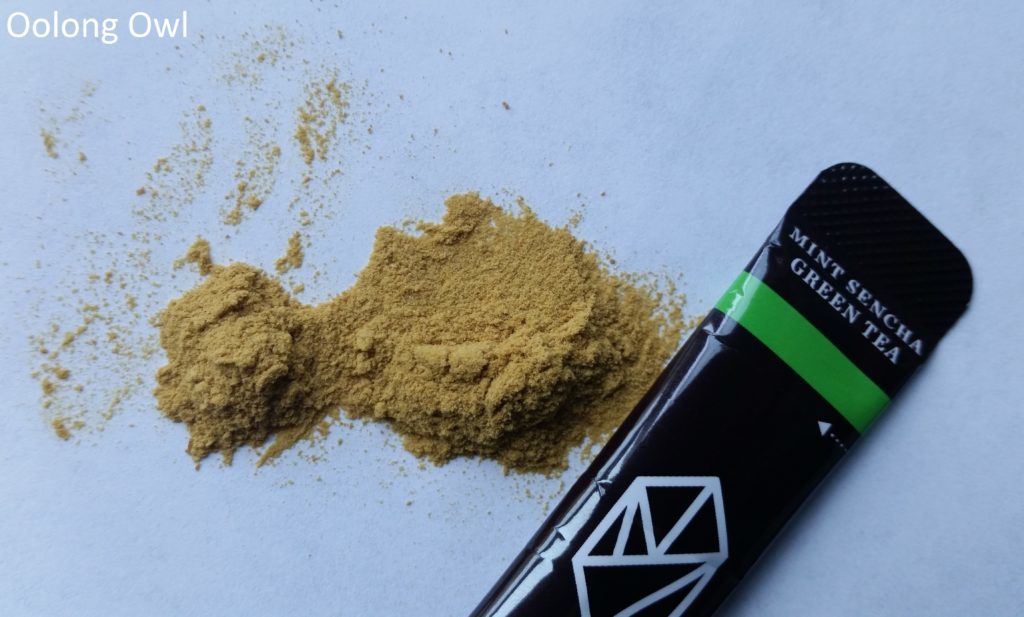 The Mint Sencha is pretty similar to Pique's Sencha offering…. but wait for it… mint flavored! The green is vegetal and buttery, with an oversteeped spearmint flavor adding some freshness. The mint is on the light side too. I think this one is the weakest of the line, which is surprising as the mint adds much needed freshness, but the spearmint tastes oversteeped and swampy.
Moroccan Mint Iced tea
I dissolved 1 packet of Mint Sencha, 2 packets of sugar in a little hot water, then added cold water and lots of iced. Nope, couldn't pull off Moroccan Mint tea as this does not have enough spearmint flavor. It isn't minty or bitter enough for the sugar to smooth out the flavor, is is still kinda over boiled mint flavored.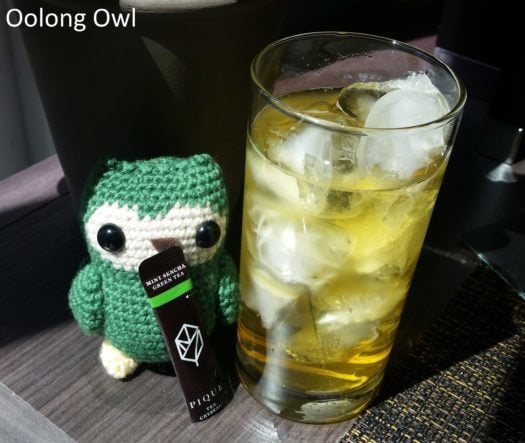 ---
The base of this one, as per the website, is a black tea from Idulgashinna Estate. The dry leaf made me gag, this was seriously Liptons iced tea mix with a bit of orange. Eww. The colour is an interesting chocolate brown.
Taste wise here is pretty good. It is a low bergamot, more hint of citrus, earl grey with a brisk, non complex ceylon black tea. There is a bit of bitterness and dryness, but something that is classically associated with an Earl Grey. This one is quite clean tasting as well. I found as it cools it got a more sweet citrus flavor. Pique's Earl Grey has a pretty classic Earl Grey, with a light bergamot level. I can see pairing this with milk and sugar would be ideal. (forgot to take a picture!)
Iced Latte
I discovered you really need to shake, blender, or dissolve in a little hot water first if you want to use Pique Tea Crystals cold. Adding the tea crystals to milk and stirring with a fork did not work at all.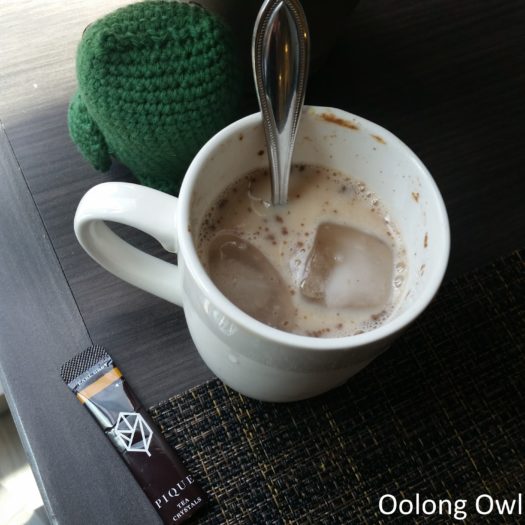 Taste wise the Earl Grey Latte is pretty good. It's more bergamot, actually cutting through the soymilk. The black base combines well with the milk, without any bitter or dryness. It is a pretty lovely, easy to drink Earl Grey iced latte, and this tea certainly needed the milk to have it preform better. I enjoyed this one. I think this one would do great cold for stronger bergamot flavor.
---
I had to go look what was the tea base for Pique Tea's Jasmine flavor – it is apparently a Zhejiang Province, China green tea that has been scented with jasmine petals, not the oil added type of jasmine tea. This one had a funky 70s brown shade with a sweet jasmine scent.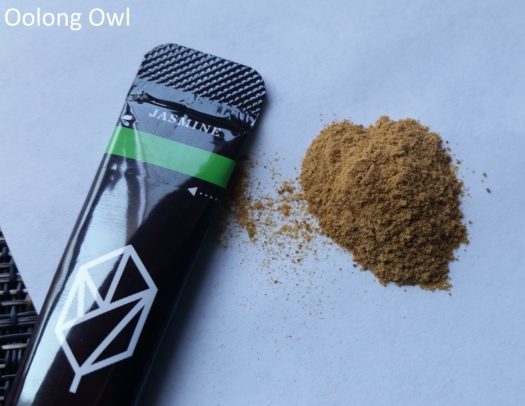 The flavor is a sweet and tangy, with a light jasmine flavor. The jasmine flavor lingers end of sip with that peachy floral flavor. There is a light dryness to this one, but is not unpleasant. The flavor intensity is on the light side, however I wished I used less water, say 6 or 7oz, for a stronger flavor that I expect from a jasmine green.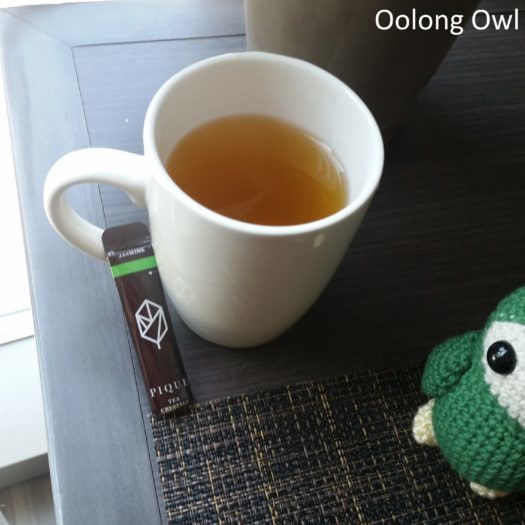 Jasmine Iced Sparkling
I always wanted to have sparkling tea and this product worked for it since it is concentrated. I dissolved a packet of jasmine in like 1/8 cup then topped up with sparkling water and ice. What I needed was seltzer water but I didn't find one in a small bottle. So this water has a mineral flavor to it.
Sparkling, the tea made a lot of foam and looked like beer. The foam faded by the time I ran to take pic. The taste is pretty good. It's not sweet, a vegetal green with a mineral and moderate level jasmine taste with a lingering bury jasmine aftertaste. It has a pretty sophisticated vibe to it.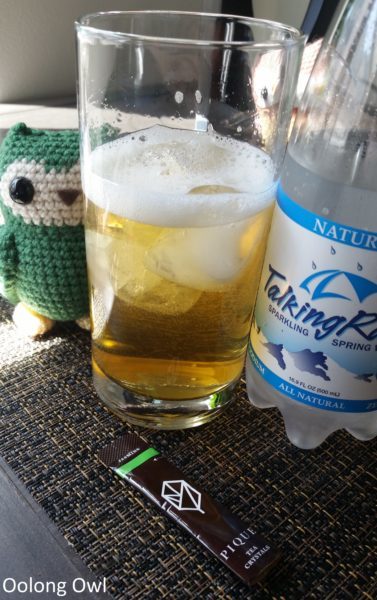 Comments
Pique Tea Crystals execute instant tea well – they are fast and easy to use, especially with hot water. They also do fine with cold water if you can shake it well or prep it with some hot water first. They don't need specific water temperatures, tea brewing skills, timers, or brain power to use. The tea used is organic, fair trade, tested, and they have more information on tea origin on their site.
However with convenience of Pique Tea Crystals you lose flavor dimension. The tea lacks interest, complexity, not very strong jasmine/bergamot flavor and isn't as fresh tasting as just brewing up some commonly found quality loose leaf. Out of the 4 flavors offered, I'd say the Jasmine and Earl Grey were the best, and the Sencha Green should only be made iced.
That said, if you want fast, instant gratification tea, you'll likely enjoy Pique. They would be awesome for travel and busy people. Pique is a certainly better than bagged tea as there is even less effort involved in making a cup of tea, plus you get a pretty clean flavor.
If you are a loose leaf tea head, unless you are super busy person who needs their tea fix, you'll pass on this product or insert strange tea drug references that I miraculously avoided doing during this entire article! Pat on the wing!
(tea provided for review)