Pomegranate Fruit is a herbal fruit tea blend featuring apple, raisins, carrot, hibiscus blossoms, candied papaya, vanilla and pomegranate and cornflower blossoms. This caffeine free tea is from Georgia Tea Company.
I gotta say Georgia Tea Company has some really good tea prices, plus inexpensive samples if you want to try the tea.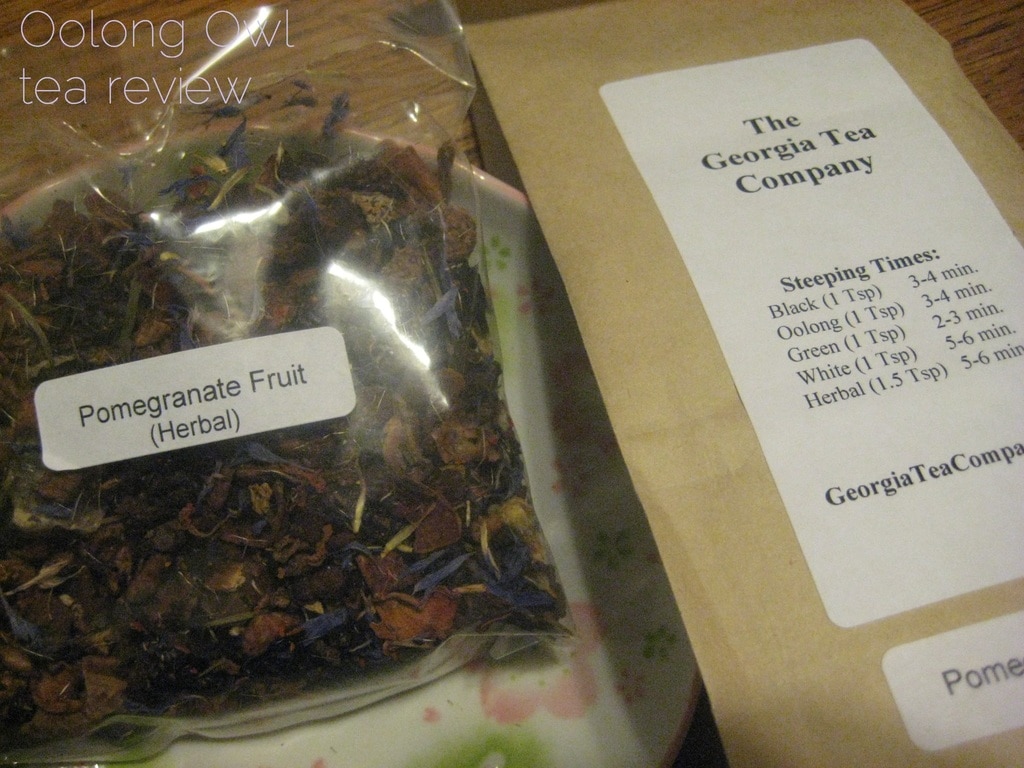 All the teas I got from Georgia Tea Company came sealed in plastic, but inside a paper bag to keep your tea in. I prefer to just seal up the plastic bag as it saves tea stash space.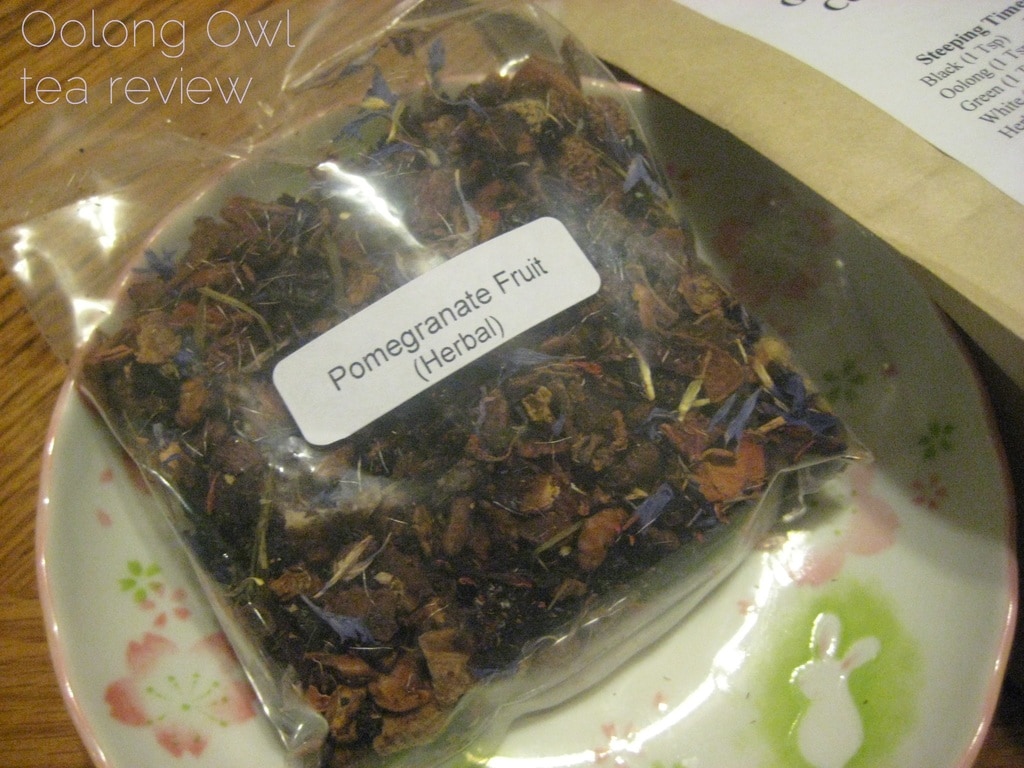 DRY LEAF: Pomegranate Fruit smells like dried fruity trail mix with raisins.
This huge chunk of… papaya(?) caught my eye. Always fun finding giant fruit bits in tea – it's like finding treasure!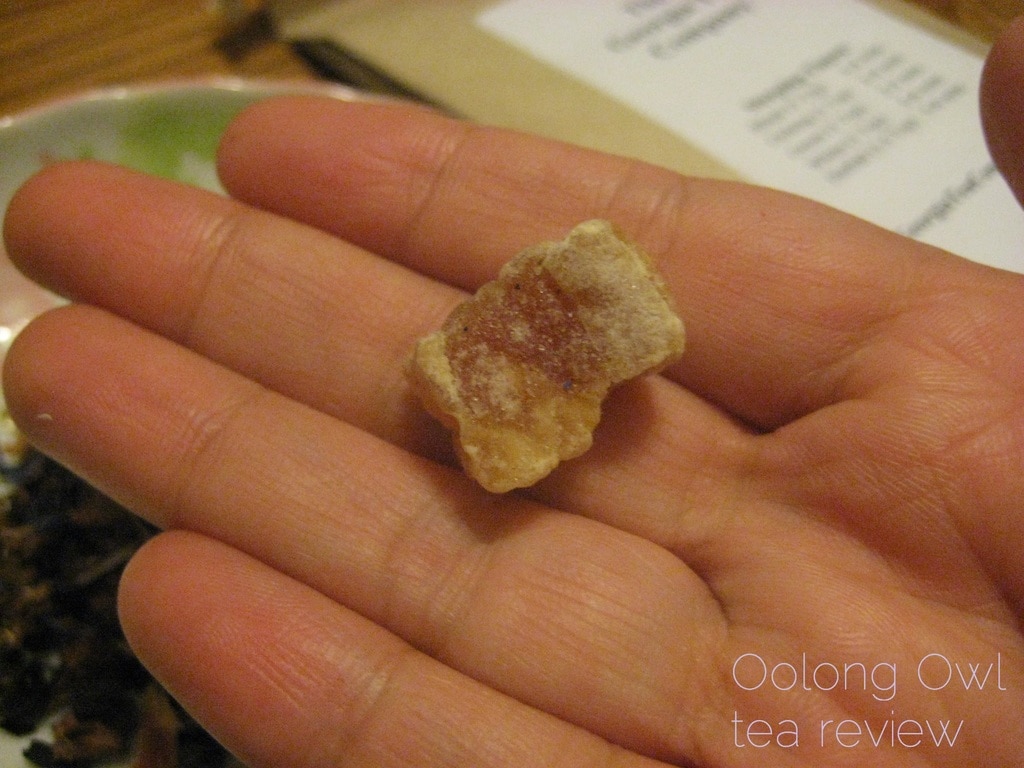 Very interesting looking presentation here – I love the cornflowers!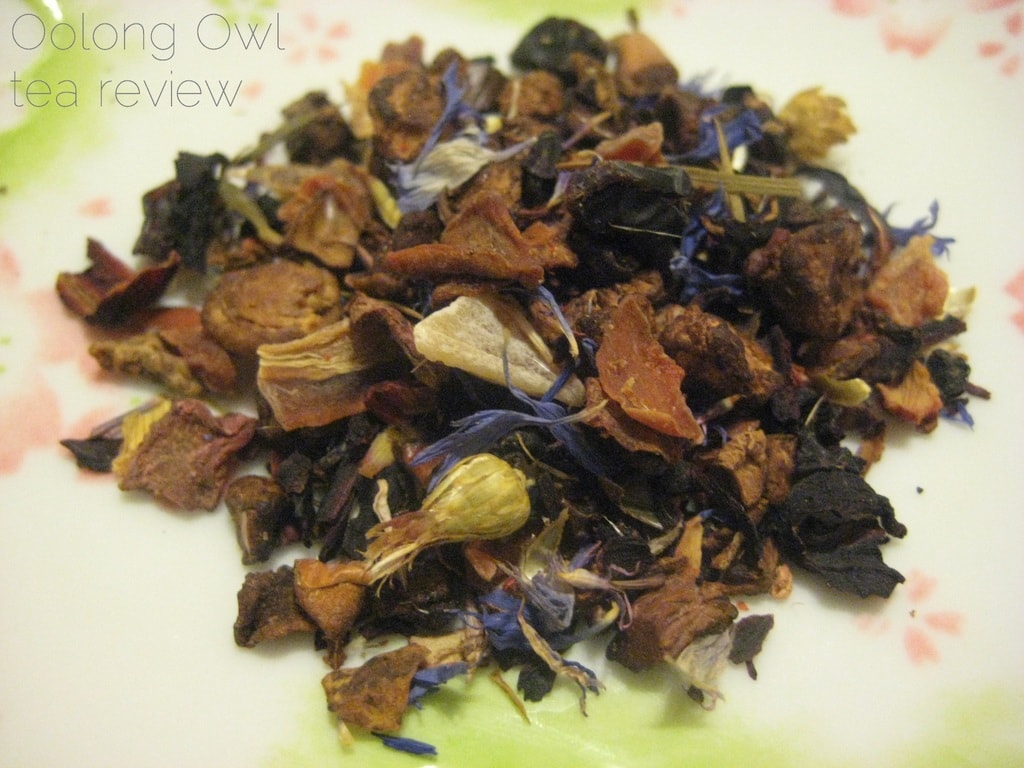 STEEPED: Smells like tart pomegranate with a finish of the smell of a dried foods store (if that makes any sense). There's a weird mix of sweet, stale, fruity, creamy, veg smell from this tea.  This tea came out an interesting dark red with a hint of blue or brown. I steeped this as per package instructions for 5 minutes, with boiling water.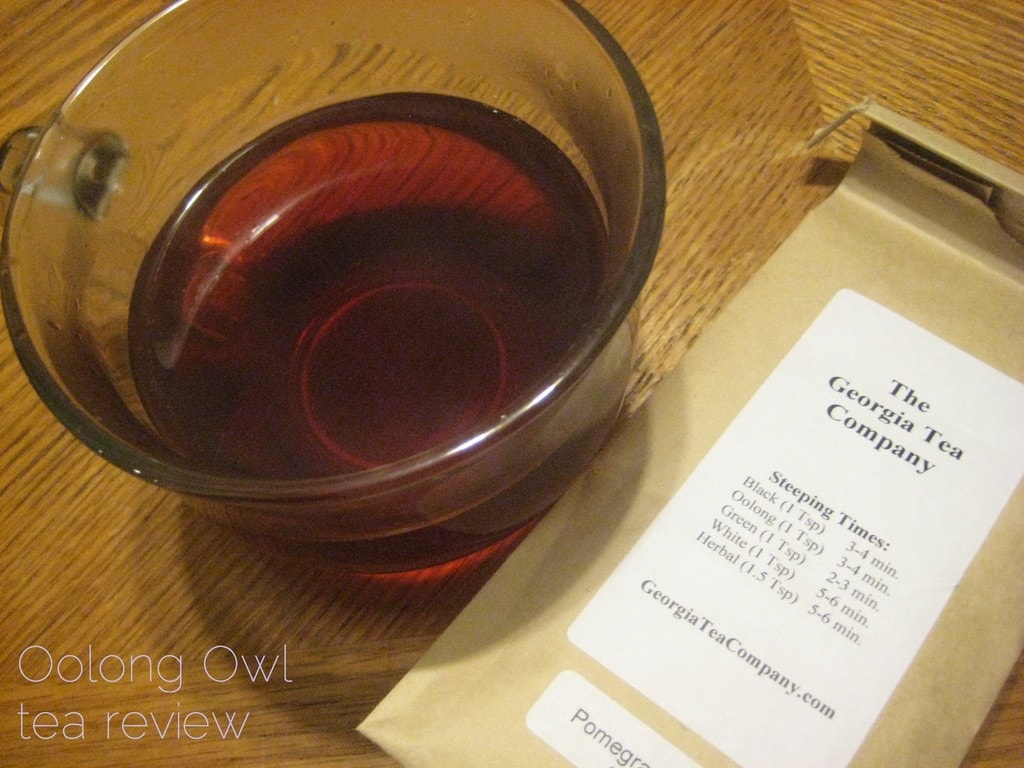 TASTE: Tart fruity taste that finishes off like watery pomegranate  The tart is around a 6 or 7/10 on the Tart-o-meter. It's on the tart side but not crazy tart. There a little sweetness in the fruity taste. I get a little creaminess at the end, probably from the vanilla bits.
Sweetened with german rock sugar, the flavor is interesting. I pick up the raisins taste as well as a nice pomegranate flavor with other mixed fruityness. It has a warm taste from the raisins. I don't get any creaminess this time. The sugar easily removed the tartness from this tea.
ICED: I steeped this double strength and poured it over ice, honey and two thin lemon slices. I like Pomegranate Fruit much better iced. Right away it tastes like pomegranate. The pomegranate flavor is stronger, not as strong as eating the fruit though. Much weaker than store pomegranate juice (which is really strong), but full flavor pomegranate. End of sip is that weird warm raisin taste and teeny bit of creaminess as an aftertaste. This tea iced is not tart at all.
COLD STEEPED: I cold steeped this tea for about 3 hours in the fridge. No tartness at all – very surprised. However, the flavor is more raisiny than ever. I taste no pomegranate, but almost a cranberry like flavor. Pomegranate Fruit is much better iced with lemon and sweetener.
COMMENTS: Pomegranate Fruit is made for being iced – that's probably the best flavor I got from this tea.
I've had a number of pomegranate teas, but this is the first one to be caffeine free. They are all pretty tart, but I find Pomegranate Fruit to be a little less tart. I also find this tea to be more clear of a pomegranate flavor. Those points I mention is what I like about this tea. But I find the end of sip and aftertaste of raisin and vanilla flavor not for me. I think if there was no raisins and went more citrus I'd love this tea.
Overall, I got a bit of love/hate relationship with this tea. If you are a huge pomegranate lover searching for a caffeine free tea option, Pomegranate Fruit is a new twist on pomegranate teas.