I am always on the quest for the most tastiest of matchas. Today's matcha certainly stands out in the crowd! Japanese Green Tea In's Premium Ceremonial Matcha is sourced from Farm Master Mr. Arahata at his Arahataen Green Tea Farm. Interestingly, the soil is fertilized with local sugar cane and the leaf is hand picked.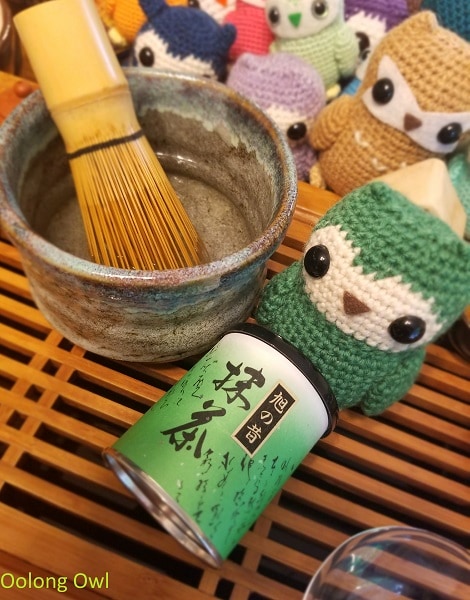 Japanese Green Tea In's Premium Ceremonial Matcha comes in a sealed pull tab tin, with silver flecks on the label.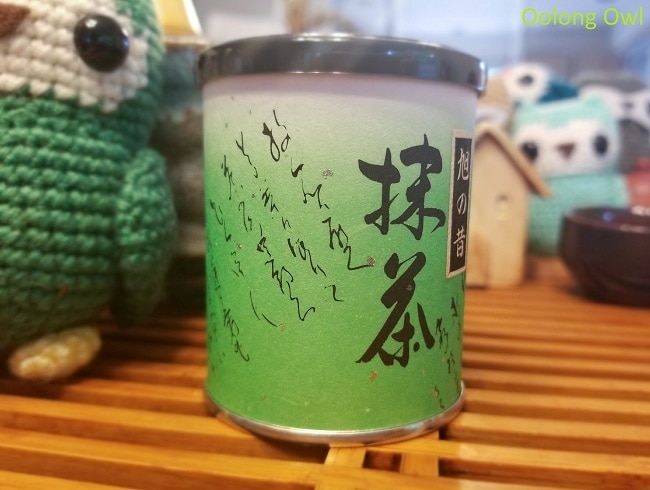 Dry Powder and Preparation Method
The matcha powder has an appealing fresh sweet scent with an vivid grass green colour.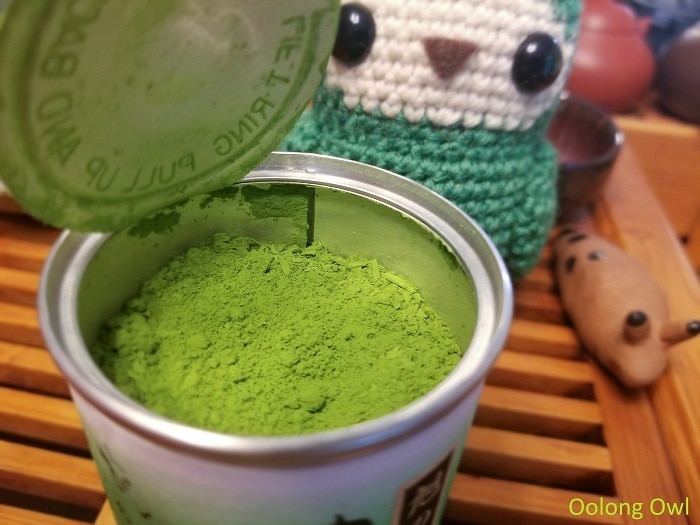 The performance of Japanese Green Tea In's Premium Ceremonial Matcha is excellent. The powder, despite looking a little clumpy directly in the tin, was light and fluffy. The matcha powder fell through the sifter with ease.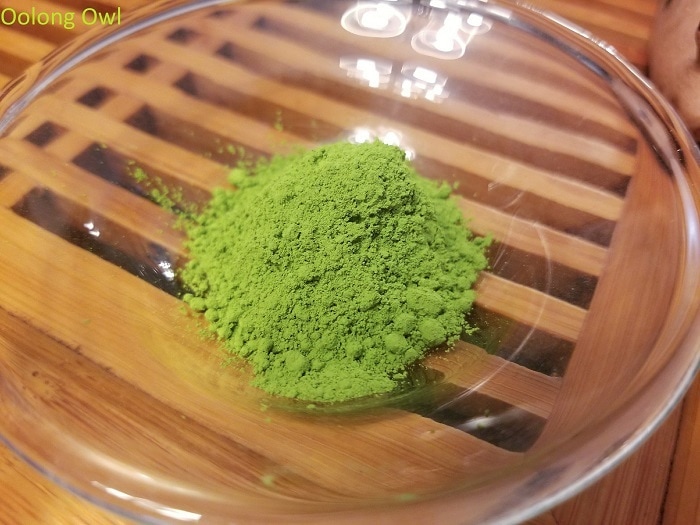 I used 2 grams of matcha and started whisking in 1/4cup of 175F water, and it foamed up well with tight, bright green foam. I topped off with a bit more water to get to the flavor strength I like.
This is an attractive matcha with the thick foam and vibrant basil green tone. Interestingly, I made a better looking matcha than the photos shown on Japanese Green Tea In's site! Too often I get matcha that doesn't look as good as the promotion photos, that I have no clue how they pulled that off other than stock photos and extreme photoshop. This matcha is the real deal.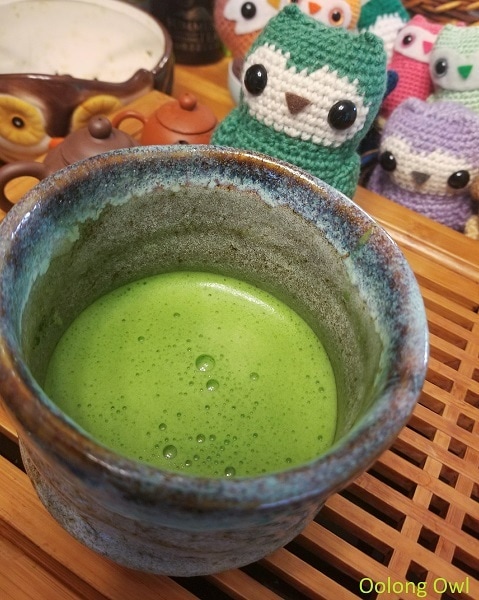 Tasting of Japanese Green Tea In's Premium Ceremonial Matcha
Japanese Green Tea In's Premium Ceremonial Matcha sips in very savory and umami. It seems every time I come across a super savory matcha I say it is the most savory of all time – here I am again, Premium Ceremonal Matcha is SUPER SAVORY. You don't know what umami is until you try this matcha. It is savory, like soy sauce on rice without the salt. It hits heavy – the texture is buttery and thick, and with the combine super umami, it is like eating a satisfyingly addictive and dense food like fried chicken – I can eat this matcha for dinner. The finish perks up lightly of refreshing sweet grass and heavy cream. As the matcha cools, it gets more sweet and fresh, reminding me of fresh corn husks. I found little or none bitterness or astringency, or any marine notes.
Premium Ceremonial Matcha hits hard too, like an amp turned to 11. I didn't have tea yet today, as I knew matcha was happening, but Performance of Japanese Green Tea In's Matcha got my eyes open and my wings flapping immediately that I spilled the matcha bowl. You certainly want a meal in before drinking matcha, plus drink it before 3pm, the caffeine hit is strong. Repeated sessions with Japanese Green Tea In's Matcha had similar results – there is extra POW in this tea!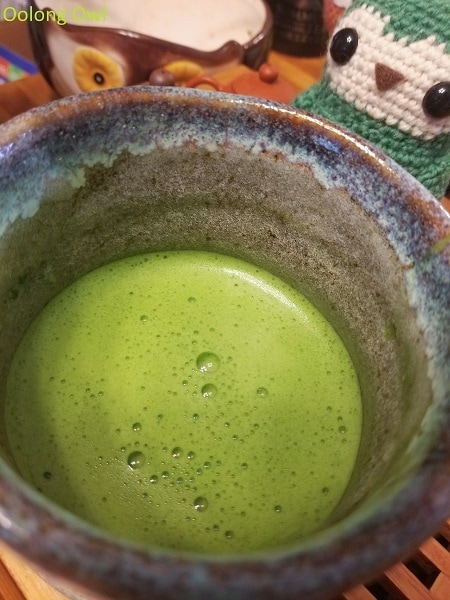 Comments
Japanese Green Tea In's Premium Ceremonial Matcha is a high quality matcha. It makes a beautiful and impressive foamy cup of matcha. The flavor is fresh, heavy umami, and finishes like sweet grass, without little dry or bitterness.  I quite enjoyed the buttery texture and the strong savory flavor. The sweetness I experienced in the matcha was quite different as it was delicate and naturally grassy. Overall, there is amazing synergy of umami, thick texture, and sweetness that is very comforting and satisfying in this matcha.
At this time, Japanese Green Tea In's Premium Ceremonial Matcha is $47.99 on sale ($59.99 normally) for 30 grams of luxury matcha. If you want a matcha that is a step above the rest, this is it. I place Japanese Green Tea In's Premium Ceremonial Matcha at one of the best matchas around.
Hilariously… I nicknamed this tea "Fried Chicken Matcha", but I say it as endearingly as possible. It is missing the crunch, salt, and grease, but otherwise it hits the same of comfort food of buttery batter and savory. Each time I drank this matcha, I wanted a second round, but it would certainly overload my caffeine for the day.
(tea provided for review)