Rhubarb + Custard is a red rooibos blend tea. This funky tea blend is from Bluebird Tea Co.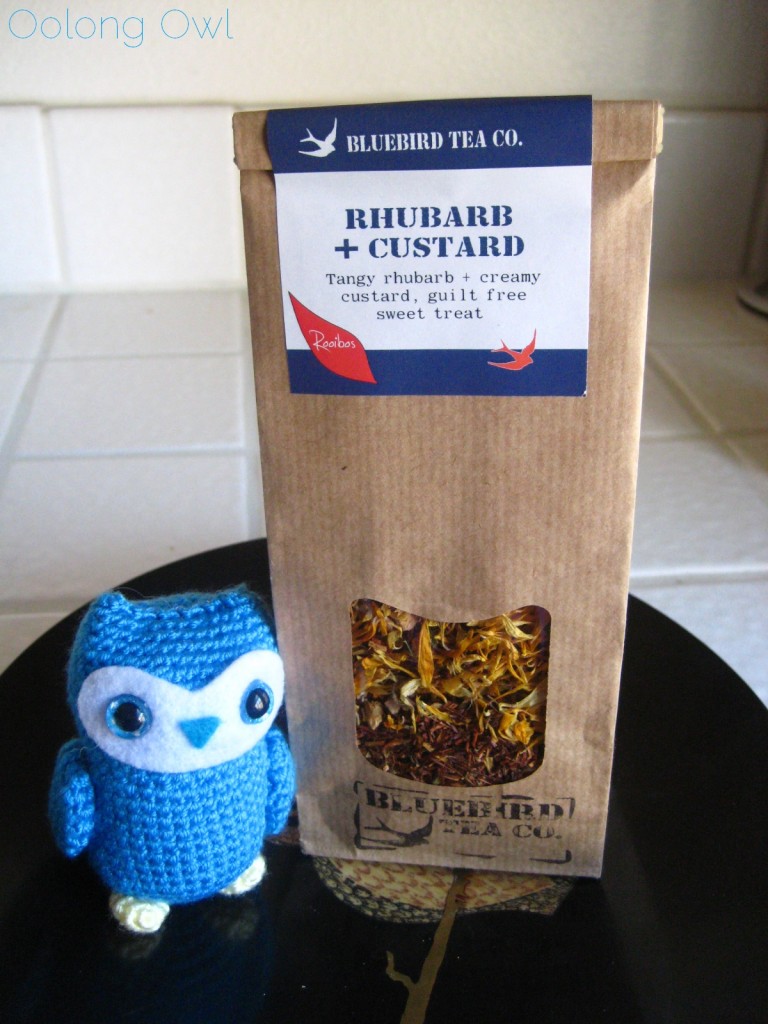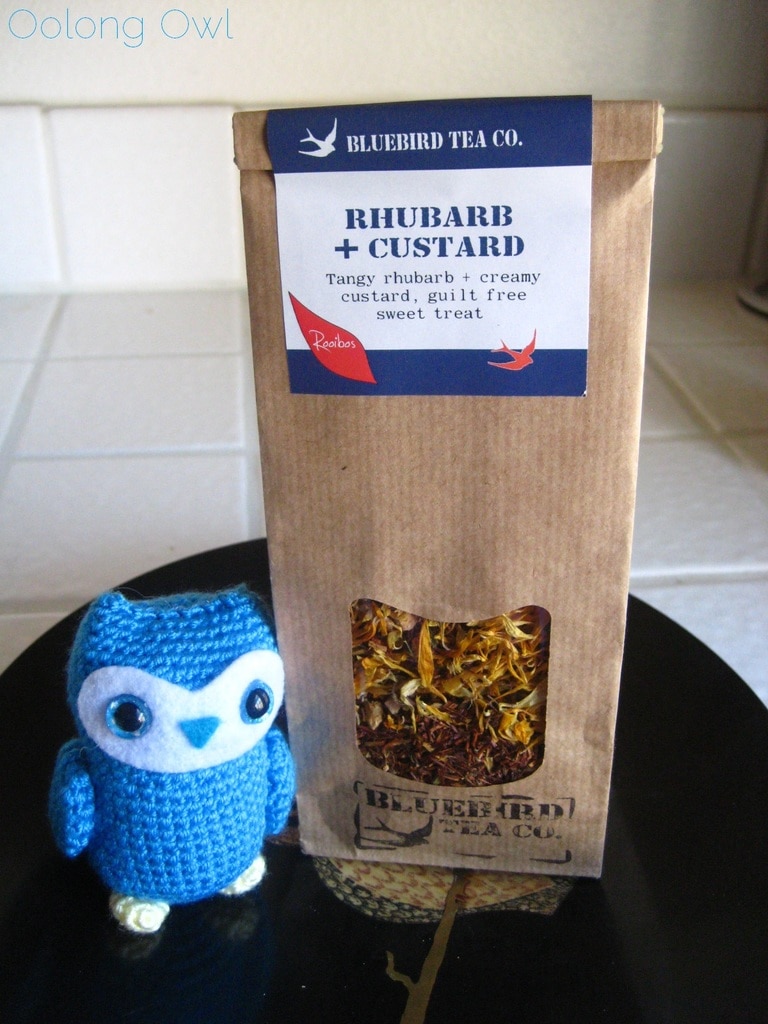 I love rhubarb! I'm very happy that rhubarb is back in season. My husband waited months and months for rhubarb to come in season, and I immediately made him 2 pies that he ate on his own. Sadly, it seems our local stores rhubarb is pretty sad looking nor could I grow it where I live now, thus rhubarb is a special treat.
When I saw Bluebird Tea Co. had Rhubarb + Custard, I was like "OMG MUST BUY" even though this tea has two things I'm not a fan of: Red Rooibos and Stevia. I still can't get over red rooibos wood shavings taste, and stevia is hit and miss for me in tea.  However, my desire for rhubarb is strong, so I bought this tea with my Bluebird Tea Co. order.
Dry Leaf: Hello lots of flower petals! My package has been sitting on my table for awhile, under piles of tea I need to try – the tea must of settled, as all the yellow petals were on the top.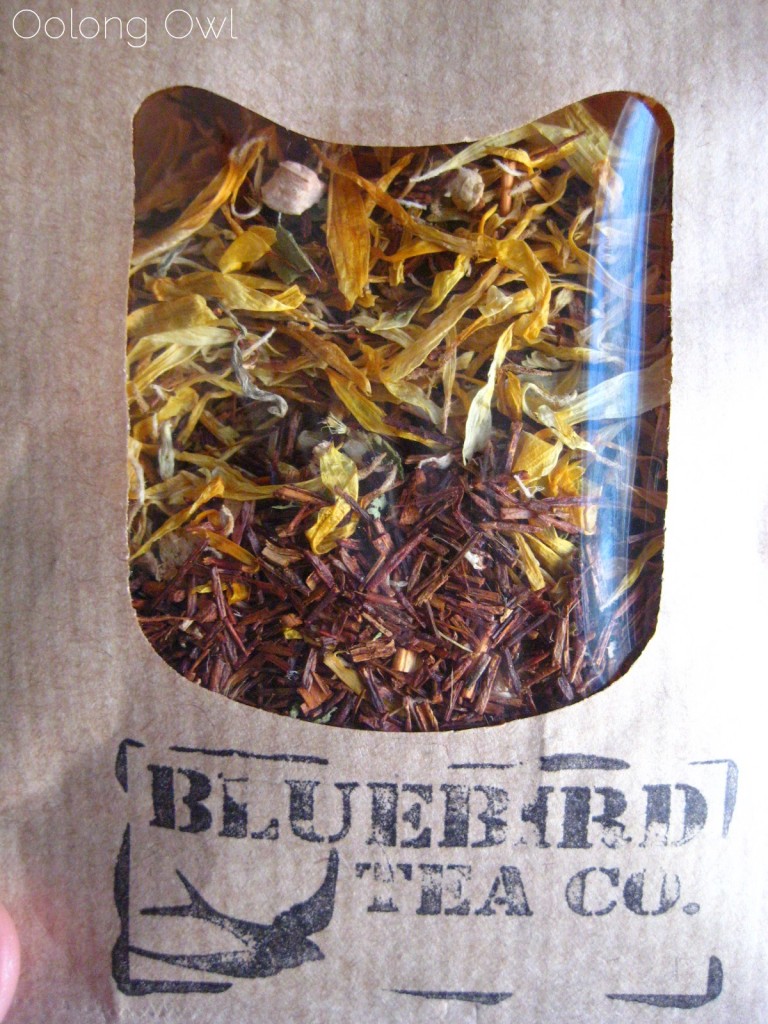 I went in with clean hands and broke apart all the flowers and mixed the tea as best as I could without taking it out of the package. Rhubarb + Custard has generous amounts of those yellow petals, mixed with red rooibos and shredded lumps of pinky red rhubarb.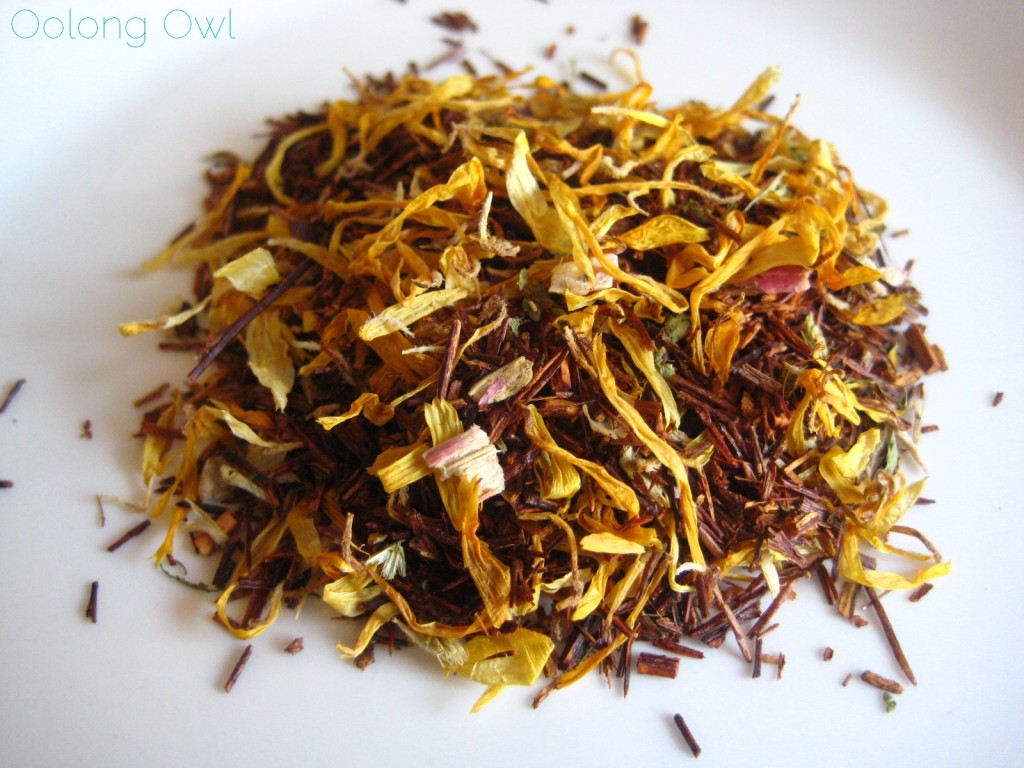 The leaves smell sweet and tangy, like rhubarb crumble with generous brown sugar oat topping. Another close up!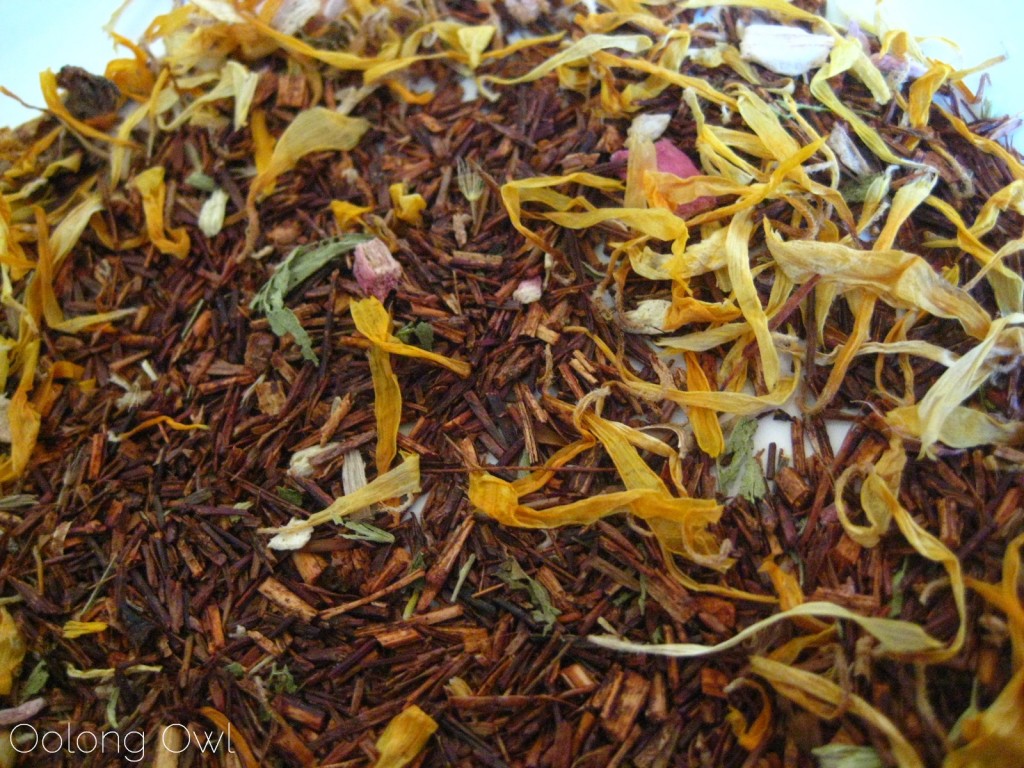 Steeping Instructions: The package says 4+ minutes, and I'm guessing 212F as there is no temperature listed on bluebird tea co's brewing instructions page.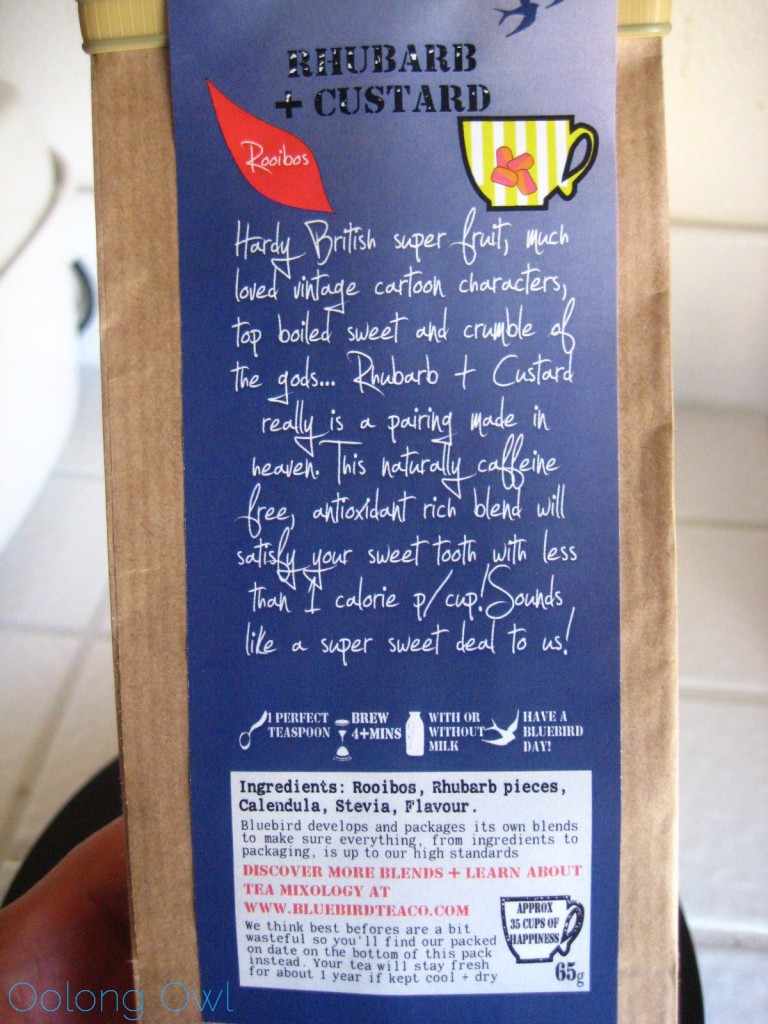 Love the packing date stamp by the way. I got this tea shortly after it was pack, which was pretty cool. Of course, I took awhile to try it /sigh.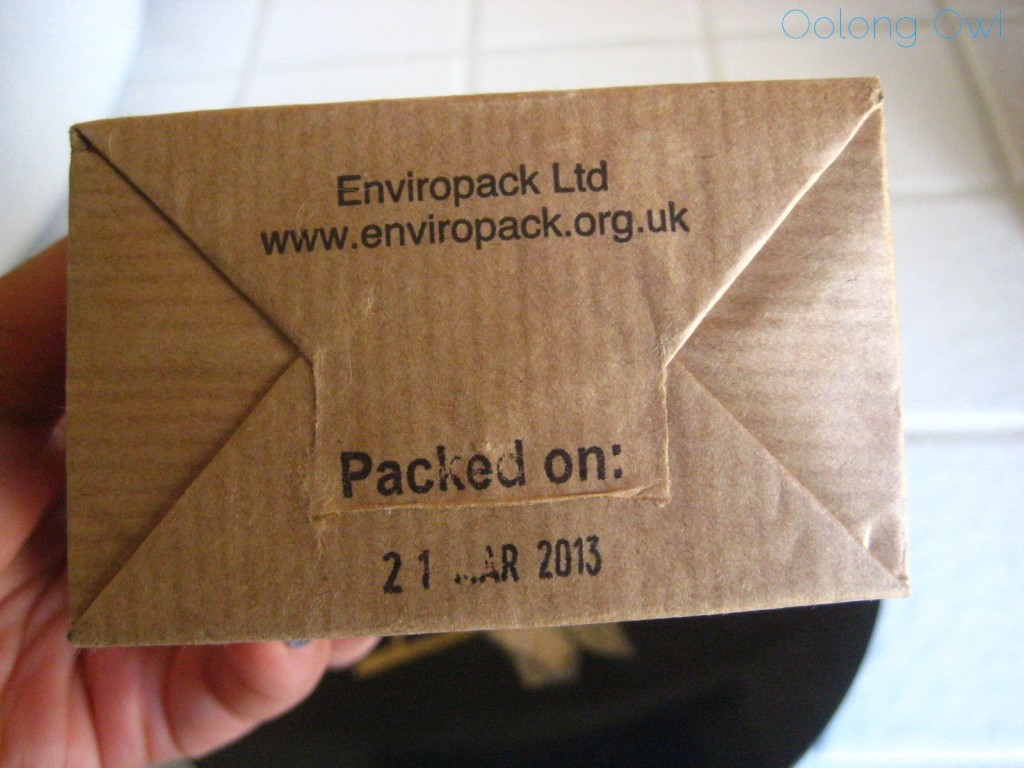 Blue owl relaxing on my tea pot while Rhubarb + Custard steeps away.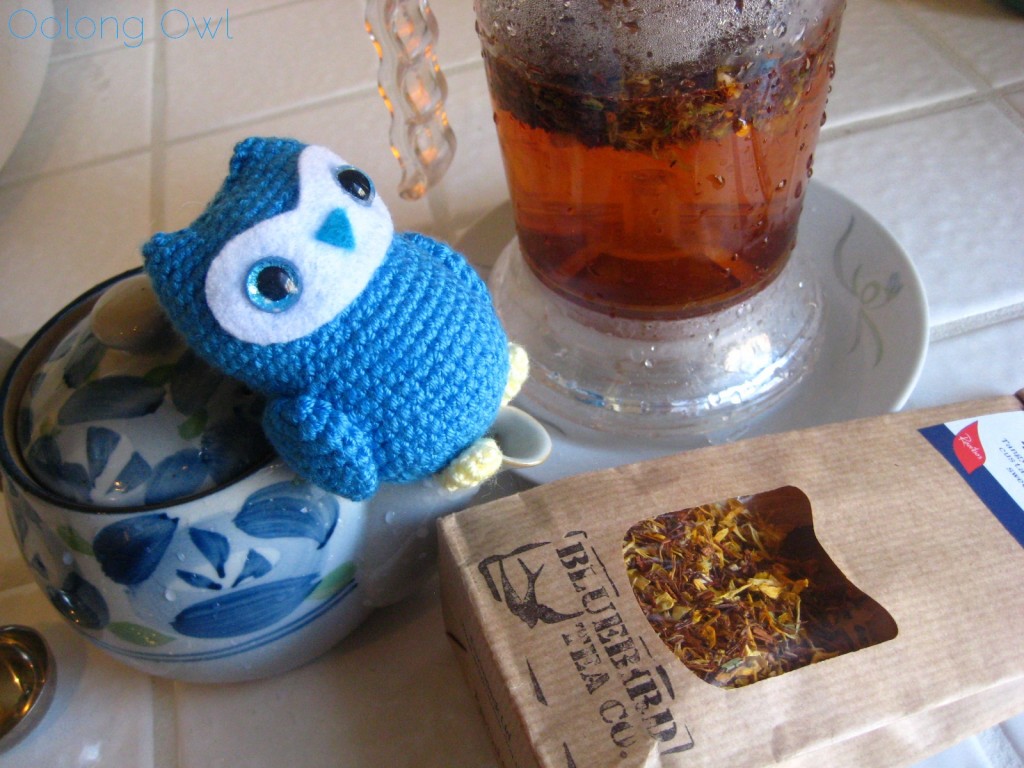 Ah, rooibos – I always get great photos of you!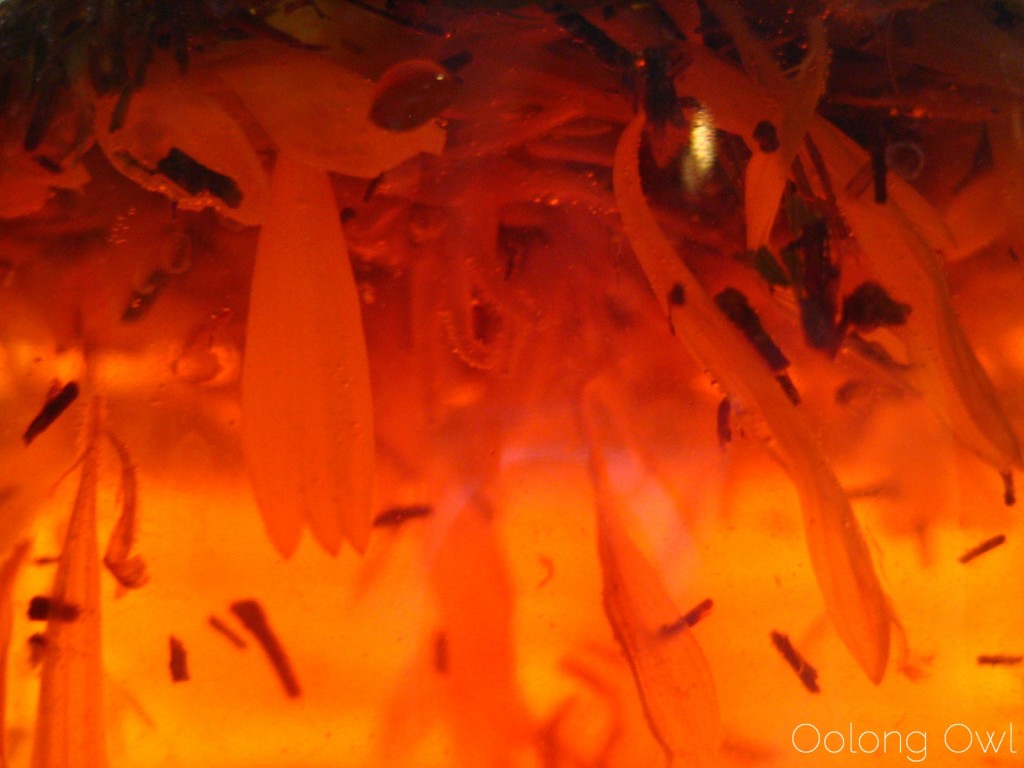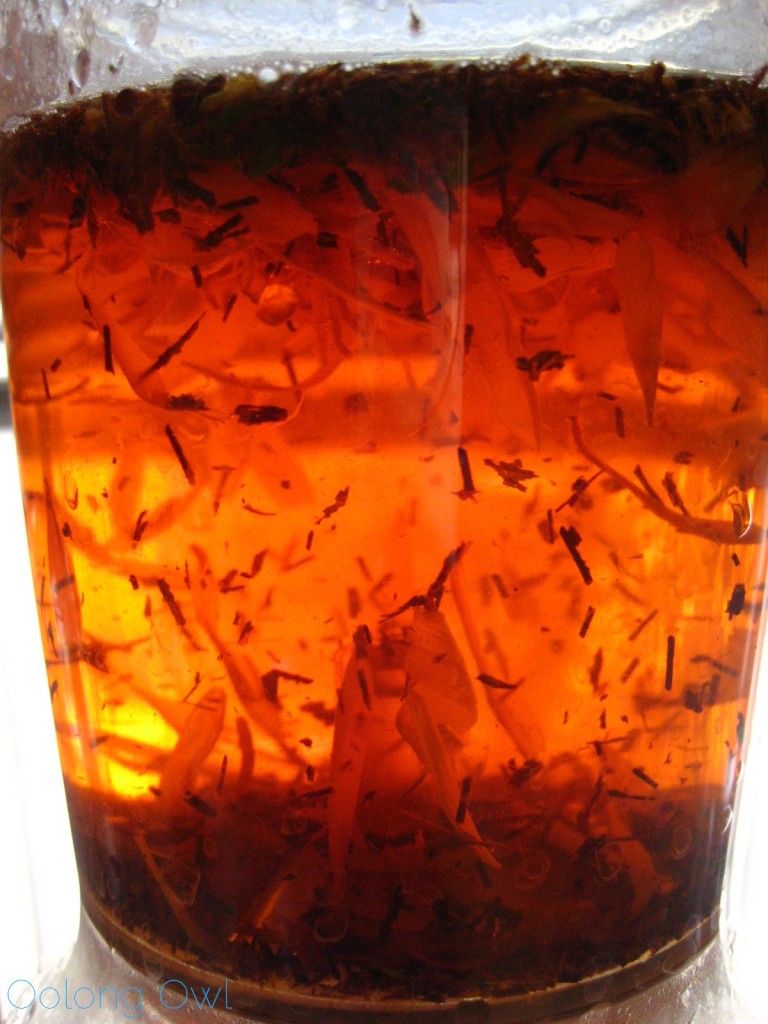 The tea has a deep reddy orange brown colour with the scent of caramel and fruit – interesting!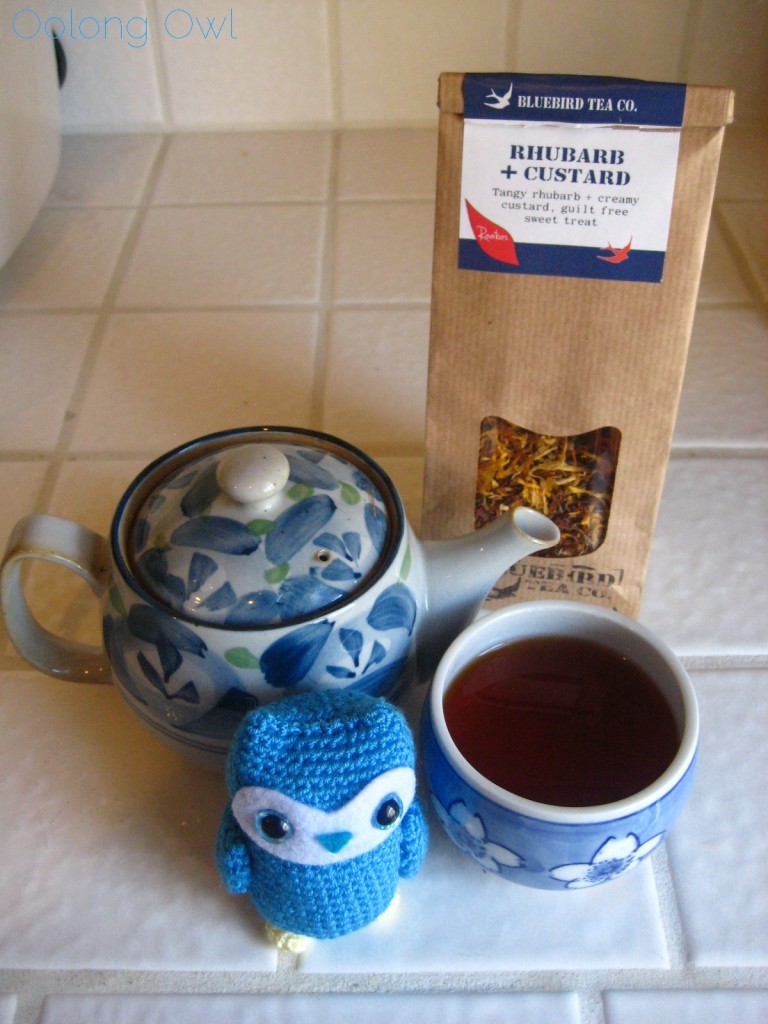 Taste: Very different! The blend is perfectly sweet to me and sips down very creamy and smooth. The flavor of cooked, smushy, tangy rhubarb is certainly there throughout the sip, carried with a delicious creamy-thick-milky custard taste. The rhubarb isn't tart at all! The red rooibos taste is fairly masked, contributing to the rhubarb and custard flavors. The aftertaste is more loads of custard flavor that slowly melts away, leaving a slight hit of stevia and rooibos. Rhubarb + Custard also has a slight creamy mouth sensation.
Comments: This is the FIRST rhubarb tea I've tried that isn't hibiscus-red-face-imploding tart! FANTASTIC! The sweetness in this tea is just right and the creamy custard flavor makes this tea taste almost like a latte already! A huge surprise I saw on the shop listing for Rhubarb + Custard is that this tea is vegan! Wow!
Overall, Rhubarb + Custard is very lovely and expertly blended rooibos tea!
Bonus Pics!