CHRISTMAS TEA TIME! I'm still not in the Holiday spirit yet. My tree isn't up. I'm starting to buy gifts now, 9 days before Christmas. I've done only one round of holiday baking. I love doing the gingerbread house thing every year – that symbolizes Christmas time to me, but I decided against it this year as I really don't want to eat it! It is hard feeling Christmas here in SoCal due to the weather, especially since I'm from Canada where it is usually snowing right now instead of sunny. I need to feel Christmasy soon or I'll be scrambling in a few days to get everything done! With that said, it is time to jump start that holiday spirit thing.
Today's tea is TeaXotics' Santa's Cup, which is a herbal rooibos blend with black and red peppercorn, cinnamon chips, cloves, ginger, and lemongrass. I actually had this tea at the 2014 World Tea Expo as part of the North American Tea Championship tasting. Santa's Cup is the 2013 North American Tea Championship winner and it was very tasty as well as christmasy! Hooty-claus the Tea Owl is here to assist with the tea review!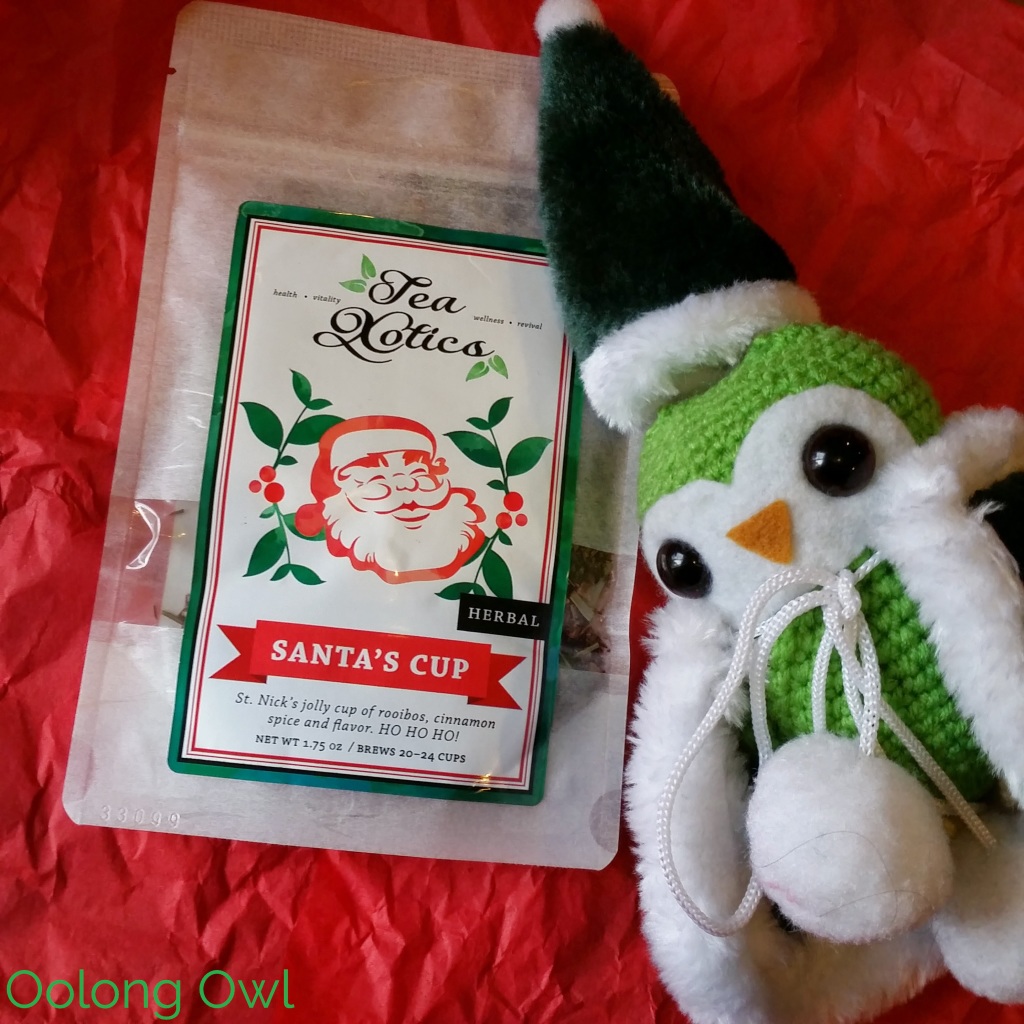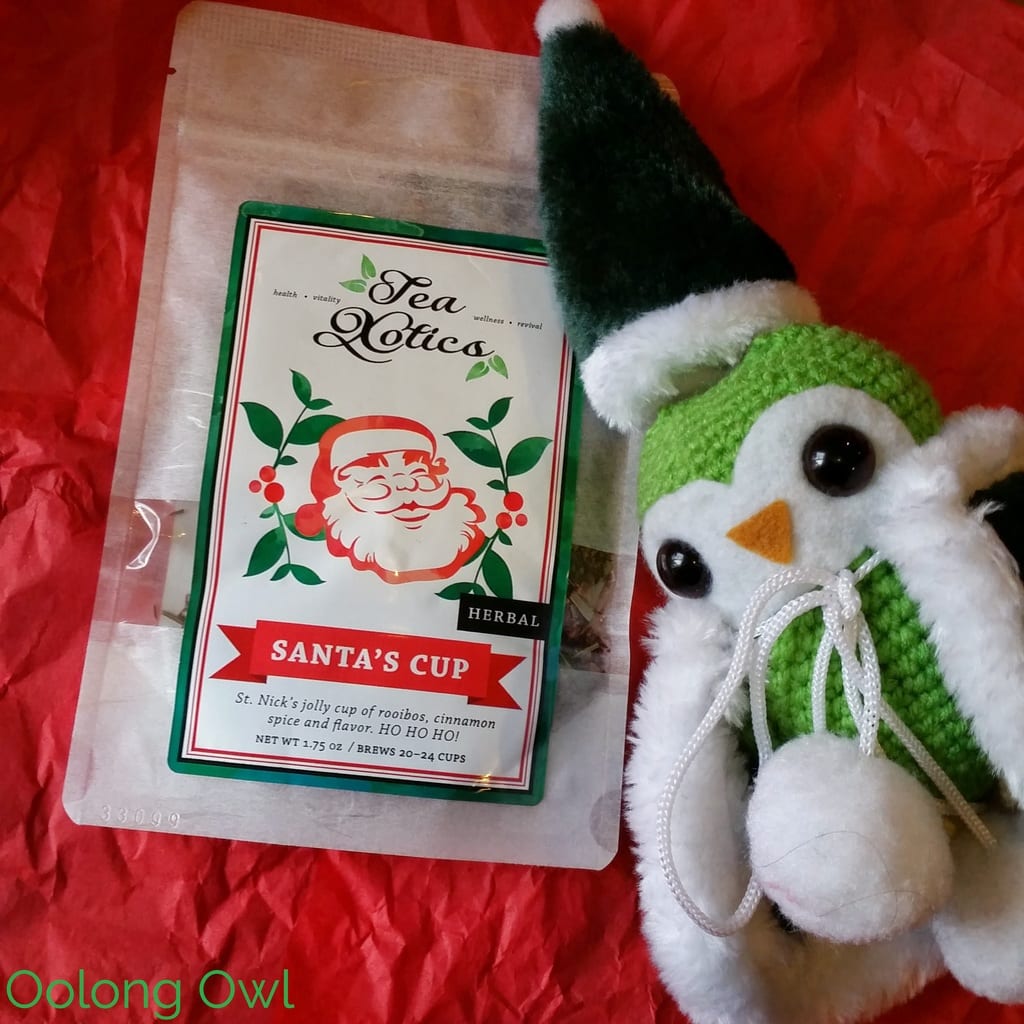 As with my last review of TeaXotics – I love their tea packaging! It is so pretty! I've been seeing so many teas that are in brown paper looking packaging, so it is refreshing to see bright  and colorful tea packaging.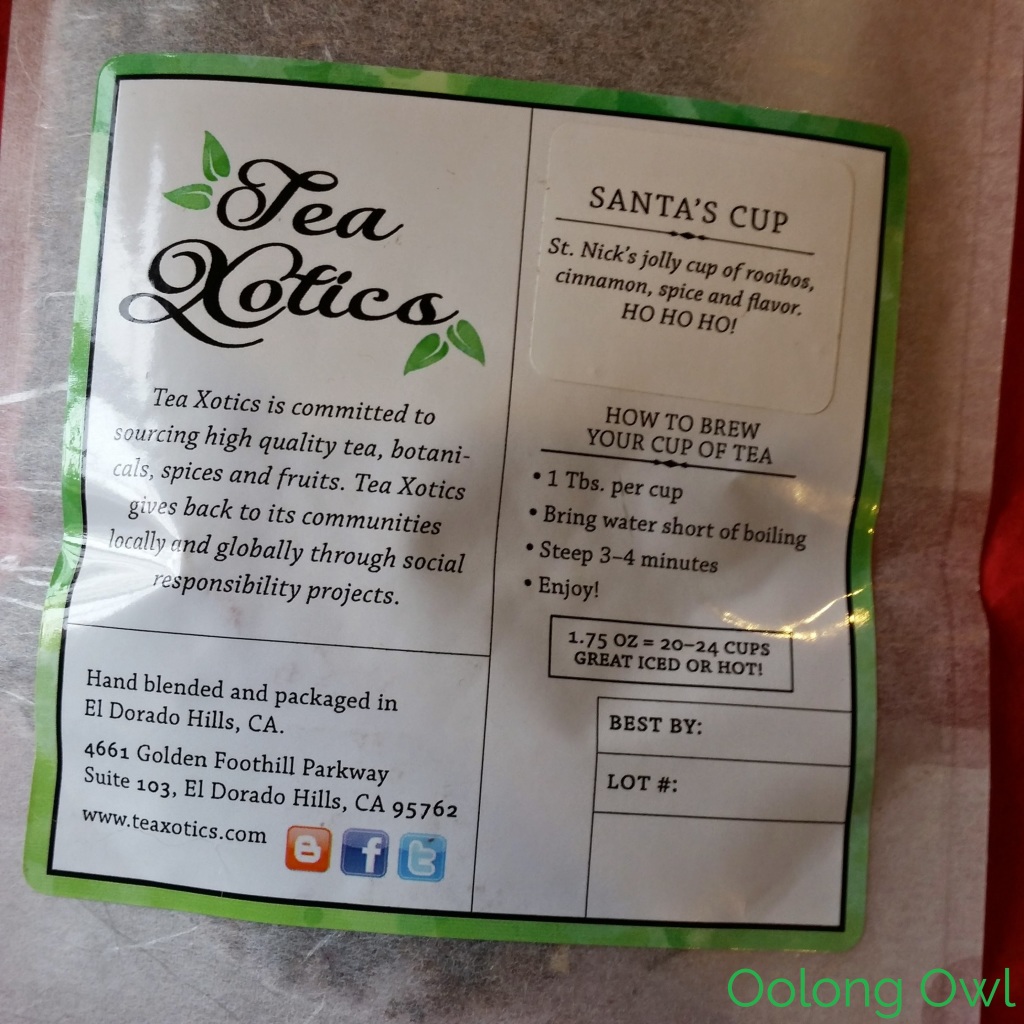 Dry Leaf
Heavy spiced scented dry leaf! Like POW Mega spice! The dry leaf is mostly wood chippy red rooibos, with accents of cinnamon stick/bark bits, lemongrass and ginger chunks.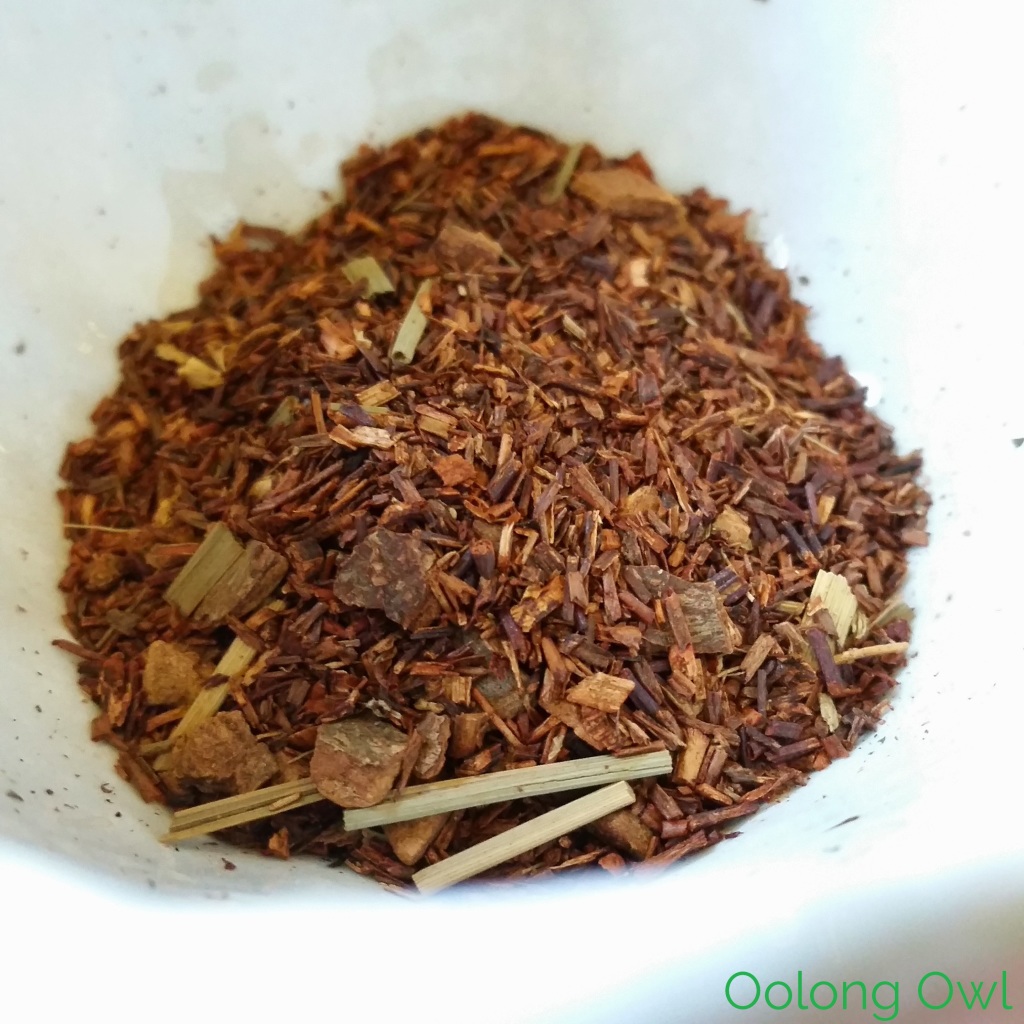 Steeping Instructions
I steeped my tea in an in-mug infuser, with boiling water for 3.5 minutes – very easy!
Tasting of TeaXotics' Santa's Cup Herbal Rooibos Tea
My cup of Santa's Cup has a reddy brown appearance with a scent of apple cider spices, without the apple.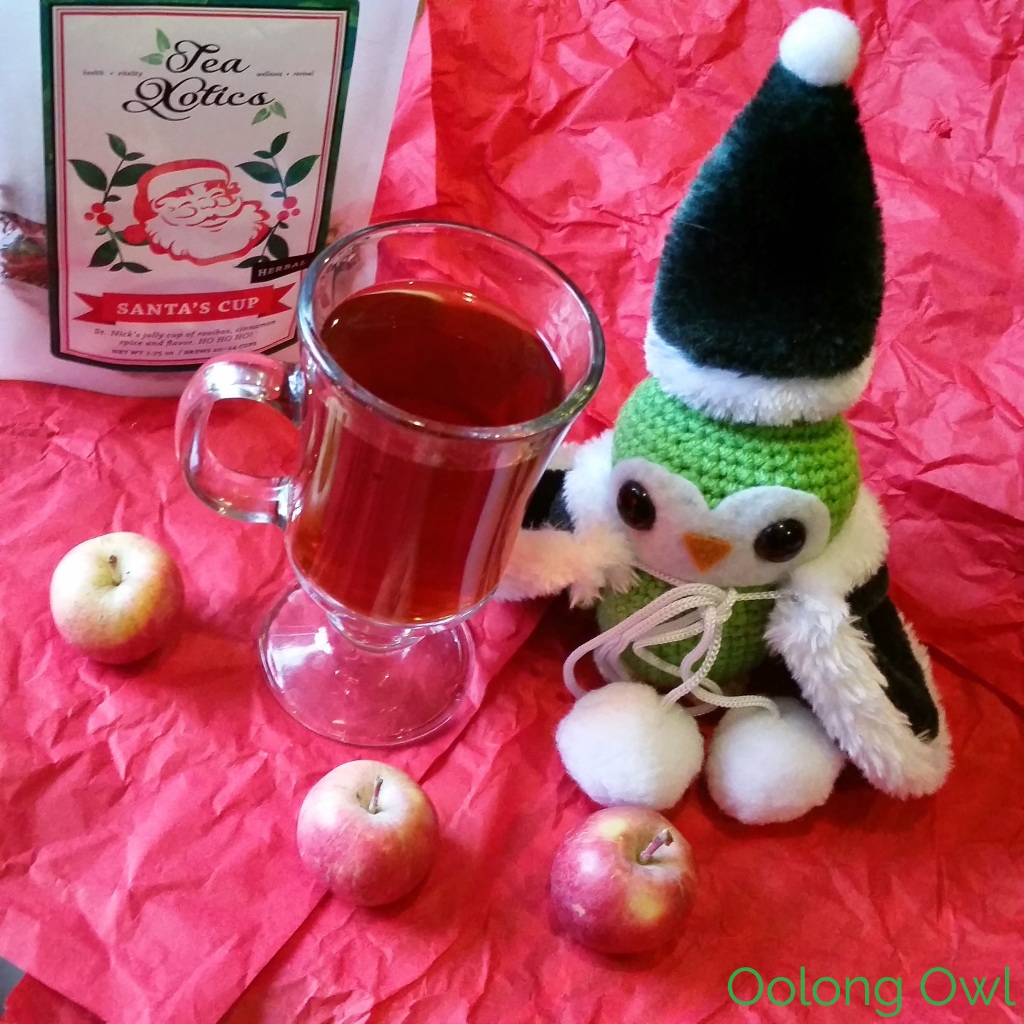 First sip, sweet candy, somewhat  fruity apple in flavor and cinnamon and light in flavor. Mid sip, Santa's Cup ramps up to spicy! The spices hit, tingling my tongue and warming my cheeks. The spice tastes like cinnamon, ginger, and cloves. The finish is more sweet cinnamon that lingers for a long time, like that sweet essence of a red hot cinnamon heart candy. Santa's Cup is just like a cinnamon heart candy but not as sweet, or apple pie spice or cider. The spice is quite high, I'd put a 8/10 on the Spice Meter – it's intense to tingle your face, but is not burn it.
Admittedly, I am not a red rooibos fan, I'm not into the flavor and wateryness that rooibos can have. Santa's Cup has full flavor and is not watery which makes me very happy.
Comments
I love the balance of sweet and spice – the sweetness is perfect, not too sweet and does not need additional sweetener. The spice is comforting, familiar and perfect for the holidays. I'd even stretch Santa's Cup Herbal Rooibos Tea is a great Valentines Tea as well due to the cinnamon heart flavor. On it's own,  Santa's Cup is great, though I could see this tea having potential to steep with some apples, spike it with booze or incorporate into some baked goods. I think Santa's Cup would pair awesomely with short bread cookies or a buttery pastry. Yum, I want shortbread cookies right now!
Looking for an awesome holiday tea? Want a flavorfully festive herbal? Love spiced teas? I highly recommend TeaXotics' Santa's Cup! I'm feeling festive already and I will be drinking this tea on Christmas.
As of right now, I'd give TeaXotics' Santa's Cup and Santa's Gingerbread Holiday from Simple Loose Leaf as the tastiest holiday tea! Happy Holidays Oolong Owl readers, I'm off to make shortbread cookies!
Bonus: Tiny organic apples are easier to wear than tiny santa hats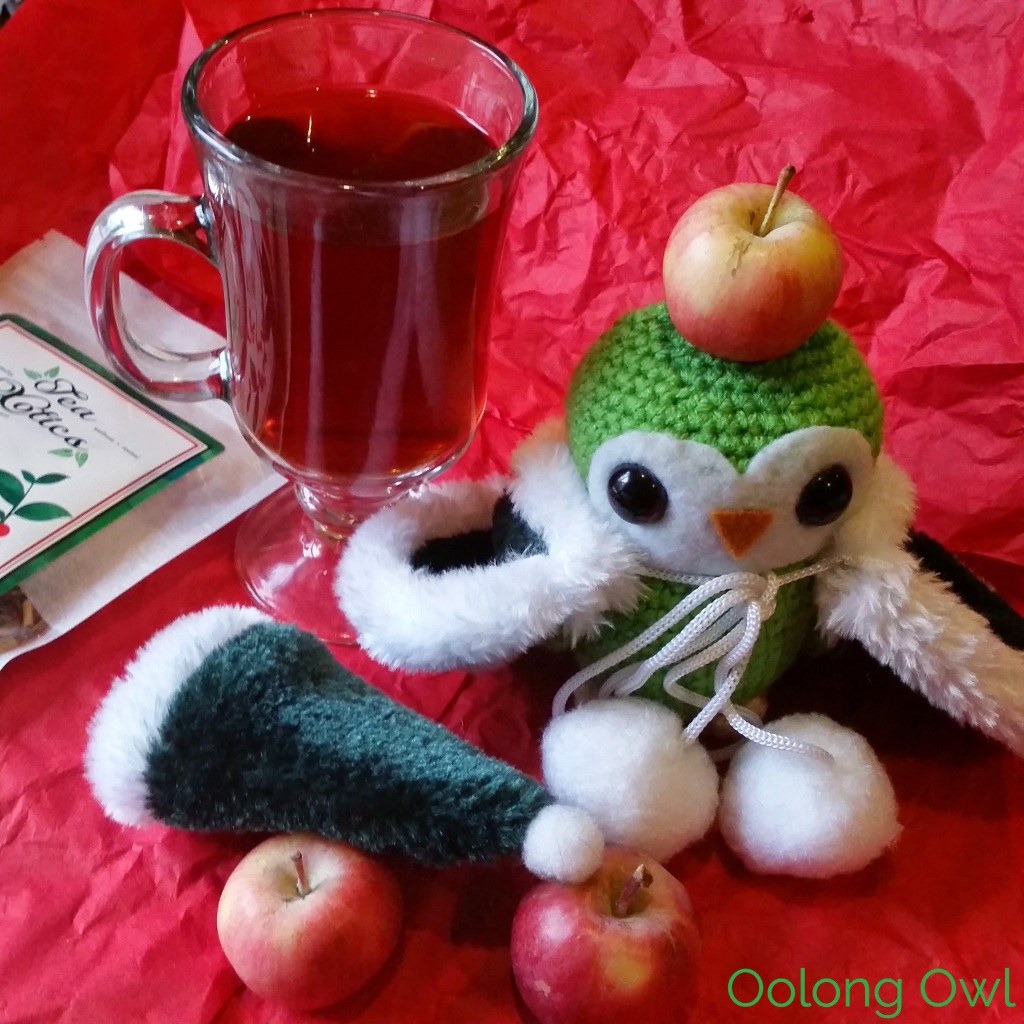 (tea provided for review)