September 2017's White2Tea Club came with Auburn Black, Jinngu White tea buds, and three x 8 gram mini cakes of 2017 Turtle Dove. I have reviewed 2017 Turtle Dove already, so we will skip that today and drink the black and white tea.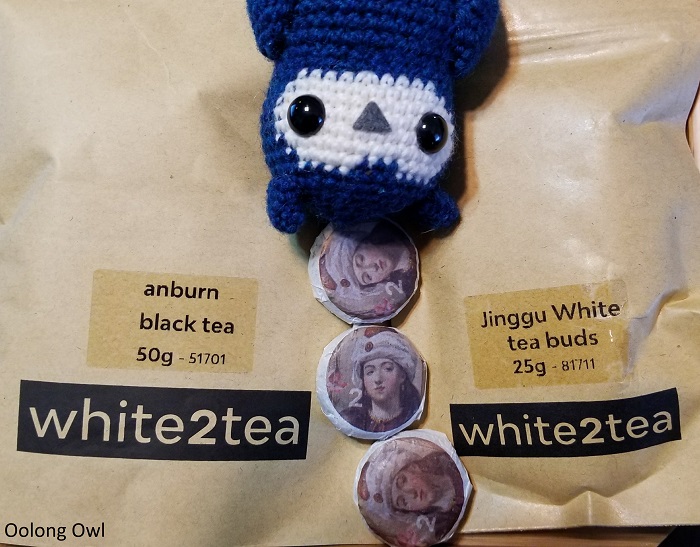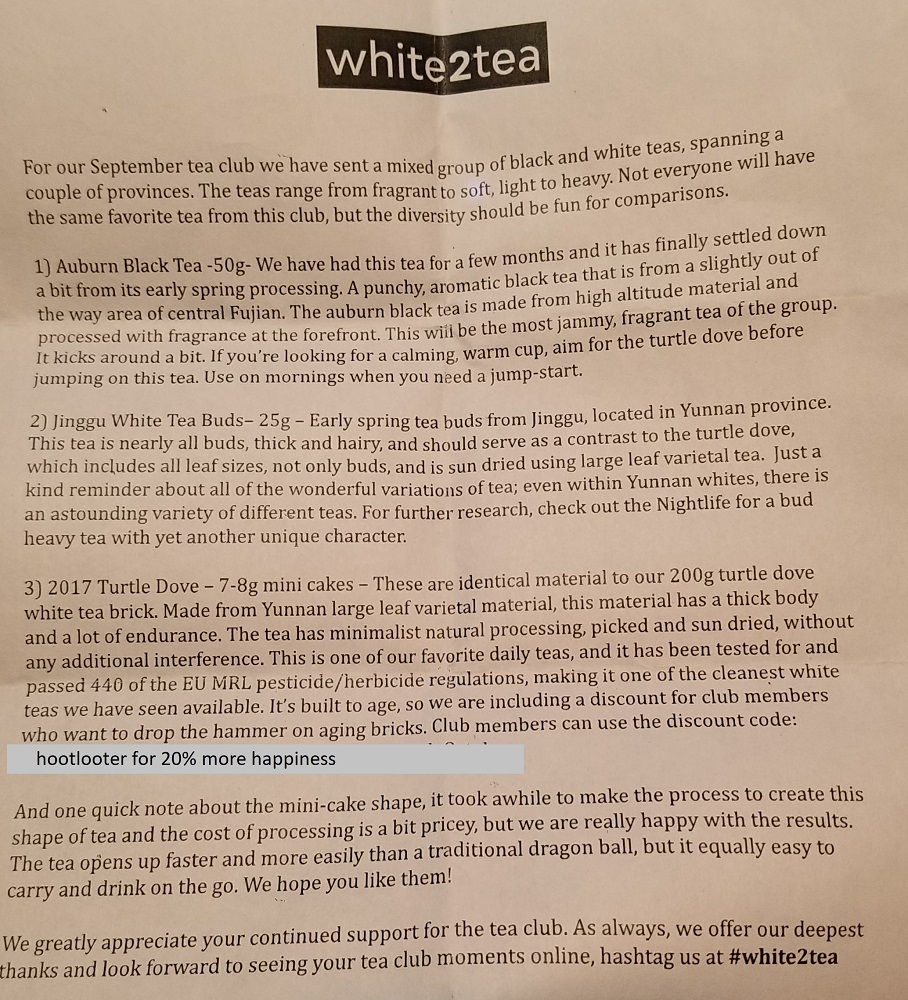 September  2017 White2Tea Club Jinngu White Tea Buds
I'm drinking these teas in one sitting today, and I like starting light to dark, so the white tea is first. This white is from Jinngu, Yunnan Province and is only the buds. From my understanding and experience, bud heavy tea packs a punch!
Dry leaf and Steeping Method: The Jinngu White tea buds are fuzzy and smell weedy.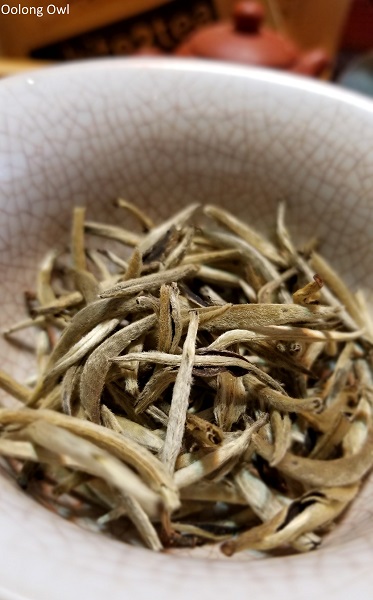 I used 1 gram to 20ml of vessel size as my gongfu style steeping ration. I did fast steepings with 205F/96C water temperature. I don't mess around with white tea.
First and Second Infusion: Despite steeping up almost clear, Jinngu White tea buds are loaded with flavor.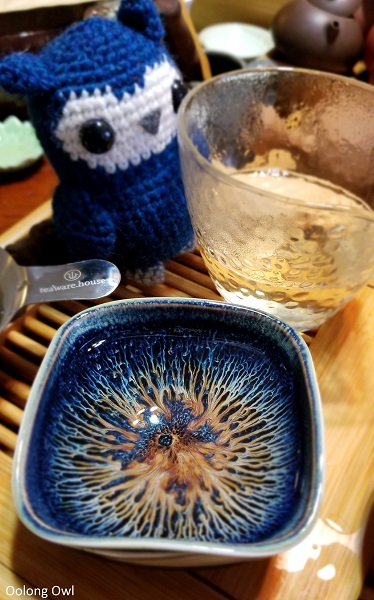 It tastes like how raw silk yarn smells or hot linens coming out of the dryer. Its got linen and tulip notes, with that fleshy juicy part of the stem too. The sip finishes sweet and floral and the body is thick. Jinngu White tea bud's aftertaste is softly floral, but a bit fleeting. The caffeine in this tea is high – I can feel my eyes want to pop out of my sockets.
Third and Fourth Infusion: The white tea buds finally developed some colour, but looks clear in any cup that isn't white or glass. The flavor notes have slipped with mostly tasting the white tea at the end of sip and aftertaste. It is floral tulip and a bit buttery, bit of a zesty grass note too.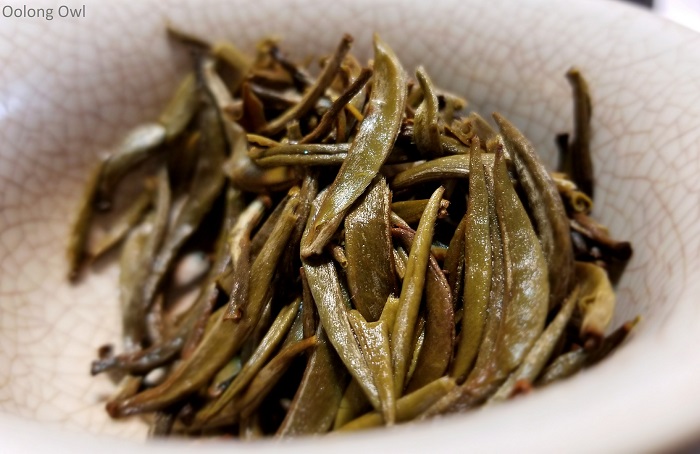 Fifth and Sixth Infusion: 5 minute infusion here. It finally developed some great colour to the brew.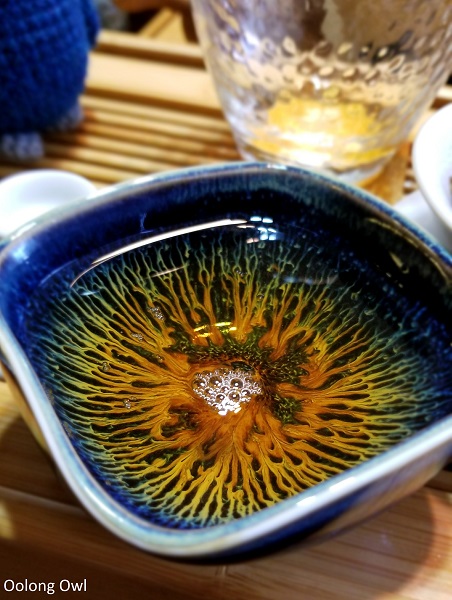 White tea buds shifted to a bitter dandelion green flavor as it got steeped and stewed for too long. I oddly still drank these infusions and my rabbit thought my breath was amazing and cuddled my face. I lost 30 minutes of my day to hyper caffeine levels and conversations with myself.
September 2017 White2Tea Club Auburn Black
Auburn black is described as a jammy and aromatic tea from high altitude Fujian region. The leaf is fruity smelling.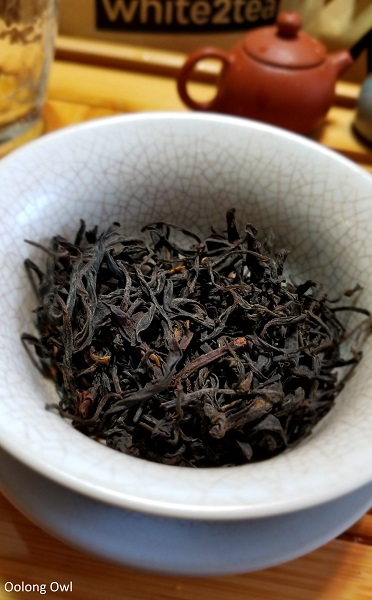 The handout says Auburn but the package says Anburn. I don't know which one it is supposed to be. I went pretty aggressive with 1 gram of tea to 12.5ml of vessel size, steeped in boiling water.
First, Second, and Third Infusion: The flavor is berry like – kind of like those weird blackberries that I pick on the side of the road here in the Seattle area. It is kind of like blackberry mixed with some wild crunch and leaf. It has sweet notes, with a bit of a savory peachy aftertaste. The rinse tasted like tomatoes but comes back in some of the sips' finish. The flavor lasts a long time in the mouth, lingering with cooked peaches. I like the body on Auburn as it feels heavy and coating. This is my kind of black tea, I just love the aroma on it and the full body flavor. I could drink this in the morning, afternoon tea with sweets, or as comfort tea.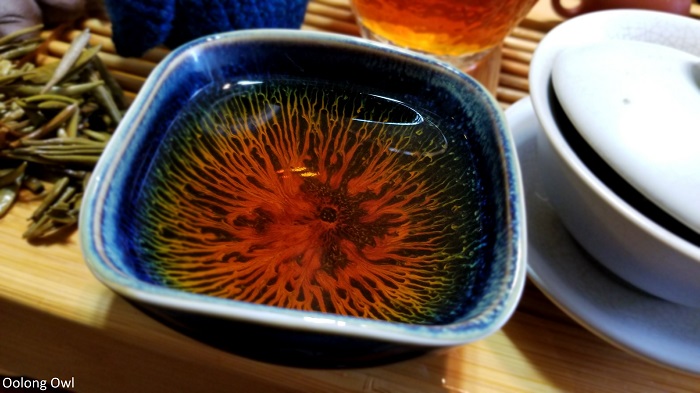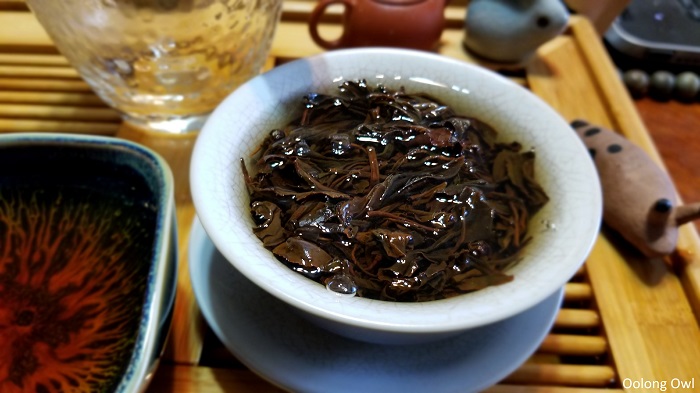 Fourth, Fifth, Sixth, and Seventh Infusion: Anburn is still fruity but the aroma is slipping. The flavor has a walnut wood note and with a slightly dry finish that I can feel on the tip of my tongue. Each steeping develops more and more of a bitter nut skin note and a drier finish. I stopped at seven, though I likely could get another 2 infusions, I stopped as it wasn't tasting that good.
Comments
Interesting contrast of teas for September 2017's White2Tea Club. The Jinngu white buds are floral and juicy and the Auburn Black is heavy fruity aroma. Both I didn't get many infusions, but likely you can adjust the ratios some. Both teas are awesome in the early infusions, especially Anburn black. Fingers crossed White2Tea will sell the Auburn black tea in the future – like their Bang Dong Hong, I could see drinking Auburn Black quite regularly.