Ooooh, another fun month with the White2Tea Club. When is the White2tea club not fun or an adventure?
This month is three teas, Qilan Trees, Qilan Fire, and a 5 year aged Dahongpao brick. All oolongs, hoot! The Qilan Trees and Fire are new oolong offerings at the White2Tea shop, so being in the monthly tea subscription is nice as I get to sample the oolongs.
Close up of the DHP!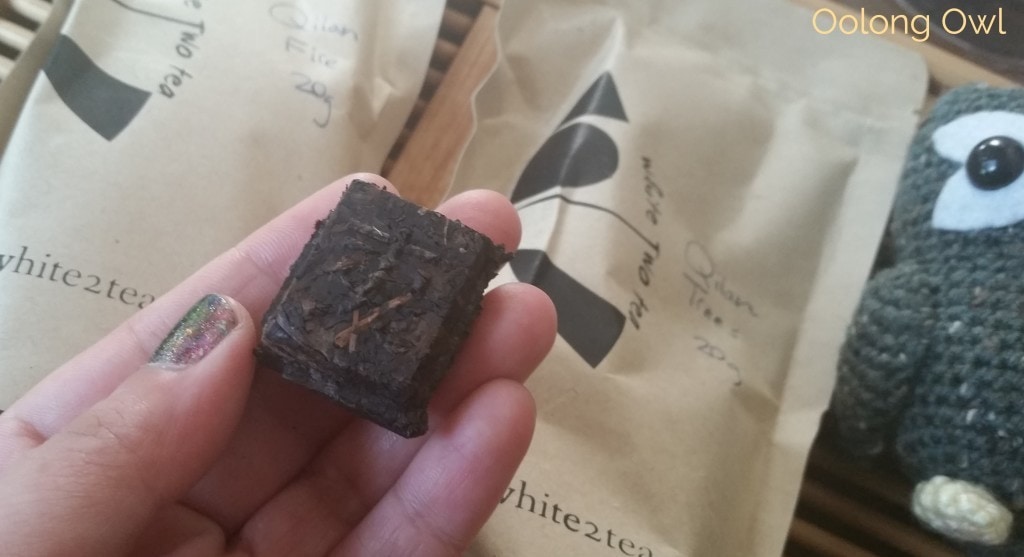 I'm going to drink the Qilan oolongs. As much as I want to do side by side, I'm going to drink them separately this month. SoCal has been blistering hot this September. I'm talking 39c/102F, and I'm in the cooler part since I'm closer to the water. As I write this it is technically fall season and it's 35c/95F right now. My AC is broken, so I've been drinking all my hot teas before 10am. A double session would take too long and the Tea Owls will have to shovel my melted body off the floor.
Tasting of White2Tea's Qilan Oolongs
Qilan Trees is a Wuyi oolong from Fujian, China. The leaf is quite dark and long, the leaf loosely pinched and twisted together. Qilan "Trees".. what an odd choice of name, I thought. I was expecting a greener oolong, like a jade. We will both learn soon enough.
I steeped 7 grams of Qilan Trees with boiling water using a 120ml gaiwan.
First Infusion: The first steeping produced a bronzey orange cup with a roasted plum scent.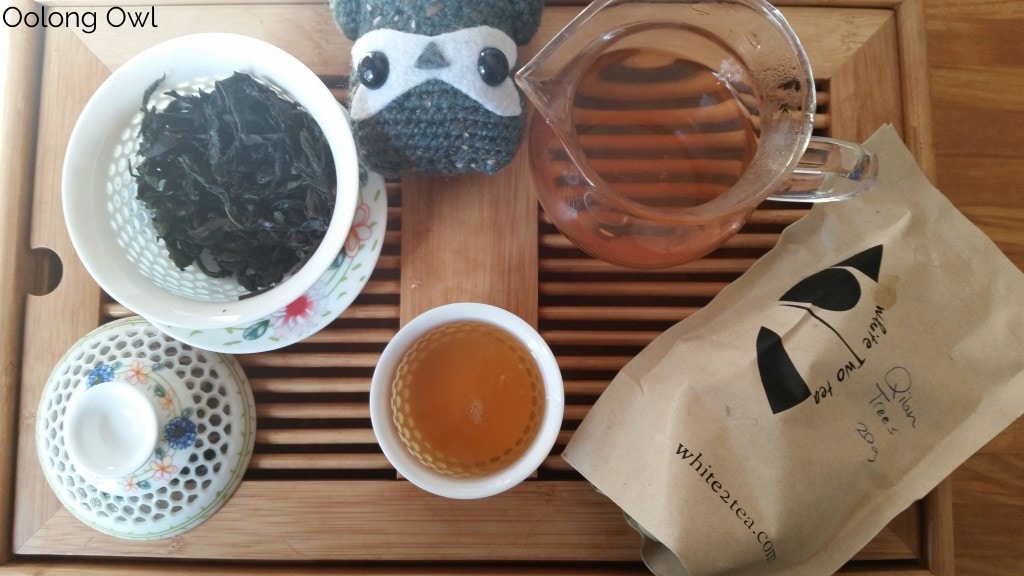 The oolong sips in with a smooth, slick and heavy texture.  The flavor is mineral with a strange herbal sweet leaf taste, which I'm pretty sure if cannabis notes.  The oolong is sweeter than most, hitting the tongue a little differently. The aftertaste creeps in slowly – a strong peachy sweet fragrance that is really nice.
Second, Third, Fourth, and Fifth Infusion: The flavor beefed up and mellowed. I'm getting some toasty bread crust, cannabis, and lightly crunchy fall leaves – those fall leaves that are starting to turn. The mouthfeel is still heavy and slick. The end of sip texture changed as it is dryness that hits the whole mouth, drying the tongue. The peachy finish is still there.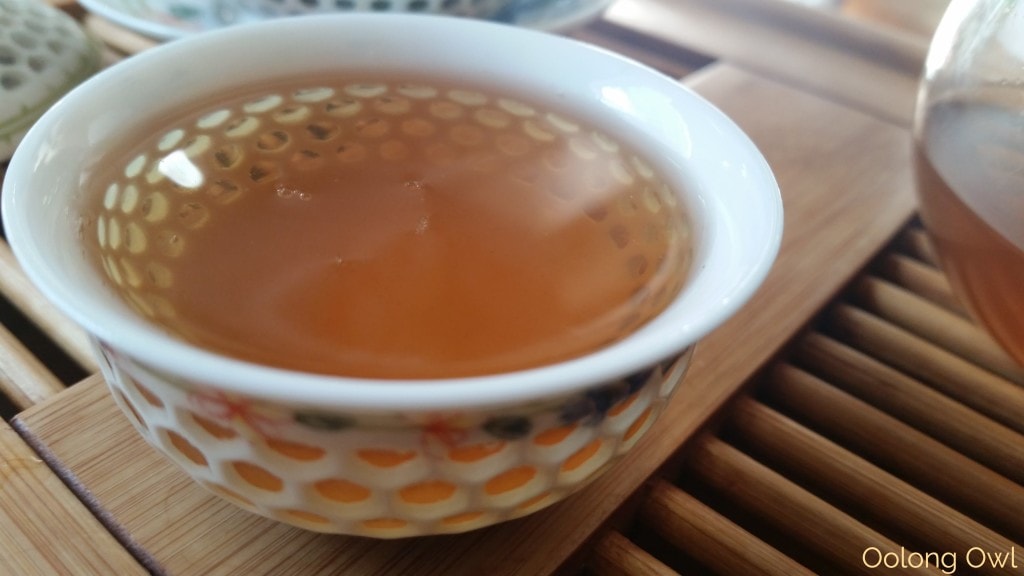 Sixth, Seventh, Eighth, and Ninth Infusion: Qilan Trees shifted here. The flavor is savory and just like boiled artichoke hearts – very vegetal, kinda sweet and creamy. The sweetness has switched gears, hitting the tongue very different, just like stevia.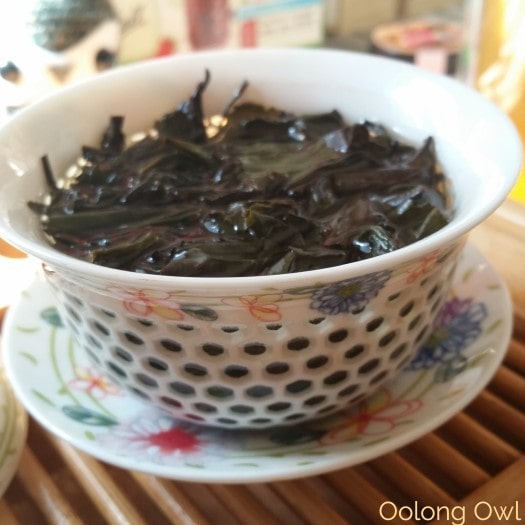 I think I can aggressively squeeze out 2 or 3 more steepings, but I personally wasn't a fan of the cannabis and herbal sweetness so I stopped here. Qilan Trees is a really interesting oolong – it's not a new tea drinker oolong. I love the complexity, fragrance and mouth feel. If you don't mind the cannabis sweet notes, Qilan Trees is a fine oolong.
~~~~~~~~~~~~~~~~~~~~~~~~
Qilan Fire is a light medium roasted oolong and is the same leaf material as Qilan Trees. The dry leaf has a lovely roasty scent, oh yeah!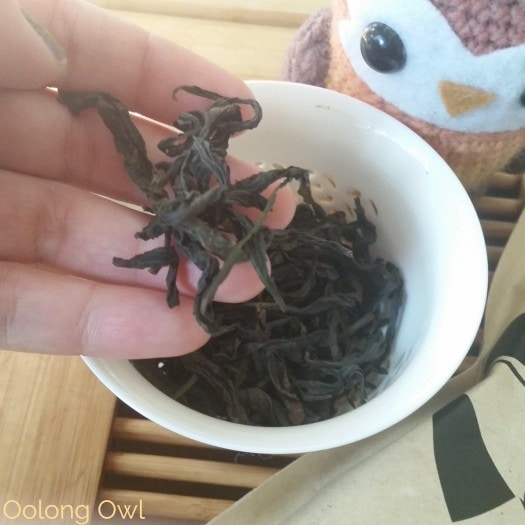 I did the same steeping parameters as Qilan Trees.
First and Second Infusion: This Qilan Oolong steeps up a goldy bronze color with a warm, organic and roasty scent.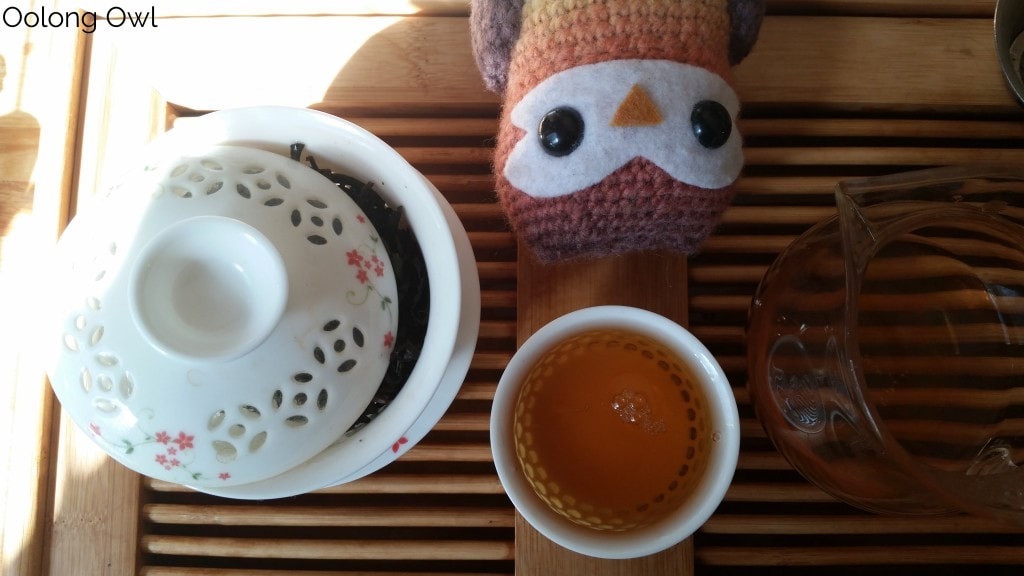 These first infusions have an interesting fruity taste, I'm thinking a non-tart grapefruit or pomelo. There is also a lightly roasty and char taste. The body is nicely thick and sweet.
Third, Fourth, and Fifth Infusion: Qilan Fire has a great char and raisin toast notes with a peachy green finish. The finish tastes like peaches that have the leaves attached. The mouth feel aftertaste is weird as it's a thick slimey coating of green peaches and tulip flavor. Each steeping the aftertaste intensifies the peach, tulips and green leaf flavor.
I'm feeling big manic tea drunk energy and I got the hugest craving for babybel cheese, which I think would be a nice pairing with Qilan Fire. I need a Costco run for a giant bag of cheese. There's nothing like a good tea drunken weekend Costco run – I get less pissed off at the crowds, I got more energy for the crowds and hauling big boxes of things and more entertained by the massive buckets of mayo.
Sixth, Seventh, and Eighth Infusion: The flavor shifts to a soft sweet light roast with sweet potato, cream, and raisins. Aftertaste is the same peachy green. Each sip of Qilan Fire is like American Thanksgiving. 3 years in this country and I still don't get the yams and marshmallows combination.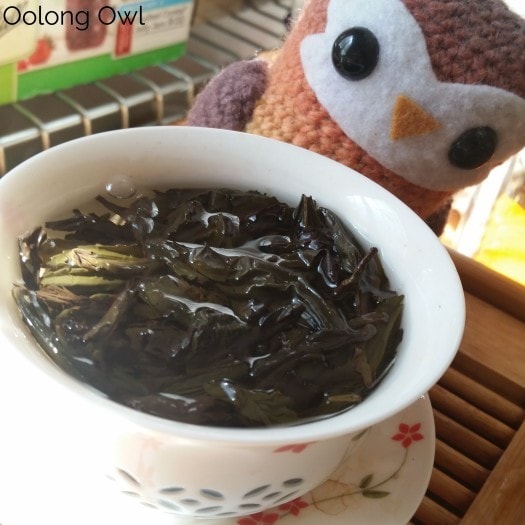 Ninth, Tenth, and Eleventh Infusion: The Qilan oolong has lightened to a wet rock and mineral sweet taste. The sweetest steepings!
Twelfth "Oops I forgot" Infusion: I steeped this for an hour and a half. I poured the kettle water into the gaiwan, and then left to put food into the sous vide for dinner. I then promptly forgot I had tea going and remembered when I had to pull my dinner from the sous vide, whoops! Turned out after over an hour of steeping Qilan Fire the flavor is pretty good. Over steeped Qilan Fire is smooth, nutty with a hint of peach. Very nice, I wonder if this tea is tea thermos bombproof? I'll have to experiment once it's not too hot.
EDIT: Qilan Fire is bombproof – it can take an extended infusion in a travel tea tumbler! I did 3 grams of leaf in a 9oz travel tea tumbler. The notes are muddled together, as with long western steeping styles, but the aftertaste fragrance is crazy strong and lasts for a long time!
Qilan Fire is a great lightly roasted oolong. It's got just enough roast, char, and rocky to get a roasted oolong person happy, but with great notes of grass, peaches and floral to add interest.
Out of the two, I prefer Qilan Fire a lot more. I would buy this one if there's some left when I get to my next White2Tea order. However, Qilan Trees gets the tea drinker in me excited due to the excellent fragrance and complexity. Qilan Fire has a more appealing taste but not as complex. I can't believe they are the same material – very educational on how processing can change a tea quite a bit!