Sticky Toffee Black Tea is a black tea blend with macadamia nuts and flavoring. This decadent dessert tea is from Whittard of Chelsea, UK based tea company.
Groan. Seriously. I've eaten so much sweets over the holidays. I entered 2014 overloaded with sweets and with so many sweets leftover.
Peanut Brittle.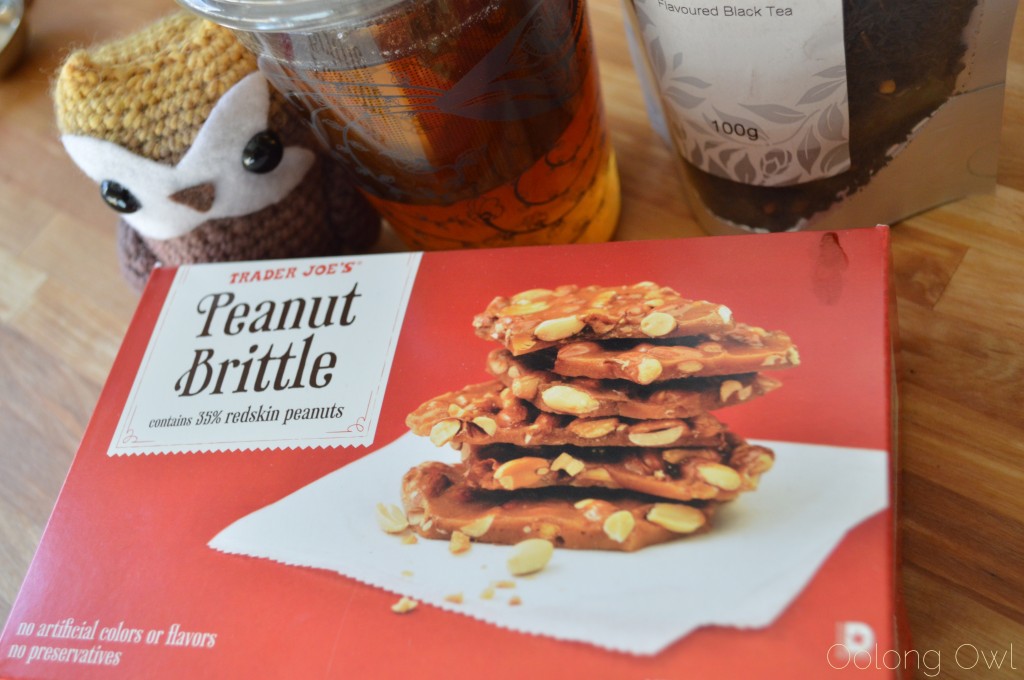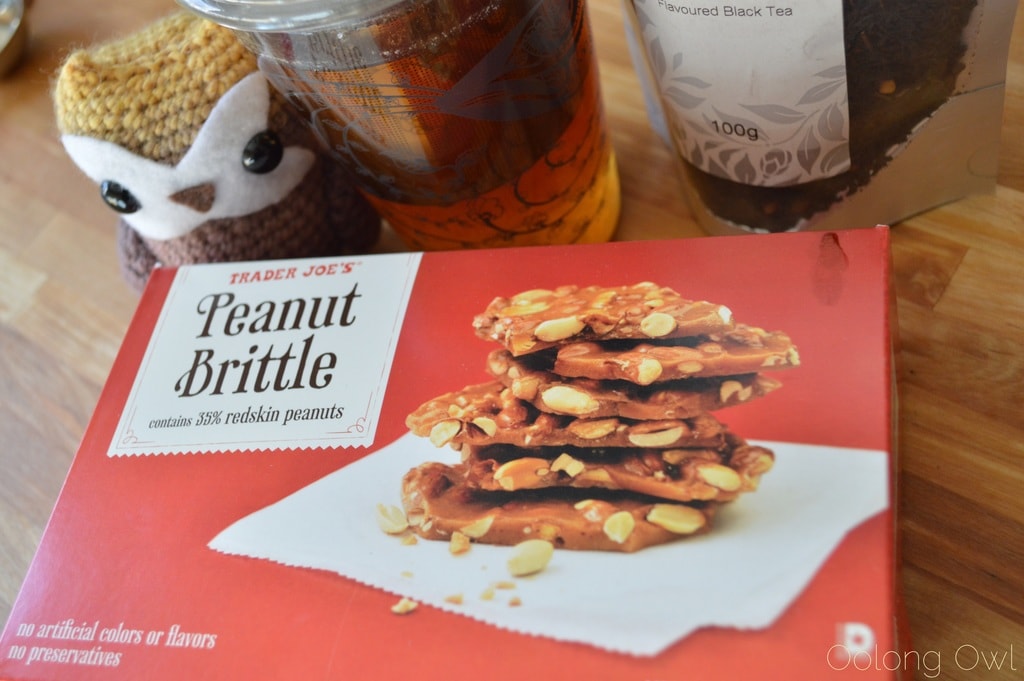 Home made cookies.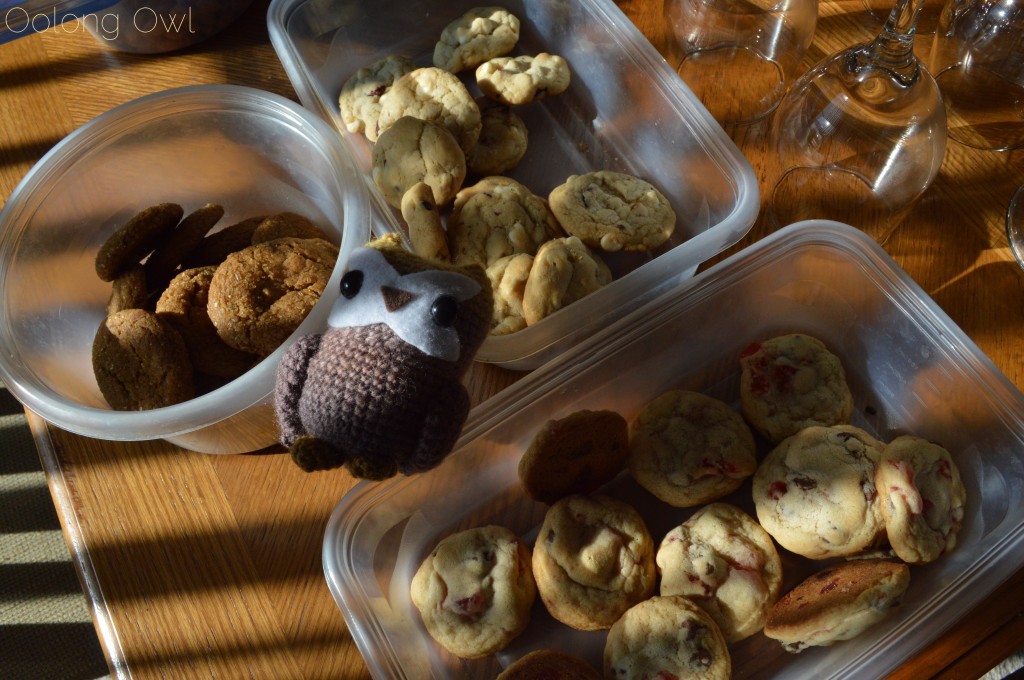 Butter Tarts, Cherry Pound Cake and Pumpkin Pie piled high with cool whip. (not pictured as we ate it all!)
I think I'm about tired of sweet things, but at the same time I'm now so wired for sweets that I need to ween myself off them. Maybe. How about a dessert tea? Yea, that's the ticket! A dessert tea to fill that depressing void of not eating sweets, without all the calories. Whittard of Chelsea's Sticky Toffee Black Tea sounds perfect!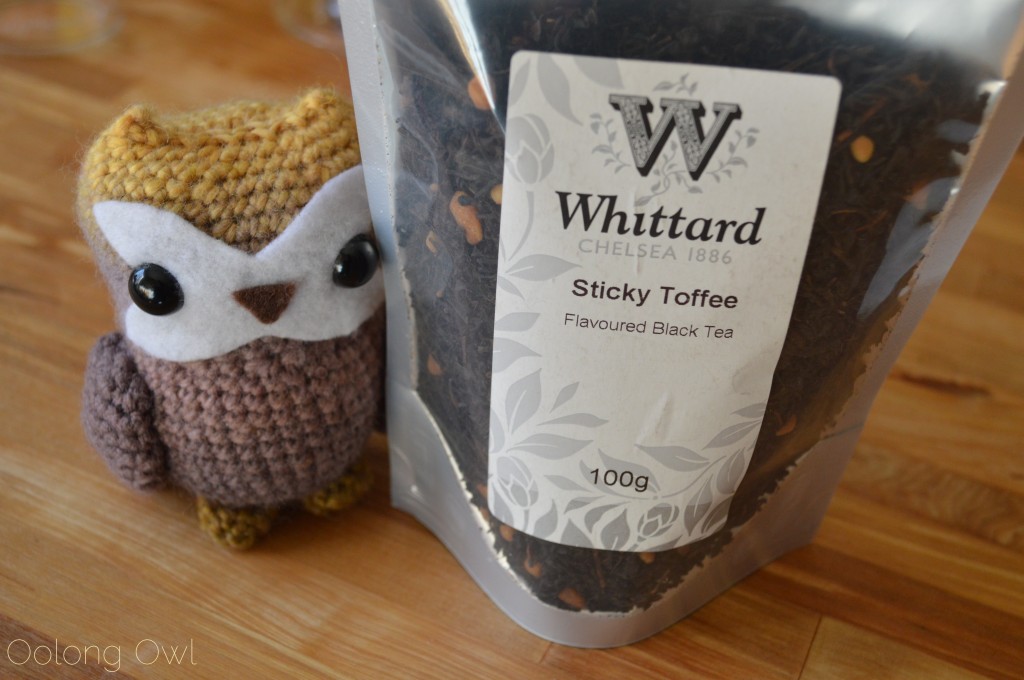 Dry Leaf
Sticky Toffee Black Tea has a deep roasty burnt caramel smell with a pile of sweet on top. The black tea blend is also handsomely dotted with plenty of macadamia nut pieces.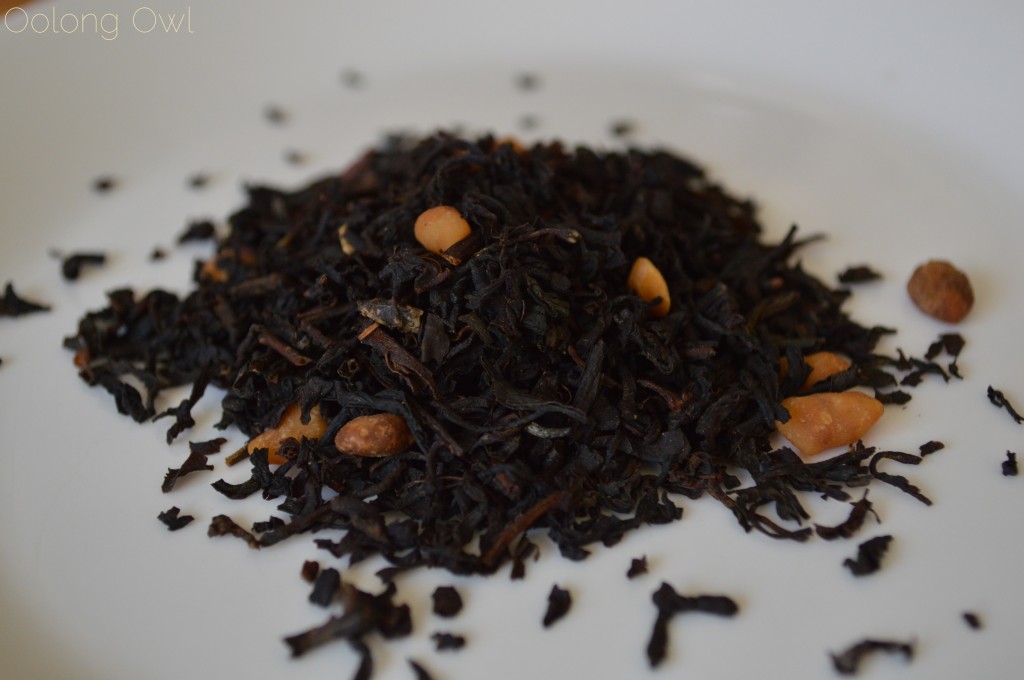 Steeping Instructions
Whittard of Chelsea suggests 1 teaspoon of dry leaf per cup, steeped in boiling water for 3 to 5 minutes. My cup passed the Oolong Owl Tea Owl taste tester test at 3:45 minutes.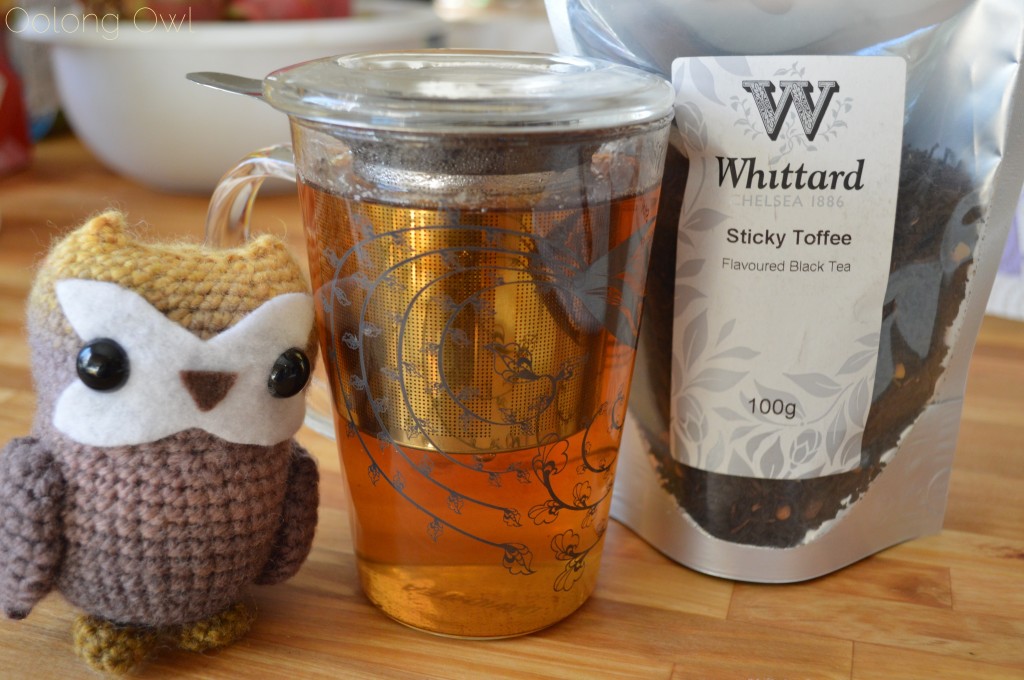 Quite a lovely colour of tea! Sticky Toffee Black Tea is a warm, red tinged brown colour with a lightly sweet scent. There is a little bit of white debris in the tea. I am guessing that the debris is nut pieces.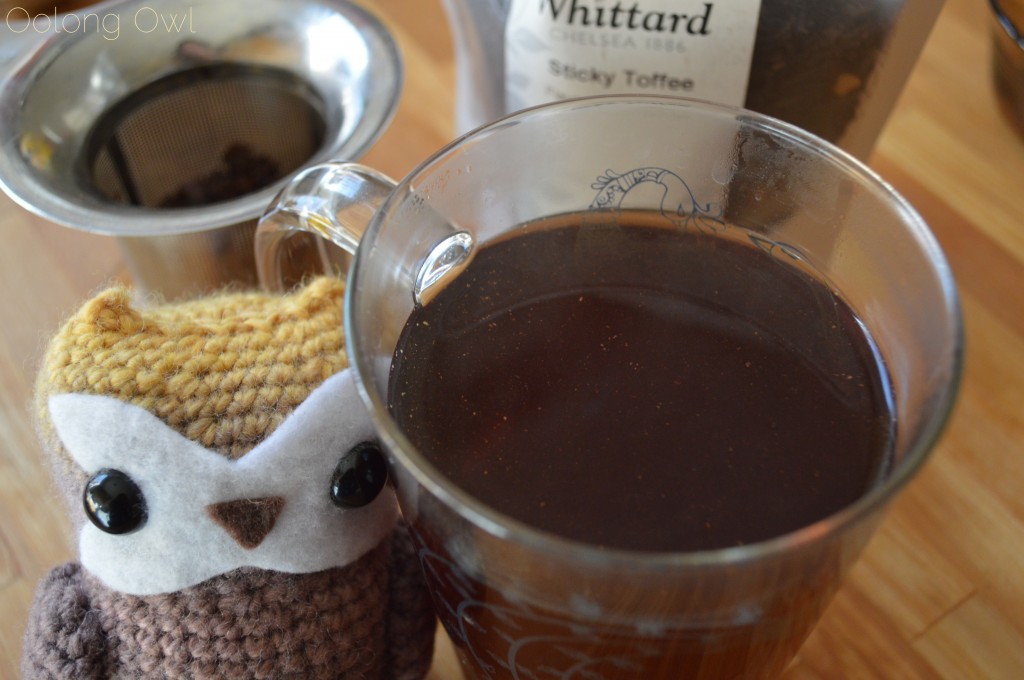 Tasting of Whittard of Chelsea's Sticky Toffee Black Tea
Ooooh, nice and rich! Sticky Toffee Black Tea has a nice base to it – deliciously malty, smooth yet robust, full flavored without being dry or bitter. Throughout the sip there is a light creamyness, with a slight sticky, clean hard toffee candy flavor. Sticky Toffee Black Tea finishes off with an interesting nutty clean taste. To elaborate on the nuttyness in Sticky Toffee Black Tea, I find the flavor similar to chestnuts, but more smooth, bright and sweet. Macadamia nuts in tea for the win!
I found Sticky Toffee Black Tea to be pretty sweet, as if I added a 1/4 or 1/2 teaspoon of sweetener already. Looking on the ingredients, it already contains "sugar" so ehhh. I added a little more german rock sugar, which did bring out more toffee taste, but the tea was too sweet for me.
Comments
Sticky Toffee Black Tea is a sweet-toothy tea drinker's dream tea. Though the main flavor of this tea is its black tea base, the tea ramps up at the end with toffee sweet and nutty smooth flavors. A very nice afternoon tea!
I'd love to have Sticky Toffee Black Tea on its own, without all the afternoon tea sweet treats! This tea will fill your sweet tooth without the calories!
Ugg, I just realized I still have a Gingerbread village to eat. Help me Tea Owl!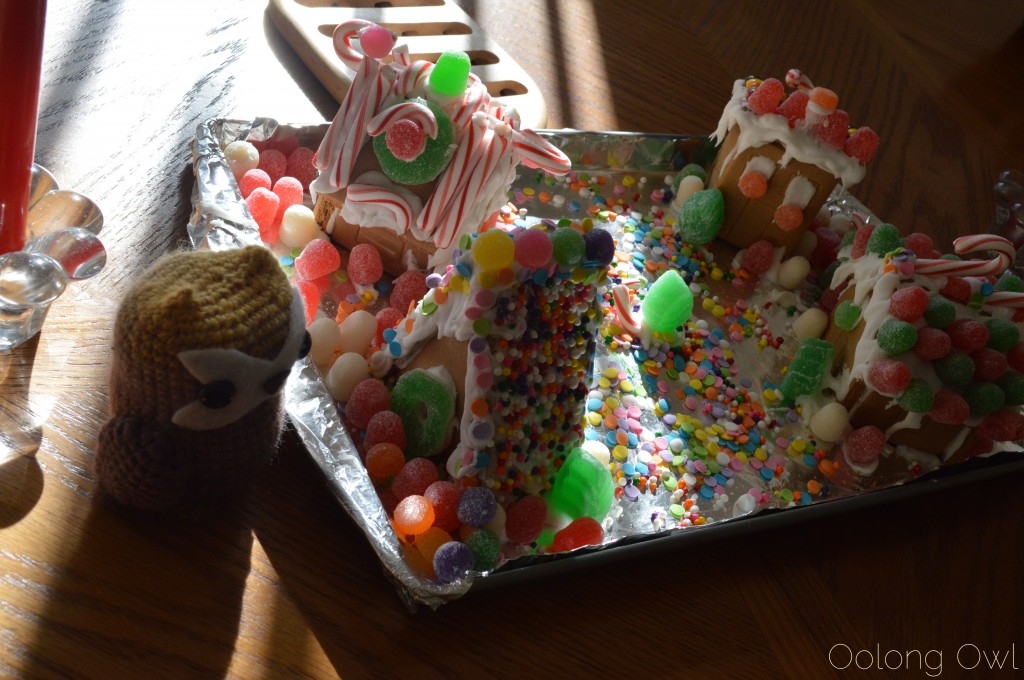 (tea provided for review)