Strawberries & Cream is a green and white tea blend from Della Terra Teas.
Oh Della Terra Teas – your sales are amazing and I have a hard time resisting! I've done 2 orders in the last few weeks, plus winning a facebook drawing. There is no way I can pass up a strawberry cream green or white tea!
DRY LEAF: Strawberry Candy smell – like a strawberry creamsicle! Nice red cubes of strawberries in this tea!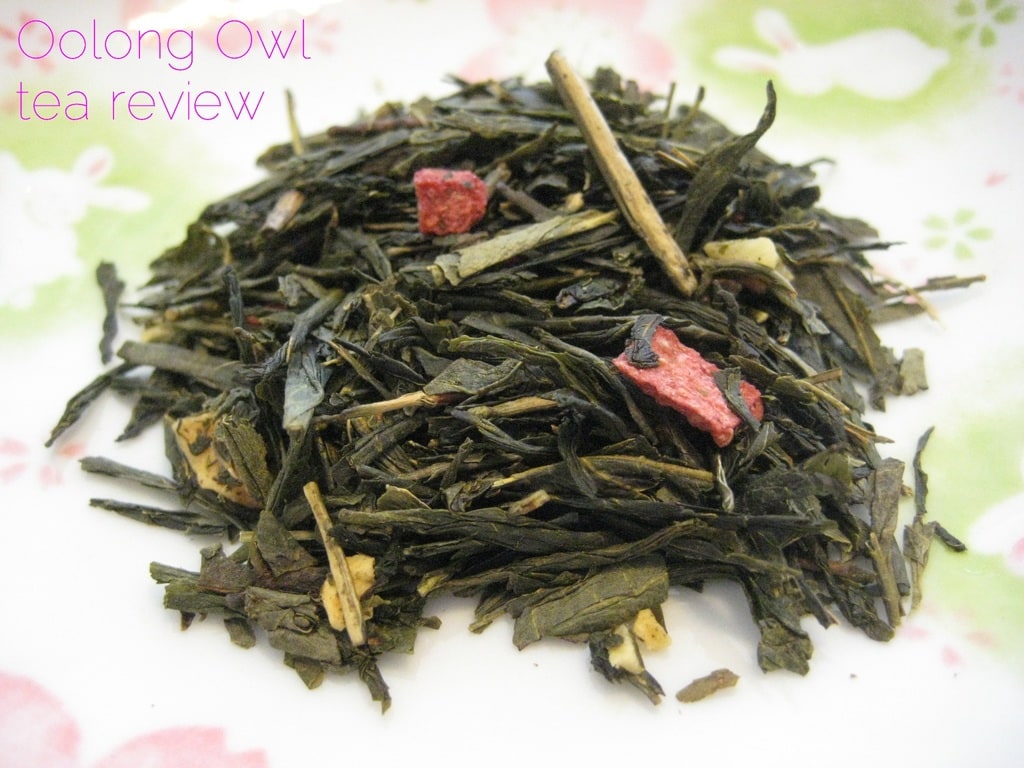 STEEPED: Very tangy, sweet fruit smell coming from a pale yellow, slightly green tea! I did a 160F steep for 2 minutes.
FYI, The website says a lower temperature than the packaging – that's the temperature recommended by Della Terra, my packaging is incorrect.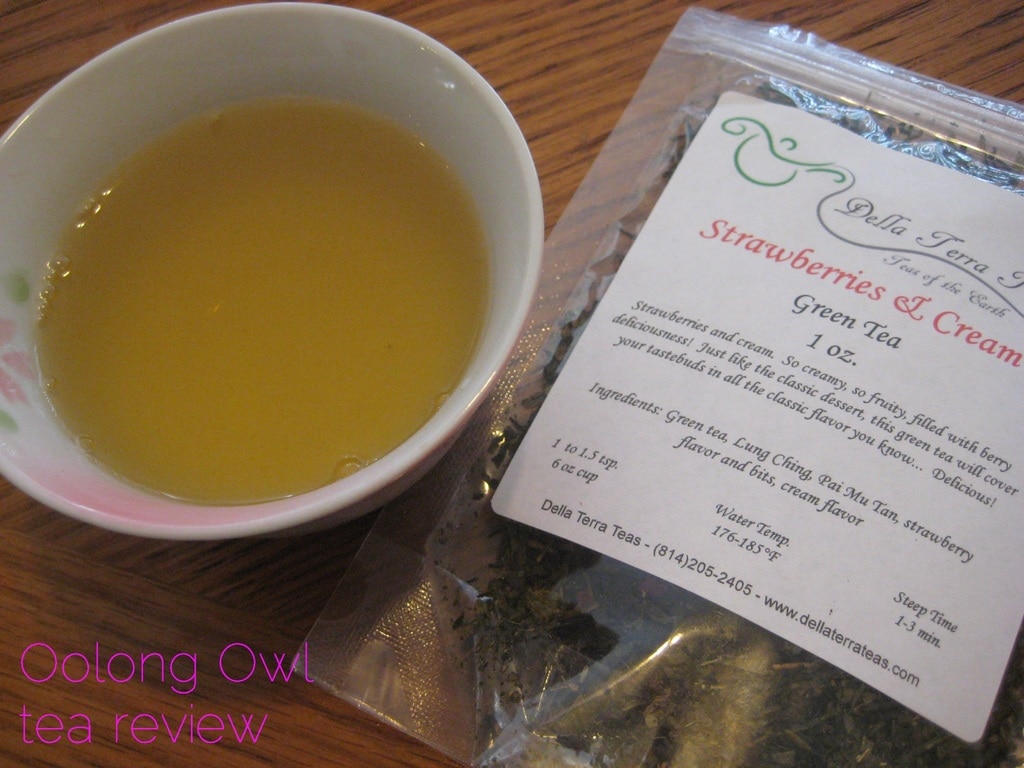 TASTE: Quite a bit going on here, surprisingly. There's the green tea flavor that has some butteryness going on, some candy-like tang that finishes off strawberry, bit of tangy, bit of juicy, creamyness that reduces some of the tang and a vegetal finish. After all that, there's a tangy aftertaste. Phew.
Sweetened, the strawberry pops out more but is still tangy. 5/10 on the Tang-o-Meter. The strawberry is more on the natural tart side, than the candy side. The tang is kind of like sugared sour candy. I prefer this tea unsweetened as it tastes more natural.
The first time I made this tea, I used the wrong steeping instructions, going to 175F. With the hotter water there was less creamyness and a strong vegetal finish. It also got a little bitter. Strawberries and Cream is MUCH better at 160F. Interesting how just a little change in water temperature changes a tea!
RESTEEP: Hmmm! Buttery and juicy green tea with a bit of creamyness, with a bit of strawberry tang at the end. Very good resteep!
COMMENTS:  I wish the strawberry was stronger, but the creamyness here was lovely in this tea! I enjoyed the play of the buttery green and the juicy white too!
I can see others loving this tea but I have to stress you need to have a variable temperature kettle, or take the time to steep it correctly with the right water hottness.