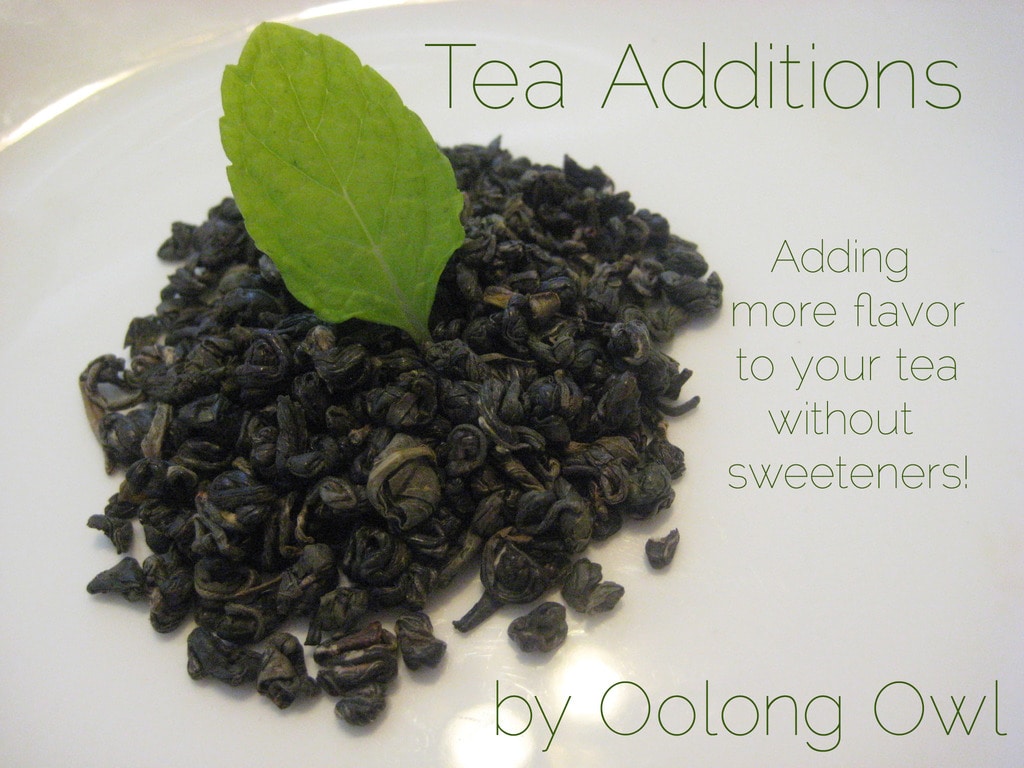 Wanna add some extra tasty to your tea without adding sugar? Does your tea unfortunately fall flat on flavorings? Need some extra spice in your staple cup of tea?
Try some of my tea addition suggestions!
1. Vanilla Bean Pod
Say what? This sounds expensive! I buy my vanilla bean pods from Amazon.com, which you can get a big package for cheaper than 4 single pods at a grocery store.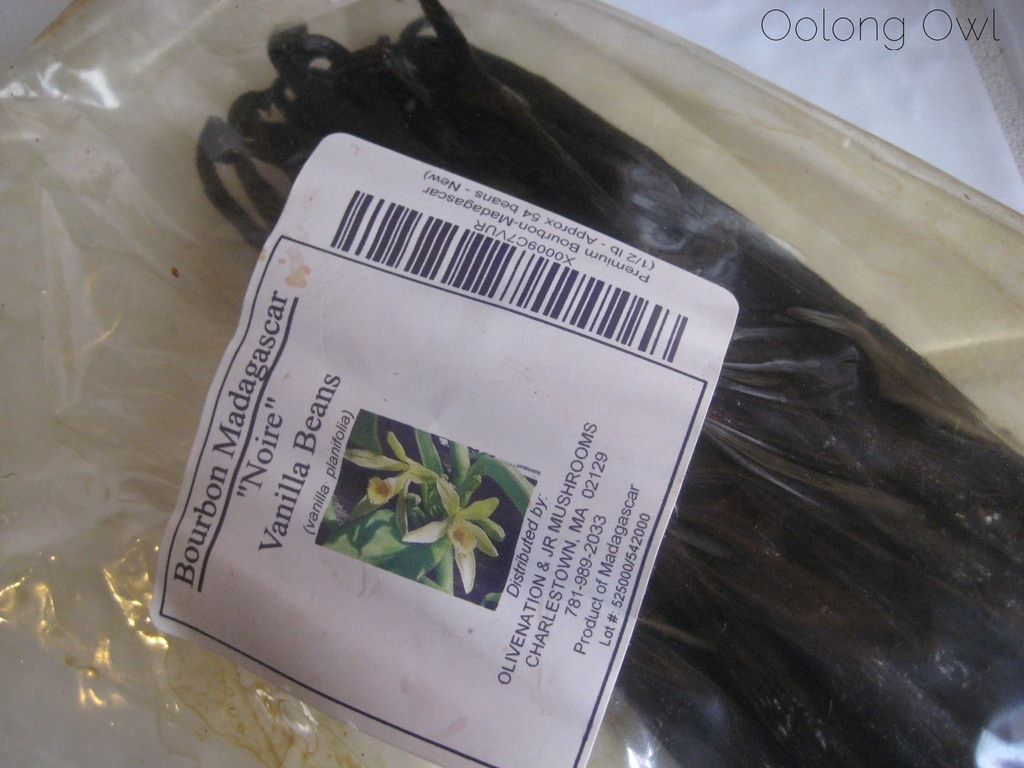 I originally got the pods for making my own vanilla extract, however sometimes I use the pods for baking. When using a pod, you slit the vanilla bean open, scrape out of the inner goodies for use. The left over pod? Most people suggest tossing it in sugar to make vanilla sugar. Well, I didn't need any more vanilla sugar, so I chopped up my leftover pods and put them into a small tupperware for safe keeping.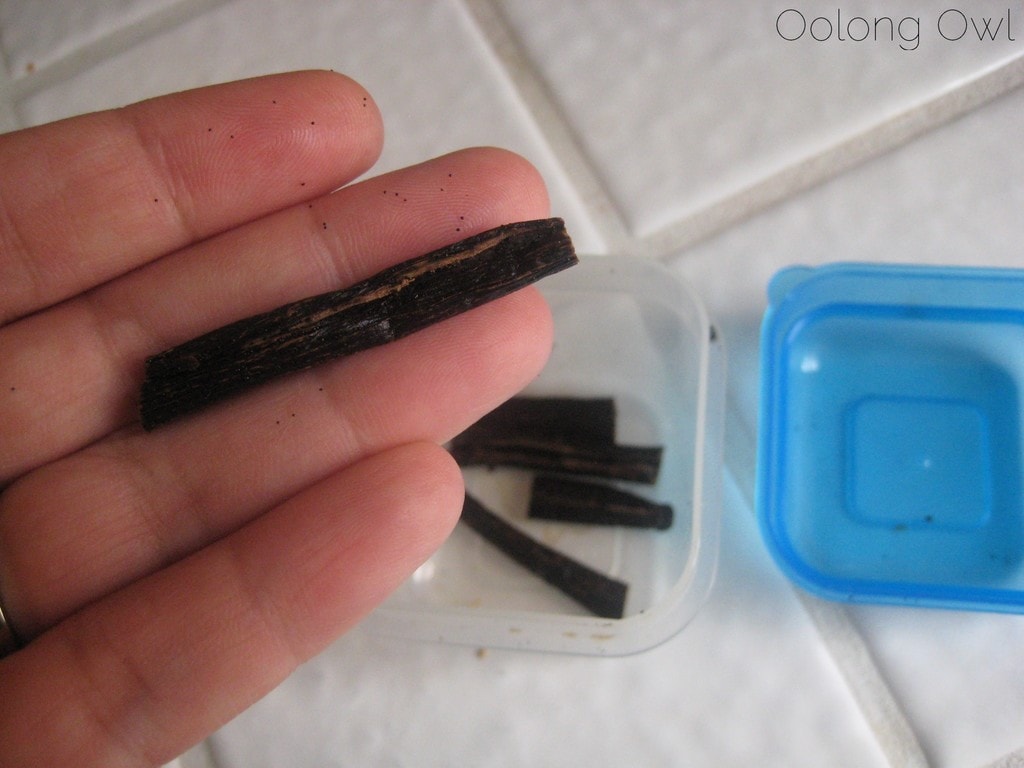 I add the vanilla pod chunks while steeping teas – they add a huge POW of creamy vanilla flavor! You can add them to pretty much any tea you make to add creamyness. Orange Tea is now a creamsicle tea. I've added vanilla pods to straight oolongs to add a silky texture.
2. Slice of Citrus
I add a slice of citrus often to my iced teas, but also to my hot teas when I have a cold. A couple thin slices of lemon, lime or orange really bring iced tea to life. Finally, the citrus slices add a really nice presentation to your teas.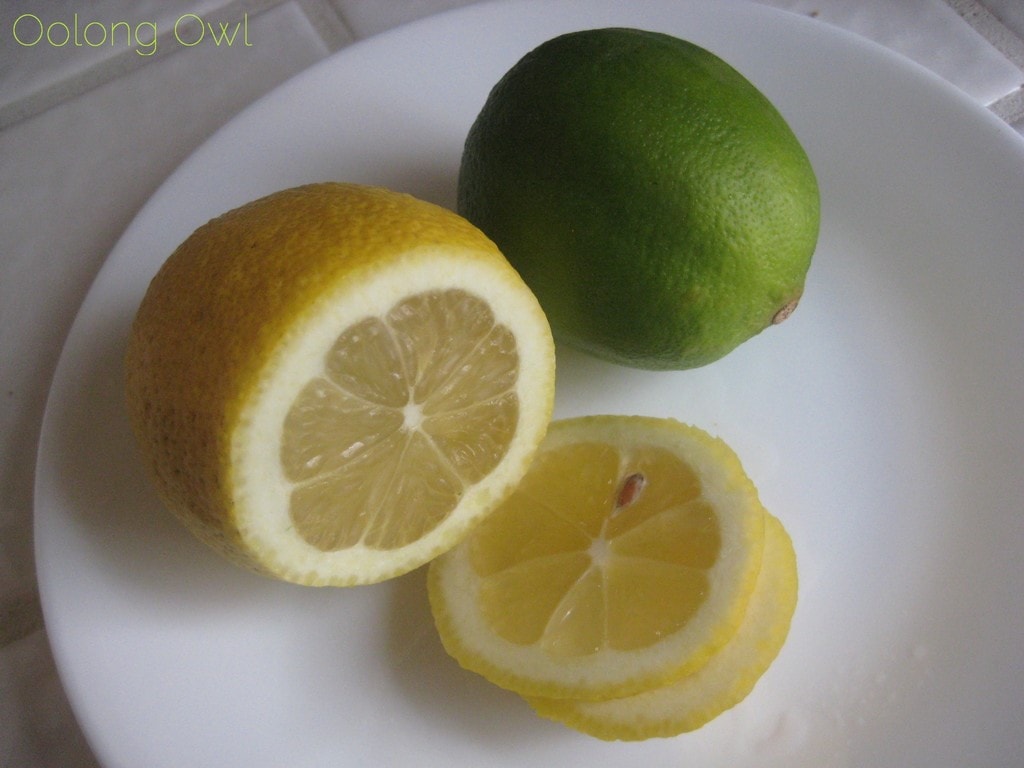 For hot teas, after the tea is steeped, I add a couple lemon slices to my cup or pot. I found citrus slices work really well with whites, green, rooibos or any citrus blended teas. I love orange and lemon slices in earl grey without milk – it really makes the beragmont pop.
For iced teas I pop the slices in after the tea is steeped and poured over ice. Lemon, lime, orange and even grapefruit work very well with many iced teas with black tea bases. My favorite iced tea is a mate-fruit blends loaded with limes and lemon slices!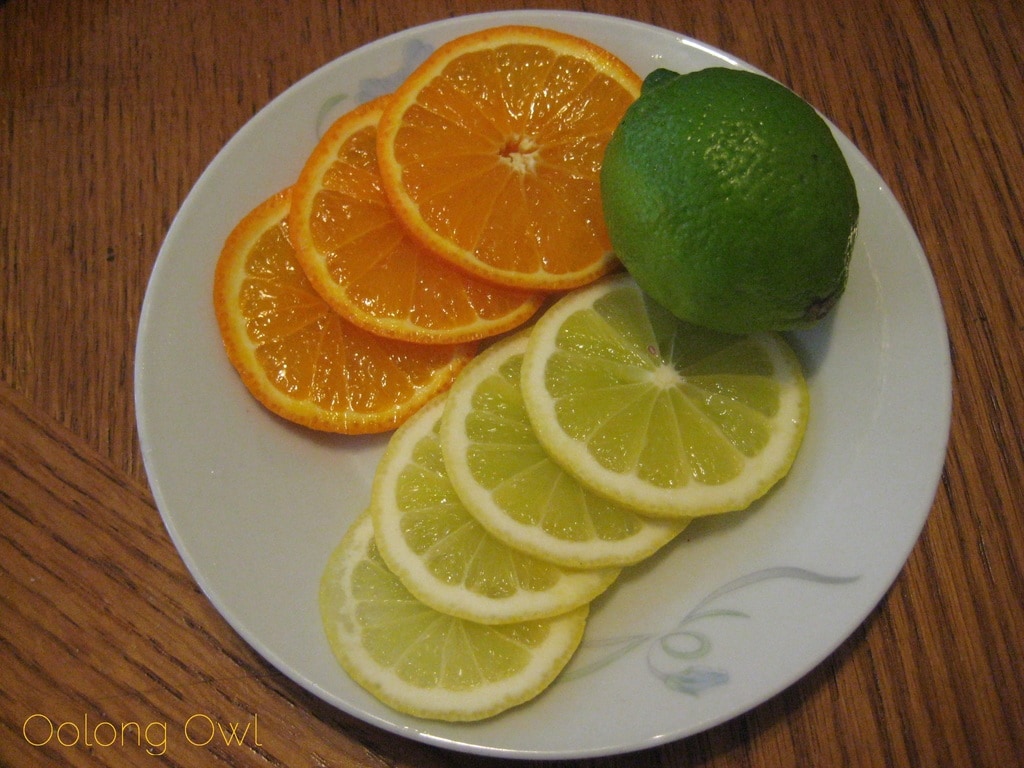 Guess the tea in the following photo!!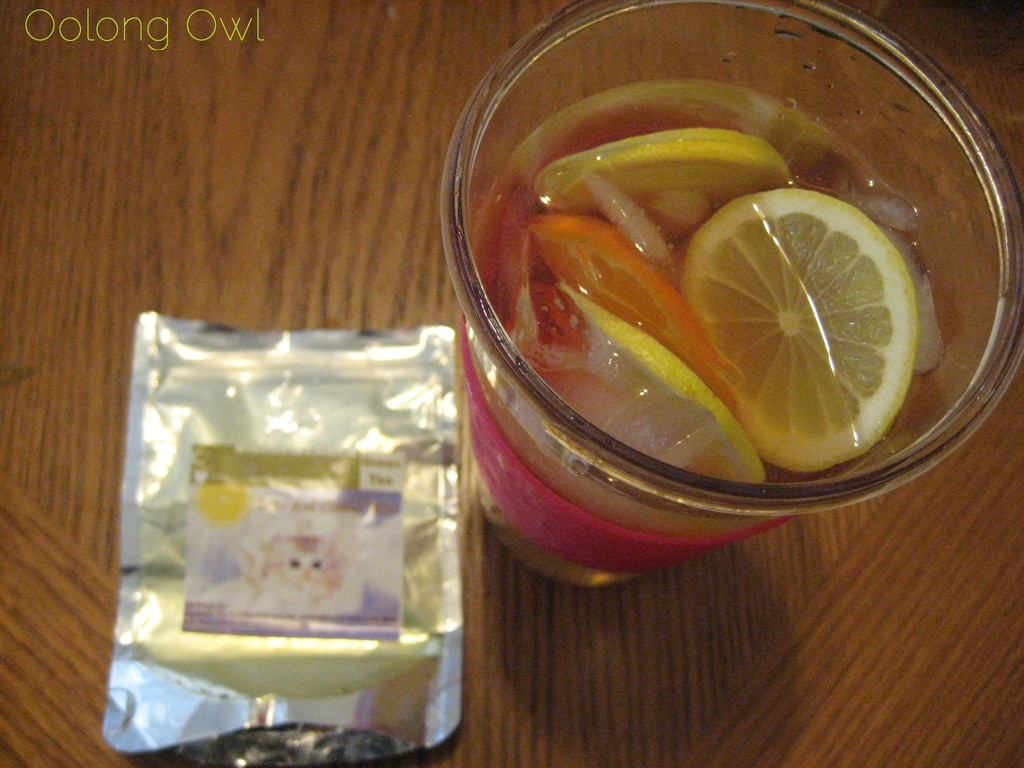 evil lemon headed kitty tea!
3. Fresh Fruit! 
Similar to adding citrus, adding fresh fruit makes your tea very presentable!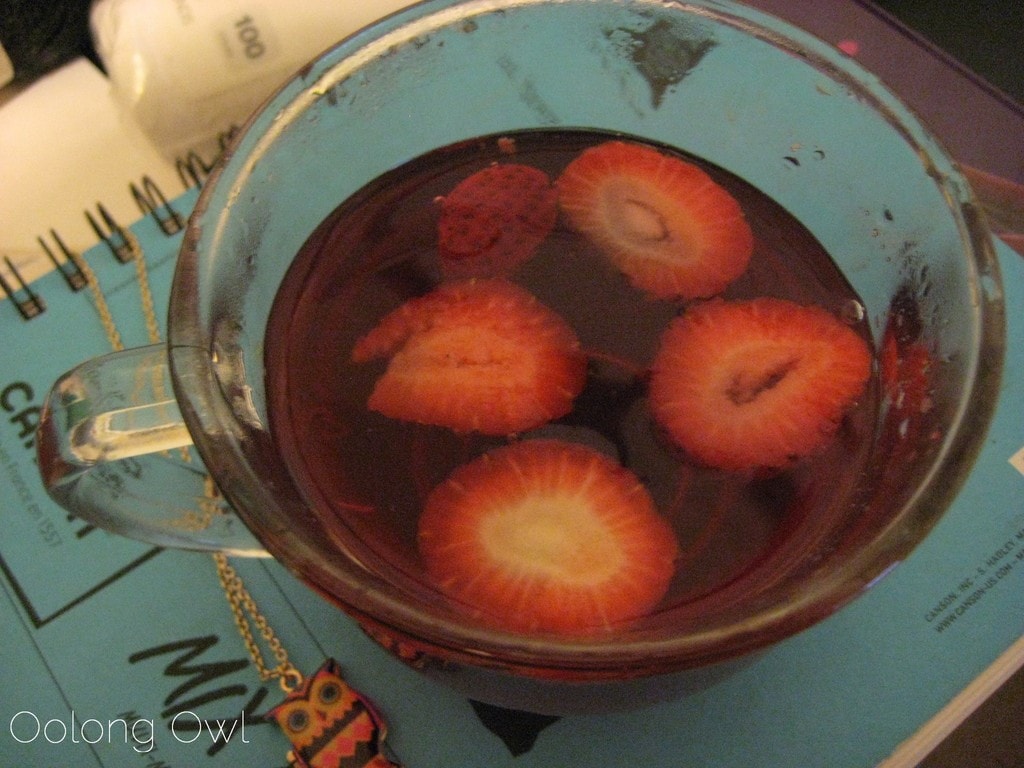 Strawberries, blackberries, raspberries, blueberries, peach slices or dragonfruit – they all look fantastic in tea! They add a touch of fruit, which melt into the hot tea. Iced or cold steeped, the fruit infuses the water along with the tea!
4. Cinnamon Stick or other Spices
I give credit to Butiki Teas for this one. After I tried their Apricot Guayusa, Stacy from Butiki Teas told me she likes to prepare this tea with a cinnamon stick. I tried adding a cinnamon stick and wow! The cinnamon made the tea even more tasty!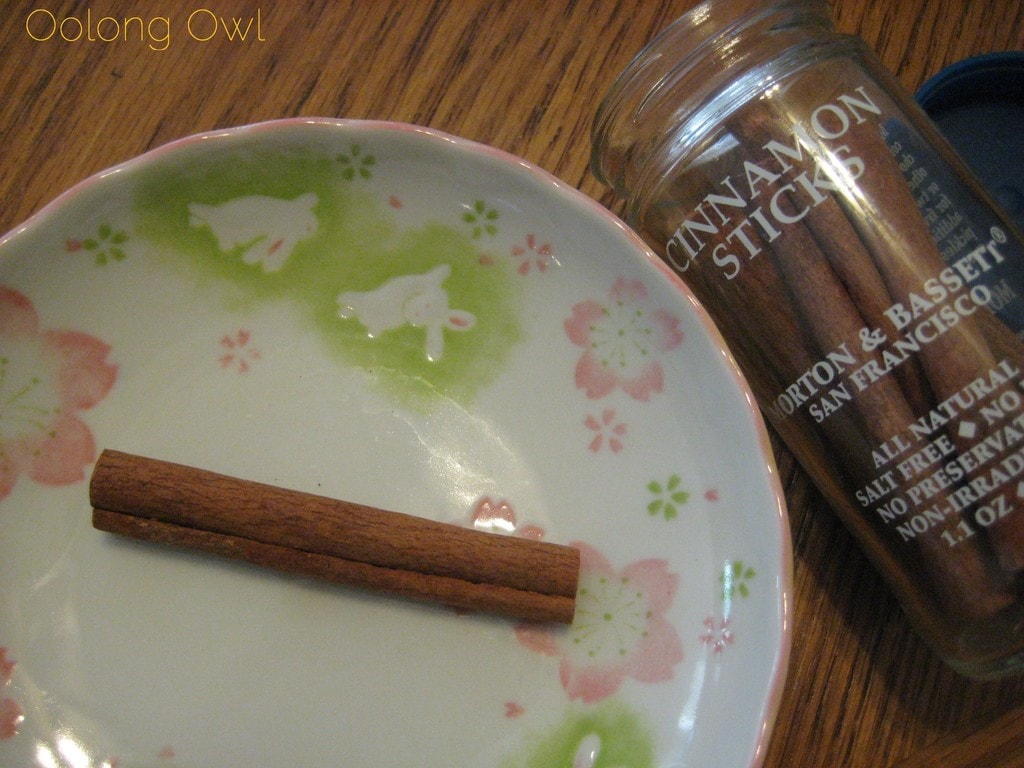 Steeping a cinnamon stick with an unhappy chai makes for a spicer chai! Also try a stick of cinnamon with  fruity teas like strawberry/apple/pear blends. I found cinnamon also works very well with creamy blend teas.
An old coworker told me this trick of adding cardamon pods and she swore by it being delicious, especially in chais and coffee-like teas. I dislike cardamon with a passion, but admit it does add some really nice spice to teas. If you love strong spices, try popping a cardamon pod or two while steeping your tea! Or if you like to live dangerously, try some black pepper or hot chilies!
5. Flavored Matcha
Adding teas to teas? Why not? This idea came to me when I drank all my matcha-genmaicha. I had lots of genmaicha and didn't want to buy another just to have matcha added. So, I took my favorite flavored matcha and added it to my genmaicha – it actually came out better!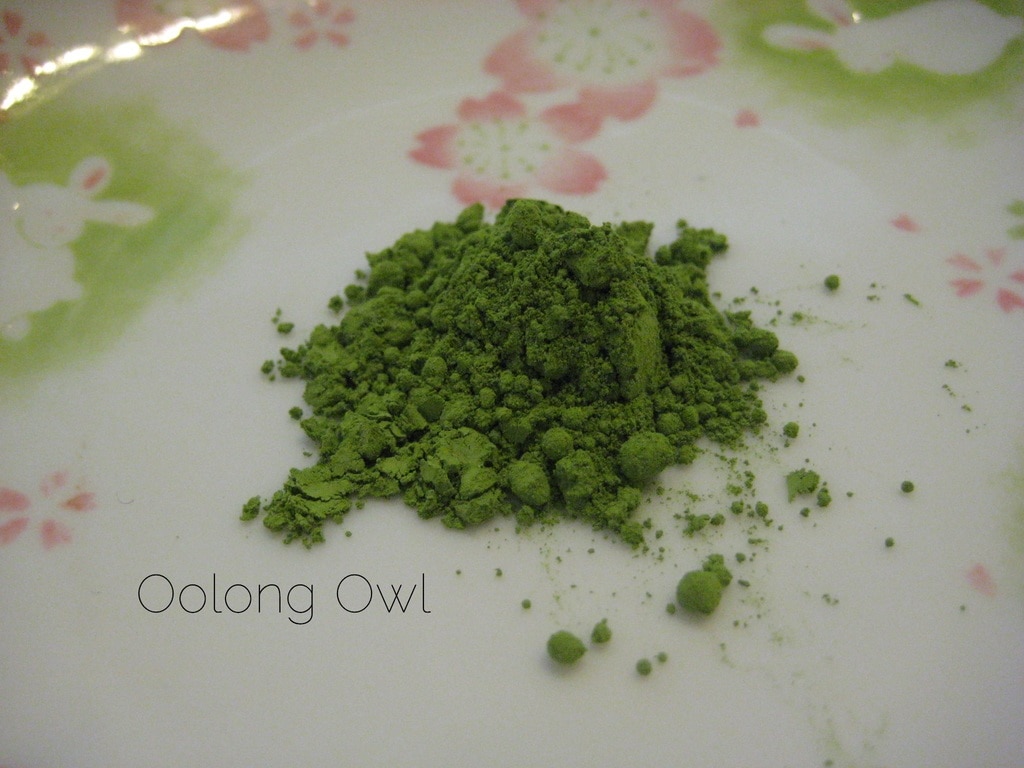 It does take a little trial and error to make sure you add the right amount of matcha – and also depends how strongly flavored your matcha is. For me, a 3 teaspoon small pot of tea, I only need 1/4 teaspoon of matcha.
Keep in mind that if you try adding matcha to your teas, it is for use for teas that need no more than 175F steeping temperature, unless you want a bitter tea.
6. Other teas
Perk up your tea with other teas in your stash!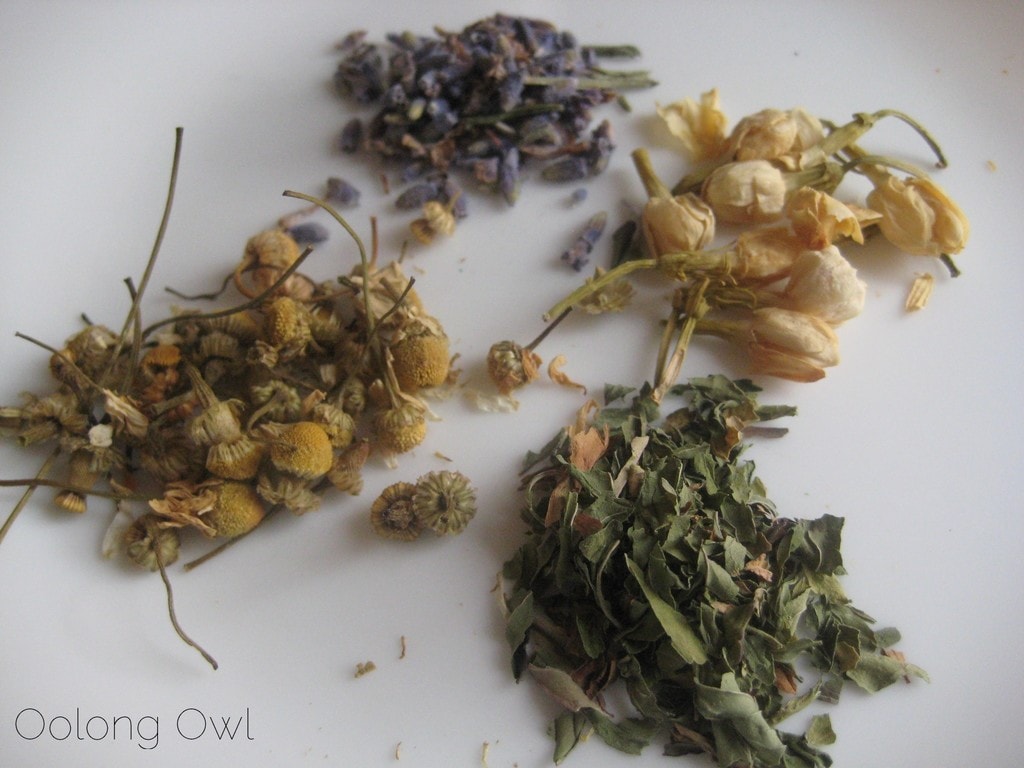 I'm no master tea blender, but I've been able to pull off new tastes with old teas by tossing in other teas. A recent favorite of mine was adding DavidsTea's Creme Brulee, chamomile and a little peppermint – the result is a custard/sugary tea with more mellowness and a hint of mint. Want to have a relaxing tea? How about use a mix of chamomile, chrystanthum and lavender? I found the chrystanthum offset the strong taste of the chamomile and lavender.
You can use this to tone down some of your stronger teas. Have a really strong floral blend? How about add a little of that to a plain oolong?
The final, EVIL trick I like to do is add plain mate to any tea to jack up the caffeine levels. Especially evil in herbal blends when you want the tea, but want caffeine too.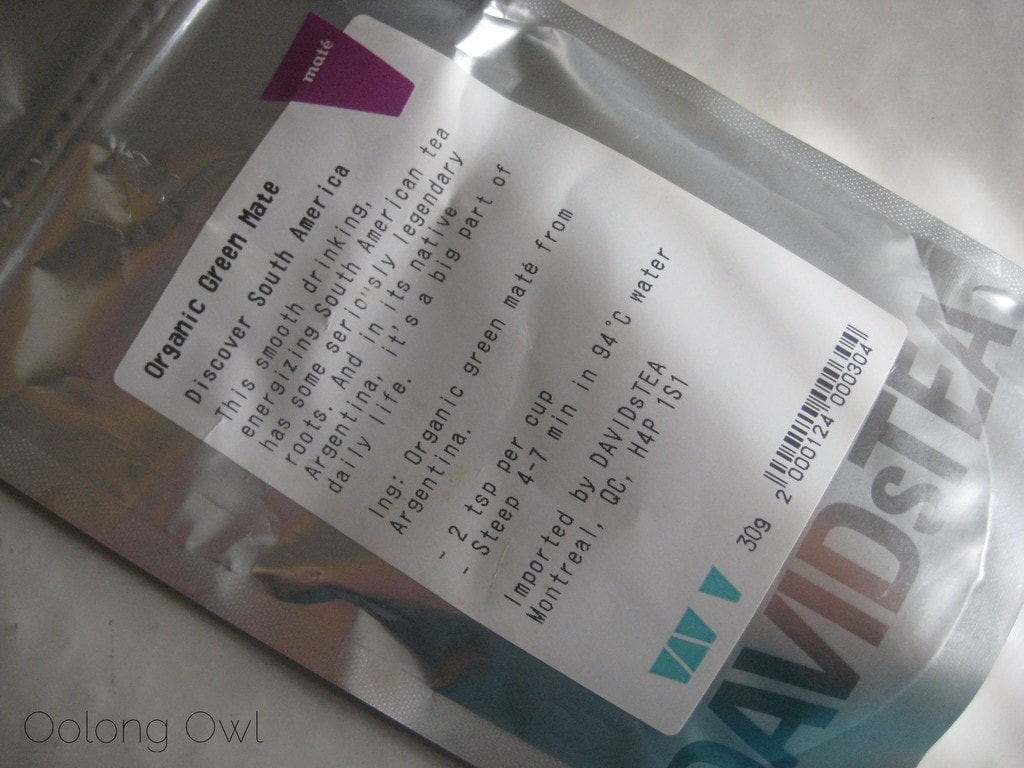 This method is easier to control with loose leaf tea as you have the option to add more or less of a flavor, like a touch of lavender.
7. Fresh Herbs 
Adding fresh herbs to tea is a simple way to spruce up your tea, especially good with cold steeped and iced teas!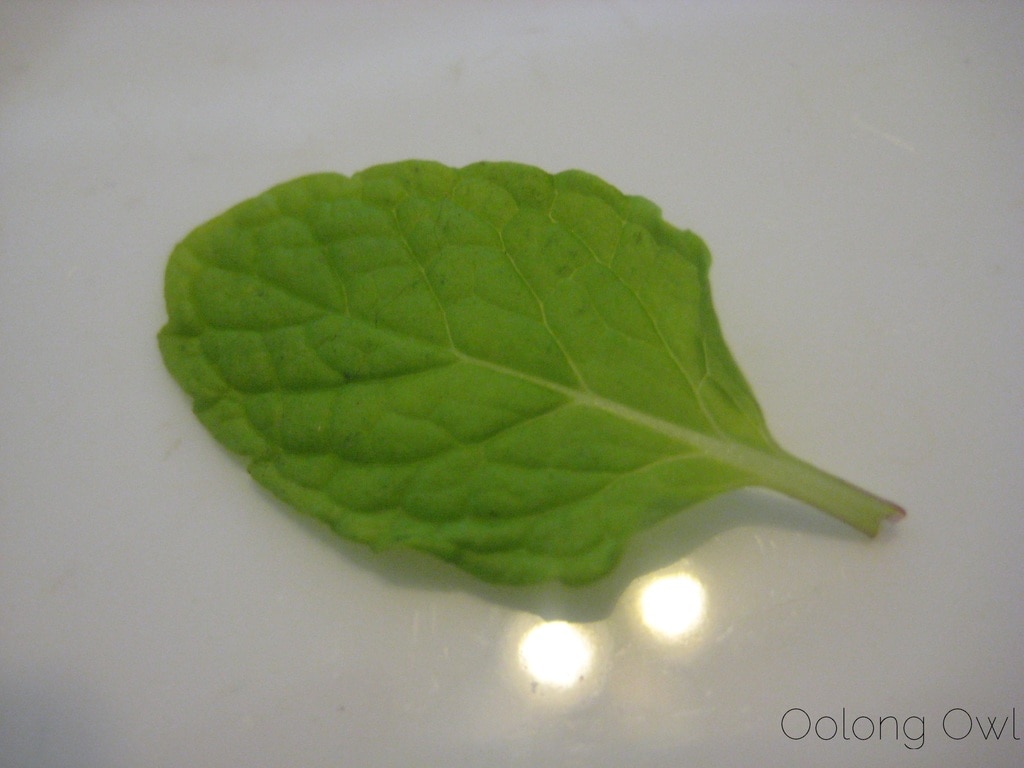 Adding mint is my favorite when I have extra mint on hand.
8. Nuts
Your nutty tea not nutty enough? Time to show that not-so-nutty tea who is more nuts!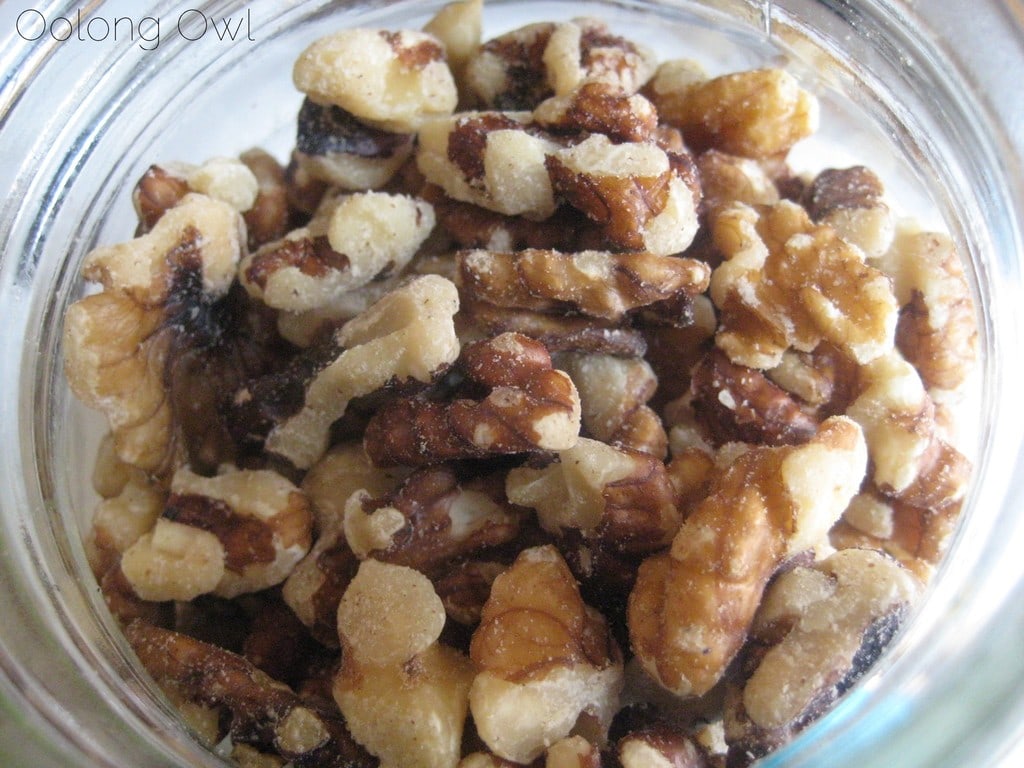 Smash up some walnuts, almonds or pecans in a small baggie and add to your tea while steeping.
For a more roasty taste, toast your nuts before hand by putting them in the oven at 350 until brown.
9. Ginger
I add fresh ginger often to my teas when I have a sore throat. Ginger packs a real punch!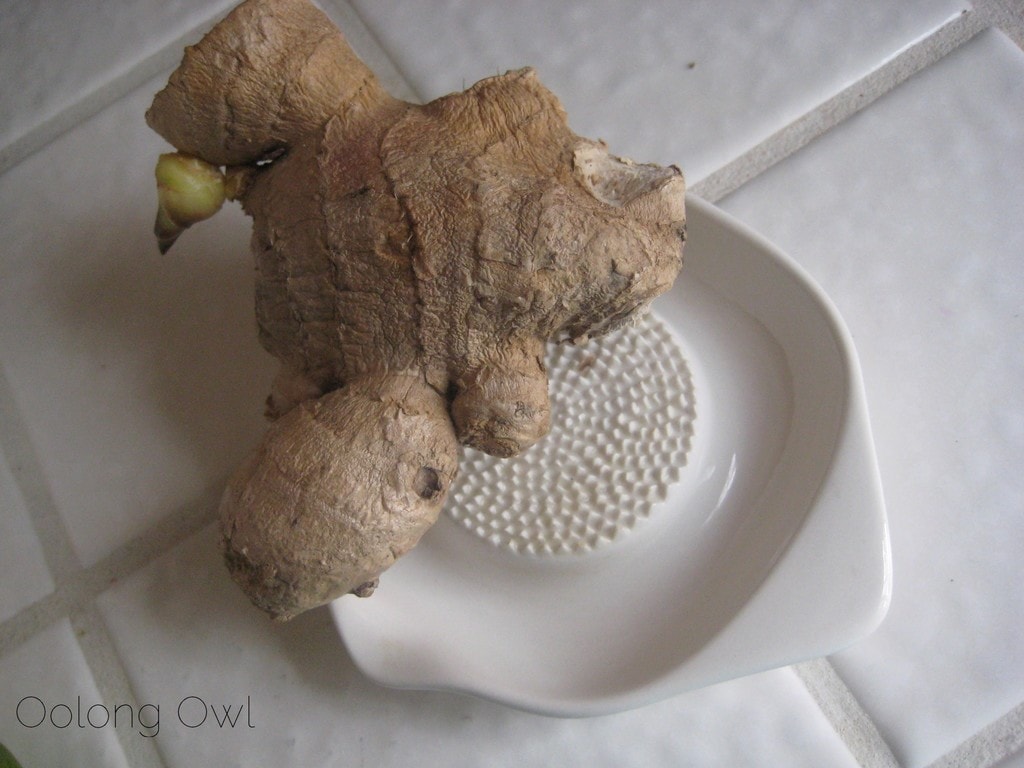 You can peel and slice it into your tea while steeping for a milder effect, or grate it and squeeze the juice right into your tea. For full power, grate it and throw ALL of the pulp and juice in! Ginger gives a nice kick!
~~~~~~~~~~~~~~~~~~~~~~~~~~~~~~~~~~~~~~~~~~~~~~~~~
The one I do the most is adding citrus, with adding vanilla beans the second most.
What do you tea peeps add to your tea? Any favorites? Leave a comment!
(amazon affiliate link)