I recall my Dad won Christmas a few years back as he gave me a couple adult colouring books. (BTW, the Canadian in me flinches spelling colour "color"). I coloured a few pages, but I always never have the time to put more work into it.
Colouring books always have a place in my heart, I recall going into metaphysical book stores as a teen to buy weird colouring books of plants, mandalas, and crystals as those were better than cheapo kids colouring books. When I worked as an A&D Counsellor, I always had a stack of colouring pages (from mandalas to ponies) with some crayons. I found people would easily mindlessly colour and get out of their head, leading to interesting conversations.
Enter the adult colouring book craze. You can find all sorts of colouring books. I went crazy one night and ordered a bunch of owl colouring books. At that time, there were no tea related colouring books, and it is certainly a missed opportunity as think of all the teapots, nature, and steam swirls to be coloured, all while drinking tea.
I finally got my claws on Tea Time is "Me" Time! by Stephen and Sarah G White. It took me some time to finish a page. Every extra snippet of time I had, I would make a cup of oolong, sit outside, and colour. I'm a bit of a perfectionist planner when it comes to colouring books, so choosing colours takes most of my time.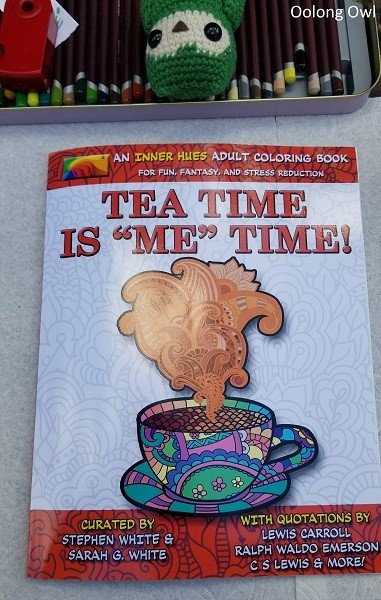 Tea Time is "Me" Time! is a fun tea lover colouring book. It is certainly more towards an English tea drinker, with many images with more of an afternoon tea vibe featuring sweets.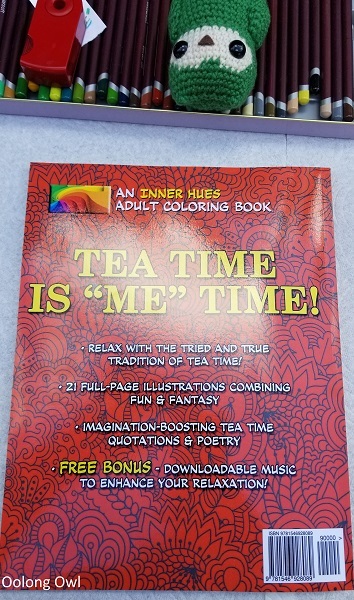 What I liked about this colouring book illustration wise, I liked the clean dark lines and balance of small detail and larger colouring spaces. None of the small detail was too small, so everything easily can be done with colouring pencil. There are some images with mandala-like patterns for types like me who can just zone out and colour interesting cycles of colour. On the opposite side of each colouring page is a tea-related quote. Some fun from Monty Python to classic like John Keats.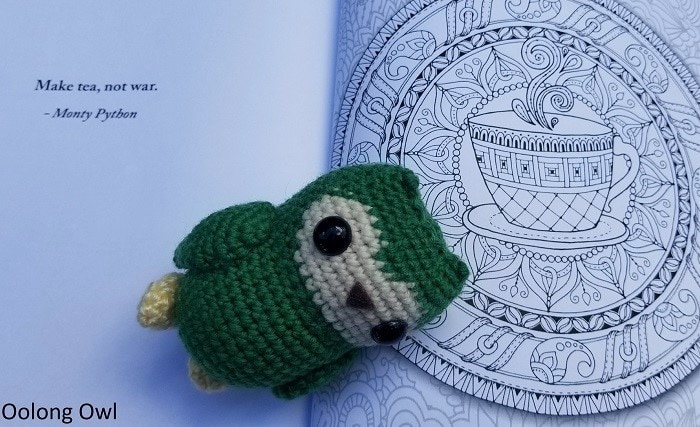 Construction wise, the quote pages is nice as you won't have images sandwiched together, and the next page is left blank for bleed through (for marker use) or if you want to remove it to display.
My only beef was hoping for more Chinese or Japanese style tea pages. I would be happy to colour a radioactive matcha green page or two. Here is my finished page: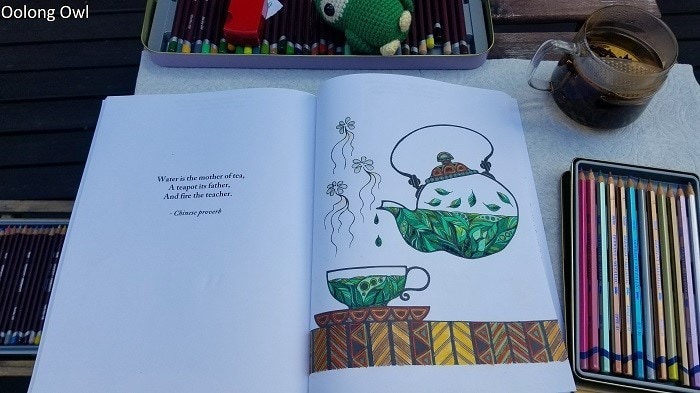 The same author also has an OWL COLOURING BOOK – The Magic of Owls! OMG.
I actually liked the Owl colouring book more – something about feathers make for some fun colouring, plus I liked all the owls. The owl book does have a few images with really tiny details that only a marker can get into.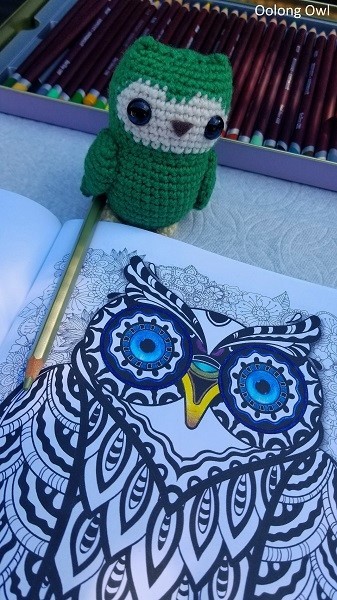 Just in case someone asks, I use the Derwent Coloursoft pencils. They have great colour pay off, but they are on the soft side – which is handy for blending, but likely you want an eraser/paper to ensure you don't smear any dust.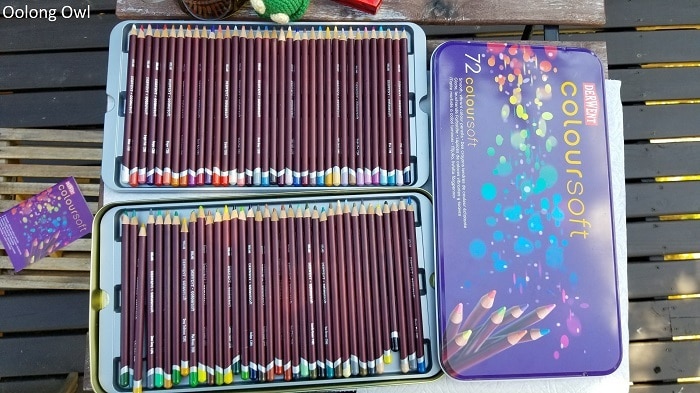 I also use the Derwent Metallic pencils, though they are inconsistent in their smoothness and colour payoff. However, I like how the metallic pencils look.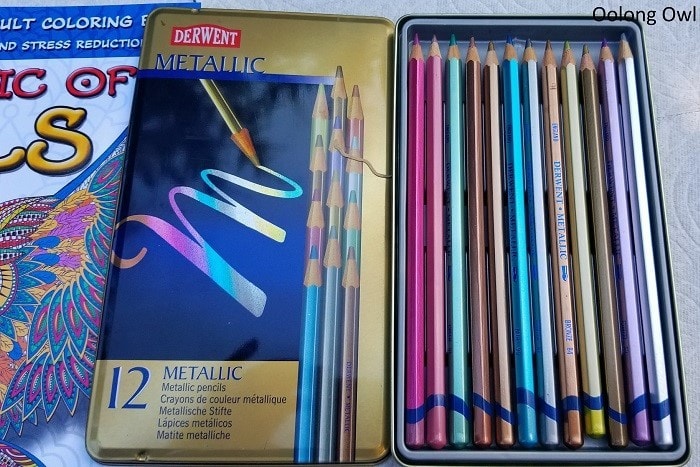 (books provided for review | Amazon affiliate links)