The travel tea tumbler geek Owl strikes again. Today I will be reviewing the Teabook Travel Tea Tumbler. I have used this tumbler regularly for a few months, so it has been tested thoroughly by picky owls. I bring my tea with me almost every time I go out, so my tumblers get quite a bit of use.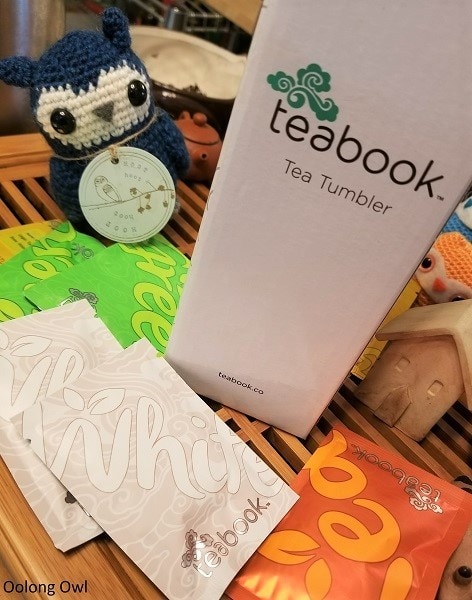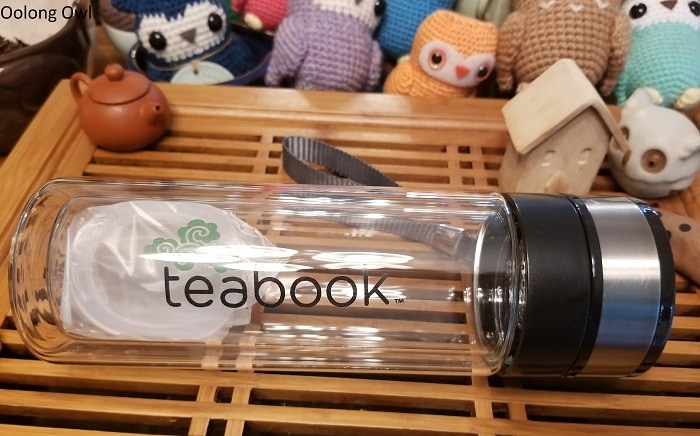 Teabook Travel Tea Tumbler Stats
9.5oz / 280ml volume.
Double walled glass body.
BPA-free plastic parts.
Stainless Steel Filter in the cap and is removable for cleaning.
Hand Strap
Extra washer included
Arrives packaged securely in bubble wrap and a box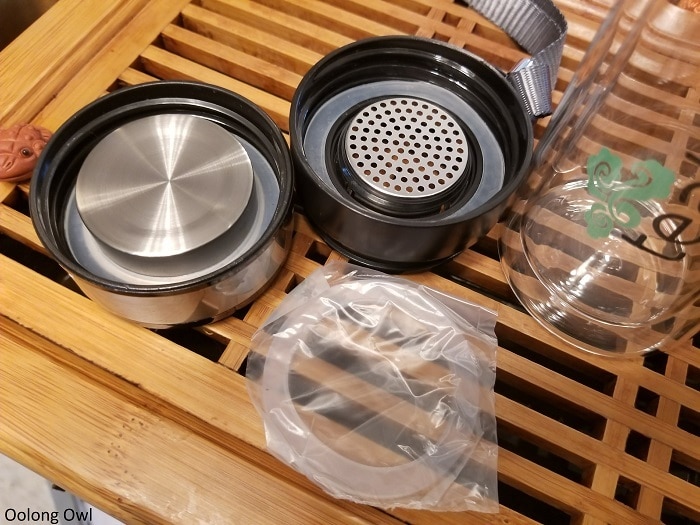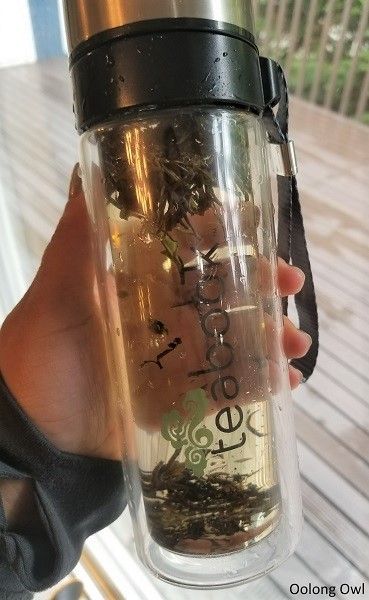 Teabook Travel Tea Tumbler Pros
Sturdy Fit and Feel – The feel of the tumbler is nice – it feels solid. The lid is firm and the metal accents keep it from an impact. I can't owl strength squeeze the lids like other plastic lid tumblers. The width of the tumbler is perfect, narrow enough to hold securely and feel comfortable to carry for awhile. This tumbler easily fits car cup holders.
Nice to drink from – The inner lip is nice and narrow, making it easy to drink from. As much as people hate plastic, the plastic lid doesn't burn your lips when you sip boiling tea. The threading on the cap doesn't bother my lips either.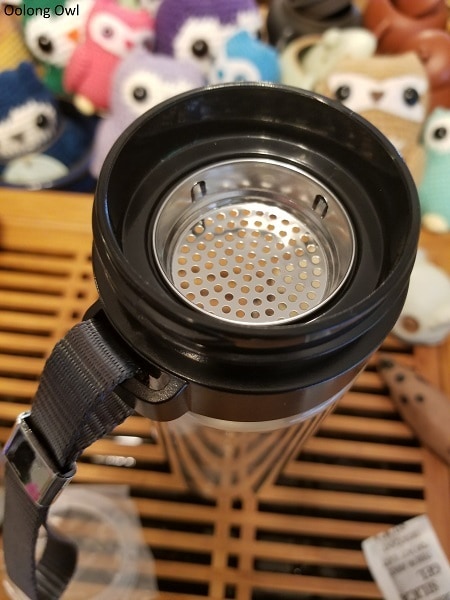 No Leaks – Despite my experience of similar double capped tumblers, surprisingly the Teabook Travel Tea Tumbler doesn't leak as long as both lids are on securely. The Teabook travel tea tumbler has been upside down in my purse many times have I have had zero leaks.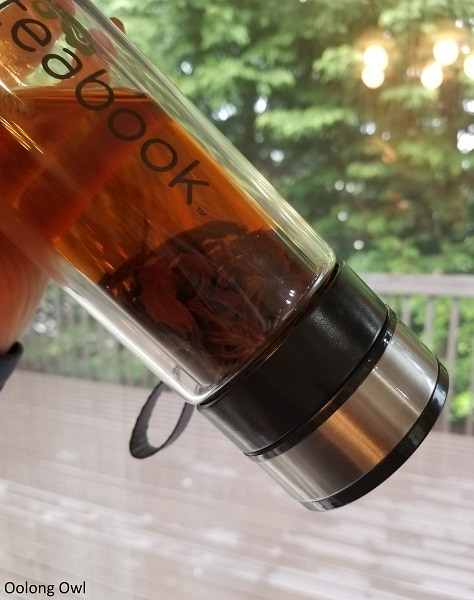 Teabook Travel Tea Tumbler Cons
You need to remove the filter cap before filling with water – Leave it to someone lazy like me to complain about this. You cannot add water with the filter on as it overflows instead of draining into the body of the tumbler. I have experience with these styles of infusers, but all my tricks cannot get around the problem of the filter slowing the water flow to a crawl. I tried using a narrow and high stream of water, tilting the tumbler, and pouring slowly with no luck. My guess is the filter is just too narrow.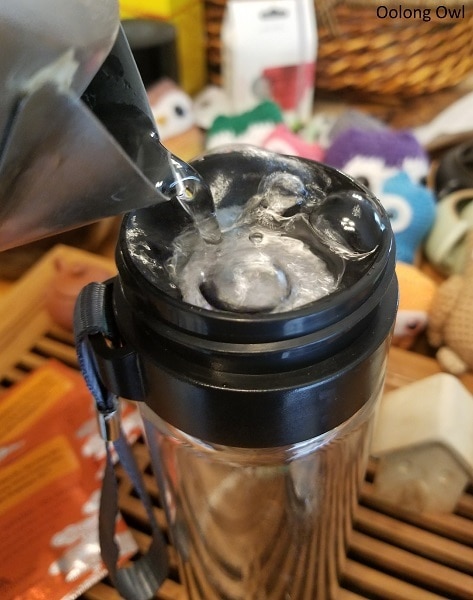 The only way to fill the tumbler is removing both lids.  This annoying feature might play into why this tumbler doesn't leak.
Ensure tightness of lower twist cap + hold lower cap while untwisting the top lid –  I had an incident and it is likely mostly my fault, with a slight part design fault of it having a single thread to close the lower filter cap. I was in the car holding the Teabook travel tea tumbler with my knees. I went to untwist the top lid one handed, which annoyingly is enough force to untwist both caps, which caused the tea to burn my feathers and give me a wet butt car ride. Take care with unscrewing the top by always using one hand to hold the bottom lid while you untwist the top.
Plastic scent – The plastic washers inside the lids have a strong chemical smell in the brand new bottle. Hand washing didn't help however I found just overpowering with tea did the job in two weeks. A run through the dishwasher might kill the scent too. I didn't notice any flavor effects as these washers don't directly sit in tea, but if you are greatly attuned to scent you will notice.
Other Considerations
Cannot Remove Leaf – Teabook Travel Tea Tumbler is a grandpa brewing style, leaving the leaf in. Your tea will over steep if you do not adjust or don't use "bomb proof" teas. If you hate over steeping, take awhile to drink tea, or drink sensitive teas, I would opt for a different tumbler that has a removable basket. You can also change how you brew by using a little less leaf or a touch cooler water to try and avoid bitterness. You can also use the tumbler as an impromptu tea pot and pour into a cup.
Filter Holes are a little big – The Teabook Travel Tea Tumbler steeps and filters tea so you don't eat a leaf on most loose leaf teas. However, the filter holes are a little big for herbals, CTC, and rooibos. I steeped some rooibos here and poured it into a pitcher, this is the result.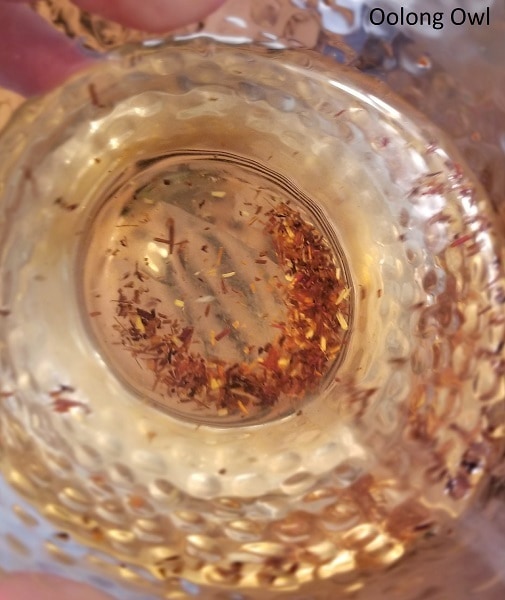 What you get in return is an easier to clean removable stainless steel filter instead of a janky metal mesh that will degrade, fall apart, and harder to clean. I think it is a good tradeoff, but this feature will depend on your personal tea drinking habits.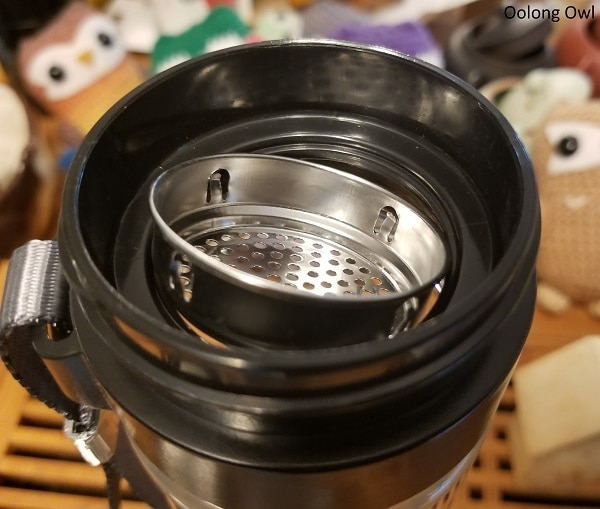 Hand Strap – I think the hand strap is handy, but if you want to remove it you'll have a big plastic wart sticking out the side. The strap is non-adjustable (as far as I can tell) made with that slippery woven nylon material that will fray and fuzz with time.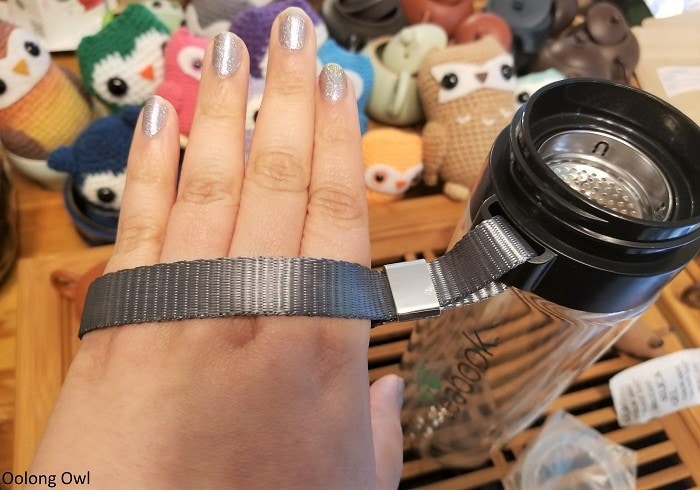 I like the hand strap myself, it gives extra security plus fits small owls.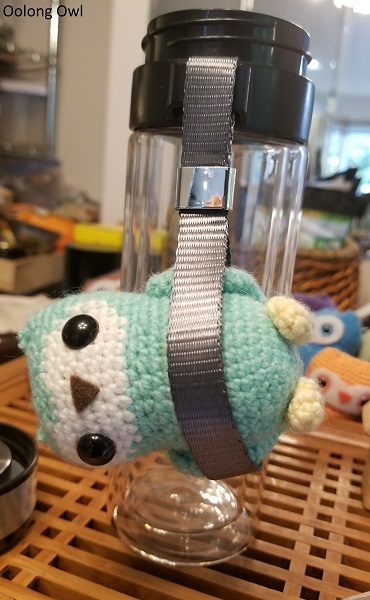 Glass – I am a broken record with glass tumblers. Glass will not keep your tea hot for more than an hour or two. They cannot take a drop or big bumps as double wall glass is very fragile. Despite the Teabook Travel Tea Tumbler feeling very sturdy, I know at least 4 people who have broken or cracked theirs. If you want a tea tumbler that will stay hot for long and will survive a fall, get stainless steel.
Plastic – To cover the anti-plastic readers – assuming the tumbler does not invert, the tea is not steeping in plastic. Drinking and flipping will have contact with the BPA-free plastic. Another consideration is over time plastic fittings will start to stink and leach smells and tastes into your tea, especially if you are not vigilant in thorough cleaning. Some of us tea types are in the habit of just rinsing (maybe), but get into a routine of cleaning it with unscented soap and washing under the washers often to extend the life. Besides breakage, most tea tumblers retire because of stinky lids that weren't cleaned regularly.
Comments
Teabook Travel Tea Tumbler is an excellent and sturdy double walled tea brewer that preforms well. I love that it does not leak, and the issues it has are minor and can be worked around. The only deal breaker I can see is the filter holes are a little big for those who drink rooibos, but the trade off is better quality metal. If you love double wall glass tumblers and drink grandpa style, the Teabook Travel Tea Tumbler is the best one out there right now.
The Teabook Travel Tea Tumbler is regularly priced at $24.99 USD, which is fair for the quality you get. I've checked Teabook's site and heard on social media a few times seeing the tumbler on sale to $12.99, which is an awesome price.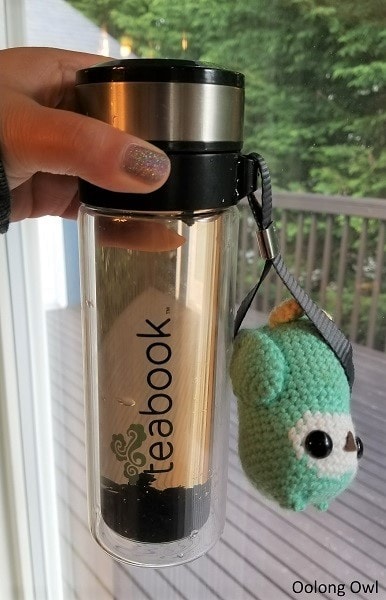 Teabook also does a monthly tea subscription, loose leaf teas, and puer. Stay tuned for more reviews!
(teaware provided for review | affiliate links)