I have a bad sweet tooth. As much as I drink all this oolong and puer, I still like having tea that tastes like sweets in hope that saves me from eating a slice of cake. Maybe. Tisano sent me a bunch of their Chocolate Tea to try and their product sounded very interesting. Tisano Chocolate tea is 100% pure organic cacao shell with no flavorings – that said, a caffeine free tisane.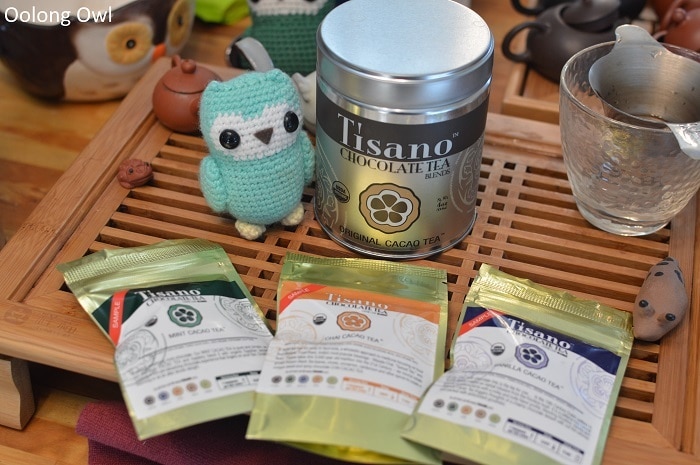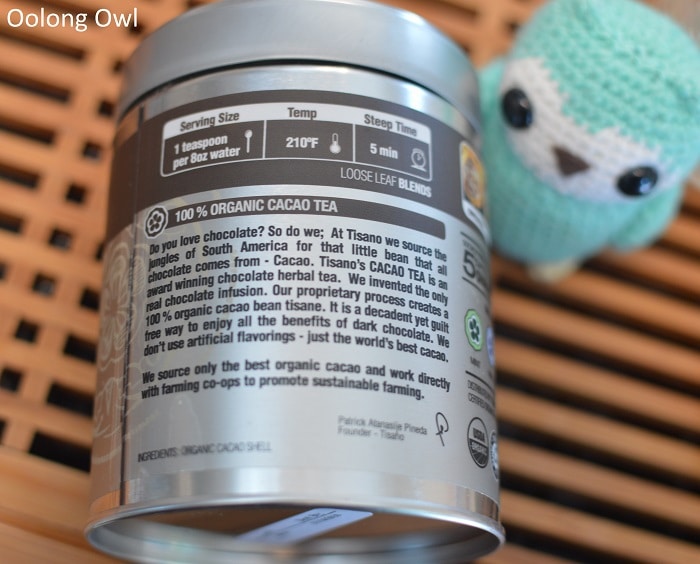 Dry Bits
I was expected a handful of cacao nibs, but instead I got these thin curls of bean. These are technically cacao shells made by some special process. The scent is strong dark chocolate. The first thing I did was eat some – they are crunchy, but taste dry and strong dark chocolate.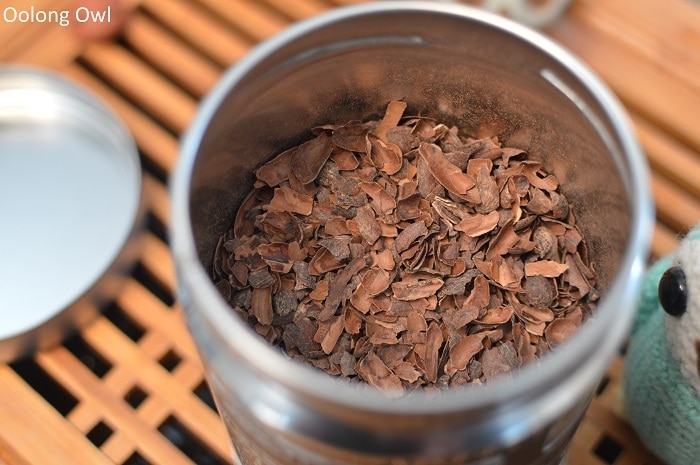 Steeping Methods
I have been playing with Tisano Chocolate Tea a lot before this review. I could not help it, the chocolate scent made me steep it up right away and figure this out this tisane. The tin says 1 teaspoon (clocked in about 3-4 grams), boiling water, 5 minutes – which works. What they don't tell you is this stuff is indestructible and will not oversteep. I steeped it overnight on the counter and it was still good. I steeped it for 3 minutes in 175F with some green tea and it was also tasty.
That said, just put Tisano Chocolate Tea in hot water for whatever length of time you feel like, find a way to strain it so you aren't chewing it, and you are set. Heck, don't even strain it – the bits taste like crunchy chocolate. This tea is so bombproof!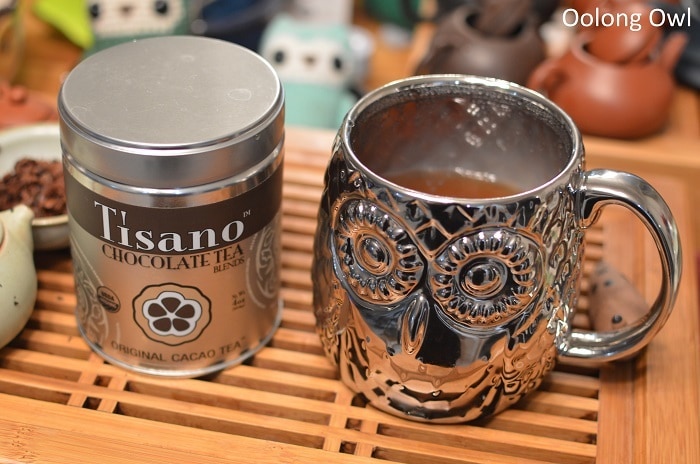 Tasting of Tisano Chocolate Tea
Following the instructions on the can, Tisano steeps up a murky brown. The flavor is a sharp and strong super dark chocolate with bitterness. It is like nibbling on that 70%+ chocolate bar, devoid of sweetness. Just straight up bittersweet chocolate. The finish is a bit watery, leaving no aftertaste on the tongue, but the strong chocolate scent in the mouth.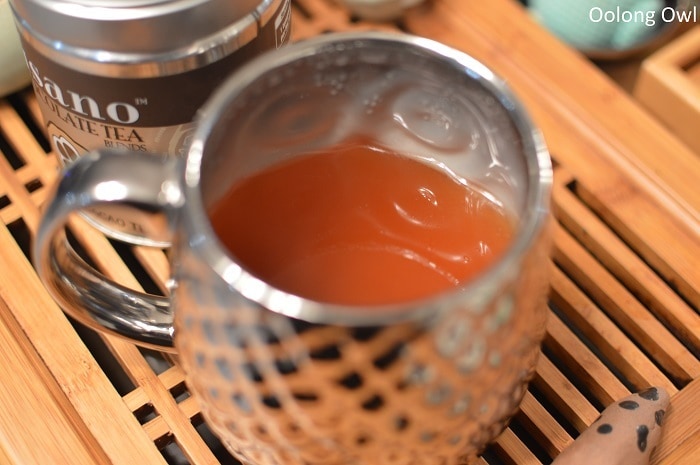 This tisane is great if you love dark chocolate. Tisano makes for a pretty good dessert tea, as a whole lotta chocolate flavor without calories. Feel free to steep it in milk or add sugar.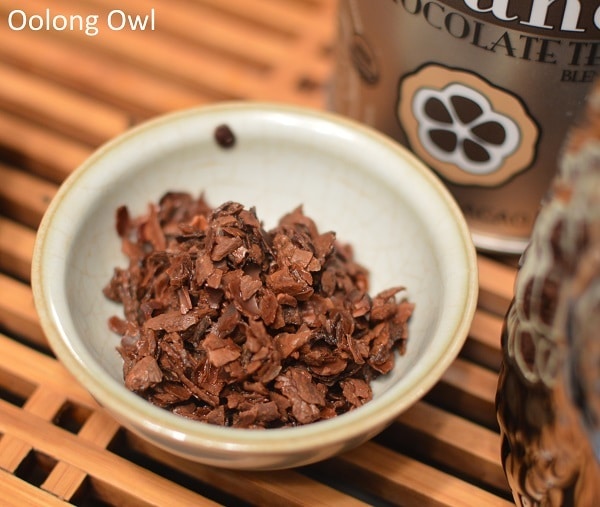 Blending with Tisano Chocolate Tea
What I found made Tisano shine was mixing it with my other teas. Tisano's chocolate shells adds chocolate flavor better than my screwing around with chocolate nibs I got from the local Whole Paycheck, and wayyyy better than the greasy float mess of me adding chocolate chips.
Western Style = 1 gram of Tisano + -1gram of usual serving of blended tea of any type. Steep as directed on blended tea's package or to taste.
All of a sudden, I had rich Earl Grey Chocolate, Chocolate Chai, Chocolate Pistachio Green, and Chocolate Maple Rooibos. All my old tea blends became chocolate and delicious. All my actual chocolate flavored teas paled in comparison. Sorry tea blenders, I made your tea better. By the way, 1 gram of Tisano Chocolate tea is just under a level teaspoon.
Gongfu or Grandpa Style OMG Owl why? = 0.5 to 1 gram of Tisano + -1 gram of usual ratio of unflavored tea. Follow the tea base's best water temperature.
I found Tisano with Milk Oolong, Chinese black teas, Roasted Oolong, Shou Puer, and Hojicha were amazing! The Tisano Chocolate will not oversteep and it actually resteeps fairly well, giving you a payoff of continuous chocolate flavor. Yeah yeah, this is complete shenanigans to do this to gongfu but it does some amazing things to tea.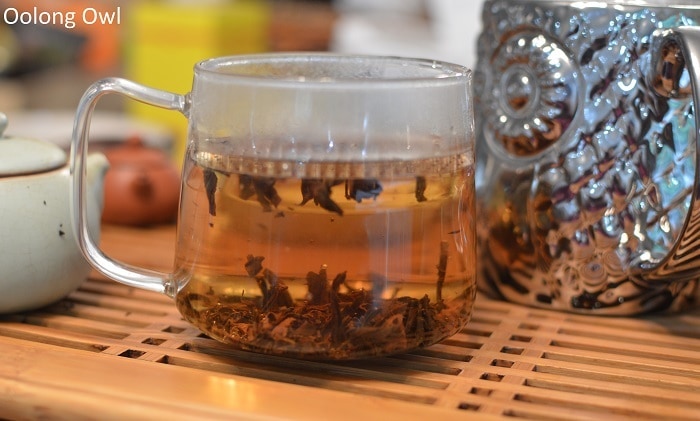 Tisano Chocolate Tea Loose Leaf Blends
Tisano also sells their own blends. I found with all three blends that the Tisano chocolate shell likes to sit on the top. That said, it is best to give this tea a good mix before taking out a serving. All these teas are 100% organic. I have Mint Cacao Tea, Vanilla Cacao Tea, and Chai Cacao Tea. Looking around on Amazon, they also have a Rose Cacao tea.
Mint Cacao Tea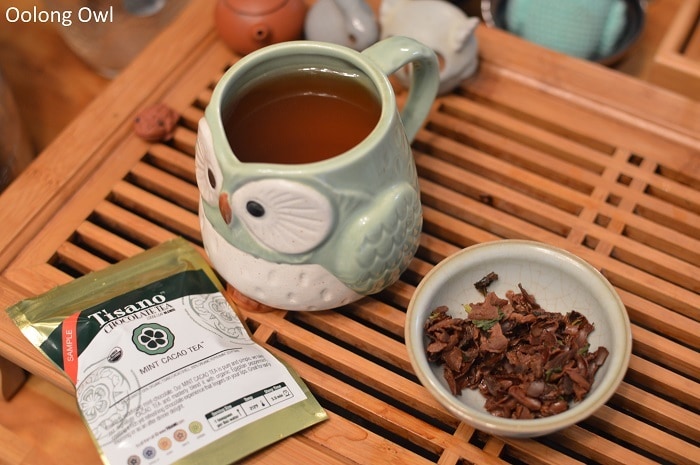 Mint Cacao Tea is Organic Tisano Chocolate tea blended with organic peppermint. This one is a pretty refreshing mint chocolate. The mint cuts through the bittersweet a bit, giving a nice minty flavor with dark chocolate. If you love mint chocolate, this'll be a favorite! I can see this being great as a latte. Out of the three blends, I like this one the best.
Vanilla Cacao Tea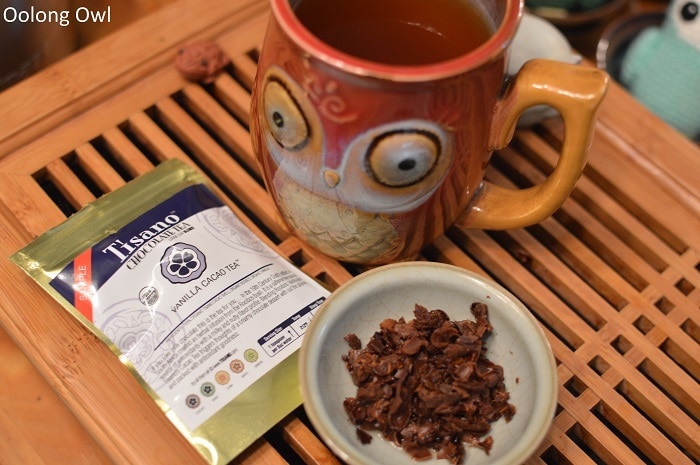 Vanilla Cacao Tea is a vanilla chocolate rooibos, another caffeine free tea. The flavor upfront is the dark chocolate, with that woody nutty red rooibos flavor. There is a smooth milky flavor at the end, smoothing the dark chocolate. The vanilla in this is great, though I am personally not a rooibos fan.
Chai Cacao Tea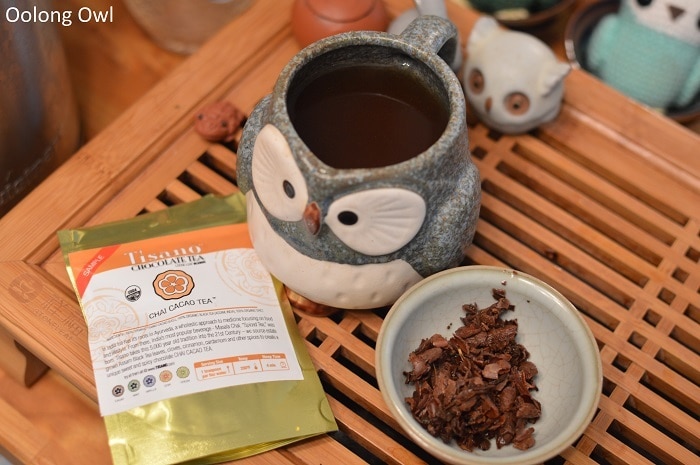 Chai Cacao Tea blend is with Tisano Chocolate, black tea, and chai spices. I found whole cardamon in this! The flavor is pretty robust and deep, with strong dark chocolate, and a bite of cinnamon, clove, and cardamon. The spice level is low-moderate. This is another tea that would be good as a latte.
Comments
I love this Tisano Chocolate Tea! This stuff will be permanently in my tea stash as it fulfills my lust for chocolate and its versatility. The flavor is delicious, it is flexible to steep, and I can blend it with my other teas. I can see this product being of interest to tea blenders as it beats any other chocolate products like nibs and chips. If you love dark chocolate, Tisano Chocolate Tea will be much loved to have in your tea collection. Tisano teas are all organic, so perfect if you want only organics.
I personally prefer the Original Tisano Chocolate Tea. The blends aren't bad, especially the Mint Cacao Tea, but since I have a big tea stash I can simply mix it with my own tea.
(tea provided for review/ Amazon Affiliate links. I need the teabucks to buy more hahahaha!)