I hopped on the silicone bandwagon years ago and love those silicone spatulas and muffin "tins". I remember even special ordering a silicone Silpat before they were sold in stores. I have a couple collapsible colander and mixing bowls made of silicone, which I find very storage convenient. I saw The Tea Spot's Tuffy Steeper early in my tea drinker days and thought it was really cool. I finally got one a couple months ago, and have been playing with it. I take it with me every time I travelled to where I know I have access to a mug and for when I am tired of using a travel tumbler.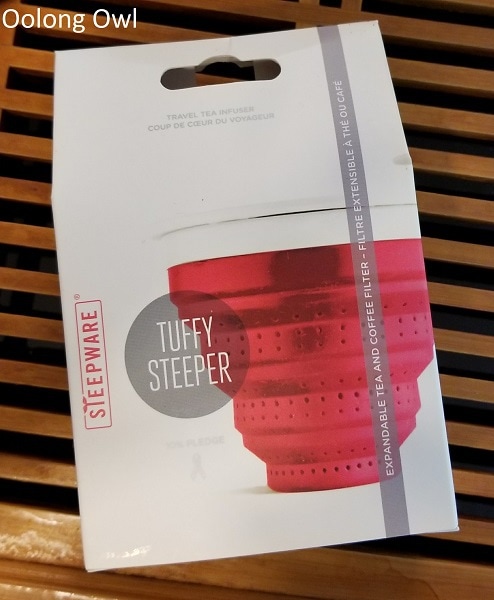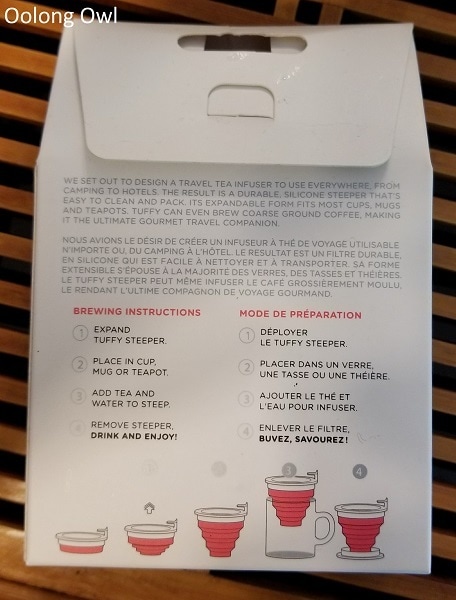 Tuffy Steeper Specs
2 piece – infuser and lid/saucer.
Many colours to choose from.
Food grade silicone and BPA free.
3.5″ wide, 3.3″ tall full sized. 1″ folded. 3″ diameter at internal widest point.
Big basket design for best tasting leaf expansion.
Lightweight, heat & stain resistant.
Dishwasher safe.
The Tuffy Steeper is an ample sized collapsible tea infuser with a lid/saucer.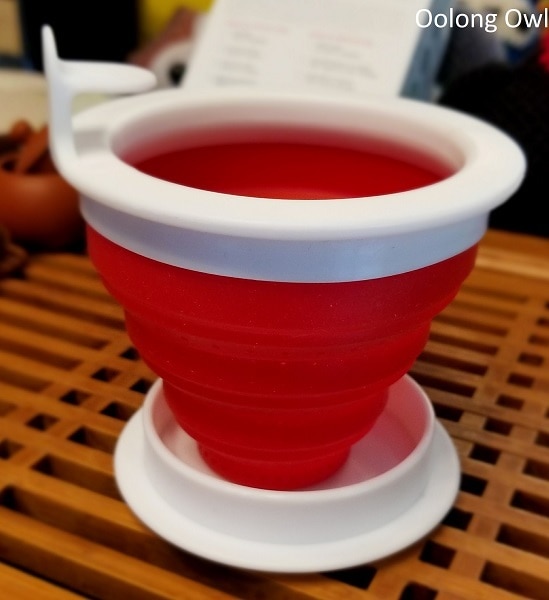 From full size….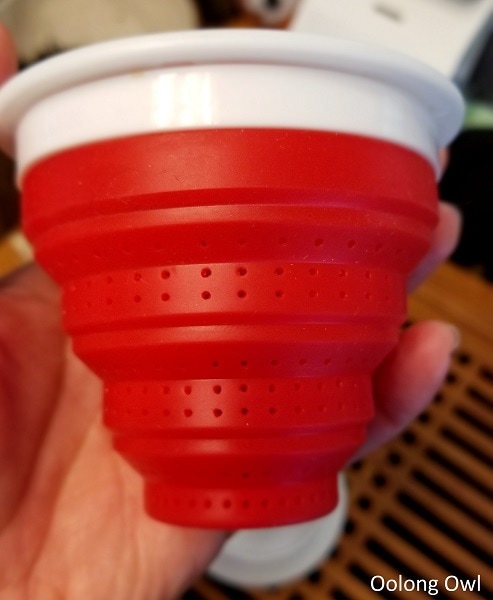 To folded! There is even space to tuck in the lid/saucer.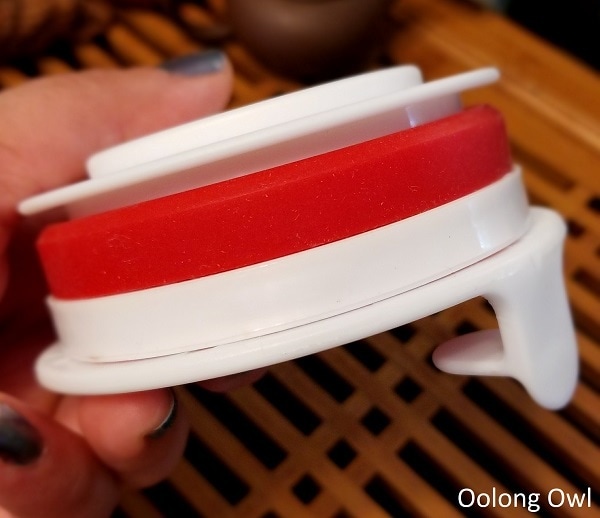 It is generously punched with filter holes throughout the body and bottom.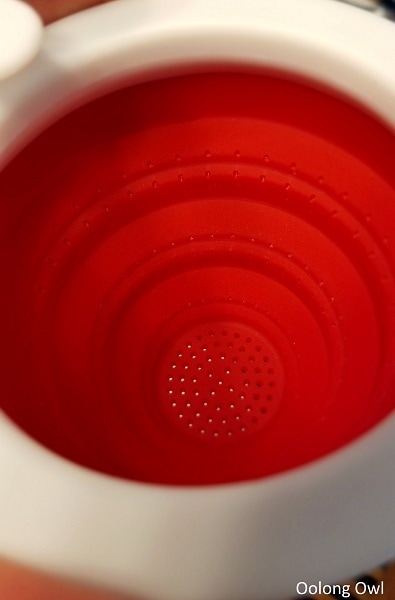 I find the little tab on the top weird, but it actually comes in handy. So I am crazy and I tried the Tuffy Steeper in my widest mug and my thinnest mug, both uncommon sizes. My wide mug is 4″ in diameter. The wide mug was too big for the Tuffy Steeper, but it worked without issues. The tab functioned as a place to grab the infuser from. I did not experience any floating or tipping.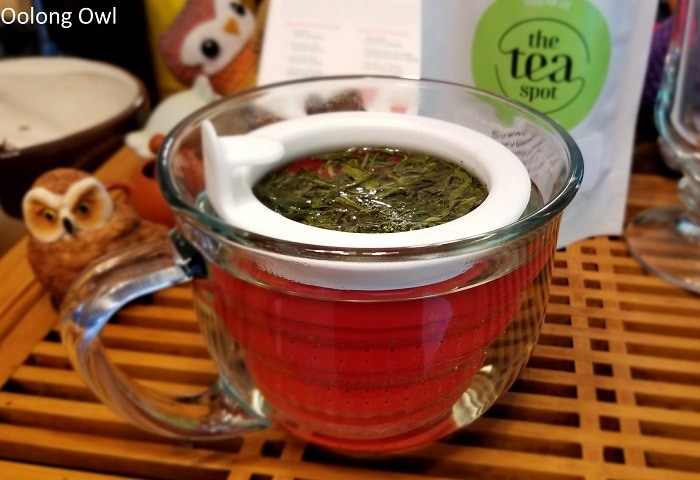 My thin mug, which is 2.5″ in diameter, also fits the Tuffy Steeper, though I didn't get it in all the way. I still made it work and steeped rooibos in it. I wouldn't do oolong in this setup as that is not enough room. To be fair, none of my stainless steel basket filters fit in this mug.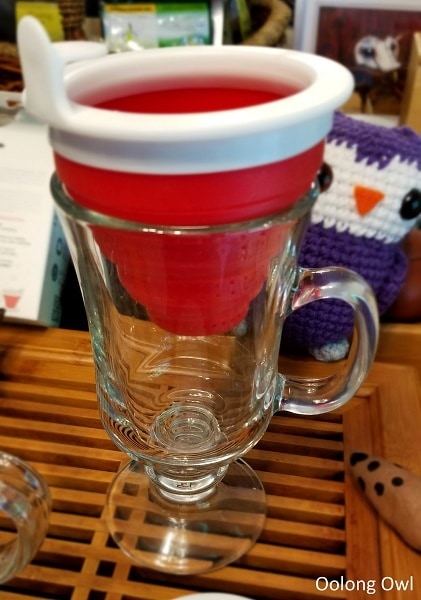 The most optimal cup size is 3″ in diameter, which is how wide the Tuffy Steeper below the rim. 3 to 4″ is the common diameter for a generic 10-12oz mug. I sadly can't find any generic sized mugs in my collection as I am a crazy person who buys owl cups or weird sized glass mugs.
I found it best to use the lid while steeping. For one, you should use a lid as you keep up the heat retention. The second is it keep the tab cooler and you don't noob it up like I did the first time as I reached inside the infuser that was filled to the brim.
Tuffy Steeper Pros
Awesome for Travelling! As much as I love stainless steel basket infusers, they take room while traveling. I have also dented mine in the suitcase. This Tuffy Steeper is a great solution for needing a tea infuser that does not take much room, plus you get a lid to cover or hold the wet steeper. It is also quite light, so the Tuffy Steeper has been great for hauling in my purse.
Good Leaf Expansion – The big, expandable design gives your tea leaves plenty of room to let out all the flavor. For travel, this size is more optimal than resorting to empty tea bags, plus no waste.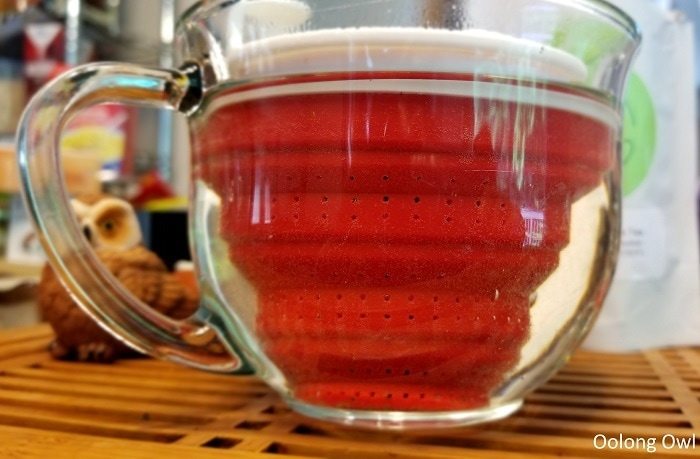 Easy Cleaning, especially on the go – To remove the leaf, simply invert the silicone, then give it a rinse or wipe. It is also dishwasher safe if you need deeper cleaning. I had no issues taking the Tuffy Steeper to go as long as I had a place to dump leaves.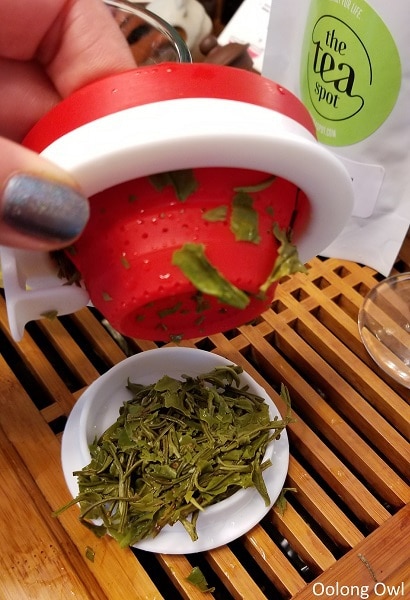 Tuffy Steeper Cons
Lifespan – In my experience, silicone kitchen things don't last forever. Figure in around 5-10 years the Tuffy Steeper will need to be replaced. I find silicone bowls get sticky, split at the seams, or the plastic stains/stinks over time. Likely the Tuffy Steeper will last longer than those, as it is really only getting exposed to boiling water temperatures for short amount of time. I figure the first thing to go will be the plastic smelling or breaking off the handle tab. A stainless steel tea filter would last for life, provided you didn't crush it somehow.
Scent Retention – This is also an issue that will come up over time. Silicone and plastic will suck up smells over time, so you need to stay on top of cleaning. Thankfully the Tuffy Steeper is dishwasher safe if you want to give it a thorough washing.
Other Considerations
Filter performance – I give Tuffy Steeper an 8/10 in filter blocking.
If used with unflavored camellia sinenses teas you will have no issues with the Tuffy Steeper. I found a little bit of debris in the bottom of the cup, but it wasn't detectable while drinking – 9.5/10!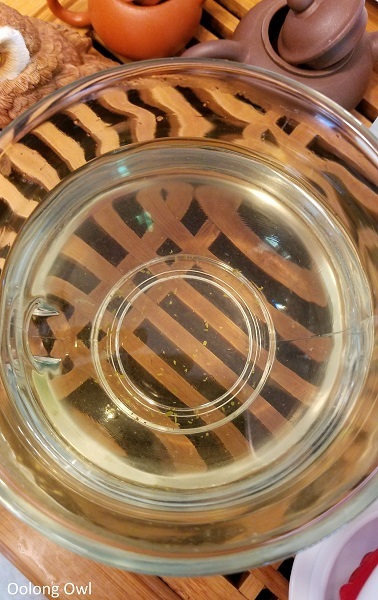 Tested with rooibos (pretty bad rooibos at that), I had some chewy floaters and debris on the bottom. The Tuffy Steeper did catch the majority of the rooibos bits, but having floaters that you can feel is enough to knock a few points off.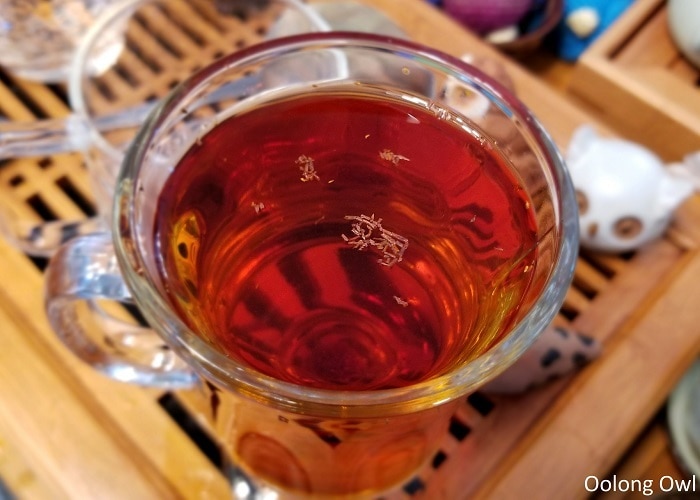 Dust Magnet – Little bits like to get stuck to silicone. Sitting on my counter, but especially in my purse, I got some fur, lint, and dust stuck to the Tuffy Steeper. It is optimal to keep the infuser folded up while not in use, and maybe give it a rinse if you haven't used it in a while. For travel, keep it some sort of small bag, whether it be plastic or cloth.
Plastic – Yes anti-plastic people, there is BPA plastic in this tea device. The silicone is food grade and safe. You can likely rig it for the plastic to never touch the hot water.
Comments
The Tuffy Steeper is a great travel tea infuser. Mine gets quite a bit of use on the go, and I am overall happy for what I use it for since I drink big loose leaf teas. Even not in use, the Tuffy Steeper takes little room and is also light weight. The Tuffy Steeper is best used with a mug that is at least 3″ in diameter.
The Tea Spot's The Tuffy Steeper is priced at $8.95 (at this time). For everyday tea drinking or small leafed rooibos or herbals, you'll likely be better off purchasing a basket stainless steel tea infuser for better longevity, filterings, and more tea expansion real estate.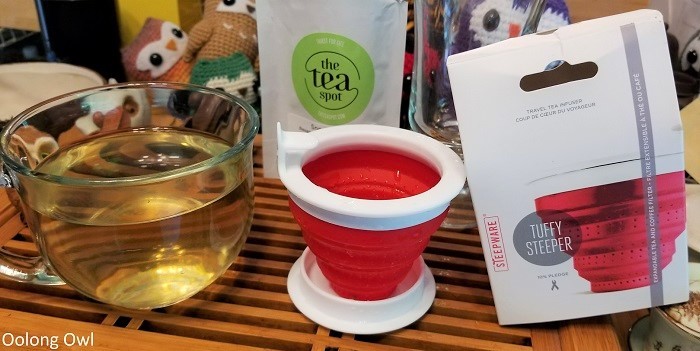 (Product provided for review | Affiliate links)