Vintage Black is a black tea blend of Nilgiri and Yunnan golden buds. This tea is from The Persimmon Tree, online tea seller based in Southern California.
More black teas! The Persimmon Tree certainly has quite a nice line of black teas that a tea lover should find something they love! Todays tea is a blend of different black teas, Nilgiri and Yunnan golden buds. I personally love yunnan gold tipped teas for their yummy creamy tea notes.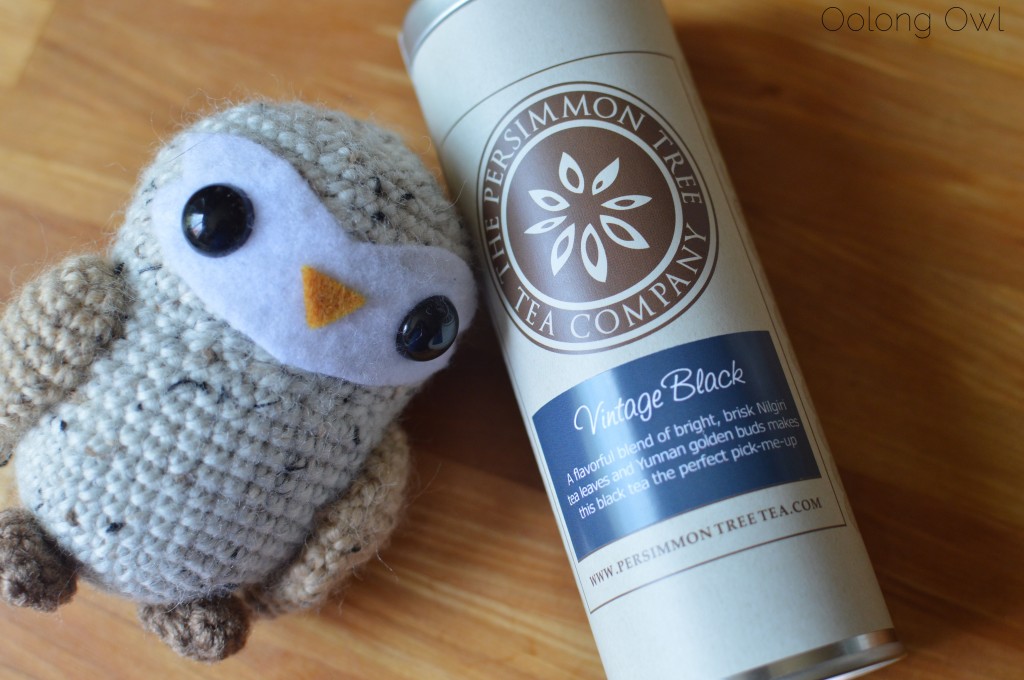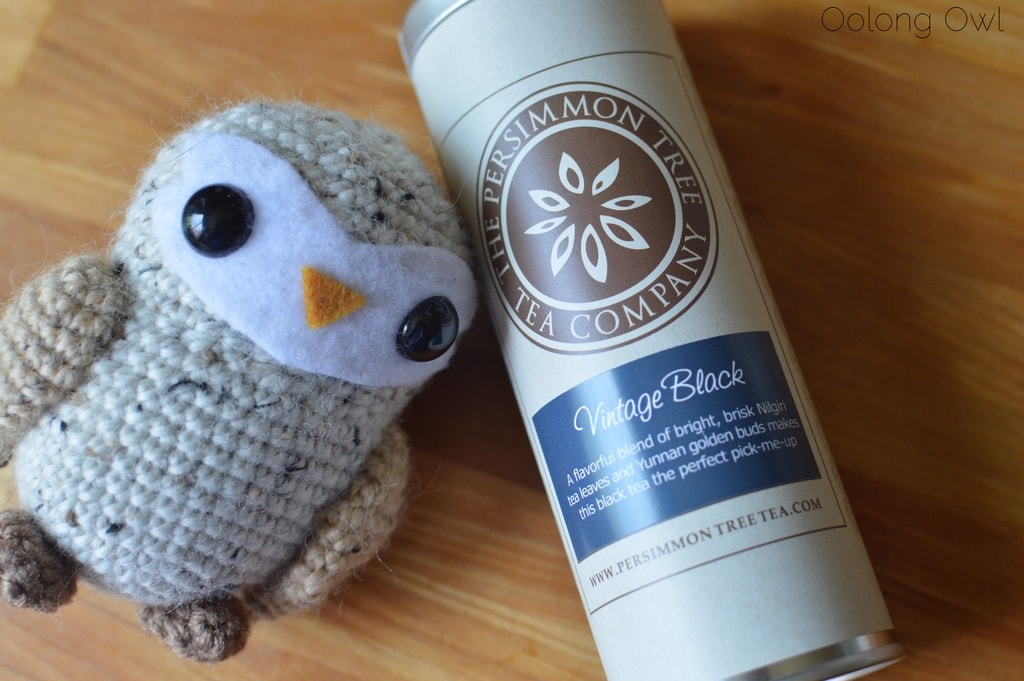 Dry Leaf
Vintage Black has a fragrant dry leaf that smells like raisins and earth. The appearance, hard to see in my photo, is a mix of black twists of tea with the odd gold tip, and some CTC black tea chunks.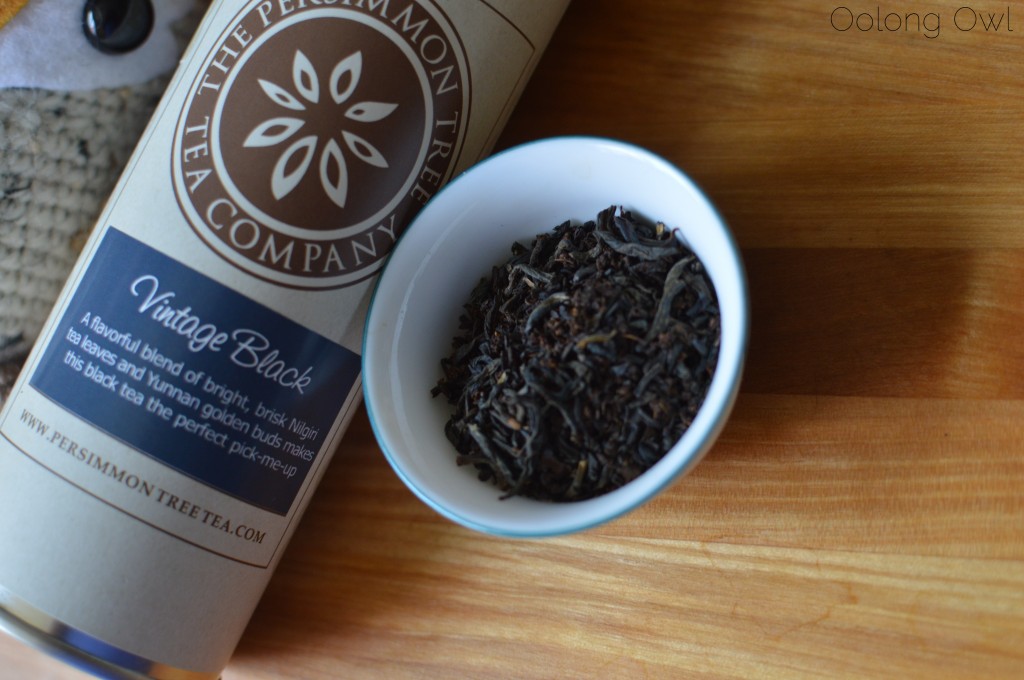 Steeping Instructions
The steeping instructions for Vintage Black is 195F for 3 to 5 minutes. I did a 200f water temperature (due to variable kettle restrictions) and a 3 minute steep.
After the steep, I had a classic reddish brown coloured cup of tea with a brisk scent to it.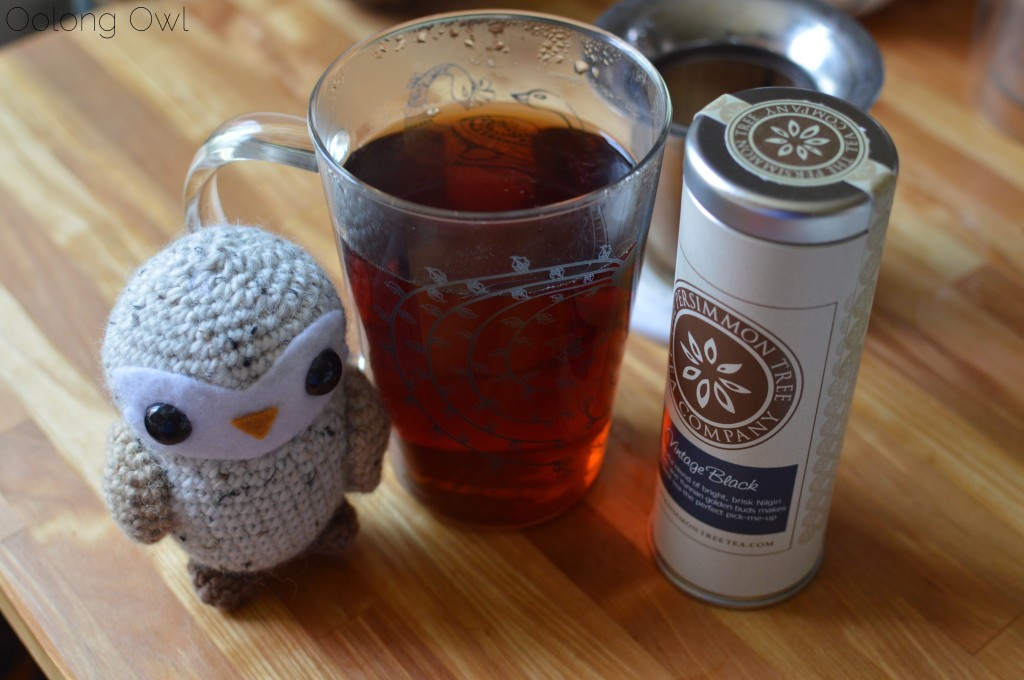 Tasting of The Persimmon Tree's Vintage Black
Vintage Black sips in with a crisp and bright malty flavor that is nice and rich. Mid sip the yunnan golden bud's fluffy creamy texture comes out, adding silkyness over the bright flavor. End of sip, especially with a cooler cup of tea, there are gentle raisin notes and a medium briskness, that lingers for a few moments after each sip. What is impressive with this black tea blend is how well balanced the brisk Nilgiri and smooth yunnan golden buds are. No bitterness in Vintage Black, but with a slight dryness, 1/10 on the Astringe-o-meter, from the briskness.
Comments
The Persimmon Tree's Vintage Black is that perfect black tea to slowly sip and enjoy, maybe reminiscing of the good old days while watching the sunrise. Also, Vintage Black would be an excellent black tea for a morning pick-me-up, coffee alternative, or afternoon tea time. Overall, a very solid straight black tea blend for the black tea lover! Even for myself, not a huge black tea drinker, I quite enjoyed Vintage Black and will be having this tea with my pancake breakfast Sundays.

(tea provided for review)