Adagio Teas is a vendor I ordered from waaaaaay back in the day in the beginnings of the full on tea addiction. I see on my account my first order was October 9, 2009! I ordered 10 samples worth $31, all blends with exception of a White Tea sampler. My last order from Adagio was in 2010. To me, Adagio's audience is more new-to-tea people and user crafted custom fandom blends (Overwatch teas anyone?). Since I quest for more weird teas, oolongs and pu'er, Adagio isn't a tea shop I check out much. I've tried 4 of Adagio's pu'er (3 blends) via swaps and sourced tea boxes, and they were gritty fishy shous that are not for me.
Adagio approached me to do some reviews, so this was me revisiting their site, 6 years later, knowing what I like, experienced, critical, and much more crazy. They have a Master's collection of expensive teas – sadly the pu'er in this collection was out of stock at the time. I found a few interesting teas and what I was the most excited for was finding what I am reviewing today – White Pearls! White Pearls is a hand rolled white peony/bai mu dan. As you can see, I already got into the bag.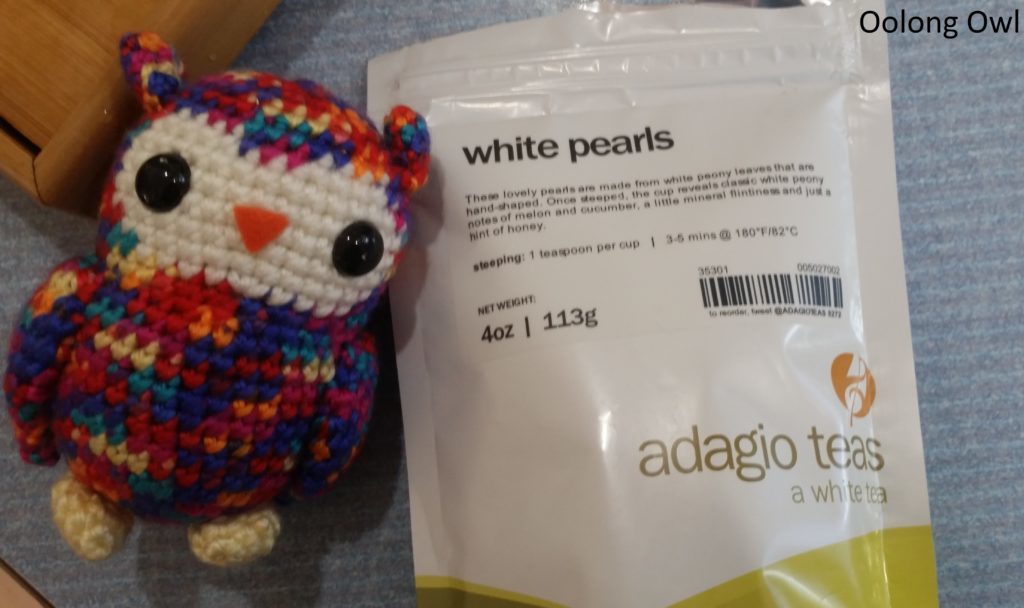 I did not expect this white tea to be this massive, which got me even more excited! I was expecting these pearls to be like the green tea ones that are tiny pebbles. Oh the possibilities of these huge white tea pearls! I love aged white teas and these pearls would be fun to tuck away and age! Plus this tea pearl size benefits from being able to travel and gift well, plus impressive to steep for guests.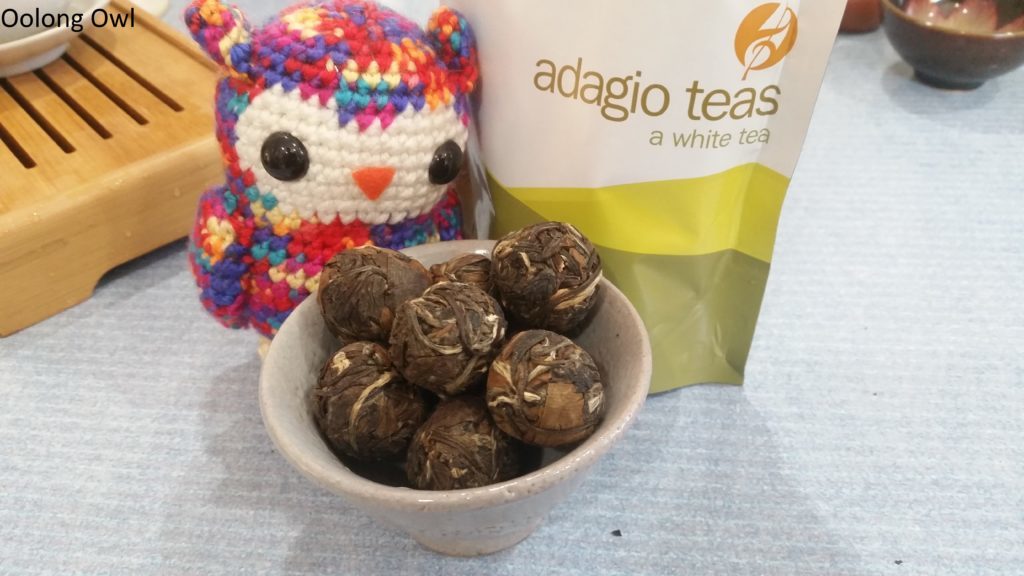 Dry Leaf
The Adagio website says each pearl weighs 3.5 to 4 grams, mine all clocked in 4 to 5 grams with exception to this monster – 5.3 grams!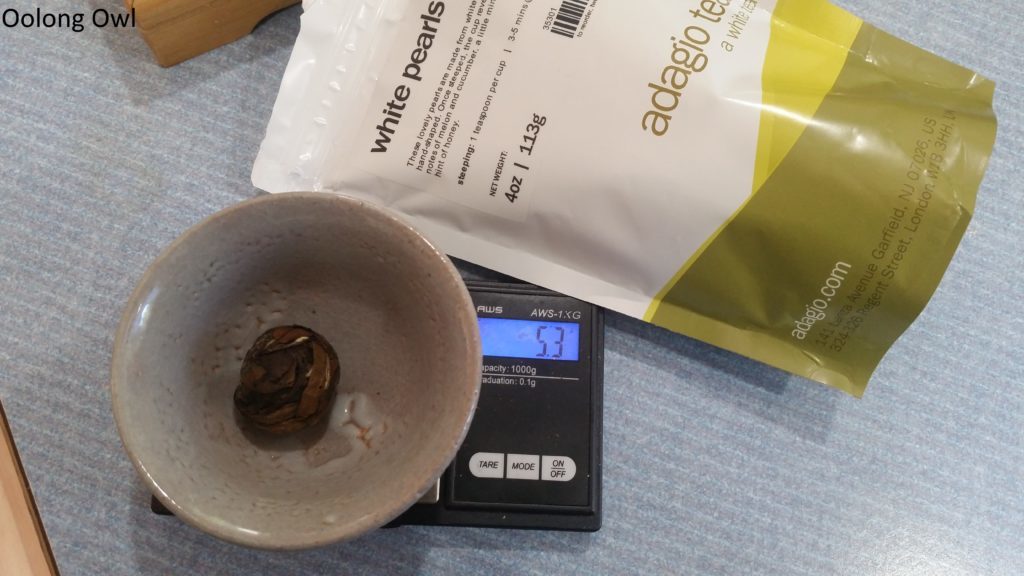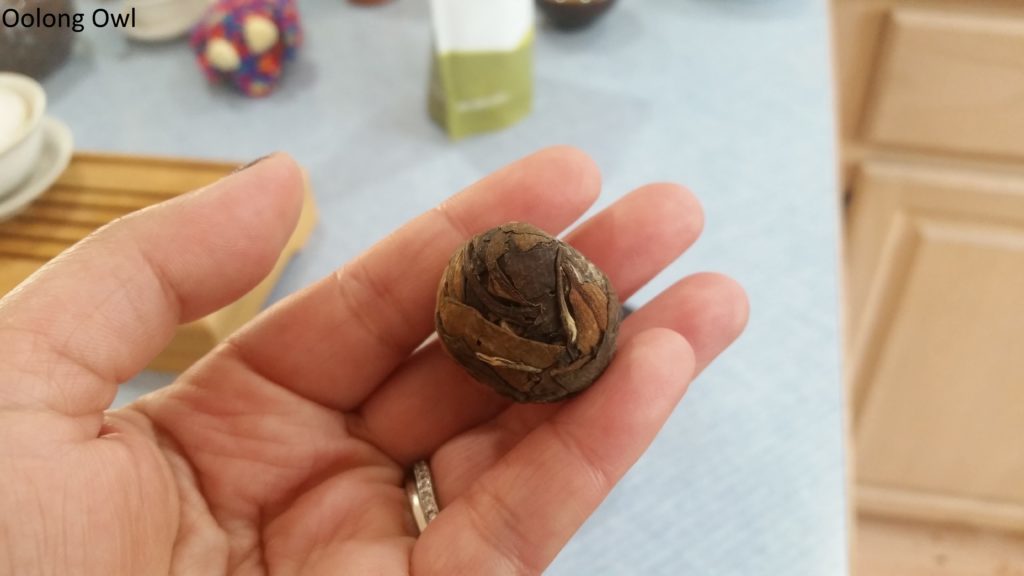 Steeping Instructions
Adagio Teas only gives western style tea brewing instructions, so for their White Pearls they say to make them at 180F for 3-5 minutes. They don't note how many to use, but assuming western style with these balls being pretty weighty, you'll want a single to a 12oz cup.
White tea this fun shouldn't be western. I also have been in the habit of steeping my whites really hot. That said, I'm making my White Pearls in a gaiwan, 200F water temperature, and the ratio works out to 1 gram to 17ml water. I did a rinse, which is weird for a white, but I wanted to get the pearl to open faster.
Tasting of Adagio Teas' White Pearls
The White Pearls steeps up a beautiful clear liquid with a soft buttery scent.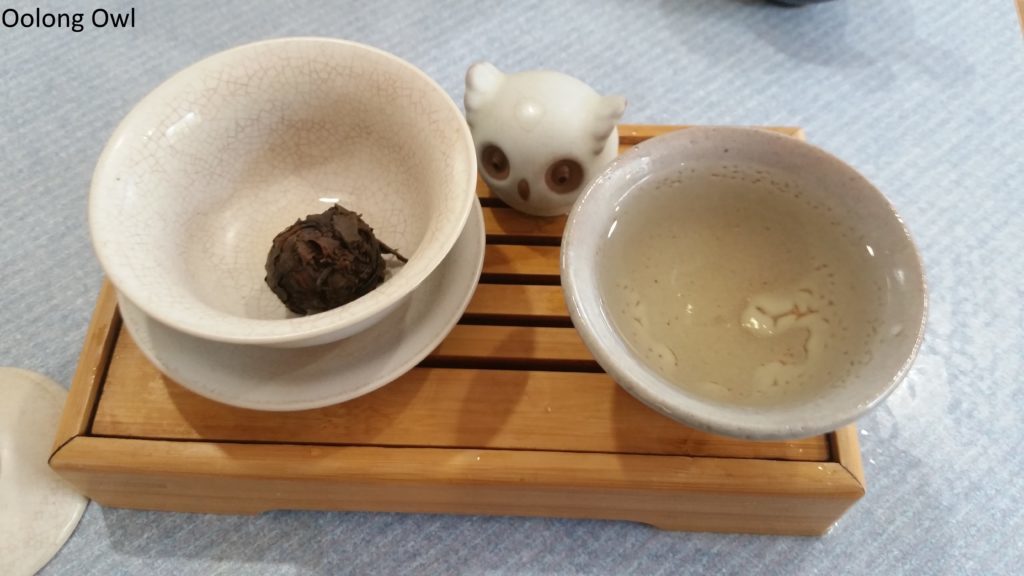 First, Second, Third, Fourth, and Fifth Infusion: Sips very clean and light – like drinking fresh linen hanging in the sun to dry. The white tea is juicy, sweet, and easy to drink. With each steeping the tea blooms a thick creamy body and notes of coconut, linen, hay, and the white rind of a honeydew melon. I like how creamy thick, sweet, yet juicy this white tea is. The flavor intensity is on the light-medium side.
Each steeping the ball breaks up, with the 5th infusion it finally falls apart.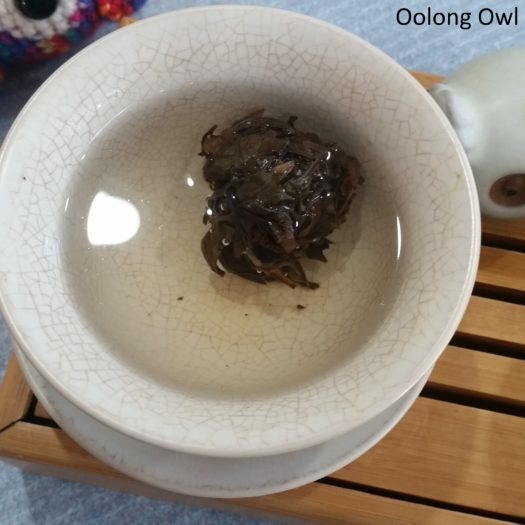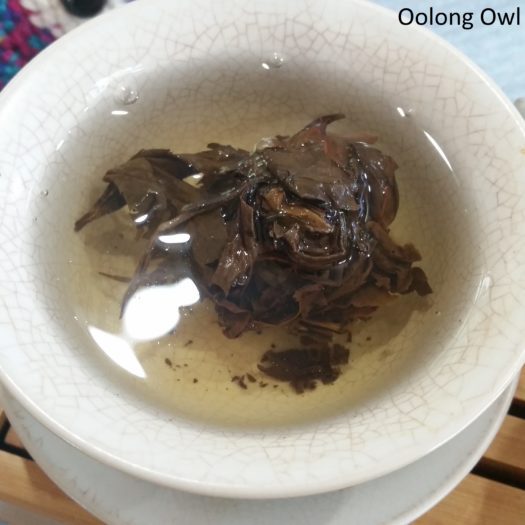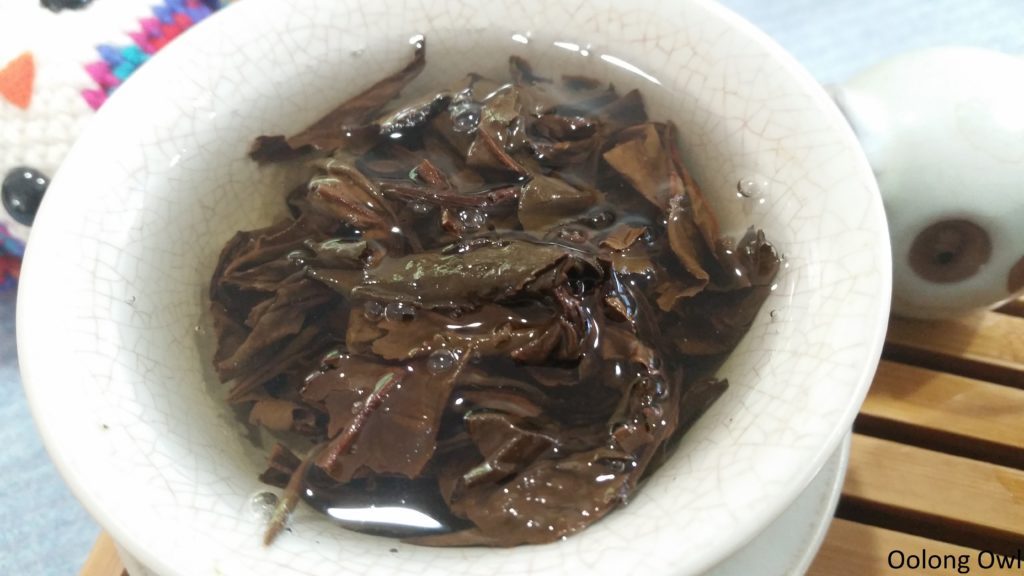 Sixth, Seventh, and Eighth Infusion: The tea colour has changed, it is darker!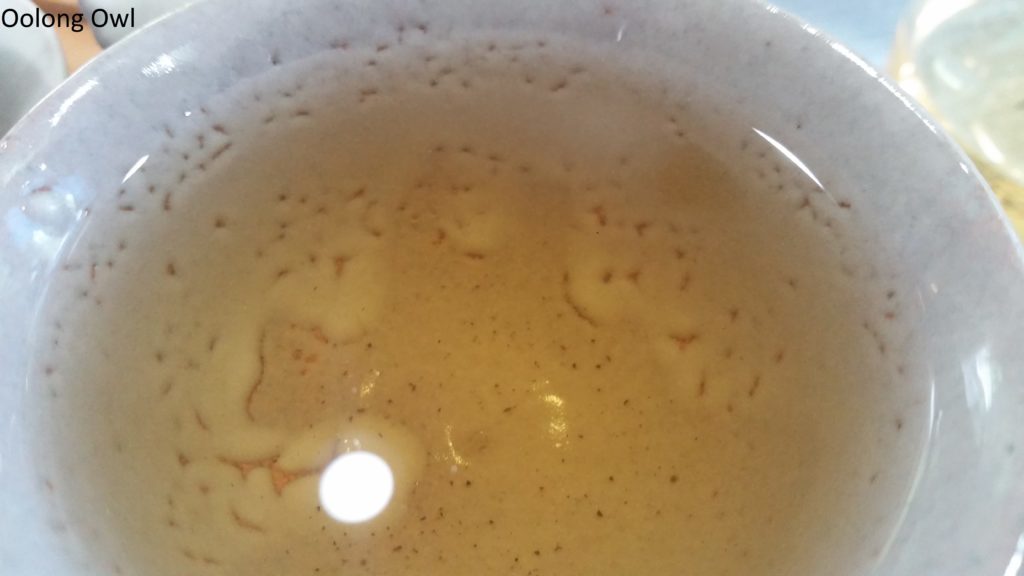 The flavor is shifting to more medicinal, musty and a little tart. It isn't as sweet, fruity and juicy.
Ninth, Tenth, and Eleventh Infusion: The White Pearls finally slipped in flavor, I did up to a 20 minute steep, getting something on the tart medicinal side.
The colour did a huge shift again into a ruddy copper, I bet people thought I was steeping a black tea!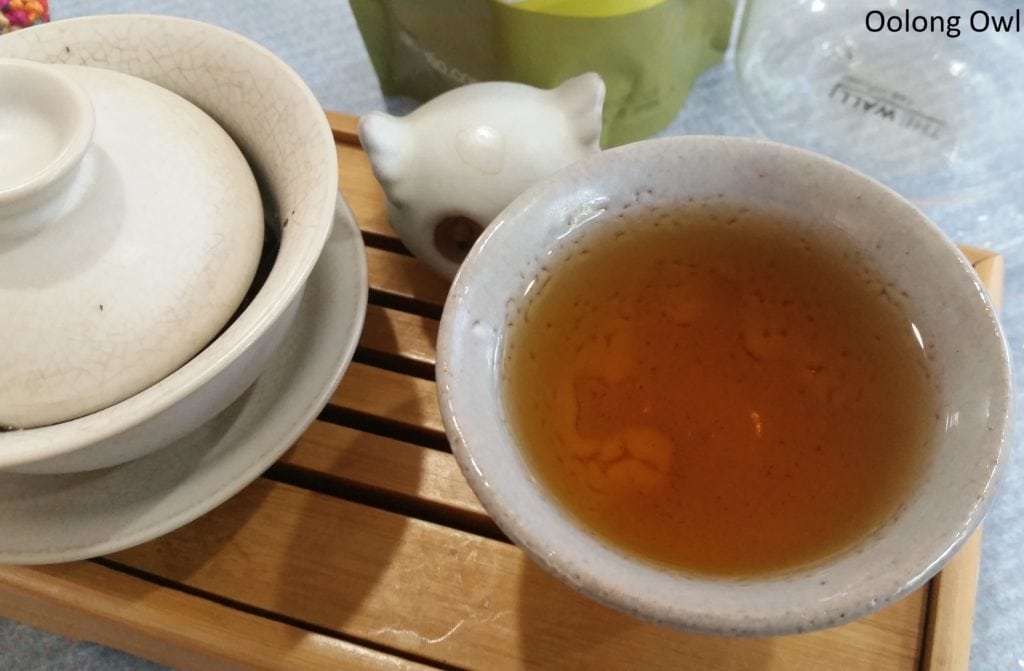 Comments
If you love big ball rolled teas and don't have a white tea, be sure to check out Adagio Teas' White Pearls! I found this tea was quite good in the beginning. I still need to work on my steeping method, but this white makes for great portable gongfu style. The early steepings were the best, but you can resteep this white tea many times.
This tea is on the light side despite the hot temperature, but I still got good flavor out. I saw a lot of reviews on Adagio that this tea is too weak with no flavor – more supporting that whites should be steeped hotter plus the tight roll needs hotter temperature. You can steep it longer, but you'll hit that tart flavor sooner.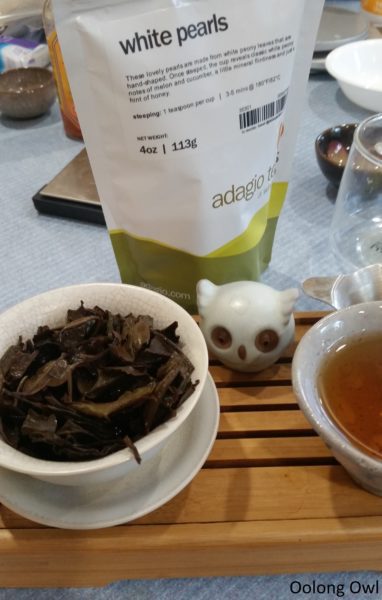 (tea provided for a review, affiliate links)