Oolong Owl invades the World Tea Expo 2015
The final day of the World Tea Expo 2015! I'm tired! So much walking, carrying lots of packages/tea owls/camera stuff as well as tea binging and crashing. The caffeine crashes being the worst. I actually didn't have much to do today – I had seen almost all the booths so all I had on the quest list is to hit a few booths I missed, The Finest Brew (again) and purchase some tea cups.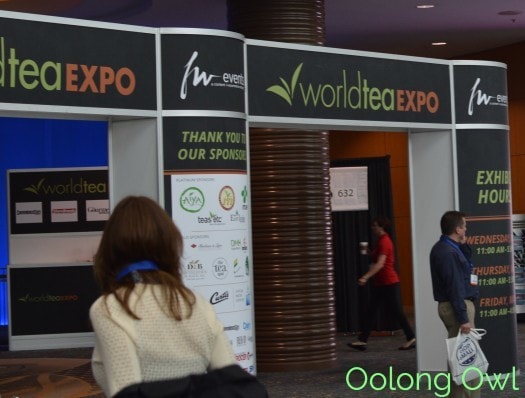 As a surprise, my husband stuffed the giant Hell Hoot into my camera bag, so I had 3 Tea Owls on shift today.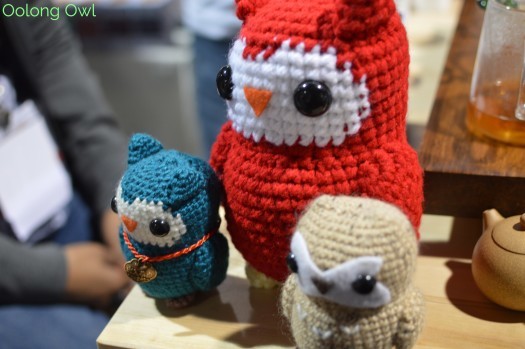 Long Tea Session
The tea bloggers and I crashed The Finest Brew, which was a tea blogger favorite spot as we got to sit and have reinfusion after reinfusion of interesting tea and coversation. The Finest Brew  was the last booth I hit on Day 2, so the other bloggers visited the booth just before me the same day. I was told to show up again to have what Geesa had in his pocket, dubbed #PocketOolong.
First off, we finished a pair of black teas from Tong Mu (not a Jin Jun Mei or Lapsang Souchong). These blacks are expensive, like 3 days to pick off only a couple trees. Exceptional black tea!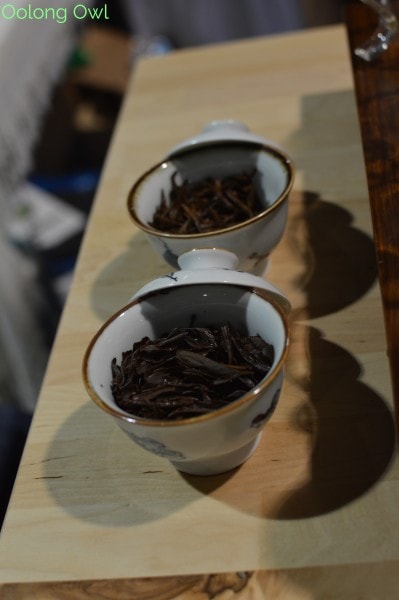 We then had random black tea that that was found in tins while looking for the moonlight white, that were made last week, one pan fired, another sun dried.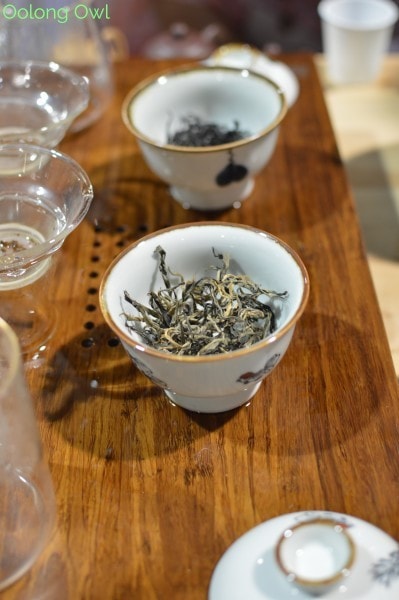 Then we had a comparison of Moonlight White vs. a Ceylon moonlight white. Pssst, the Ceylon won.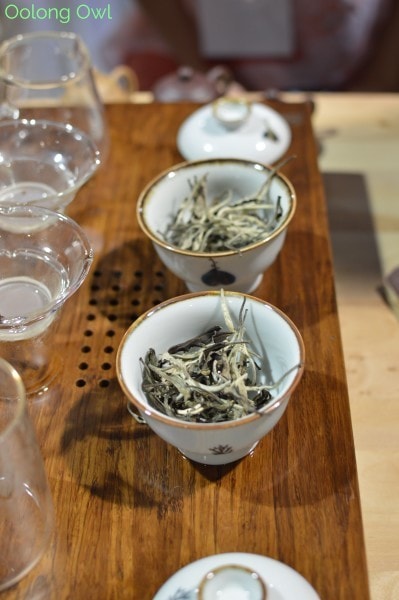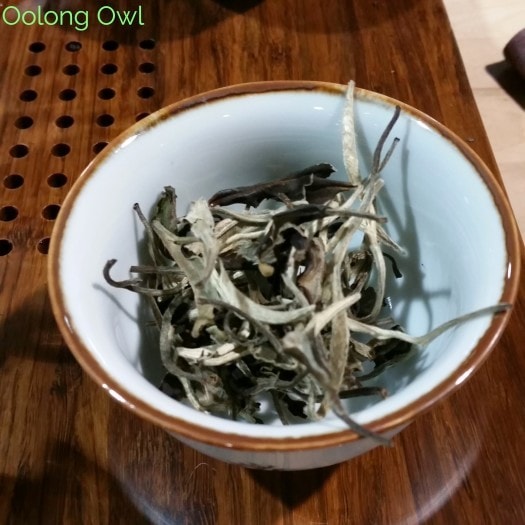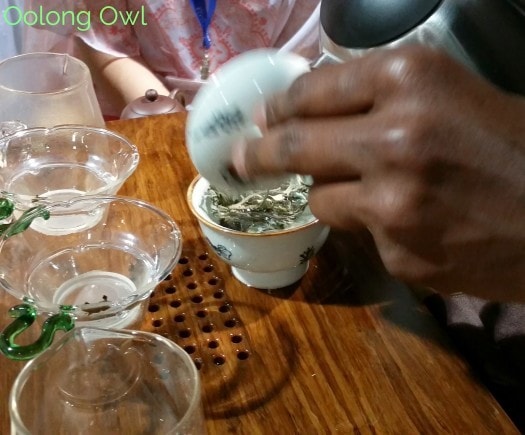 Finally – the POCKET OOLONG! Pocket aged delicious!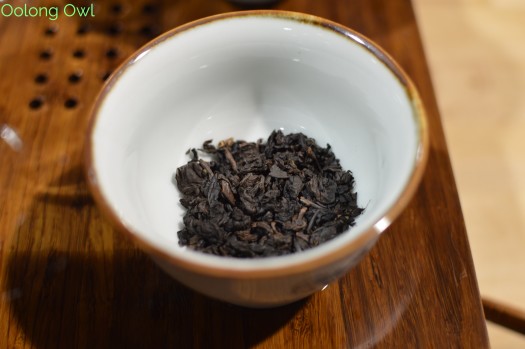 Turns out one was a 25 year old, the other a 28 year old.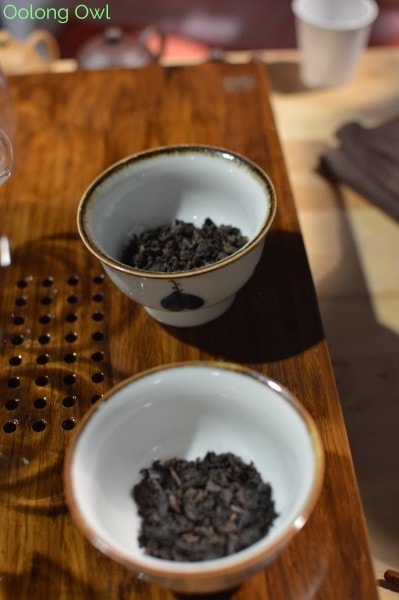 The flavor was amazing as well as color difference!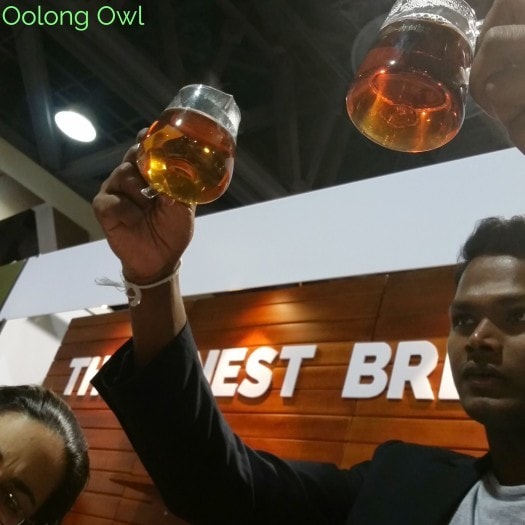 The older one had a real manly, cigar, deep woodsy flavor. The 25 year wasn't as strong, but with later more richer infusions, it tasted close to the first infusion of the 28 year old one!
The smell was unbelievable, I was super happy to have this tea experience. Need to invent a never ending cup!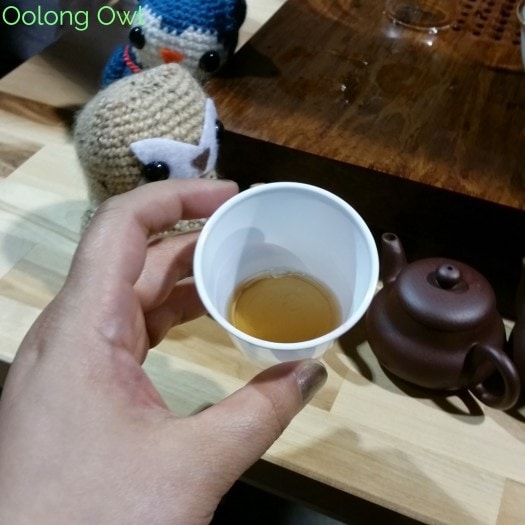 Leaf in hand!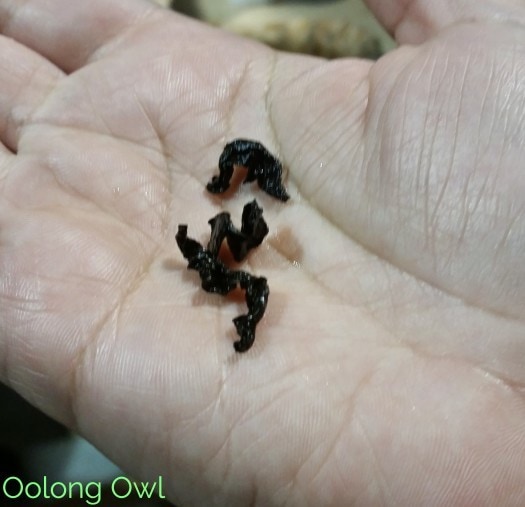 Turns out I spent almost 2.5 hours at The Finest Brew getting tea smashed. I wasn't walking straight after that.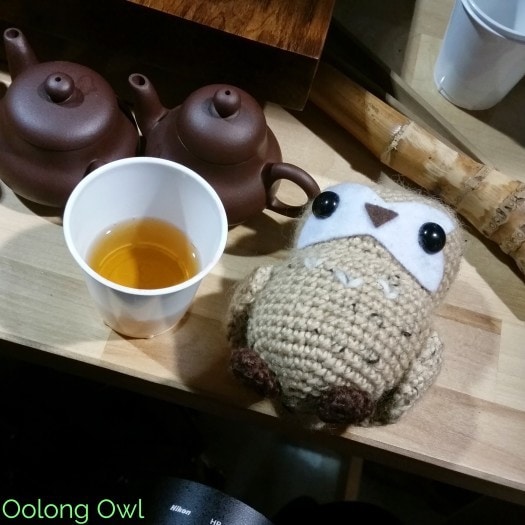 Drinking the waste tea bucket was tempting. Surprised one of us wasn't found passed out face first in it.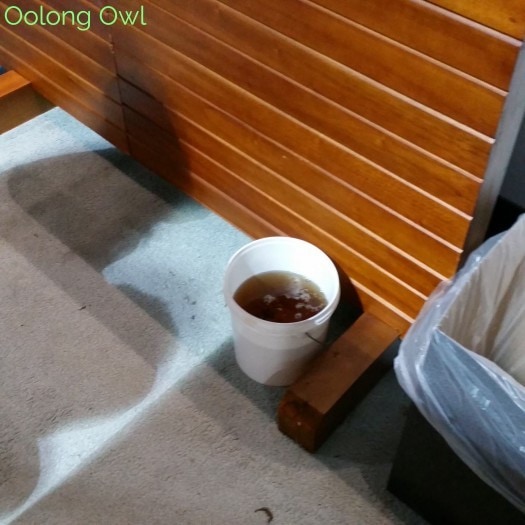 During the session, a few celebrity-tea sightings caught on Oolong Owl Camera! Tea for Me Please, My Japanese Green Tea, I Heart Teas, World Tea Podcast, The DevoTea, Steep Stories of the Lazy Literatus, and World of Tea.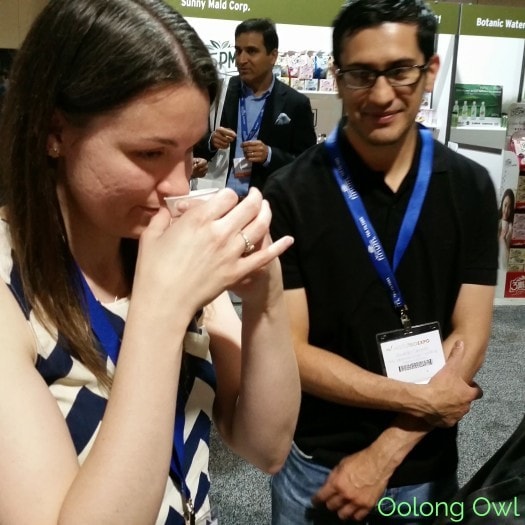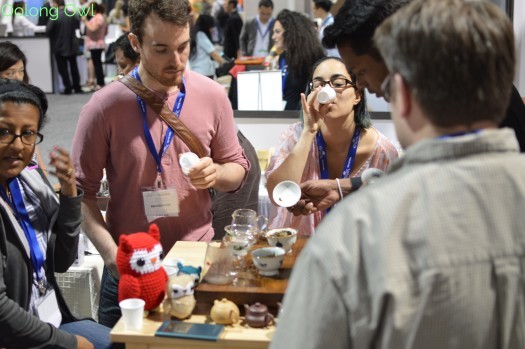 During the entire session in my field of view, I could see the Giant Ginseng mucking around. One point it spotted me looking at it and tried to wave me over again. After the session in a tea drunk stupor, this happened.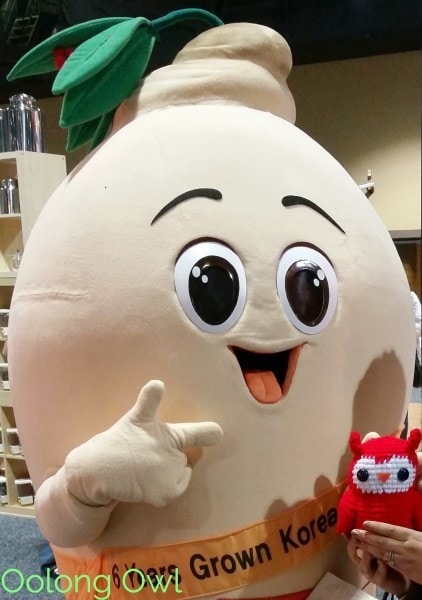 North American Tea Championship – flavored teas!
I floated over to the NATC tasting after, most likely this walk would of failed a sobriety test.. if there was one for tea. Flavored teas and herbals!
More Teas
Nuwati Herbals – This booth was busy every time I went to visit. I have a touch of First Nations in me, so I was curious to learn more of what this tea seller had. Nuwati Herbals does medicinal herbal style tea blends, as well as bath products. Very potent scents from here!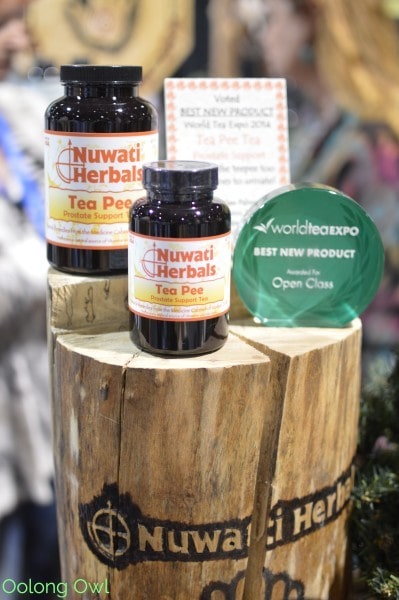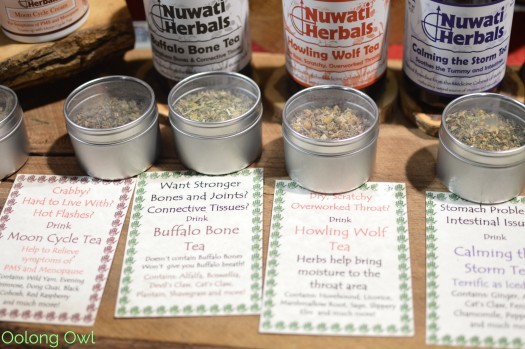 Bitaco – This booth looked low key and when I walked by yesterday it looked busy each time, but my fellow tea bloggers told me to visit.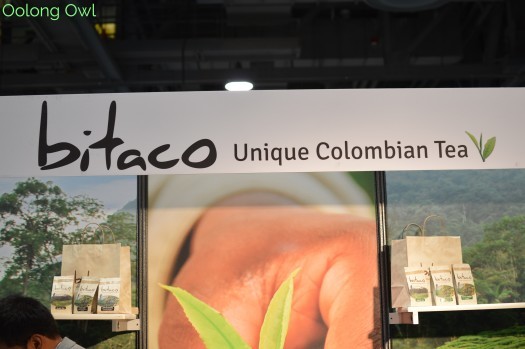 Turns out, this seller does Colombian Tea – interesting! They have black and green, as well as blends. The blends are unique – it's not often one sees a Starfruit blend. Their Cocoa and Cacao nib black was also delicious and thick in flavor.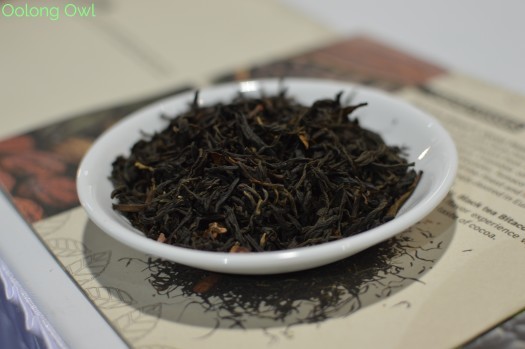 Alpha Dominche – this place was always busy, but with it being the last day, I was able to approach! I saw these last year, and like last year was impressive to watch it steep tea.

This tea machine, moreso for restaurant/coffee or tea shop setting, does precision tea steeping. You program the steeping instructions into the touch pad and it will steep, vacuum around and dispense the tea. It also does multiple infusions! The strength I saw in this device was being able to make a consistent cup each time that is fool proof, no matter who is using the machine.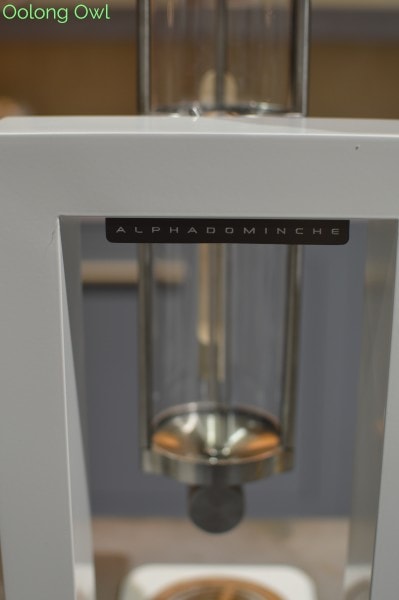 Day 3 Goodies!
Since I spent most of my day at one booth, I only got a few goodies (that I cleared the other places out, ha!). I've been using 2 tote bags during the World Tea Expo – Zojirushi and Rooibos Limited one. I managed to pick up an Aiya Matcha one tote!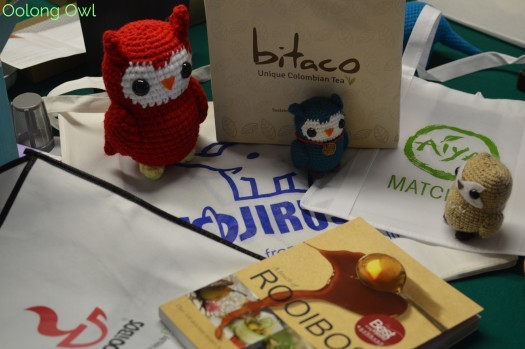 Bitaco also provided me with samples – Nice!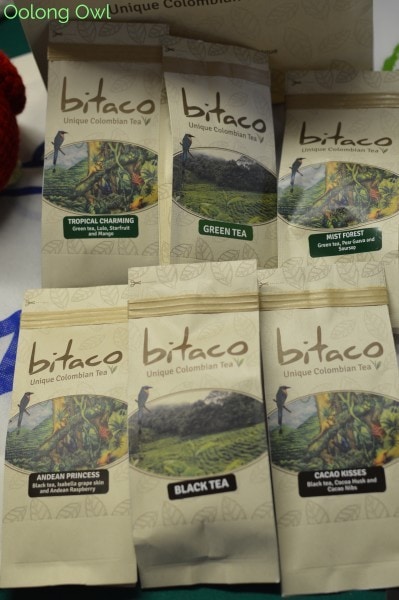 My favorite item, and the second thing that made my day was a cookbook from the Rooibos Limited vendor "A Touch of Rooibos". I saw it on display at the front of the show room floor and wanted it, since I have been buying cook books at the expo. I went to their booth and asked and they gave me one for free! YES!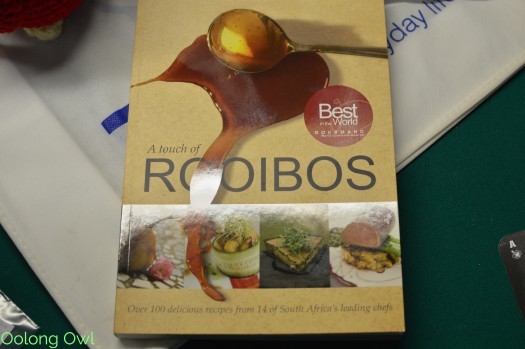 It is a really nice, cheffy cookbook too, with recipes from chefs from South Africa. There are neat meat dishes with ostrich and lamb, however the desserts look the best. Baklava with Rooibos syrup!!!!!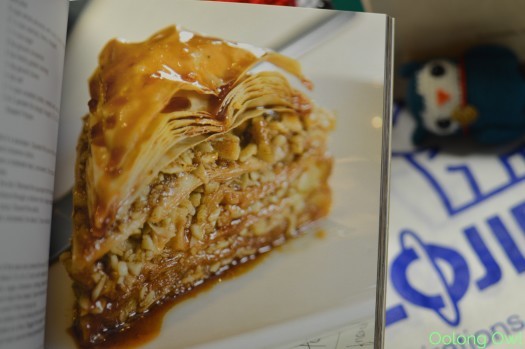 ~~~~~~~~~~~~~~~~~~~~~~~~~~~~~~~~~~~~~~~
Many thanks to the World Tea Expo again for letting this crazy tea blogger in the door. No one seemed to be phased by a stumbling gal carrying a big red DSLR and crochet owls.