We must ask the age old question…. Will it Gongfu? I'm sure it has been burning a hole in your gaiwan on whether non-gongfu typical teas will gongfu. There is quite a lot of things to cover, so just oolong for today.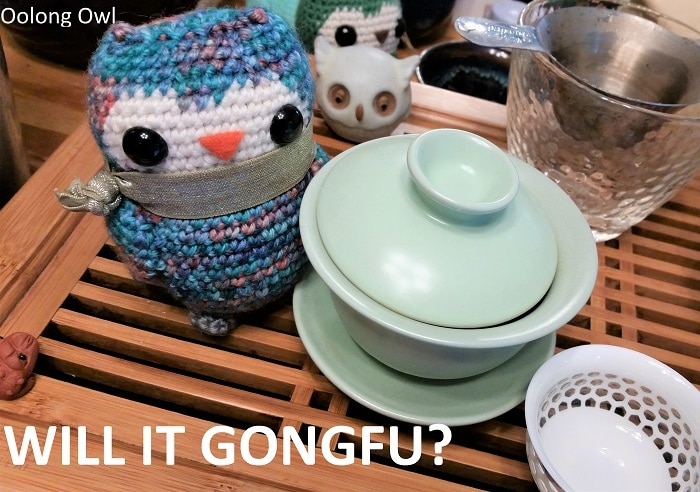 Will it Gongfu? Flavored Oolong
I will be using Banana Oolong from 52 Teas. I admit, this tea is old and I need to drink it before it goes funky. However, this is a good blend that has things I like to see in a flavored tea – mostly tea (not trail mix), true to flavor, and does not have sugar or stevia. This tea tastes like banana and not horrible artificial banana I was terrorized as penicillin as a kid. Will it gongfu?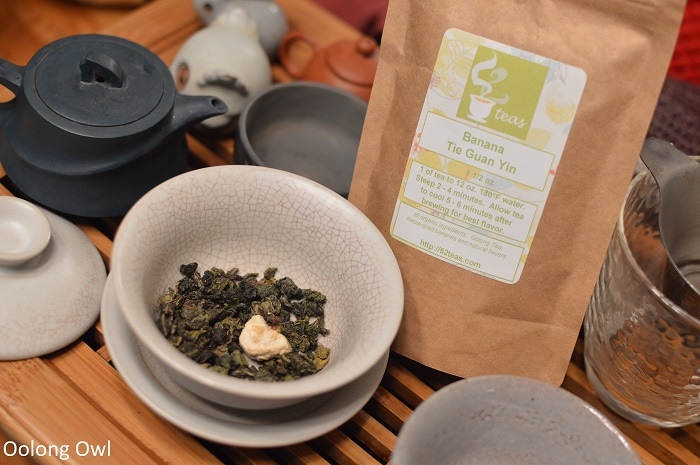 Steeping Instructions: I treated this as any other oolong but with a twist – I leafed it a touch more to compensate for the giant banana chunks. I used boiling water, 1 gram to 10ml ratio. Do not rinse and go right to your first infusion.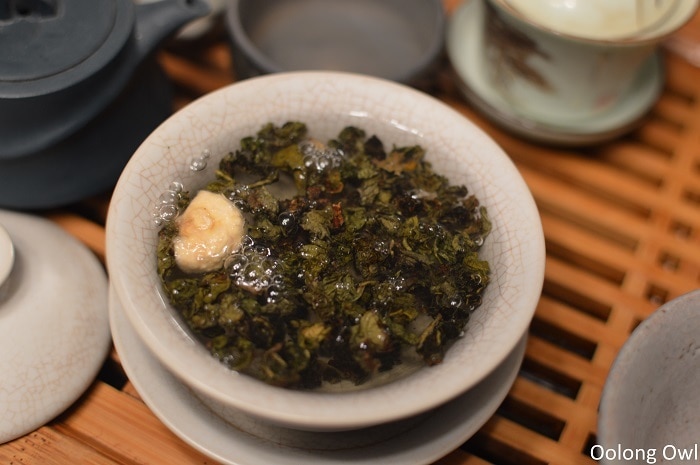 First infusion: This was great – the best infusion I've ever had from this tea. It tasted like soft, creamy banana with a creamy background. I was happy it wasn't a potent fake banana taste, but I believe I selected the right tea seller to avoid this.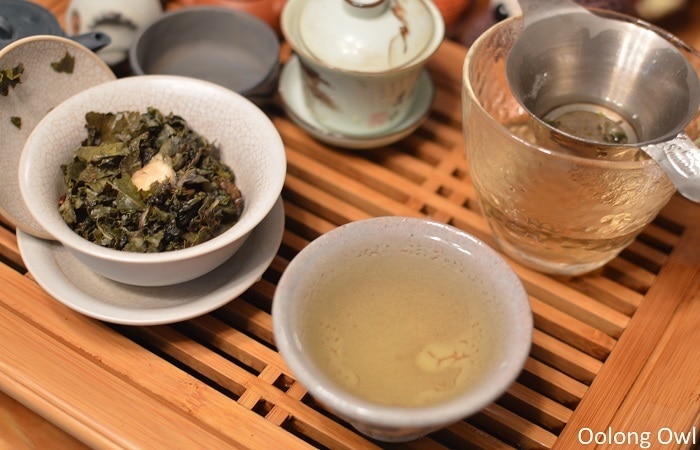 Second, Third, and Fourth Infusion: The second infusion was okay – it was a soft banana flavor balanced with a green floral oolong, a bit more similar to the western infusion. Further infusions, this tea went downhill fast. As expected, we lost the added flavoring and banana chunks generally don't add much to the tea besides a mush and a visual. The tea became bitter and harsh, as the oolong wasn't up to the challenge. Sifting through the leaves, there's some good pretty leaves, but underneath is lots of lawn mowered bits. I am spoiled with drinking fancy pants Taiwanese oolongs these days, but generally tea blends don't use the greatest teas as they get flavored anyways. I've heard a few tea blenders that have said cheap-o fannings are the best for flavored teas. You want heavy flavor fast as these teas are not for the long haul re-steeping.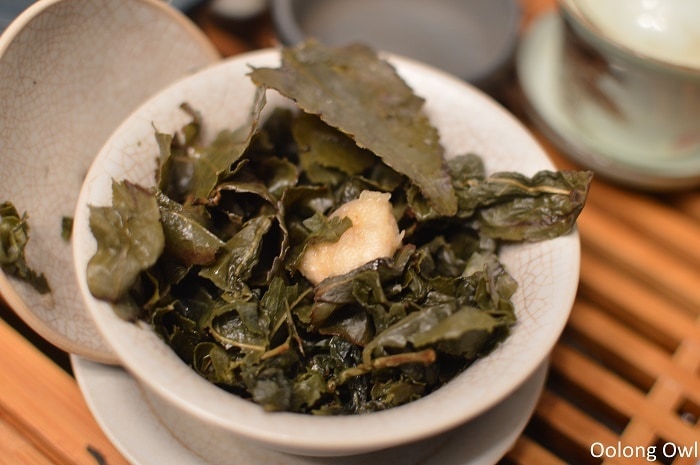 Flavored Oolong – Will it Gongfu?  Not really. You get 1 awesome infusion, and a resteep – not much difference than steeping it western. After this experience, simply leafing more and steeping shorter in western style volume made this tea pretty good.
---
Will It Gongfu? Rose Scented Four Seasons Oolong
Rose Scented Four Seasons Oolong is from Cameron Tea, a Taiwanese tea wholesaler that has some really nice oolongs. Among the oolong is rose petals. Will it gongfu?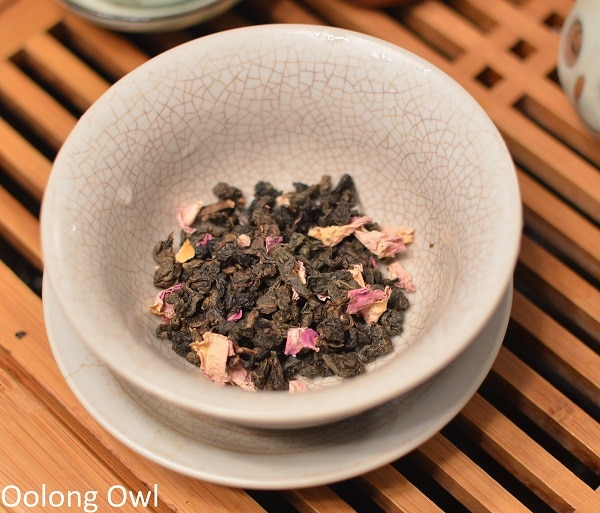 Steeping Instructions: I found this tea worked better leafed hard, around 1 gram to 12ml leaf to vessel ratio, steeped in boiling water. When I leafed less it was quite weak. Do not rinse – you will miss out if you toss out that steep!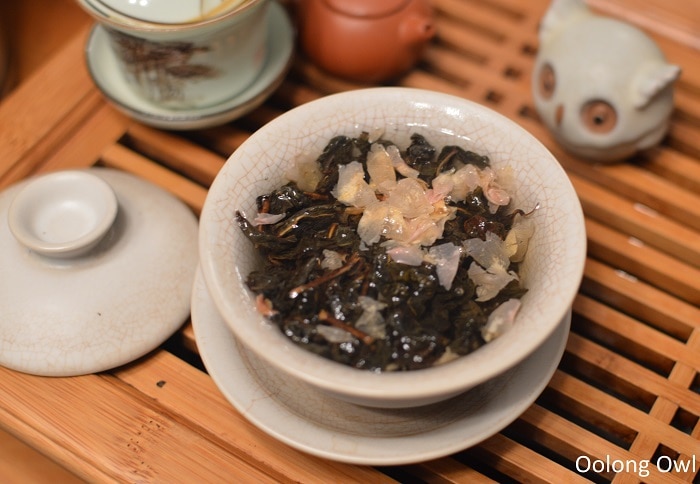 First, Second, Third, Fourth, and Fifth Infusion: The tea is nicely buttery, crisp fresh vegetal, with a finish a hint of rose. The first infusion is delicate and softly rosy. With each infusion, the aftertaste buildings more rose. The last infusion started getting dry and the flavor slipped fast, but I had plenty of rose flavor to enjoy. This is actually a well done, good quality, and delicate tea. Western style, this tea is good too.
I feel guilty not steeping this in glass as I lost on some great photo opportunities. I also was too busy taking photos of the leaf that I forgot to take a picture of the actual tea it made.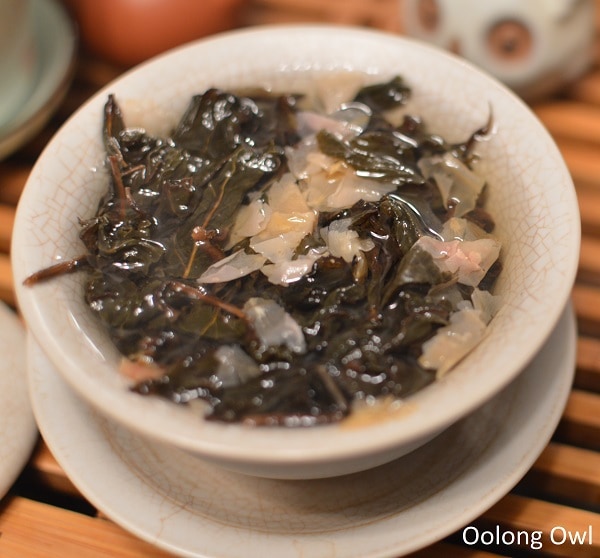 The leaf is very pretty and in one piece!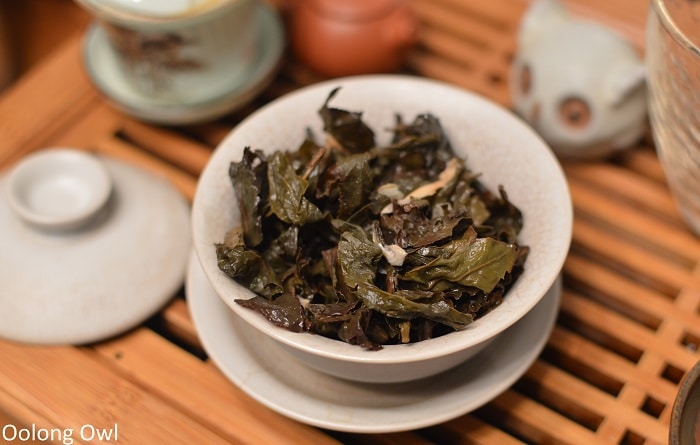 Rose Scented Four Seasons Oolong – Will it Gongfu? Yes, do it. You get more out of it than western. It isn't indestructible of a tea, but this one does well gongfu and western. However, I feel this tea is better gongfu than western as you get continuous good infusions, changing flavor, and more re-infusions.
---
Will it Gongfu? Twinnings China Oolong
I snagged these Twinnings China Oolong tea bags from my last cruise. They were SO BAD I had to take them home to openly mock them. Twinnings China Oolong is a tea that could turn off someone from oolong. I don't know how they could pass this tea off as an oolong… or a tea. I can dupe this tea by steeping cardboard and pencil shavings. I had to be pretty tea drunk to even attempt this. Let's gongfu it!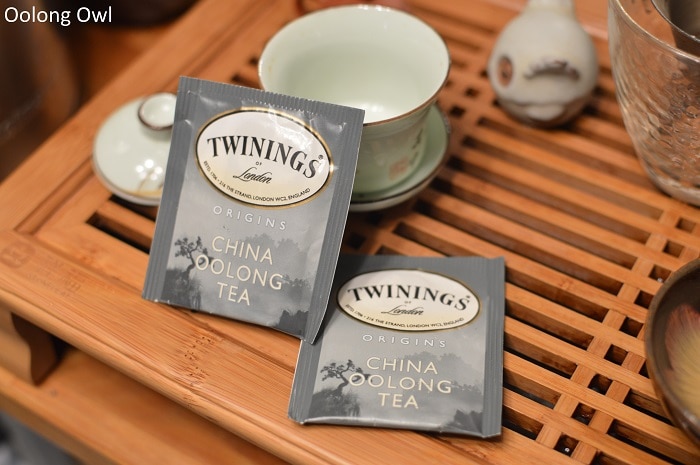 Steeping Method: 1 gram of "leaf" to 18ml of vessel, flash steeped with boiling water. I did not drink the rinse, it looked pretty bad.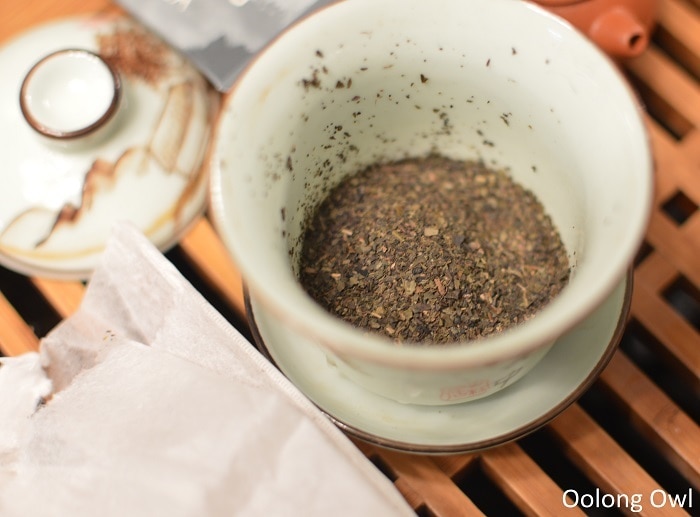 First, Second, Third Infusion: I got 3 steepings in, all pour outs. First off, the leaves are just dust, making a huge mess everywhere. The mess is just as bad if I gongfu'd glitter. It steeped up really cloudy and weird.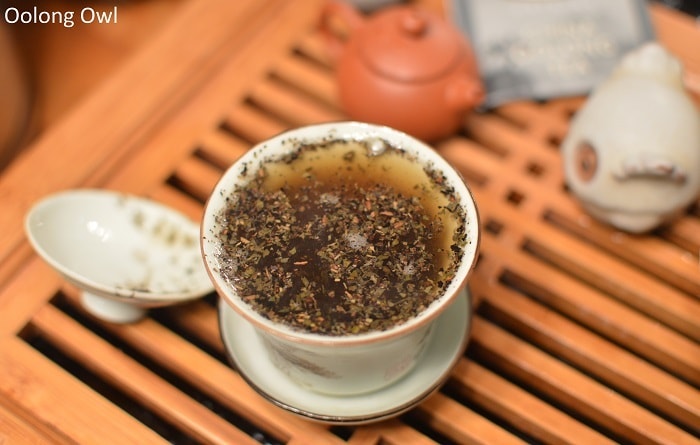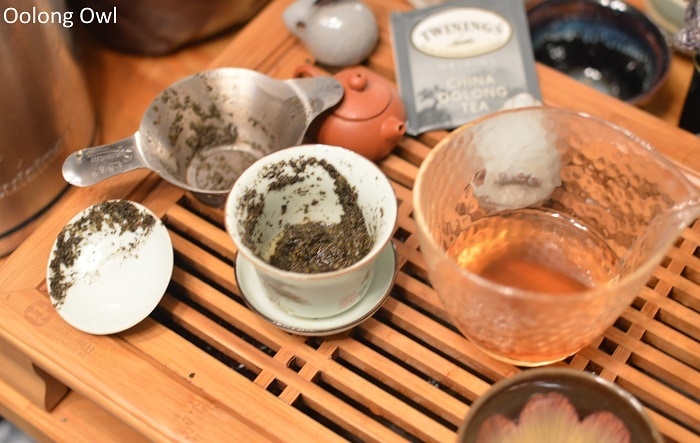 Hydrated, the "leaf" becomes a paste and completely jams the filter.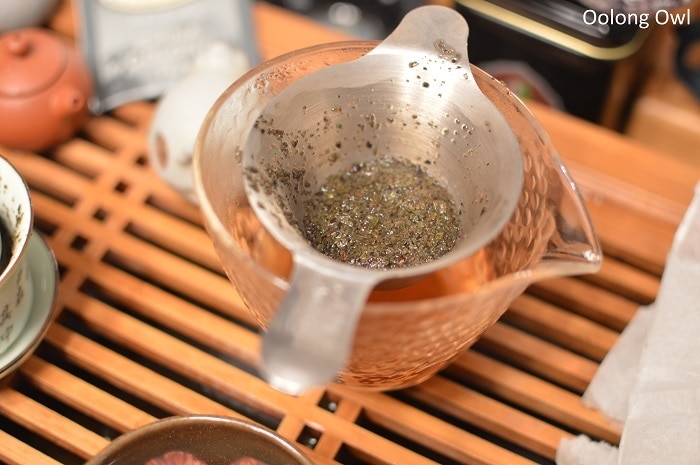 Flavor wise, actually better than western style, but that is not saying much. The flavor is REALLY bad bitter, with notes of cardboard, how Goodwill/Salvation army smells like, and strange sour floral. It is also mind blowing astringent. Western style you mostly taste cardboard, but at least gongfu you get a slap of floral.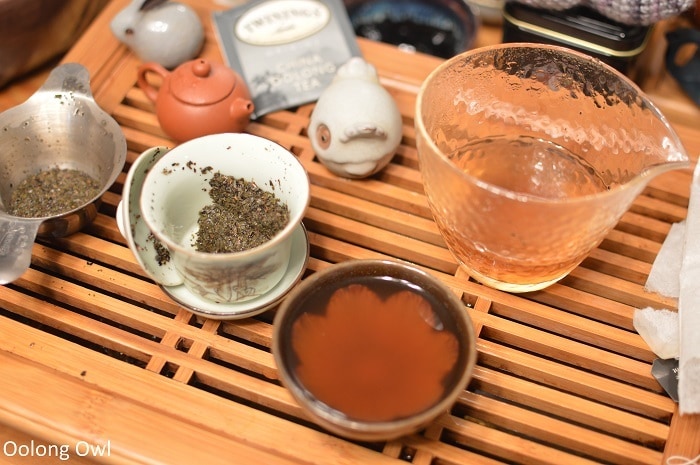 Twinnings China Oolong – Will it Gongfu? No. It doesn't even tea to begin with.