Oohhhh yeah, June White2Tea Club time! This month is impressive with newly pressed pu'er! I'm going to review both teas that were included this month, so it'll be a long Oolong Owl post today.
So, in the June White2Tea Club is 2014 Ripe Pu'er Orbs x3 and 2015 Teaclub Gourd 100g.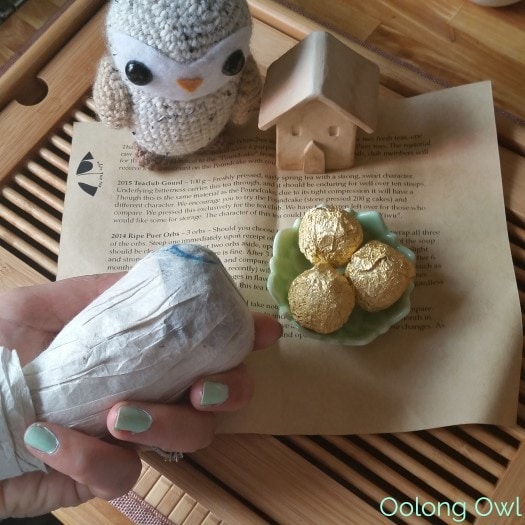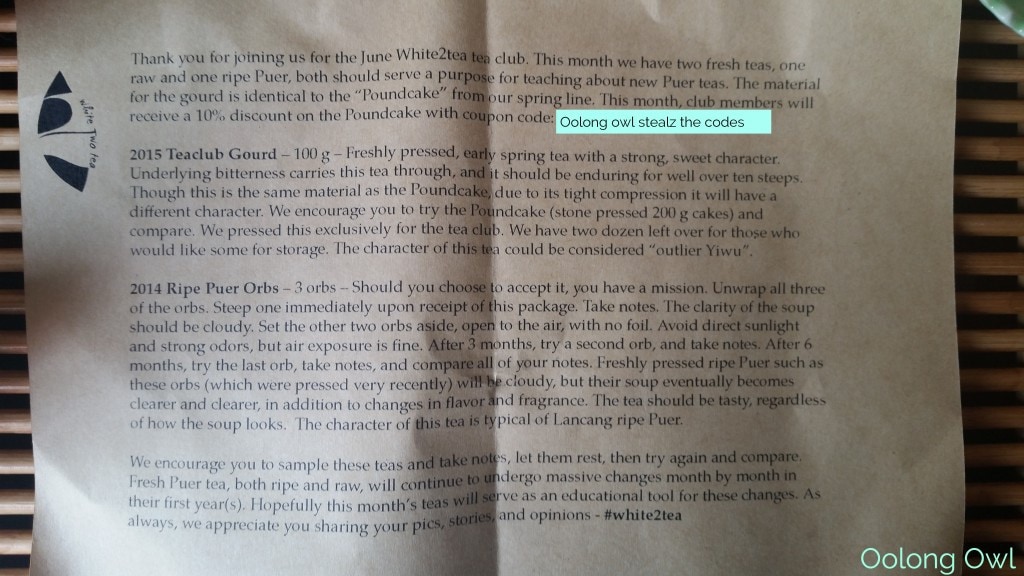 2014 Ripe Pu'er Orbs
First up, the Balls! You get 3 Ripe Pu'er Orbs and they came with instructions, if you choose to accept them. CHALLENGE ACCEPTED HOOT! The tea balls look like wrapped truffles!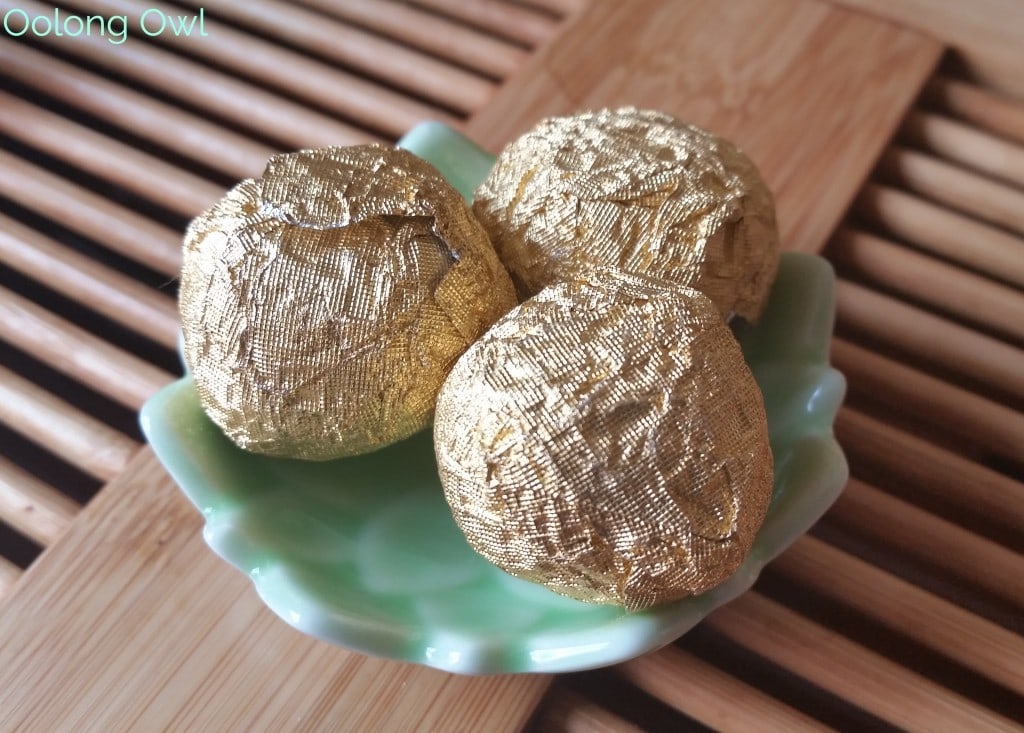 I unwrapped all three orbs. I tucked two of the orbs away, setting a note on my google calendar for 3 and 6 months from now. Each ball was about 6 grams of tea.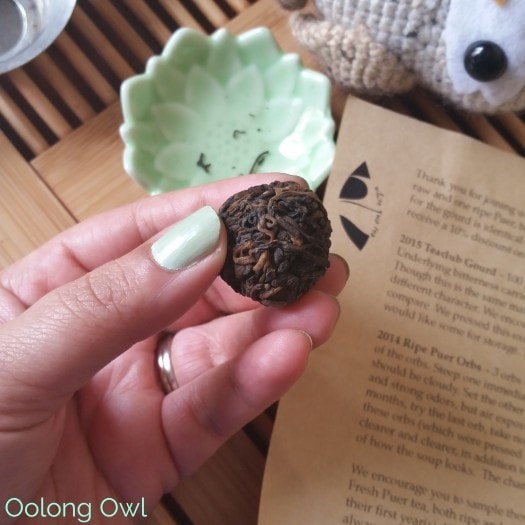 For steeping instructions, I went with making my pu'er in a gaiwan using boiling water. I did two rinses and then started the steeping at 15 seconds.
The orbs puff up during first steeping!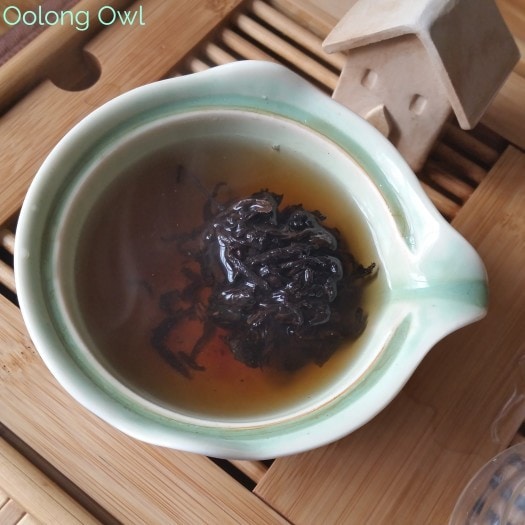 The first official steeping of the ripe pu'er orb brews up a slightly cloudy tea with a reddish brown. There is a fermentation scent as well.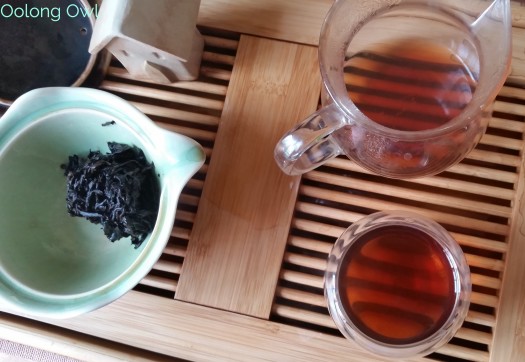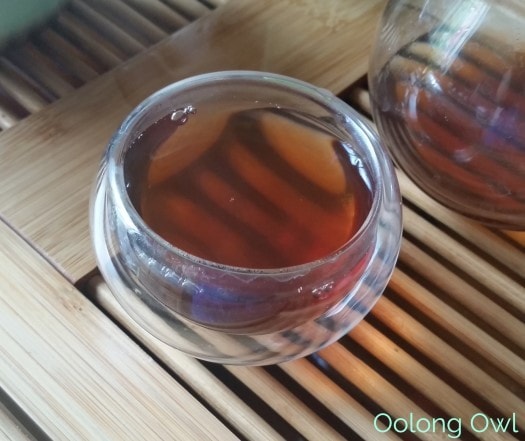 First, Second, and Third Infusion: The flavor is pretty strong. The orb is heavy, woodsy, and a dark chocolate finish. The texture is pretty smooth and creamy mouth with a dryness back of throat that has a mysterious sour twinge to it. The tea gets stronger in flavor for the 2nd and 3rd steeping calling upon the powers of sour chocolate notes. The flavor is heavy, but yet face punching overwhelming as other ripe pu'er can be.
Fourth and Fifth Infusion: The flavor is losing its intensity punch. I'm left with earthy woody and tobacco notes with a sweet amber finish. There is a light dry tart aftertaste as well.
The orb has completely broken up now.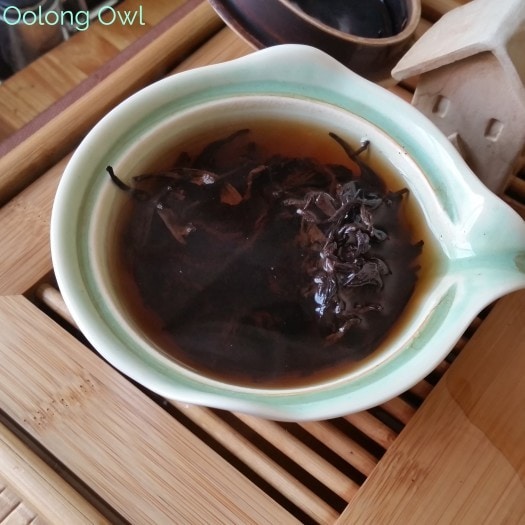 Sixth, Seventh, Eighth, and Ninth Infusion: The tea now smells sweet and with a more clear appearance.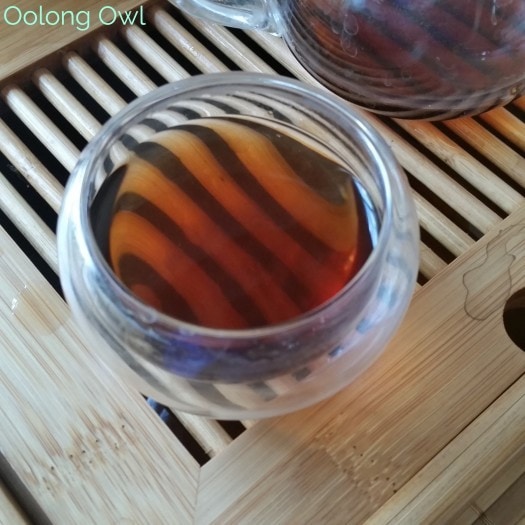 The leaf smells like chocolate chip bread. The ripe pu'er sips in thick little chocolate cherry wood with a tart fry finish. There is a light tart dryness aftertaste. 4/10 dryness.
Tenth, Eleventh and Twelfth Infusion: Getting better and better! The flavor is cleaner and sweet with a mineral, cherry wood and bright caramel. It is also not tart anymore and less dry.
Thirteenth Infusion: This one was a long steeping that I forgot about as I went to the hardware store with the husband. I have no clue how long it steeped and it was a little above room temperature when I got to it. The flavor is light, sweet and a little woody. Pretty sure I killed the orb but it was worth it.
I look forward to trying the other riper pu'er orbs and see how they change – yay for delicious tea education!
2015 Teaclub Gourd aka 2015 Poundcake
The White2Tea 2015 Teaclub Gourd was exclusively pressed for the club – however it is the 2015 Poundcake material.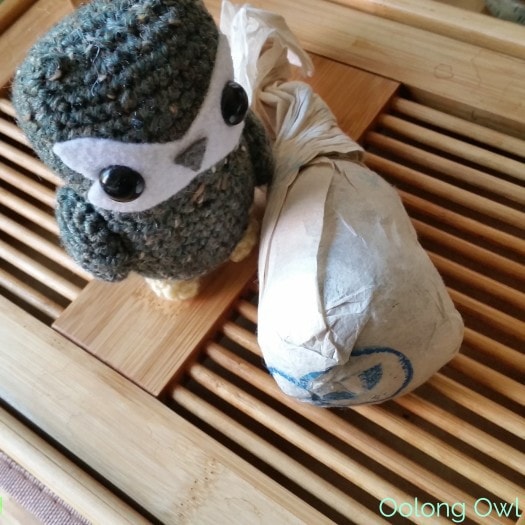 The shape of this pu'er is interesting. I was wondering why a gourd and not a handsome owl.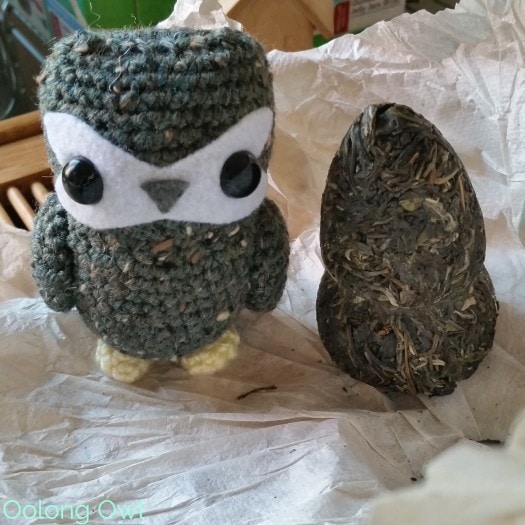 Turns out, the shape is a PITA to pu'er pick tea off of. Of course, this is the day Teal "Pu'er Pick" Owl has run into the mountains to train his pu'er pick technique, so I had to do it myself… and stabbed my self twice. Apparently the pu'er wants a blood sacrifice before you can drink it.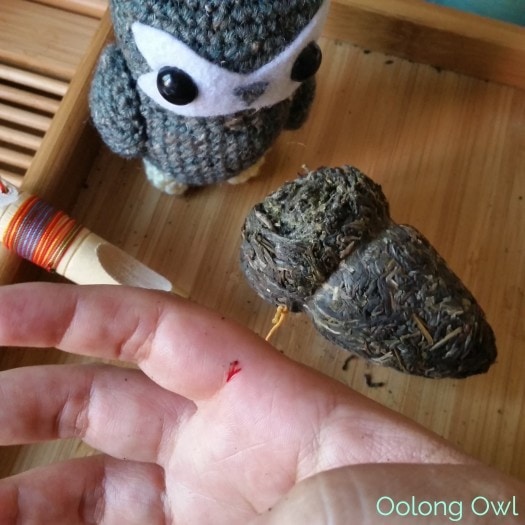 I was aiming for my usual 6.7 grams of tea but ended up with 5.6 grams since I stabbed myself and figure I should quit while I'm ahead.
For steeping instructions I went with 190F water temperature and 20 second steep to start. Looking at fellow tea drinkers many went 200F. I didn't want to go YOLO boiling water since the pu'er is young. Since I already stabbed myself, I rather not burn myself with boiling water too.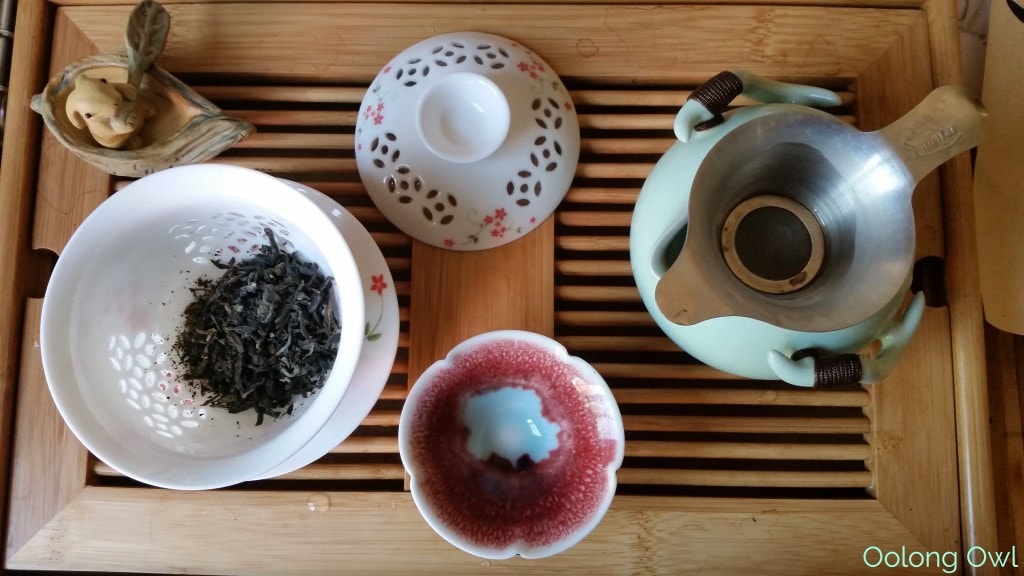 First Infusion: The first infusion is an interesting light yellow green with a fesh vegetal scent.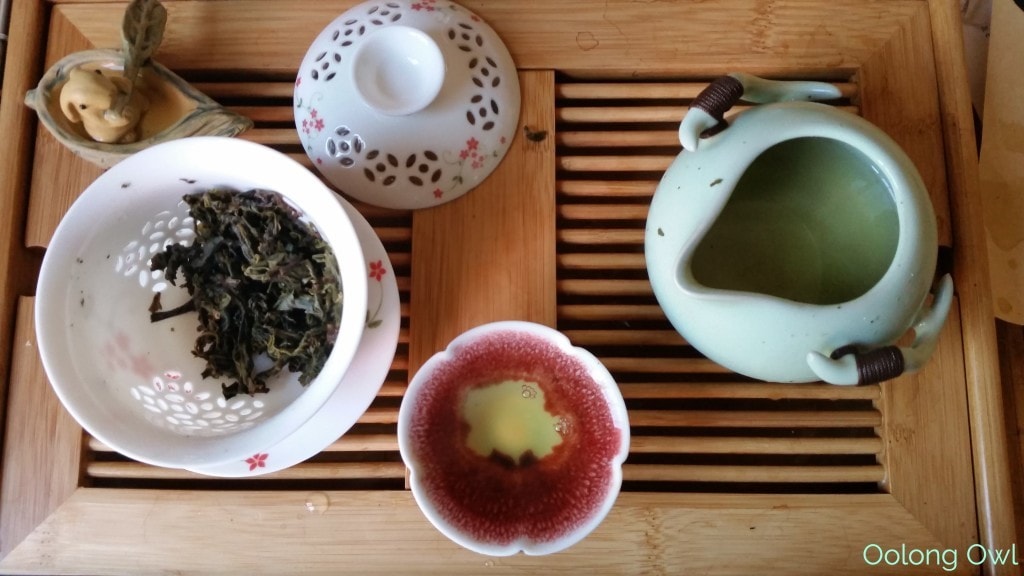 Ooo kind of sweet in flavor, though pretty light here and I can't wait to see how this turns out. Bit of dryness with a slight tingle in the mouth too.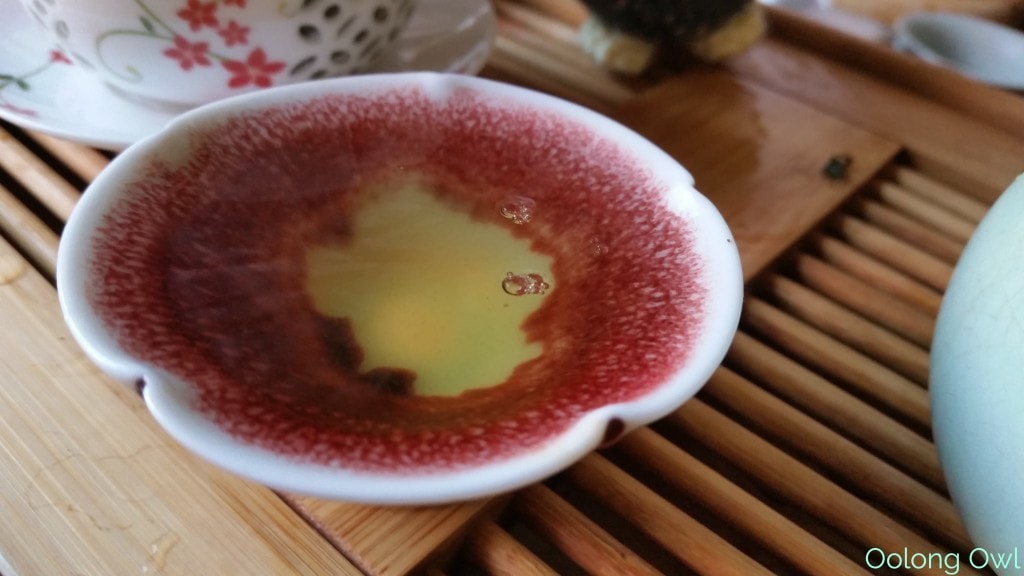 Second, Third, and Fourth Infusion: Oooloooohhh hell yeah, that's sweet! I was so shocked how sweet this tea was that I dribbled it down my shirt with my first sip. Classy. This session is cursed, I guess I should of offered more blood to the gourd.
The tea gourd is a little floral but very sweet for a pu'er. Dang, so sweet like creamy clover honey. Fruity aftertaste weaves along with a 4/10 intensity dryness. The aftertaste sticks for 15 mins without drinking anything. On 4th steeping I was getting lots of deep breath sensations and feeling pretty weird.
Fifth, Sixth and Seventh Infusion: The tea gourd tastes like popcorn, like unsalted sweet kettle corn. Not as sweet as previous infusions but still very pleasant.
The leaf in my gaiwan is very green looking! Wow!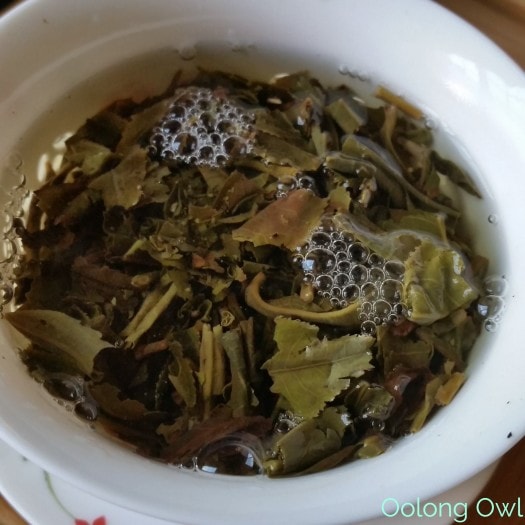 Eighth, Ninth, Tenth, Eleventh, and Twelfth Infusion: The pu'er has shifted to vegetal with asparagus notes, cooked till grey green beans and smushy steamed leafy greens. There is also still a bit of sweet corn notes. Interesting twist. As the steeps go on they get more medicinal herby in taste before dying off.
After this tea gourd poundcake session I proceeded to go on a massive energetic cleaning spree. My kitchen was sparkling! The powers of pu'er!
As usual, I am very happy with my White2Tea Club subscription! I'm leaning on picking up a 2015 Poundcake to compare with the gourd.