I'm in the mood for something fun. I've been drinking lots of unflavored blacks and pu'er these days, I could use some unique teas to inspire me. Pekoe Sip House is based in Boulder Colorado and they have cafe locations and a new online shop! Pekoe Sip House ethically sources their teas, composts at their cafes and donates to local communities and causes. However, what caught my eye is their tea selection – Pekoe Sip House has some really unique tea blends! Persimmon Gelato Rooibos! Green Fig Green tea! Jumpin Juniper White! Pekoe Sip House also has a good selection of unflavored teas as well.
Today I'll be sampling Sweet Carrots Green and Basil Lemonade Oolong! Sounds like so much tea fun!
Pssst, Pekoe Sip house also passed me a coupon code for you tea peeps – enter teajoy for 25% off site wide. Expires Jan 31, 2015. This coupon code includes their gift sets!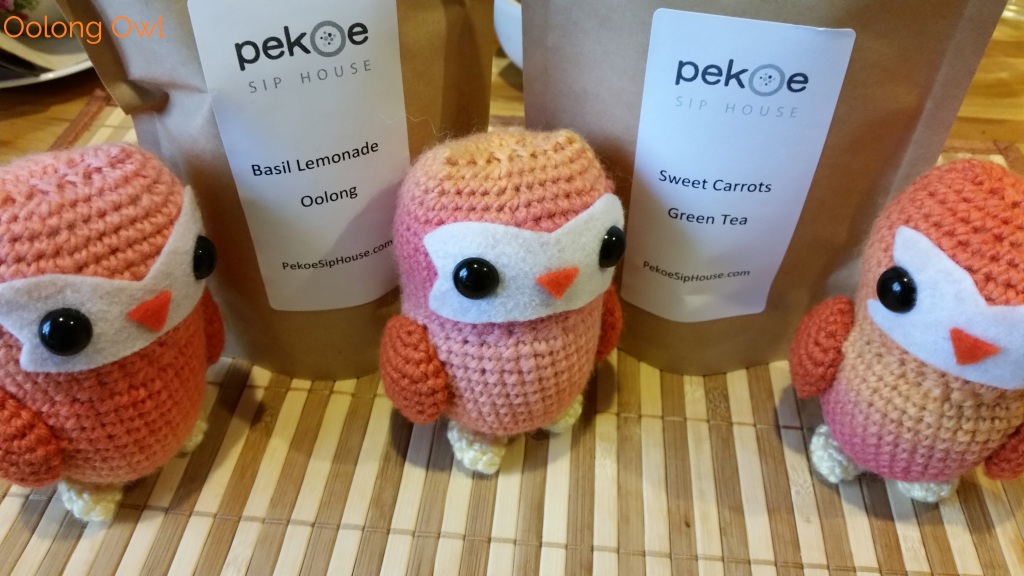 Tasting of Pekoe Sip House's Sweet Carrots Green and Basil Lemonade Oolong
Sweet Carrots Green 
Sweet Carrots Green is a blend of Chinese Green tea, mate, rooibos, carrot, dried apple, papaya, pineapple, lemongrass and marigold. The dry leaf of Sweet Carrots Green smells amazing! It is sweet and tropical scented. The dry leaf also is very colorful and wild with the green tea mixed with cubes of carrots, fruit and petals.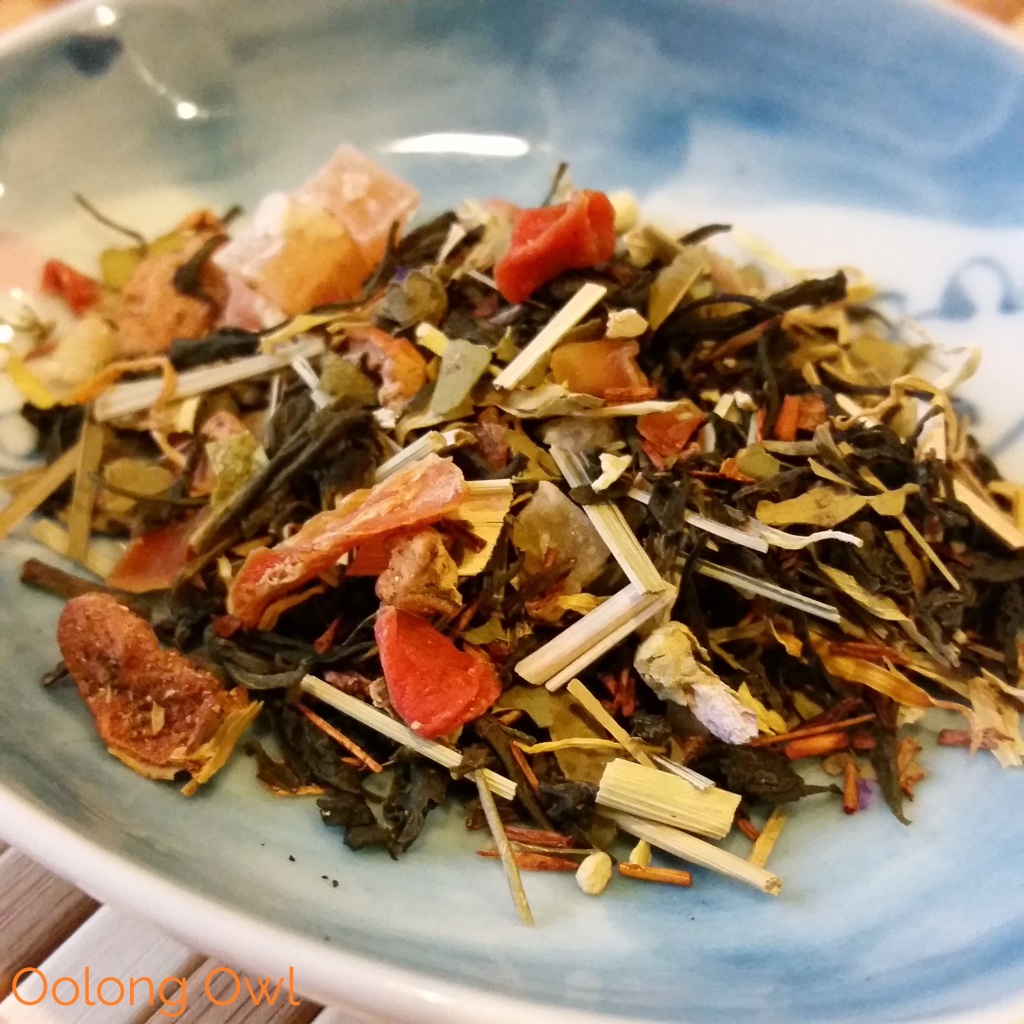 I steeped up my tea was 175F for 2 minutes in an in-mug infuser. Sweet Carrots steeps up a goldy yellow with a sweet tropical fruity scent.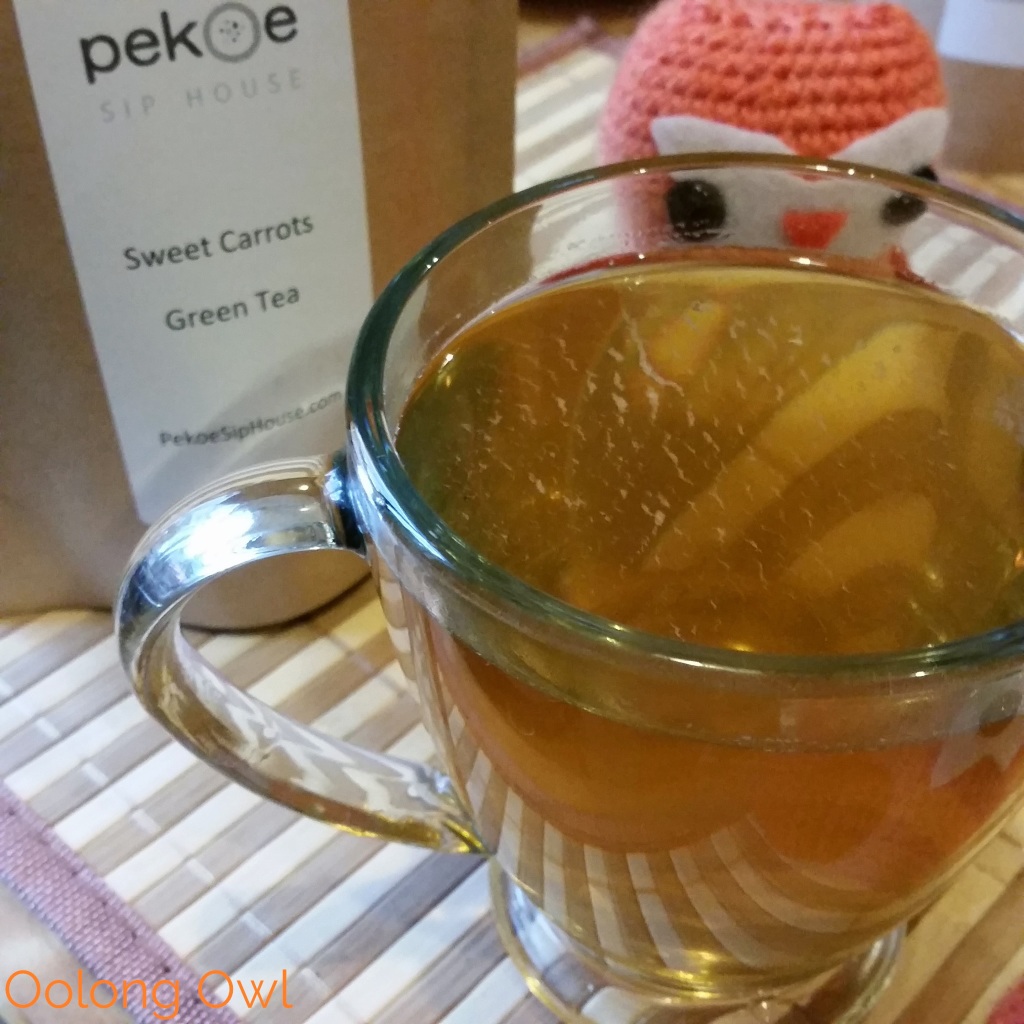 First sip I noticed this tea is certainly unique. There's carrot flavor in it, like a vibrant orange cooked sweet carrot that goes well with a savory and buttery green tea base and a bit of grassy from the mate. As the sip goes on, the savory and sweet opens up for more sweet. Sweet Carrots has a lovely pineapple finish, with a bit of papaya and buttery aftertaste. The flavor of the blend is on the light to moderate side – the fruity isn't overwhelming the grassy green and mate base, but is present enough to enhance and add a fun taste. I didn't taste the rooibos, I'm guessing it could of been a green rooibos hiding in there with the mate.
The carrot does work, especially with the green and mate base. Carrot could probably be in more teas blends (well, probably not in a black tea) as it has a really nice sweetness to it, along with a nice vegetal mellowness that pairs well with a buttery tea base. I could see this tea being awesome iced or cold steeped!
Basil Lemonade Oolong
Basil Lemonade Oolong is a tea blend of oolong, basil, lemon granules, natural lemon oil and marigold blossoms. The dry leaf is really fragrant – strong lemon sweet scent, like a lemon ice! The appearance of the dry leaf is simple and pretty – dark oxidized oolong, marigold wisps with weird blobs of white. The blobby things are the lemon granules. I licked one and it was sticky and very tart!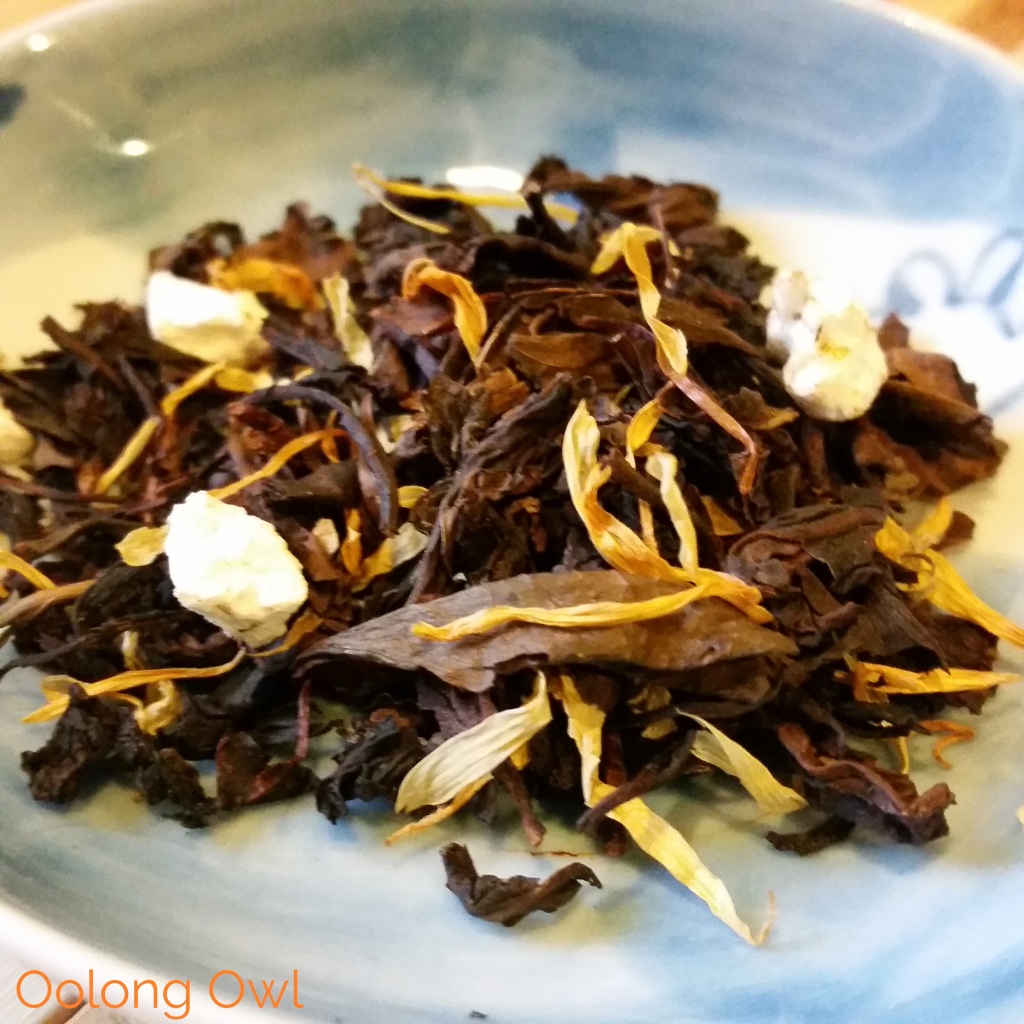 I steeped my tea at 190F for 2.5 minutes. The tea came out a gold color, lighter than I expecting.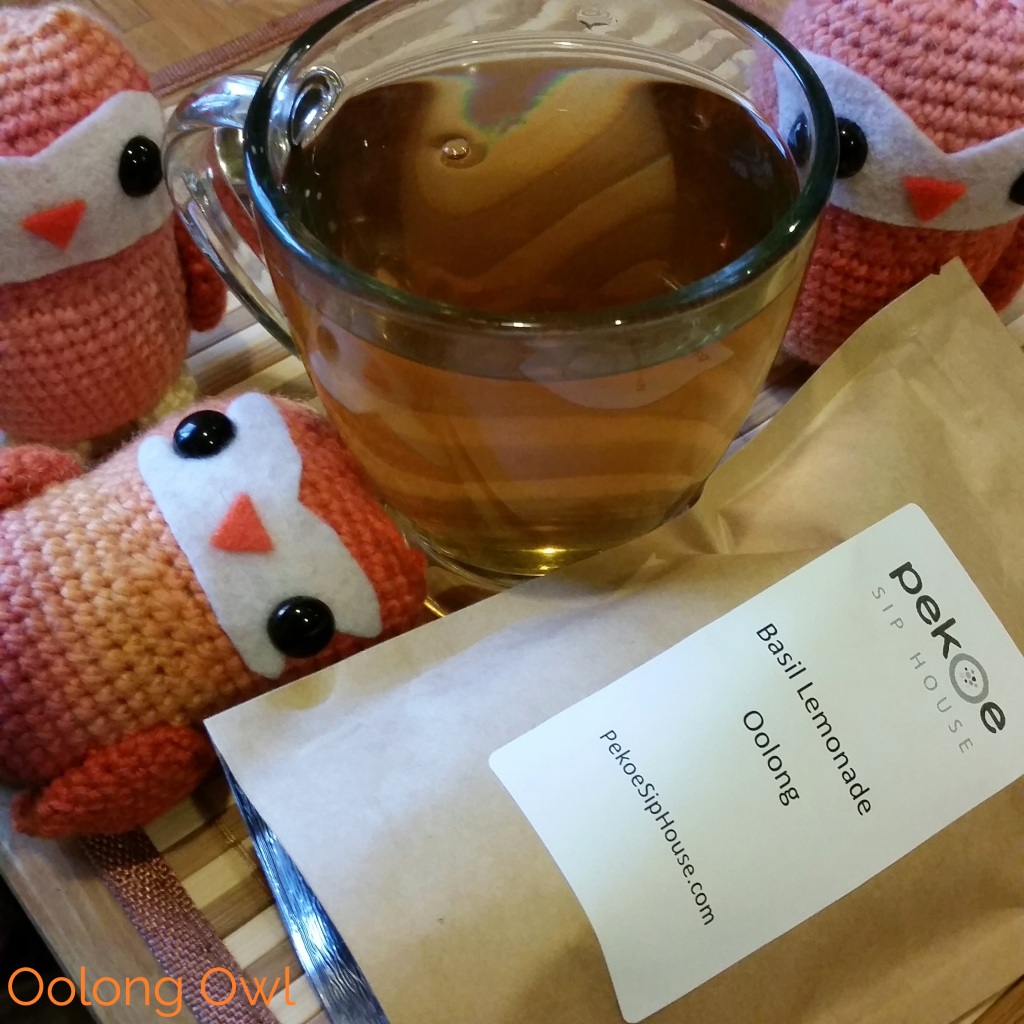 The flavor of Basil Lemonade Oolong is quite flavorful. The lemon comes out nicely without being tart. Mid sip I get afresh herby basil flavor that is lightly spicy – tastes just like my column basil plant I was growing (it died, sad face). The oolong adds a bit of earthyness to the background, but the main punch is the lemon flavor accented with the basil. Basil Lemonade Oolong finishes with a sweet creamy lemon flavor that lingers after each sip, like a lemon custard. Hands down, this tea would be awesome iced!
Comments
Sweet Carrots Green is a really fun tea that screams Spring season to me. Carrot tea sounds pretty wild, but it works very well! This green blend would be great for anyone wanting a sweet and savory green tea. The mate in Sweet Carrots Green gives the tea a real energy kick – I was hyper like it was a bright sunny day on this rare, dark rainy SoCal day.
Compared to Sweet Carrots Green, Basil Lemonade Oolong has more of a fresh vibe to it and the blend is the main flavor over the base. Basil Lemonade Oolong would be awesome on a summer day picnic, iced or served hot to brighten your day. I find this tea is more flexible – it would go well with desserts at an afternoon tea or with savory foods at a lunch. Lemon is so magical!
Check out Pekoe Sip House, especially if you want some really neat and unique tea blends. Don't forget the 25% off coupon code – teajoy!
(tea provided for review)