Tea readers, I am very satisfied with this month's White2Tea Club – having fun exclusive pu'er cakes is really awesome!
In July's White2Tea Club – 2015 Green Shroom 250 grams and  a sample of 2005 Rocket Yiwu.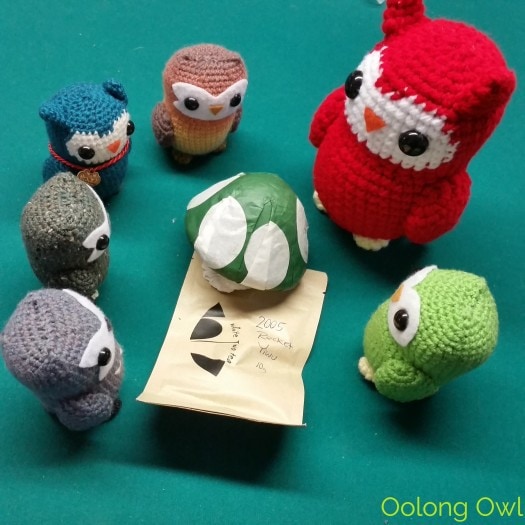 Look how sweet this pu'er shroom looks! I've never owned a mushroom shape and the video game nerd in me loves the design!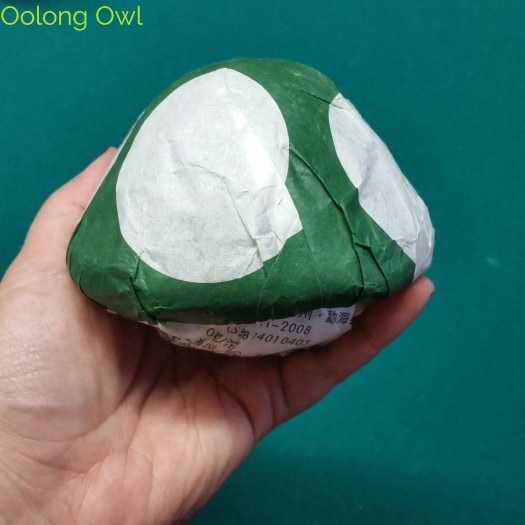 2005 Rocket Yiwu is also a fantastic offering for this month's tea club, many people have told me that it is really good. However I could not resist the shroom and I spent way too much time messing around with my green shroom that I didn't get around to trying the rocket in time for this review.
Uhh crap, how do I pick off pieces? A quick Google was no luck on pu'er mushroom technique so we are dumbfounded what to do. I usually break off the underside of the cake to keep the shape intact as long as possible and I'd love to keep this in shroom shape.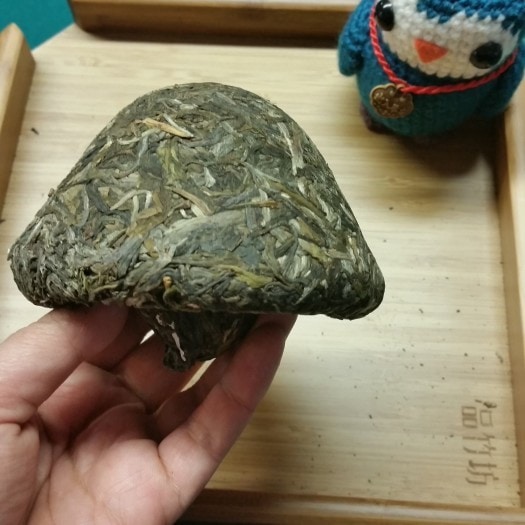 The leaf on the mushroom cap looks loose and the stem is a twisted compact terror.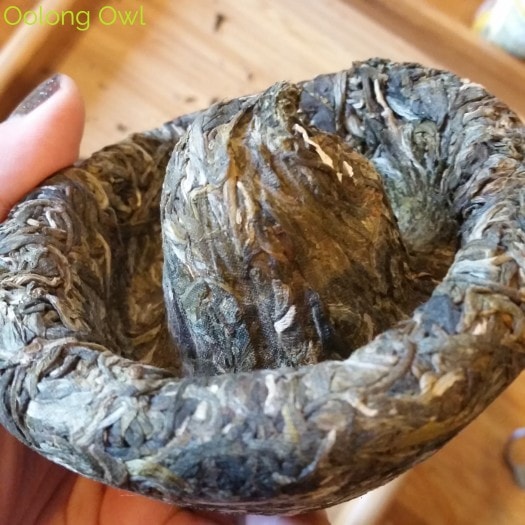 From last month's pu'er gourd that wanted blood, I knew another irregular shape could get bloody. I've already contacted our pro pu'er picker and he's clueless (though he seems interested in getting a 1-up).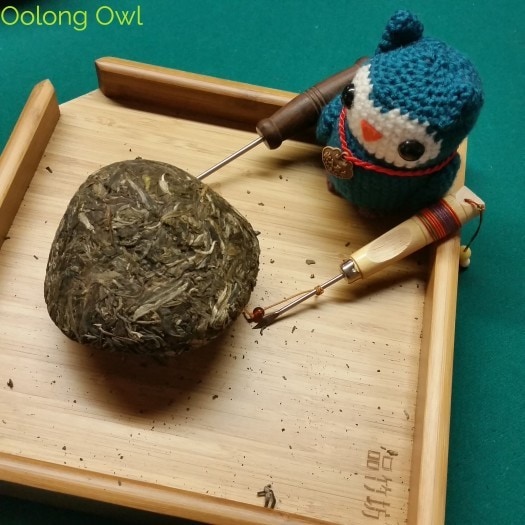 I managed to break off some of the stem, and then gave up and went for the cap. Thankfully there were no stabbings or feathers lost but we did a crap crap job. Sigh.
Tasting of White2Tea Club's 2015 Green Shroom Pu'er
I was warned by a tea friend that this pu'er is bitter so I went with a lower water temperature of 185F and really short steepings of 10 seconds to start.
Green Shroom steeps up a pale light green with soft vegetal scent.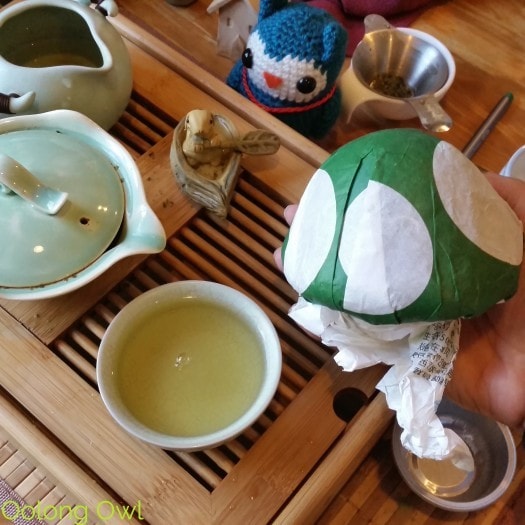 First Infusion: Oooh, soft fluffy sweet! The flavor is slightly vegetal and fruity but too light to pick up anything more precise. The texture is creamy thick with moisturizing lip feel. The finish is interesting like a dry knife plunged in. This is gonna get dry and my mouth tingles.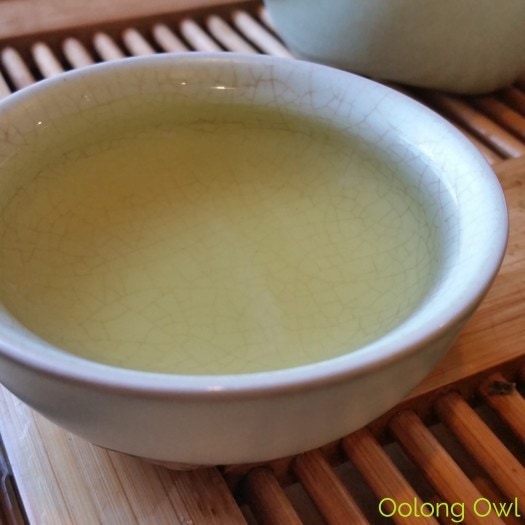 Second, Third, and Fourth Infusion: Green Shroom Pu'er is sweeter. Once you plow through smooth thick texture of incense notes, I'm getting peachy aftertaste. This is a dainty delicate mushroom! As expected, the tea is getting dry, a 2/10 Dryness as the back of my tongue is dry and I got a weird mouth tingle.
Fifth, Sixth, and Seventh Infusion: Wahhaha my tongue feels funny like I want to zip my tongue around like a snake. The sweet, delicate peachy ambyer flavor is stronger, waving in like perfume.
I'm wrecked guys. We've started the ritualistic owl dancing around the mushroom and tea pot with lots of wing flapping and hooting.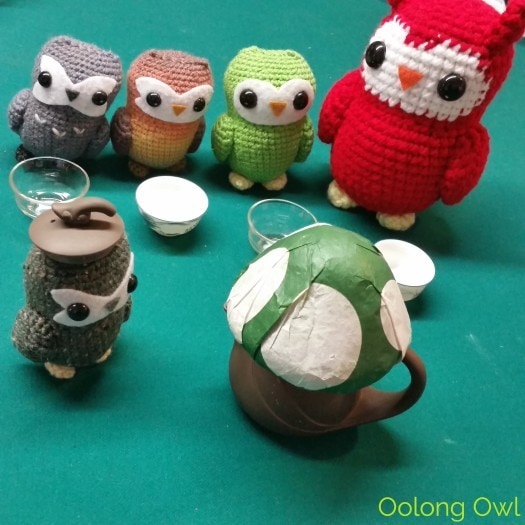 Eighth and Ninth Infusion: Green Shroom Pu'er is still thick delicate but losing sweetness. The flavor is vegetal and I'm getting a starting of refreshing camphor and some bitterness in the aftertaste mixed with the peach. The refreshing is really light, unless I'm feeling refreshed since I'm doing pacing laps around the house. Oh and I'm sweating, I should probably sit down (yeah I'm one of those tea drinkers that is usually standing).
Tenth infusion: The color took a dive here to a tint of yellow. The flavor is almost dead and is of hint of sweet. Hey tea, the party is still going. Get with the program!
Eleventh Infusion: I upped the temperature to 200f and went with a 5 minute infusion. The flavor is strong but not as strong as I expected. We don't have much time! 2015 Green Shroom is sweet and delicate again. It's peachy echo aftertaste is strong but the dryness jumped greatly and not as pleasantly, 5/10 Dryness.
Twelfth Infusion: I did a 10 minute final infusion here. It is still quite dry and that camphor fresh echo is here. Flavor is really light and not sweet. I might be able to squeak another infusion if I let it go for an hour, but I think I'll stop here.
Cold Brew – I've been playing with cold brewing pu'er over the last few weeks with mixed results, fingers crossed the shroom will work!
I did the cold brew a little differently, as the tight compression of the pu'er needed a little help. I used my favorite cold brew ratio of 8 grams of tea to 4 cups/1 liter of water.
To start, I added my pu'er to a gravity steeper and gave it a 5 second rinse with hot water, dumping that water as if I was going to steep it hot. I then reached in and tried to break up the compressed leaf as much as possible. I then added all the leaf to my cold brew vessel, filled it with cool water and popped it into the fridge. After an overnight cold steep there wasn't much flavor or colour change. The 24 hour mark was the best.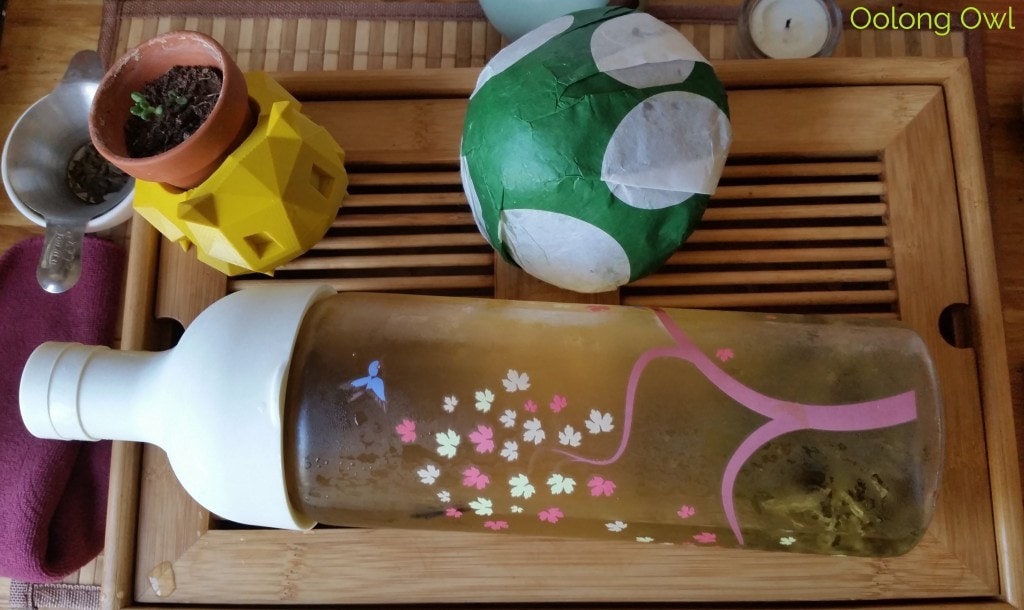 The cold brew interestingly translated a great mouth feel – if you can believe it the cold brew was super thick in texture. The flavor is refreshing with a light smokey vegetable bitter finish. I love the mouth feel and it something I haven't experienced yet in a cold brewing.
Comments
Overall, a fun month with rockets and mushrooms! Just like previous months, I'm very happy with the White2Tea Club, best $30 tea purchase every month!