Today's tea review is tea from a tea seller in Portland, Oregon – Totem Tea! They contacted me and sent me some goodies, which got me excited as their tea line up is very nice. Totem Tea's line up is heavy on oolongs, including bug bitten, aged, and dark teas. Their website is quite nice and has great tea photos!
Strangely, I am reviewing one of their lighter teas today, the Wen Shan Bao Zhong. Gosh, I haven't reviewed a Bao Zhong since 2013 (cringe), back in the early days of Oolong Owl. Oh have times of changed.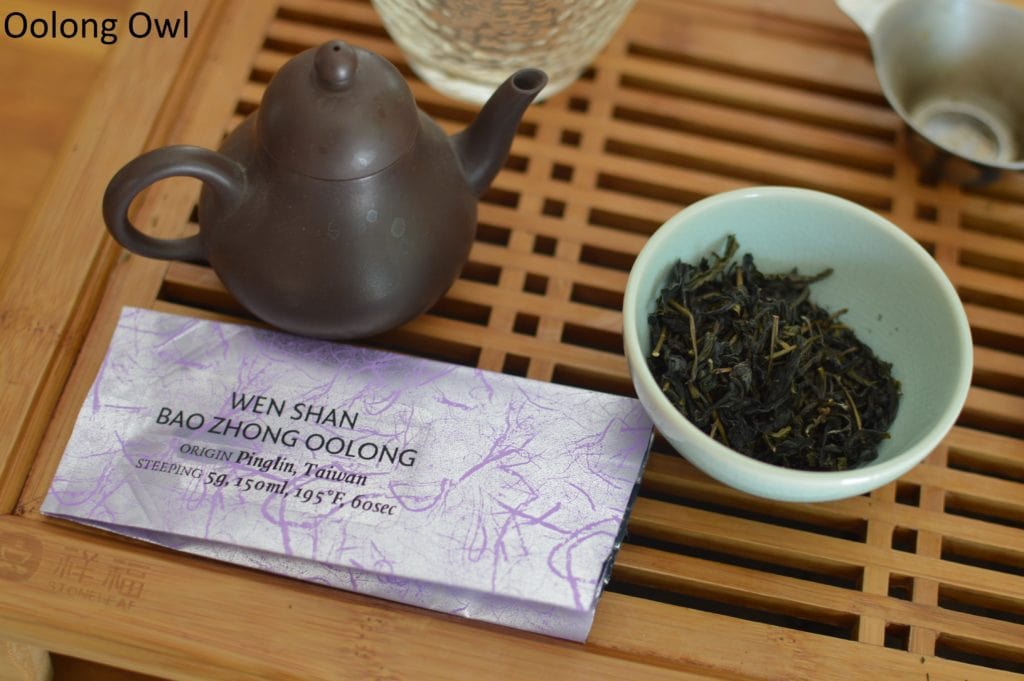 Dry Leaf
Wen Shan Bao Zhong smells very grassy and floral. It looks a bit mashed than I like to see but never know if during tea owl transit things went feathery.
I swear, as much as my UPS guy is nice, he drops my package every time, whether handing it to me or just stepping out of his truck. There is likely beat up tea thanks to him… or my evil bunny Benson who likely is tripping him.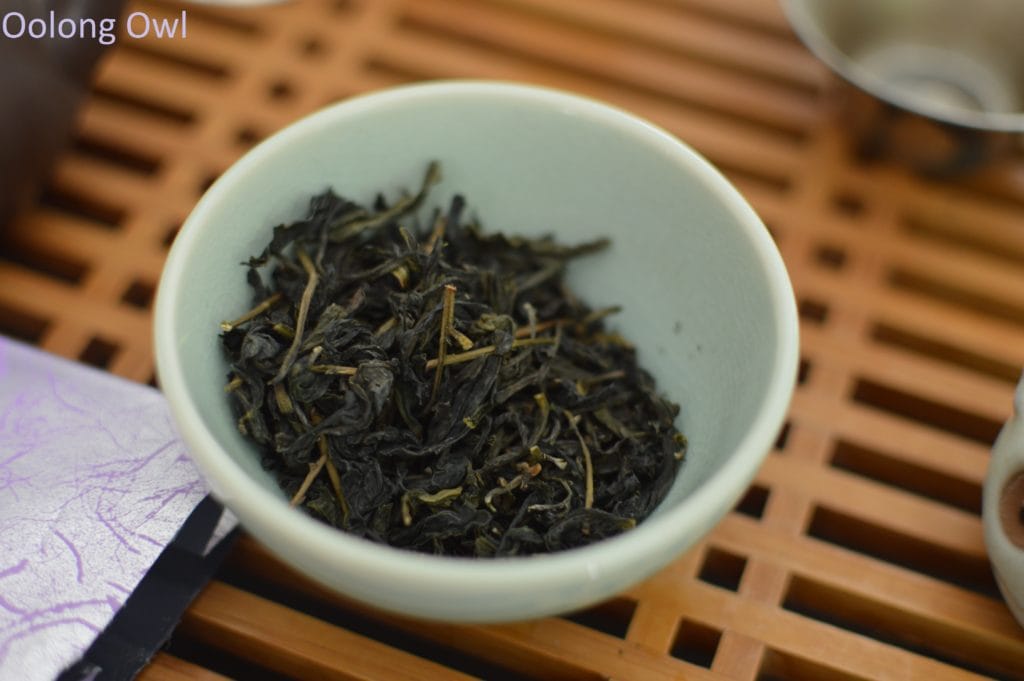 Steeping Instructions
Yep, Oolong Owl is steeping a lower oxidized oolong. Time to cringe at what I do to this poor oolong. I used a ratio of 1 gram to 16.5ml here, it worked out a little weird here as I ended up dumping my whole sample into my yixing pot.
For water temperature I used boiling filtered water because I can. Boiling my lower oxidized oolongs has made me relove them again, but if the oolong is poor quality the tea goes downhill really fast.
Tasting of Totem Tea's Wen Shan Bao Zhong Oolong
Wen Shan Bao Zhong steeps up a pretty pale yellow cream.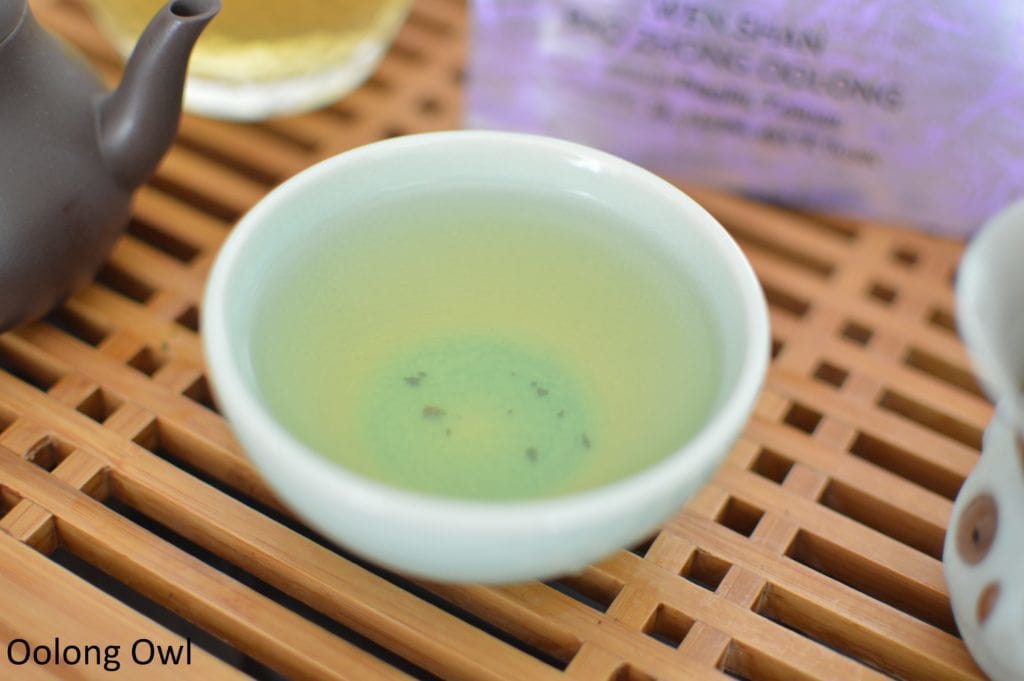 First, Second, Third, and Fourth Infusion: The Bao Zhong sips in tasting like sweet butter, yellow corn juice, hot sweet grass, with a bit of floral. After each sip I exhale tulips. With each sip and steeping the floral gets stronger, lingering longer and longer. Eventually each sip is mostly floral butter bomb. The tea is thick feeling, with a slippery lip leftover.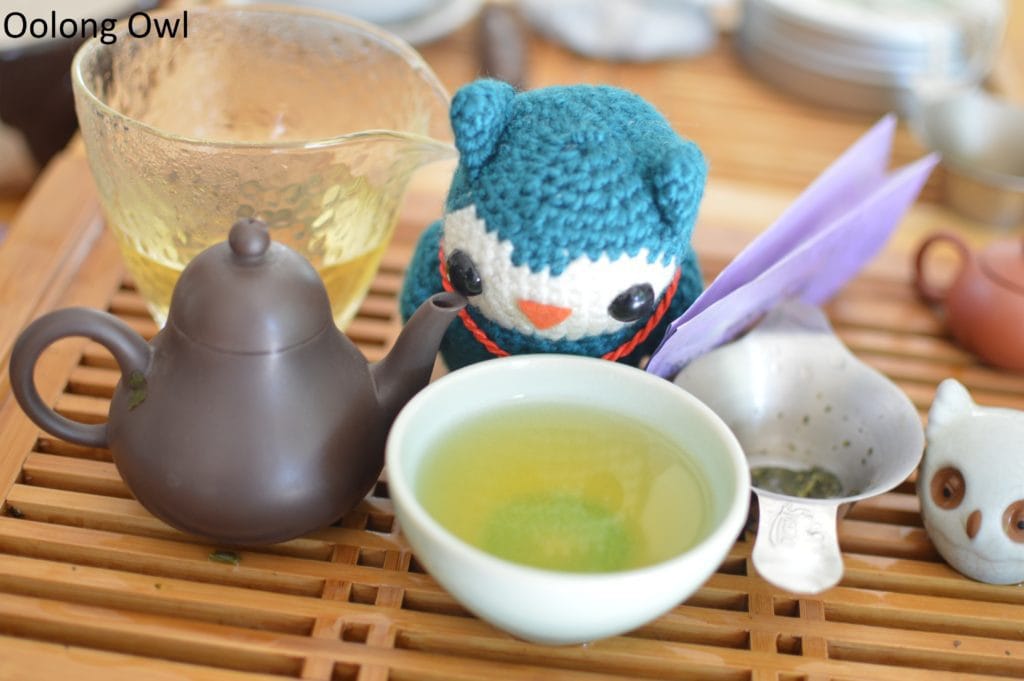 Fifth and Sixth Infusion: Wen Shan Bao Zhong is starting to get dry and a bit bitter. The flavor sip in kale and bitter, but the finish is  strong tulips. The body has thinned but still oily in texture. I got some dry cheeks. The sixth tasting tasted dead and I had to take break chasing a Stellar Jay pest who was digging my deck plants.
Seventh Infusion: I went in for a long 5 minutes steep here and all I got was sour flowers flavor and dryness. It was worth a shot.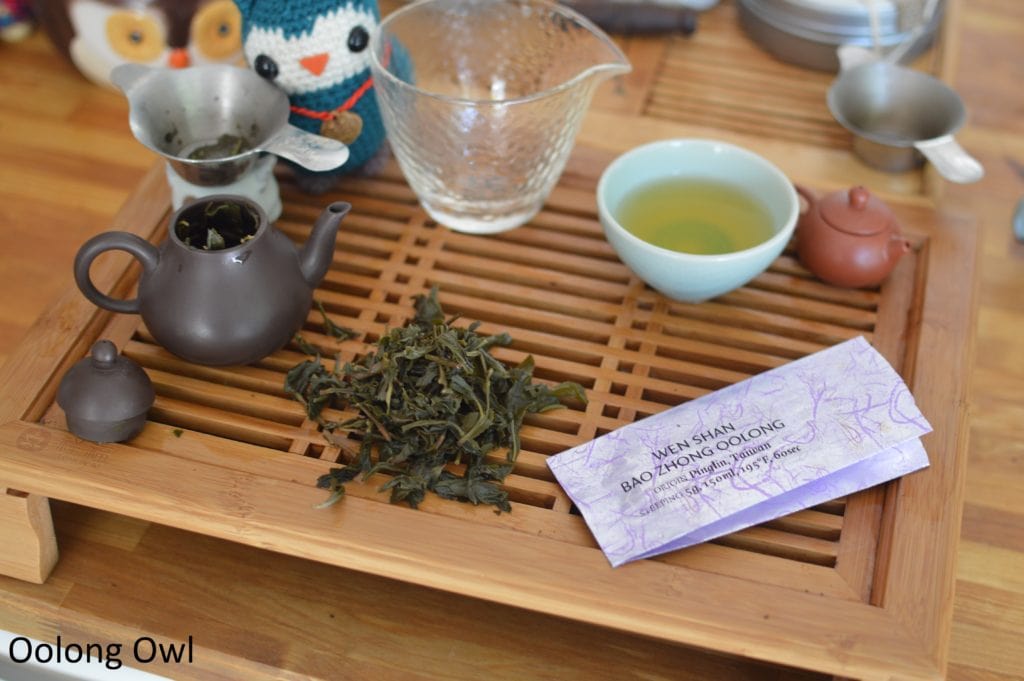 Comments
I haven't baozhonged in awhile, but thankfully Totem Tea's Wen Shan Bao Zhong did well for the abuse I put it through.  I also like to thank my killer yixing pot that does excellently with green oolongs.
Baozhongs seem to not get much attention these days – I know I get caught up on more oxidized oolongs, and others swear by the High Mountain oolongs. However, Bao Zhong is a nice treat as the floral is off the charts and you can get some great thick texture.
That said, I certainly looking forward to trying the other tea offerings from Totem tea.
(tea provided for review)