Our final Tea of the Month subscription review for March – Curious Tea!
This tea subscription box is based in the UK at £14.95 to $£16.95 per month depending on the subscription length. You get 2 teas, with a total of 100 grams of tea. Even though I'm in the US, my box didn't take that long to arrive, so this Tea of the Month subscription is totally do-able if you are outside the UK.
What is unique to this tea subscription is you get to choose between a Light, Dark or Mixed selection of teas. Their light teas are whites, greens and lightly oxidized oolongs, whereas their dark tea box is black, pu'er and higher oxidized oolongs.
As a blogger special, I got to choose which box to sample and I went with their February Light tea box as I found their light tea selection to be a fun line up. That and I don't think I've had a Lu An Gua Pian before.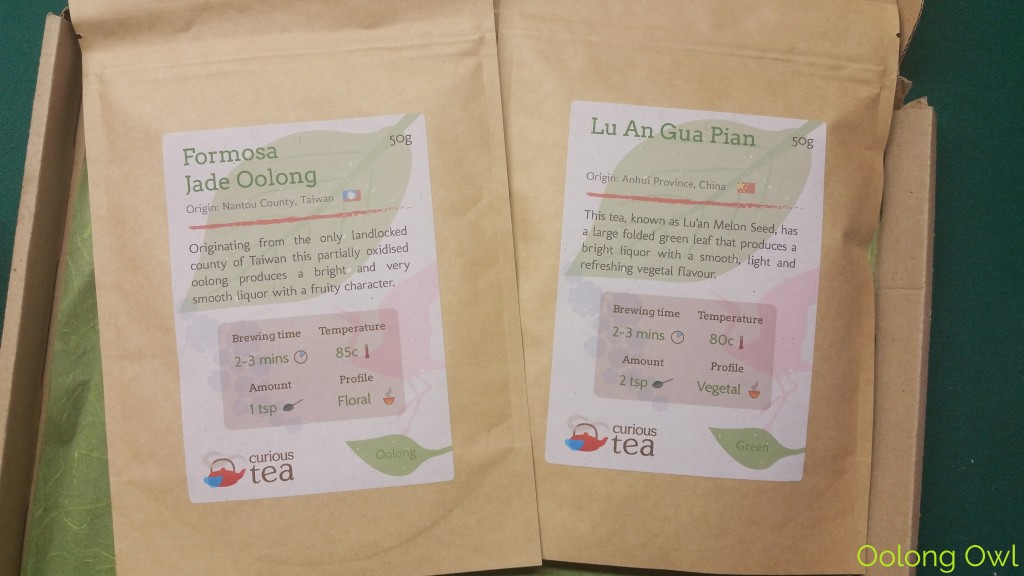 Tasting of Curious Tea's February Light Tea Subscription
Formosa Jade Oolong
The dry leaf of Formosa Jade Oolong is a sweet floral scent. I decided to follow the steeping instructions on the package, which was a western style long infusion of 185 f /85c for 3.5 minutes.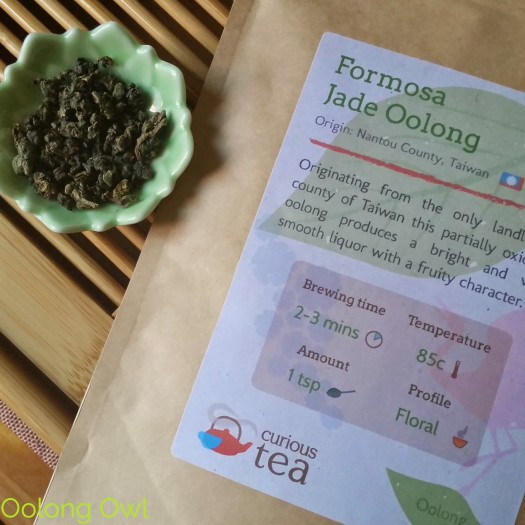 Formosa Jade Oolong is a light oolong with straw notes with a floral finish of buttercups. In the background there is a bit of that mystery peachy floral essence. The floral intensity is a light to moderate 3/10 on the Floral Meter.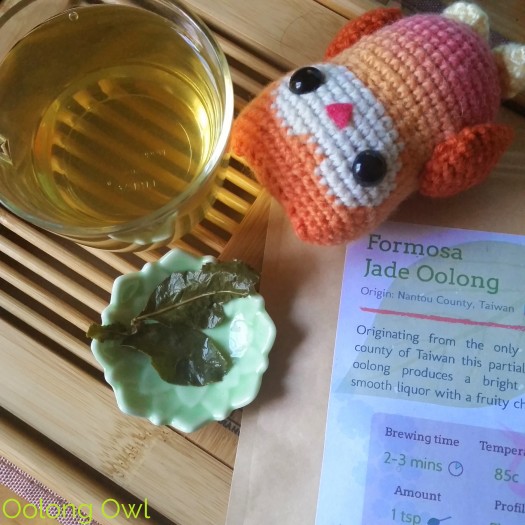 The second infusion I steeped for 5 minutes and turned out to be better than the first infusion! The flavor is not as delicate and more moderate in flavor. It is a moderate peachy buttercup floral with a bit of sweet tang end of sip.
Formosa Jade Oolong would be a great light tea to balance out sweets at afternoon tea, or a great spring tea. I can see this tea being awesome cold steeped!
Lu An Gua Pian
Lu An Gua Pian, aka Lu'an Melon Seed tea is a green with the leaf that is only leaf, without buds, middle vein and stems. I don't recall having this type of green tea before so I'm excited to try this green out. Again, I followed the steeping instructions on the package which was 175f/ 80c for 2.5 minutes. The Dl is tight, long rolls of leaf.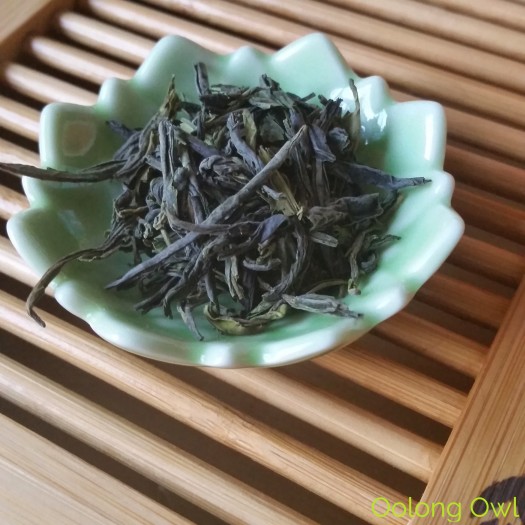 Lu An Gua Pian steeps up a pale citron green with an interesting almost smokey scent. The taste is vegetal and delicate with a mellow avocado and pumpkin notes with a bit of sweetness. I didn't find this green astringent at all. The steeped leaf is quite beautiful as it comes out looking like vibrant green, like blanched spinach.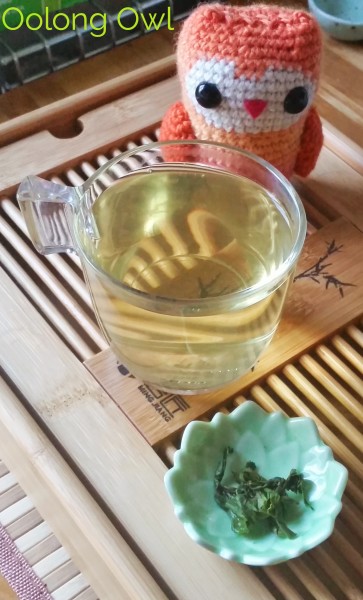 Steeped a few rounds gongfu style (175f, 5 grams of leaf, 120ml gaiwan) and the tea was just as mellow and smooth, getting sweet each infusion. Both steeping methods are pretty good!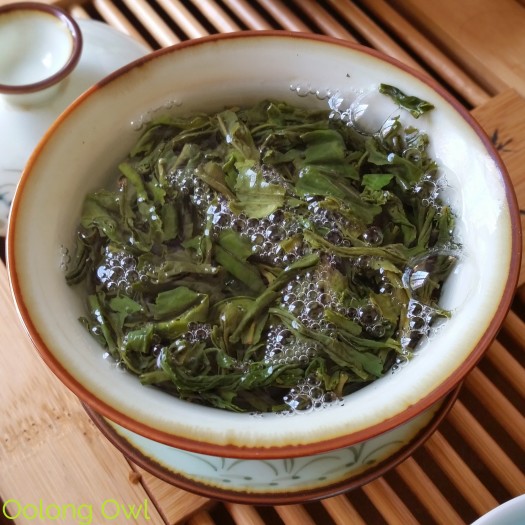 Lu An Gua Pian is a neat green for those who do not want a grassy tea. I like how delicate
Comments
Both teas from the Curious Tea Light subscription box are indeed light and delicate! The Formosa Jade Oolong was nice and trying a Lu An Gua Pian was a great treat. I like the box Light and Dark (or mixed!) format as it caters to one's tastes and you can explore within it. I do a number of "Of the Month" clubs that aren't tea related as well, and I'm a fan of having my clubs have a bit of customization or consider my preferences. Anyways, if you are looking for a simple tea subscription with a bit of customization give Curious Tea a visit.
(tea provided for review)