I've been really wanting to try Korean Green Teas. DESPERATELY! Korean teas, at least here in North America, seem to be harder to find and pricey. Plus, if I do find a korean green tea it be only one – how do I know it's good? I still need to comb through Los Angeles K-town, but I frequent Korean grocery stores often and they usually carry barley/corn/bean teas, genmaicha and nothing in high quality loose leaf.
To add some premise to my spazing of wanting Korean teas - it started with me trying Korean food and falling in love, as I love spicy and many dishes have that comfort food feel to me. Then I got into Korean music and watching Korean dramas (OMG go watch Doctor Stranger and IRIS now!) My resolution the other year was to learn speak Korean, which I need to practice more. One day I'll go to South Korea and eat all the food, including live octopi! (my husband wants to try the scary fermented fish).
So, enter me at the World Tea Expo - visiting the Korean tea vendors were at the top of my list! I lurked around the booths a lot, drinking all the samples.. savoring all the samples. I was sad as I got no samples to take home. However, after the WTE, Hankook Tea hooked me up! Hankook Tea sells Korean Teas and ships from the US!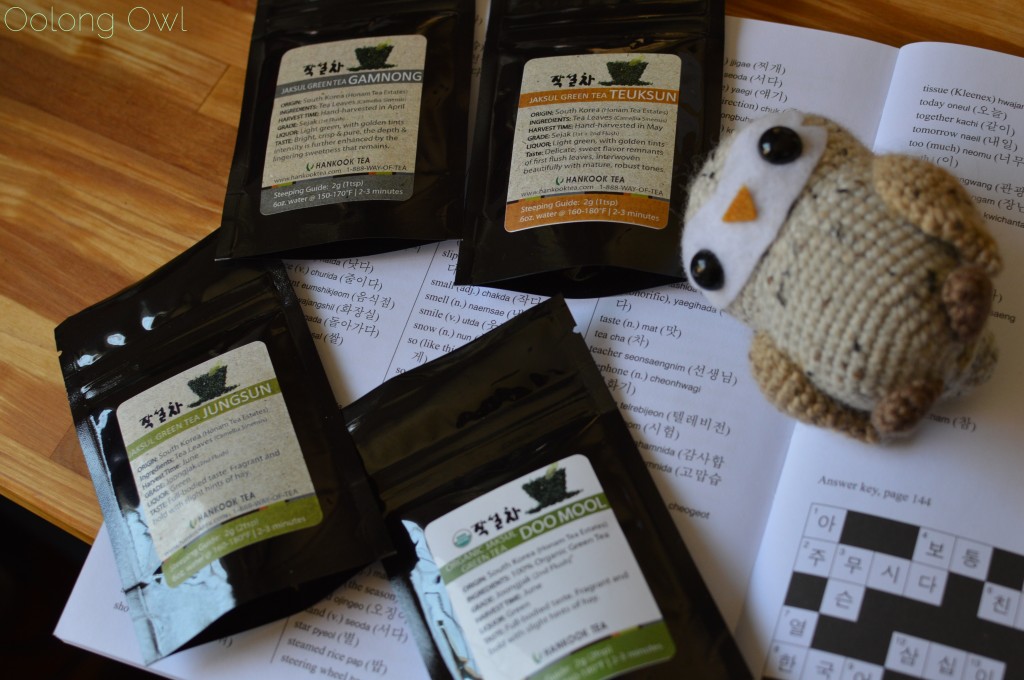 Hankook Tea has a big selection of Korean Green Teas, Jaksul Cha, of different flushes. I was planning to just try 2 at a time, but hey, let's go all out!
Today I'll be tasting Gamnong, Teuksun, Doo Mool and Jungsun. I'm going to keep the order of the teas the same to hopefully avoid confusion. The teas are ordered with the most expensive being first (Gamnong) to the lowest priced tea being last (Jungsun).  All teas are from the Honam Tea Estate in South Korea.
Gamnong Green Tea is an April, hand harvested Sejak (first flush). This tea is one of the more pricey teas available on Hankook Tea. The dry leaf of Gamnong looks like fine wisps of green tea – very delicate and a sign of things to come.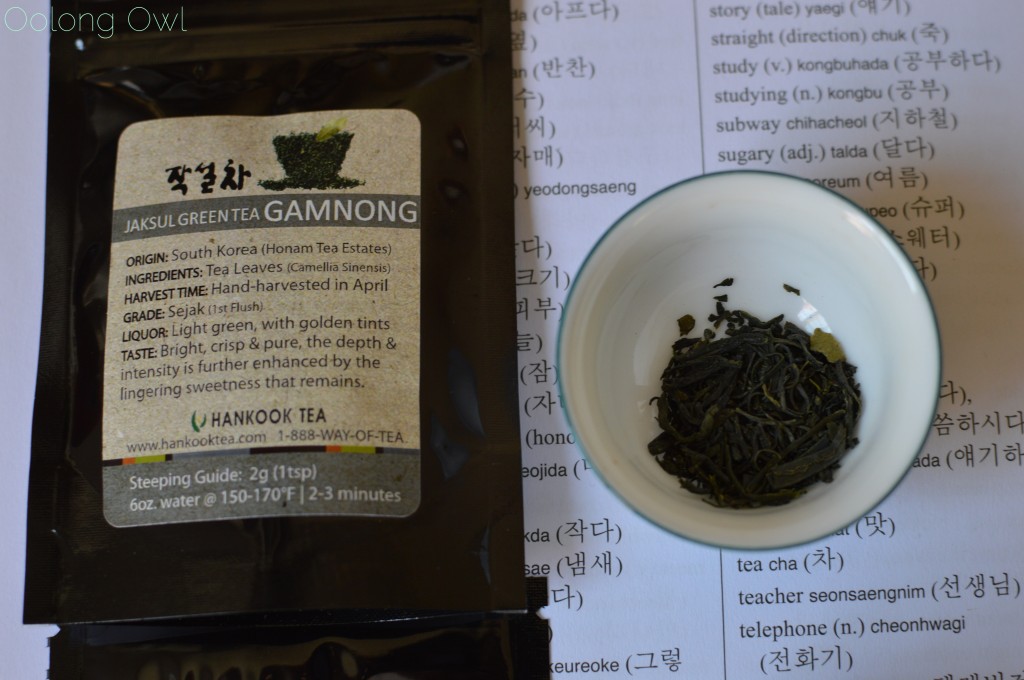 Teuksun Green Tea is another hand harvested tea, but this time in May. Teuksun contains both Sejak and Joonjak grades of tea (first and second flush).  Teuksun has a mix of wisps and chunky grean tea leaf. Both Gamnong  and Teuksun smell amazing with a sweet mouth watering floral.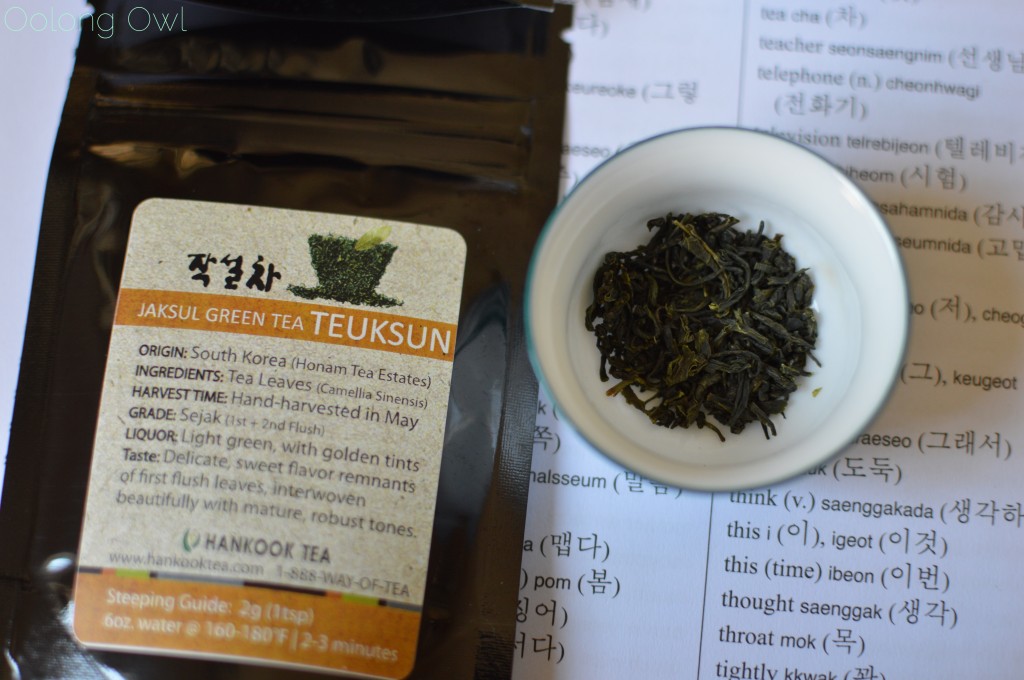 Doo Mool Green Tea is a 100% organic tea, harvested in June and is a second harvest (joonjak). This tea is harvested at the same time as the next tea on our list, Jungsun. Doo Mool smells lighter than the two previous teas, with a more chunky appearance.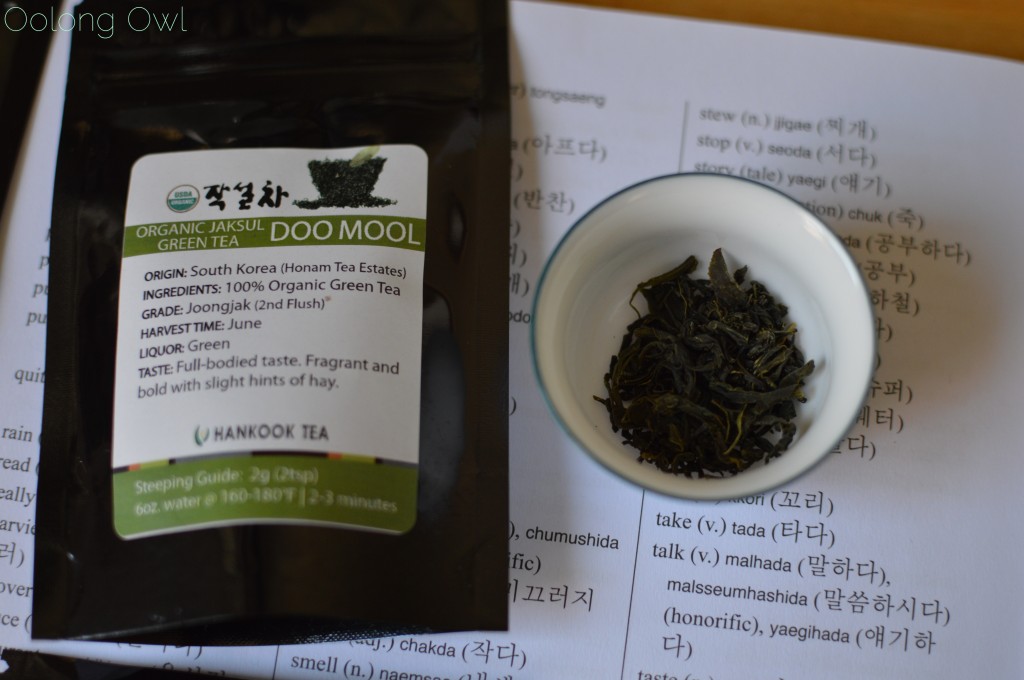 Jungsun Green Tea is harvested in June and is also a Joongjak second flush. Doo Mool and Jungsun both have economical pricing, so are quite popular. Jungsun smells completely different than the other teas with a clean vegetal scent with no sweetness. The leaf here is a more flat chunky appearance.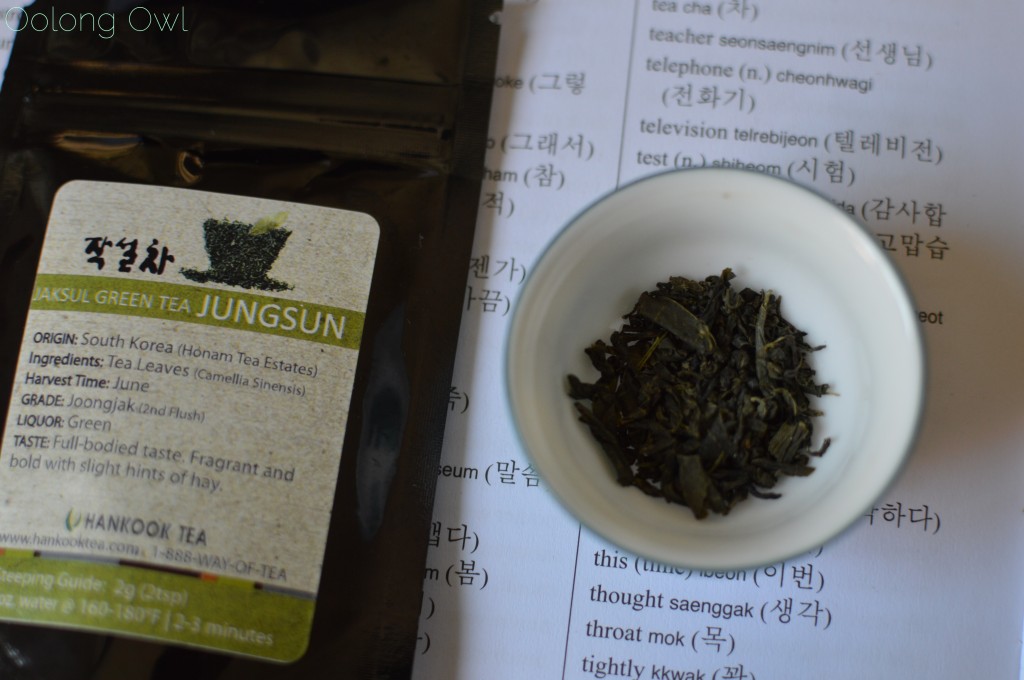 Finally, owning all these perfect tea infusers has come in handy!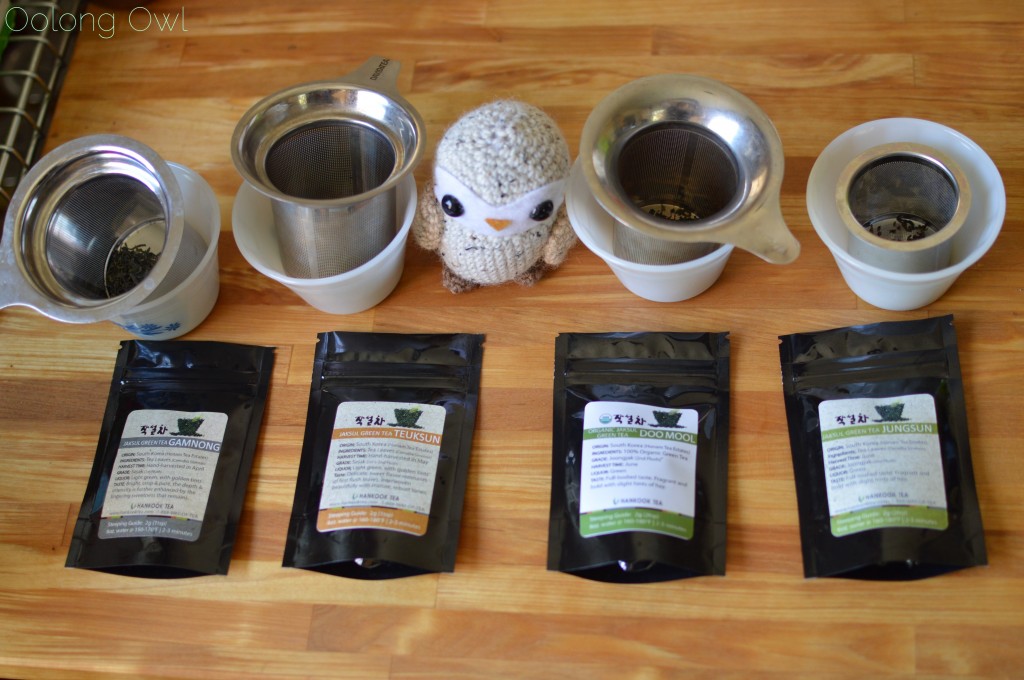 Steeping Instructions
I decided to steep all four teas at 160 f for 2.5 mins. Very low steeping temperature! The steeping instructions for all four teas was pretty similar with the exception of the 2nd flush Doo Mool and  Jungsun can go up to 180f. I went by weight rather than teaspoon for dry leaf amounts.
I found our fancy Gamnong first flush had very vibrant steeped green leaves compared to the other teas.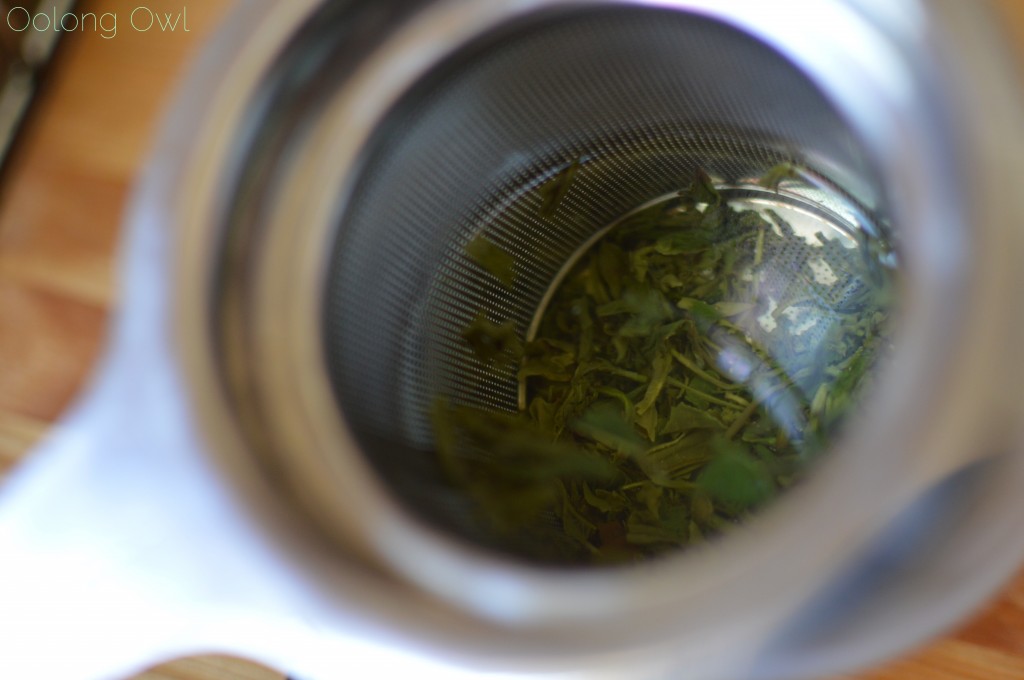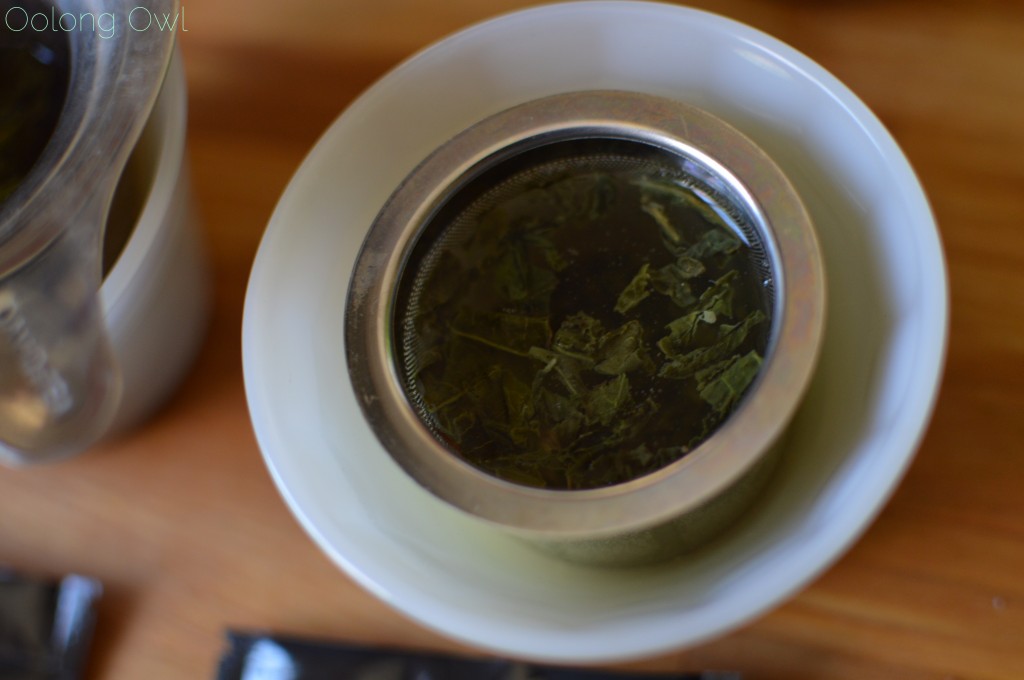 The colour of all four teas was very similar – a light yellow green. For smells of our tasty Korean teas - Gamnong smells the best with a lovely sweet grassy. Teuksun smells more mellow and lighter, with Doo Mool and Jungsun smelling more vegetal.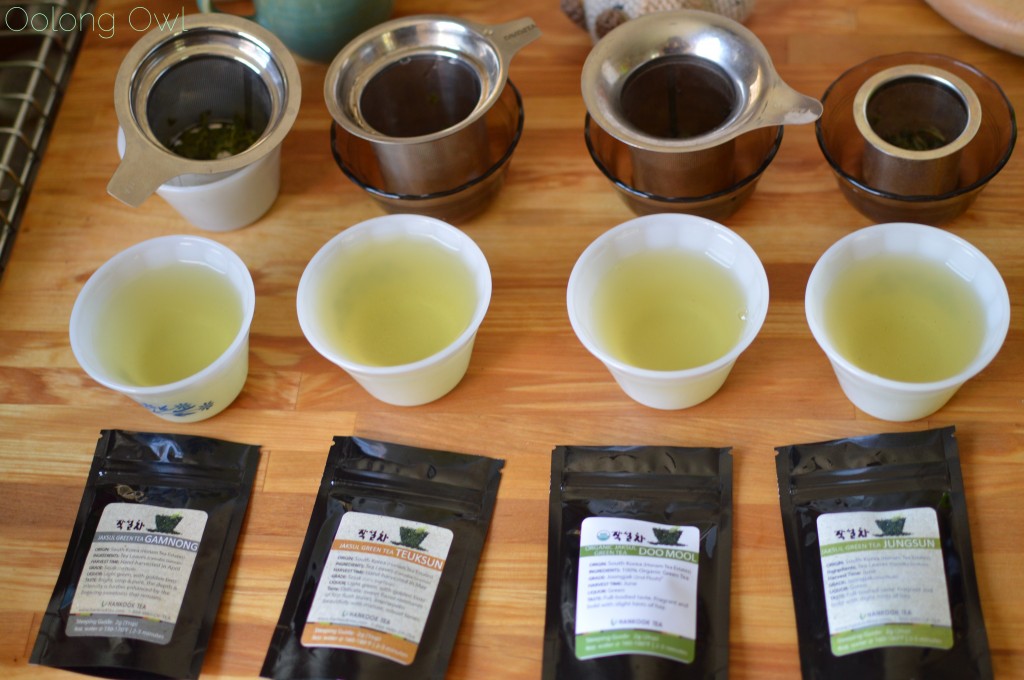 Tasting of Hankook Tea's Korean Green Teas
Gamnong very sweet, with a delicate and light creamy mouth feel. The flavor is super fresh, clean and crisp with a gentle kiss of grassy notes. I also get hints of floral perfume, maybe mixed with the sweetness. A very delicate tea! I feel Gamnong is the tea you bust out with the fancy tea ware - taste wise it's delicate sweet and smooth with a higher price tag.
Teuksun is very delicious! Teuksun is also delicate, smooth, and sweet like Gamnong but much more complex. It has a crisp light grass flavor but a really nice interesting sweet tart finish. I love the finish here – it's tangy sweet and addictive. Out of the four teas here, Teuksun is my favorite for the complex magical flavor. I could see myself ordering more!
Doo Mool is quite mellow and less complex than Gamnong and Teuksun. The flavor is a bit more robust and even throughout the sip. The flavor is just a hint of sweet hay with a savory marine note unami finish. Though a good green tea, this was "back of the pack" for me as it wasn't complex as the others.  Doo Mool felt like an everyday tea to me. If you love a more savory unami tea you'll enjoy Doo Mool.
Jungsun is completely different than all the teas! Jungsun is very sweet with corn, barley and hay notes. The corn notes taste just like eating freshly picked and boiled corn! The barely notes sounds weird, but if you've had a Korean barely tea you'll know what I mean (sorry!). I've never have had a flavor like this for a green. You'll love Jungsun if you want a green that's not grassy and very unique.
Hard to tell since I drank all 4 teas at once, but all had a light dryness, 1/10 astringency meter.
Comments
Korean green teas are delicious! I'm happy Hankook Tea has a big selection of Korean green teas and herbals – and sample sizes! Oh no, I just realized they have tea ware – I'm in trouble now!
If you want to impress guests or have a fun "Let's compare Green teas of the World" session, I'd go with the Gamnong. If you want more fancy, there is a grade available higher than Sejak, first flush –  Ujeon Gamro, a special grade! I highly recommend Teuksun for it's great flavor and complexity. If you want something completely different, try Jungsun, especially for its great price.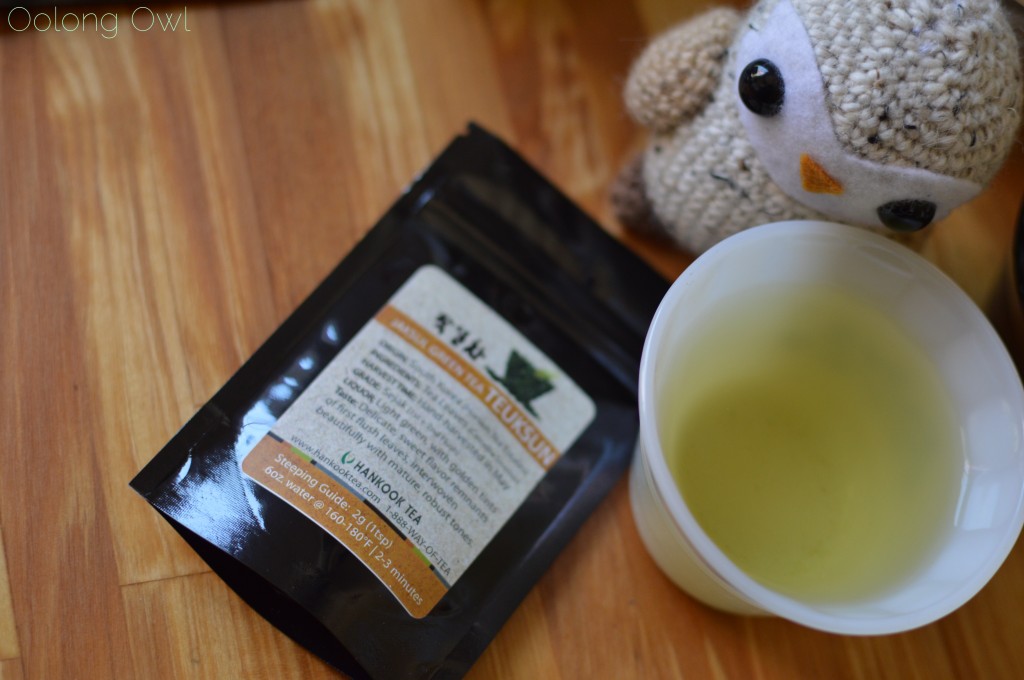 How are these teas compared to say a Japanese gyokuro or sencha? The Korean teas I tried were more delicate, less grassy and more on the sweet side than buttery. The exception was Jungsun which tasted very unique!
Bonus: Hankook Tea wins for the cutest pamphlet.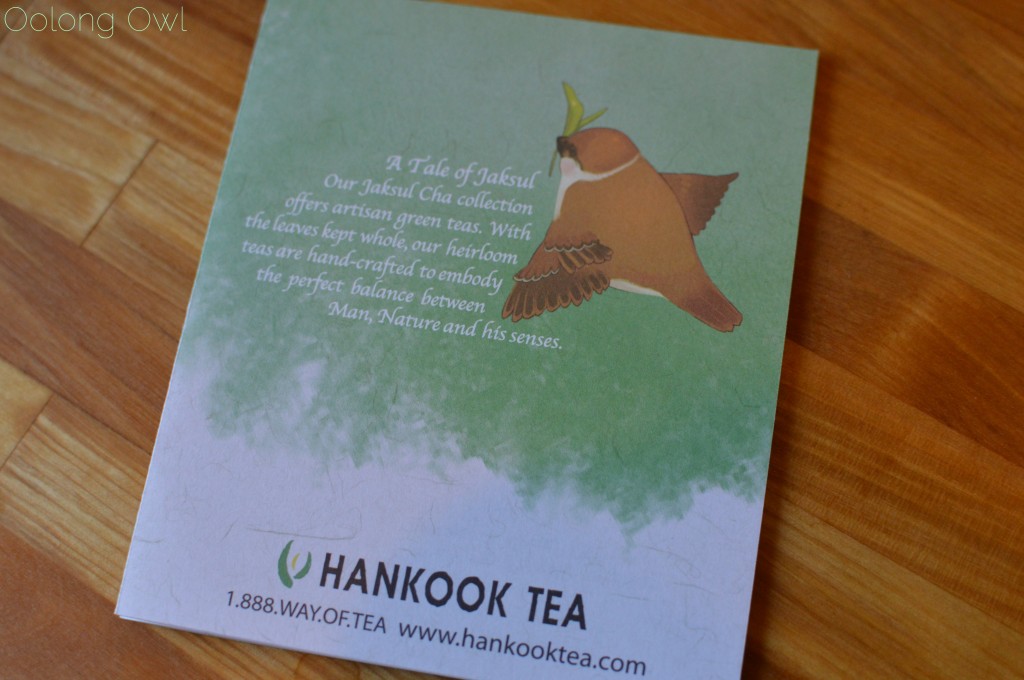 OMG SOOO CUUUTE CHUBBY BIRD POURING TEA!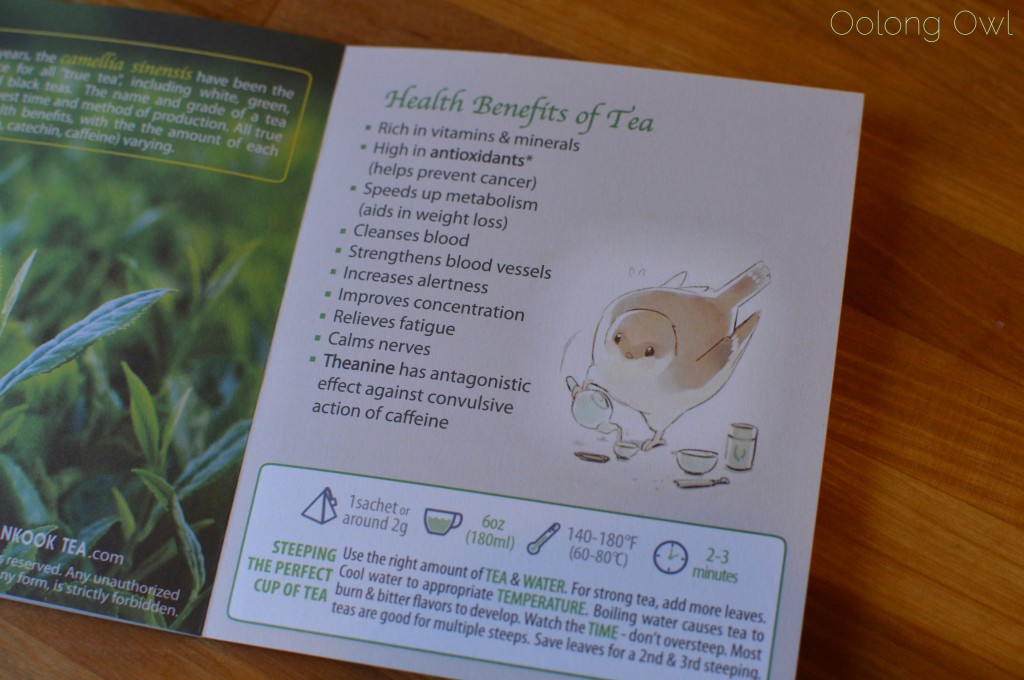 (teas provided for review)