A lot more bagged tea has been coming my way these days and I'm not sure why. Rest assured, it's all been really good bagged tea! I do have some bagged teas in my collection (73 according to my tea collection spreadsheet) with a mix of old stuff from big brands at the grocery store to samples that happen to be in tea bag form. However, with all these really good bagged teas I've been getting lately, those grocery store bagged teas have been demoted from "I might drink this or give it away" to "to be used as tea paint".
So, how about some award winning Oolong, that happens to be in bagged tea form? This oolong is from Teatulia  and is based in Colorado. Their teas are USDA organic and sourced direct from their single estate tea garden in northern Bangladesh (the Teatulia area). Teatulia's Oolong was awarded 3rd place in the oolong category for the North American Tea Championship 2014.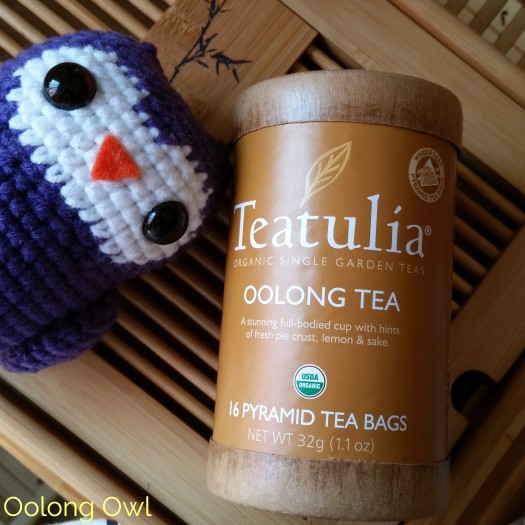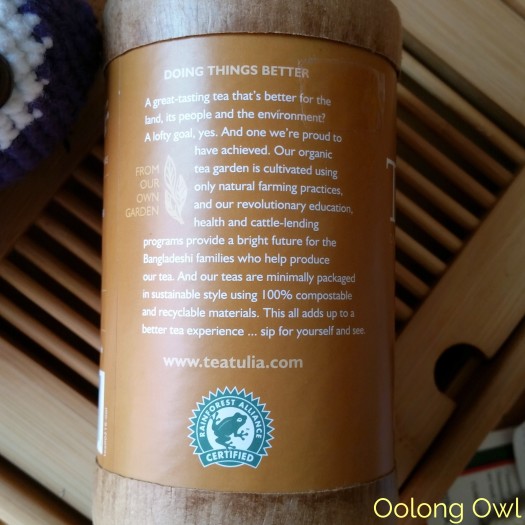 Dry Leaf
The leaf inside the Teatulia Oolong tea bag is dark with the odd silver and gold tip. The scent of the tea bag is sweet fruit and a bit of toast.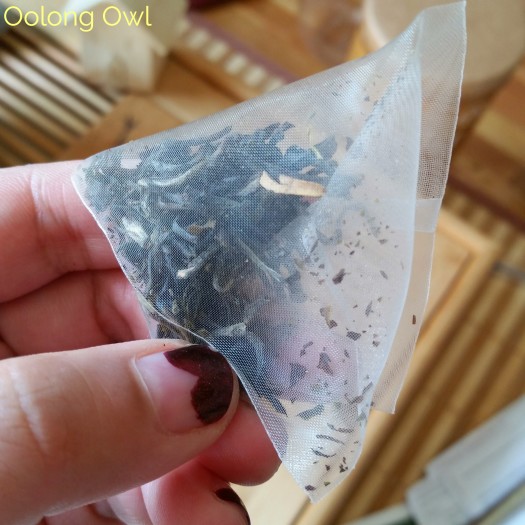 Steeping Instructions
The instructions call for steeping the oolong in boiling water for 2 to 3 minutes. I found the best flavor was at the 3 minute mark.
Tasting of Teatulia Oolong
Teatulia Oolong steeps up a clear gold color with a sweet fruity and light toasty scent.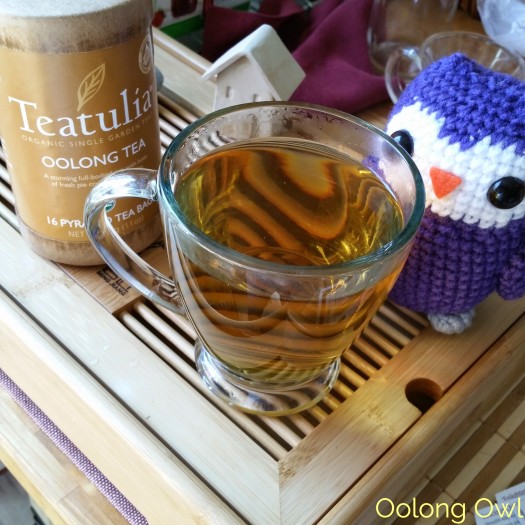 Oh wow, a unique taste! Teatulia Oolong sips in delicate with savory cracker/biscuit notes with a bit of buttery. The finish is a sweet lemon curd. Some sips I get a bit of a floral peach hint end of sip. The whole tea tastes pretty fresh, like morning spring. On the canister, it states notes of pie crust and sake. I didn't get the pie crust notes, probably since my pie crusts taste like over the top butter (yum!).
Second Infusion: I did a 4 minute re-infusion of the tea bag. The tea came out a bit tart. There are more citrus notes with a savory bready end of sip. The lack of aftertaste and lightness of the citrus notes give this round a delicate touch.
Comments
I like the contrast of citrus and bread savory for this oolong. More often you get bready notes in blacks or roasted oolongs but they also don't have citrus notes. Teatulia Oolong is easy to drink, yet interestingly complex enough for a hardcore tea drinker to enjoy. White tea lovers would particularly enjoy the freshness of Teatulia Oolong tea, as well as the delicate notes.
Anyways, if you are looking for organic, award winning tea (Teatulia's white and black also placed in NATC) hit up Teatulia Tea Store! Browsing through their site, most of their teas are in tea bag form, but they have some blacks, white and greens available loose leaf for a fair price.
Learn more about Teatulia and their mission here: www.teatulia.com!
(tea provided for review/ tea company affiliate)