Pumpkin Milkshake 2.0 is a Doke Rolling Thunder Oolong with vegan pumpkin flakes, organic lotus stamens, organic vanilla beans and organic natural flavors. This unique tea blend is by Butiki Teas, online tea seller based in New Jersey.
I recently received my small order from Butiki Teas, as I was unable to resist some of her new blends. My household loves pumpkin pie. In the event I have leftover pumpkin, I make pumpkin milkshakes, saving me calories. Even off pumpkin pie season, I do like a good pumpkin tea, DavidsTea's Pumpkin Chai as a good standby. By the way, I try to not mention wanting pumpkin food off season to my father. He will always tell the tale how he makes carrot pie, a scary not-so-master piece with hard lumps of carrot in a pie crust.
I find Pumpkin Milkshake 2.0 interesting as it uses a tea base I'm not too familiar with, Doke Rolling Thunder. This hand picked oolong is from Bihar in Northern India.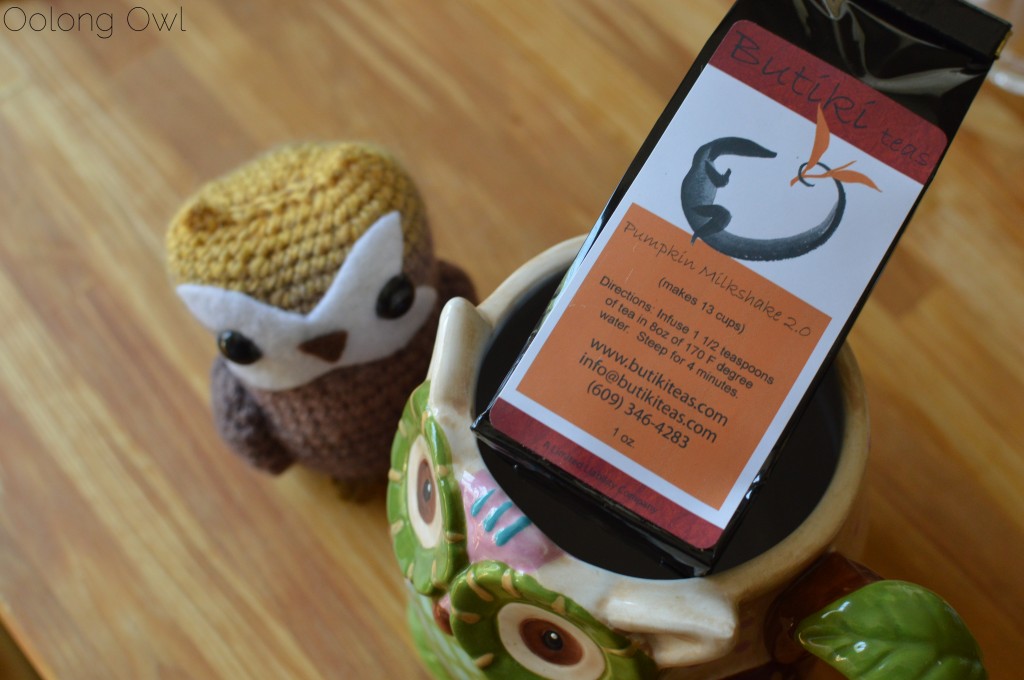 Dry Leaf
When I opened Pumpkin Milkshake 2.0 packaging, there was a strong pumpkin spice scent, yum! The dry leaf consists of thin, wiry oolong twists. The leaf speckled with some creamy coloured dust, I'm guessing it's from the pumpkin flakes.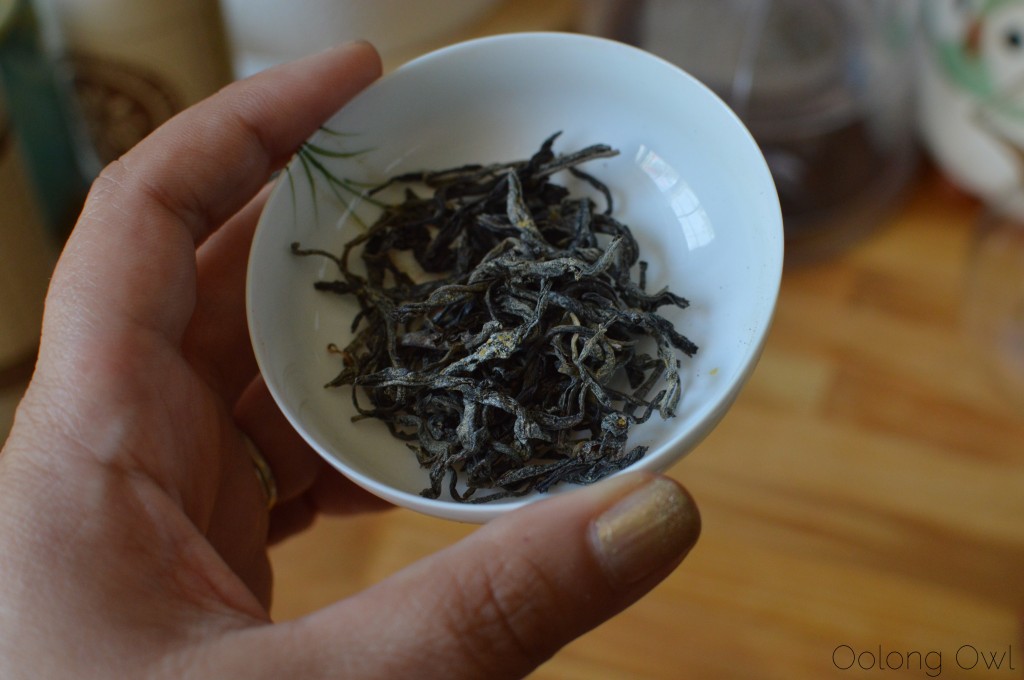 Steeping Instructions
I always find Butiki Teas has spot on steeping instructions, but with my variable tea kettle, I had to make some minor adjustments. The steeping instructions of Pumpkin Milkshake 2.0 are 170F water for a 4 minute steep (1.5 teaspoons of tea, 8oz of water). I went with 175F – a tea rebel!
After my steeping, I had a copper and gold coloured brew that smell as if I just cracked open a tin of pumpkin puree. MEGA PUMPKIN!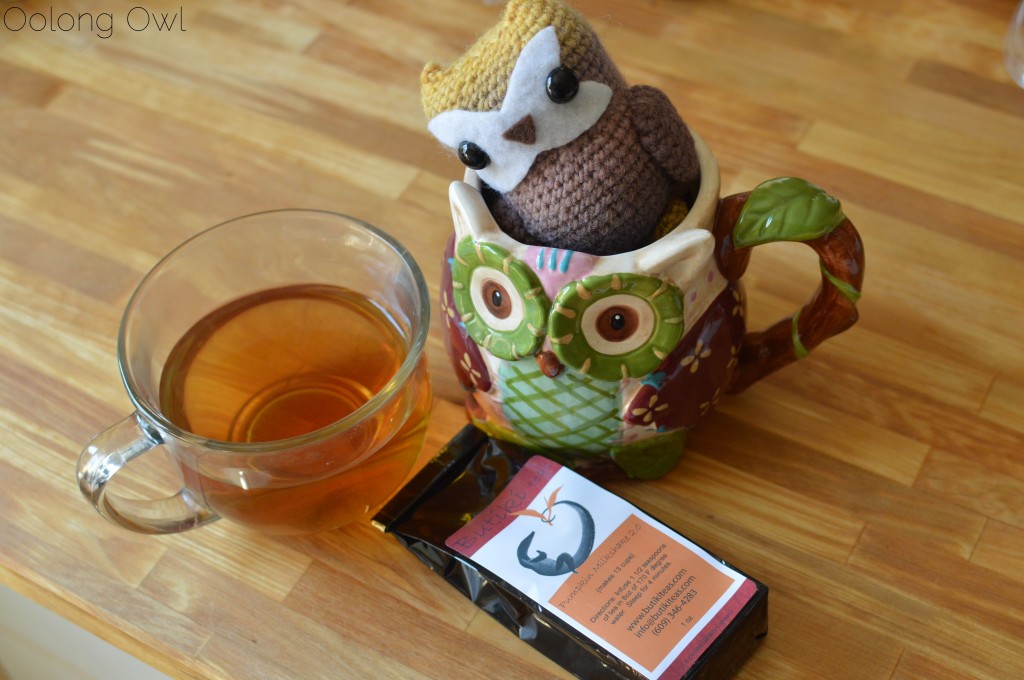 Tasting of Butiki Teas' Pumpkin Milkshake 2.0
Hoot! That's a lot of pumpkin! Pumpkin Milkshake 2.0 sips full of pumpkin flavor, with a great full bodied oolong tea base. The pumpkin here is pretty natural tasting, not the sugary pumpkin flavor in other pumpkin tea blends or tinned can pumpkin taste. The oolong here is a great pairing with the pumpkin – it has a rooty vegetal flavor, like carrots (or is that still the pumpkin talking or flashbacks of my dad's carrot pie), almond flesh notes and a bit of malt. Very interesting oolong! End of sip a bit of creamyness sets in – creamy in both flavor and texture, leaving a soft creamy mouth feel. I do not detect any bitterness or astringency.
Sweetened: I added a bit of German Rock sugar to the remainder of my cup, with a Tea Owl's face pressed up against the tea mug.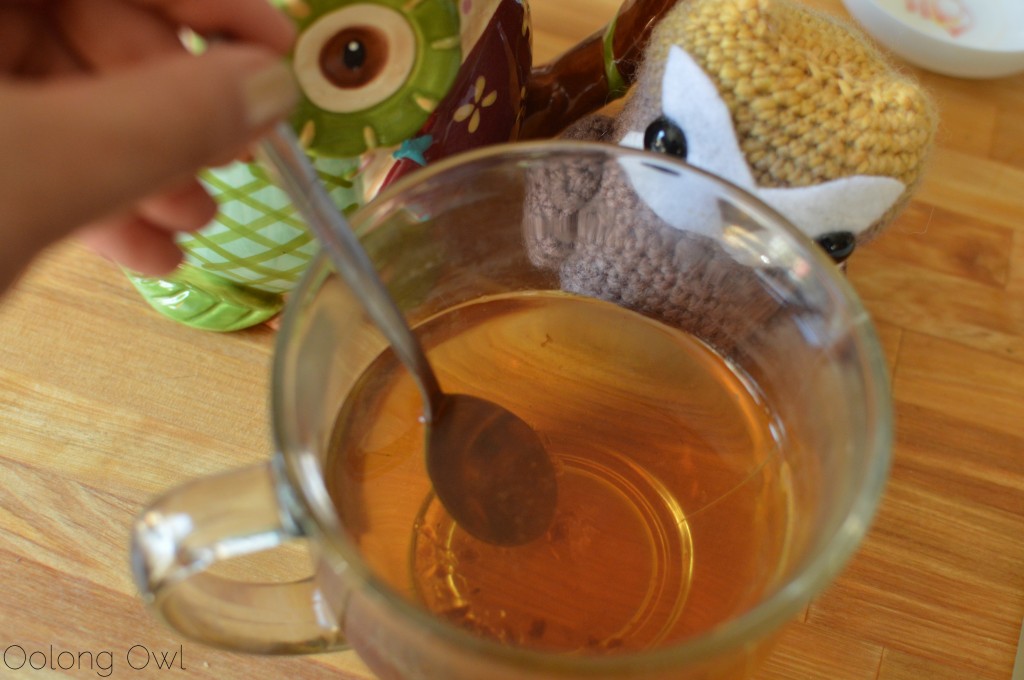 Pumpkin Milkshake 2.0 sweetened is also pretty good. The pumpkin flavor goes more into pumpkin pie territory, without the spice. There is also a caramel note finish this time! As the tea cools, I'm picking up a hint of clove and ginger (or is that brain trying to fit it into a pumpkin pie taste?)
Resteep: MUST GET ALL THE DELICIOUS PUMPKIN! I did a 5.5 minute resteep. Pumpkin Milkshake 2.0 has lightened in flavor, as expected. There is a bit less pumpkin and a lot more oolong almond and malt flavor going on. I'd actually accept this as a good first steeping as the pumpkin flavor is about the same here as other pumpkin flavored teas. The base is sweet like almond flesh, bright, and still quite creamy in texture. There is a bit of dryness after each sip, but it is very light.
After the resteep I noticed the leaves expanded quite a bit – nice looking leaf!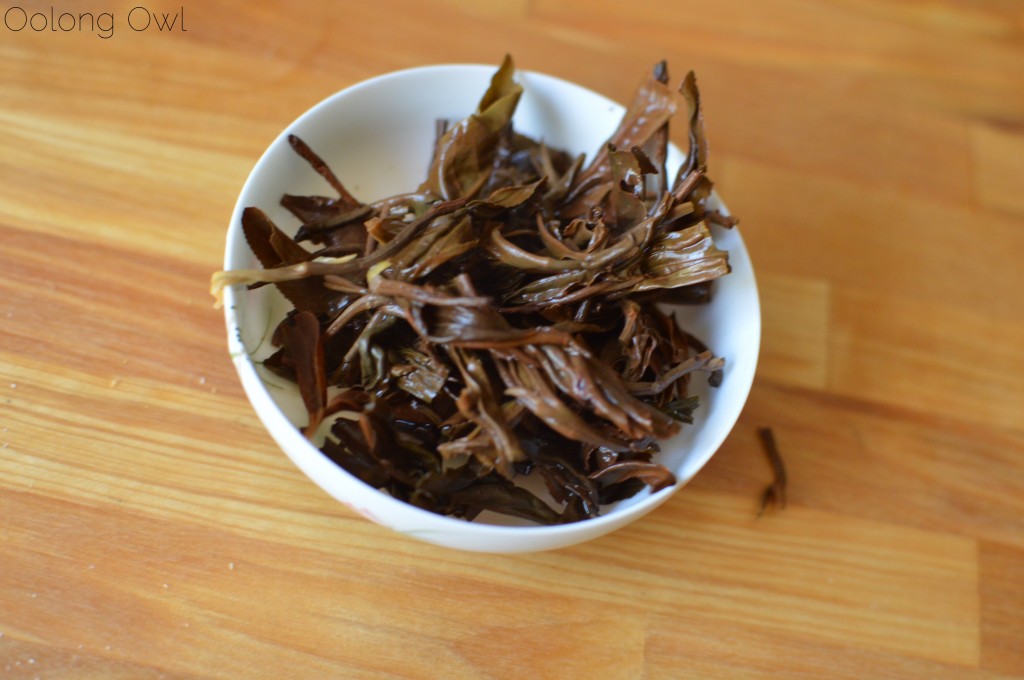 Comments
Pumpkin Milkshake 2.0 is the most pumpkin tasting tea I've tried to date. Similar to other Butiki Teas' blend line up, the tea is vegan and very natural tasting, making for always a delicious cup of tea. I thought this tea would be more creamy, but the focus of this tea is the awesome mega pumpkin flavor with well matched oolong base!
Pumpkin lovers – check out Butiki Teas'  Pumpkin Milkshake 2.0! This blend is also perfect for someone looking for a really unique tea experience. If you haven't already, check out Butiki Teas - she has excellent teas!