For Black Friday I ordered all fo the new White2Tea ripe puers as they all sounded interesting and had fun wrappers! The 2017 Waffles shou puer is pressed into a square pattern 200 gram thin cake. It is promised to be a balanced puer. That is a cool retro wrapper!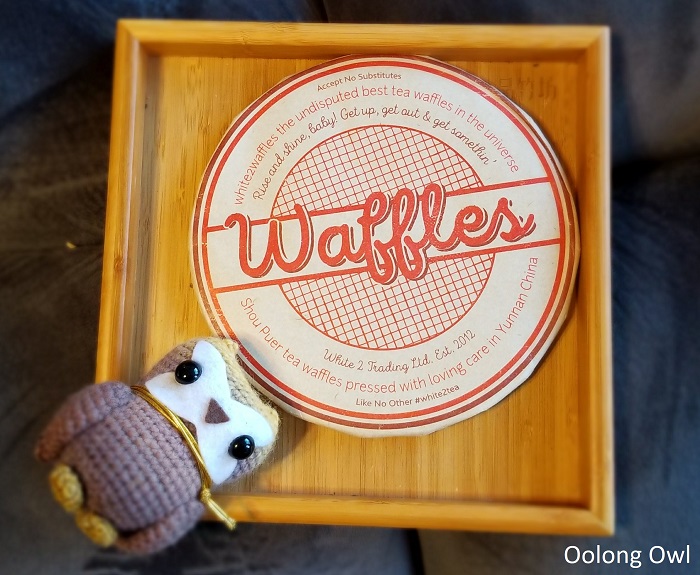 Bah, every Sunday my Dad made the pancakes and waffles.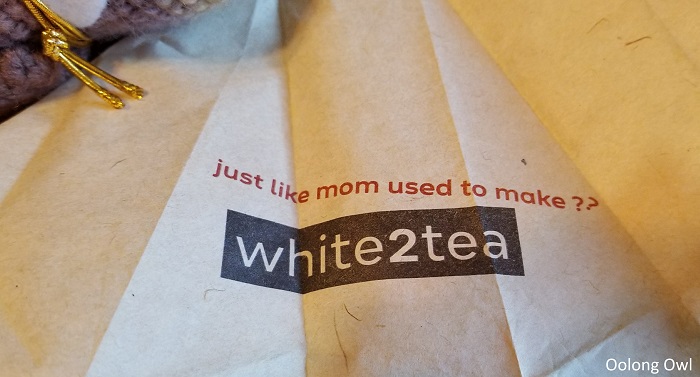 This cake is double wrapped with an inner blank wrapper. I like double wrapping as I can preserve the fun wrapper.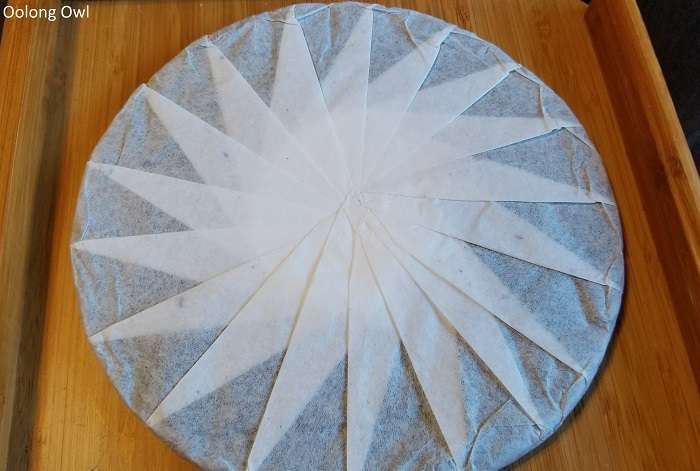 Dry Leaf and Steeping Method
The 2017 Waffle Ripe Puer has an earthy scent without any detectable funk.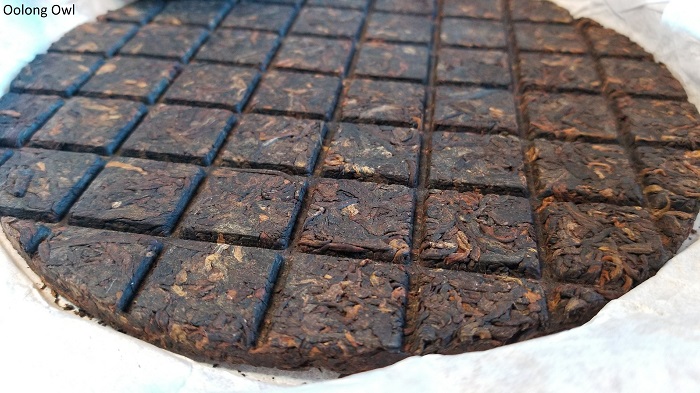 I had no issues breaking off a corner and I did not need a puer pick as the cake was thin and easy to deal with. This feature is nice compared to the Chocobricks which were thicker. This long corner piece was just over 8 grams.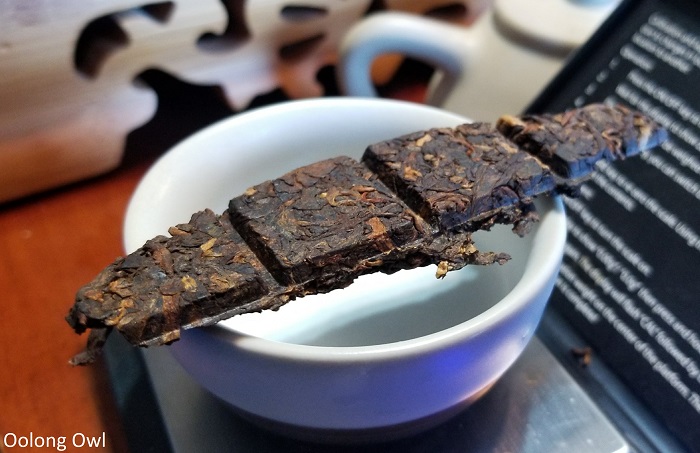 Individual squares are a little tougher to break with fingers, but can be done. Shou is flexible anyways, and I tend to err on more leaf than less.
I used 1 gram of leaf to 12ml of vessel size, steeped gongfu style in boiling water. The hot leaf smells like hot and sour dirt, so I gave it two rinses.
Tasting of White2Tea's 2017 Waffles Shou Puer
First and Second Infusion: This tea is hot, dirty, and sweet. Waffles has some tartness in the early infusions like these got some sourdough waffles. I am pretty sensitive to new shous and strange notes. Each steeping got darker and darker and less tart.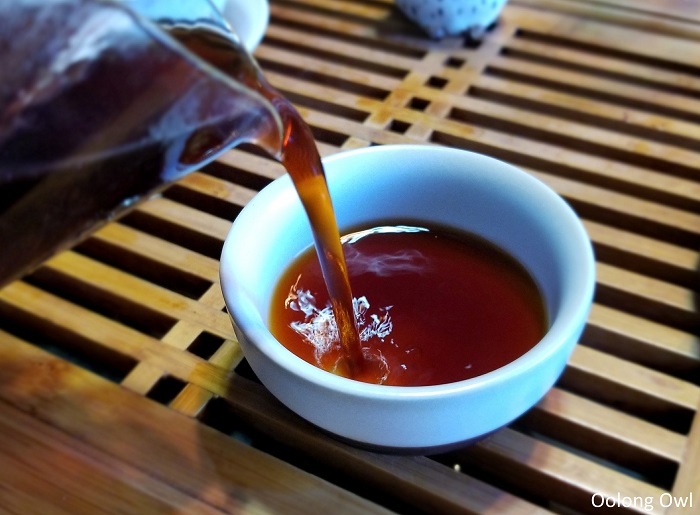 Third, Fourth, Fifth, Sixth, Seventh, and Eighth Infusion: This is like a mirror finish! Super clear tea and dark. How about a mirror cake instead of a waffle?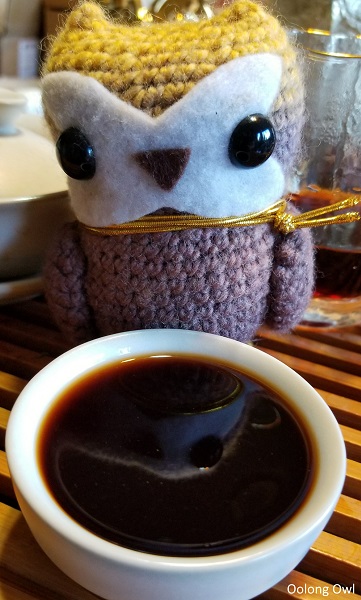 Now this tea is balanced. Good notes of earth and wood with a soft creamy body. I get some notes of bittersweet earth and other sips of caramel. No funky wet pile taste or swamp basement. It is lightly sweet, no tart. Easy mindless drinking here.
At this point, I dropped STROOPWAFEL ON WAFFLE!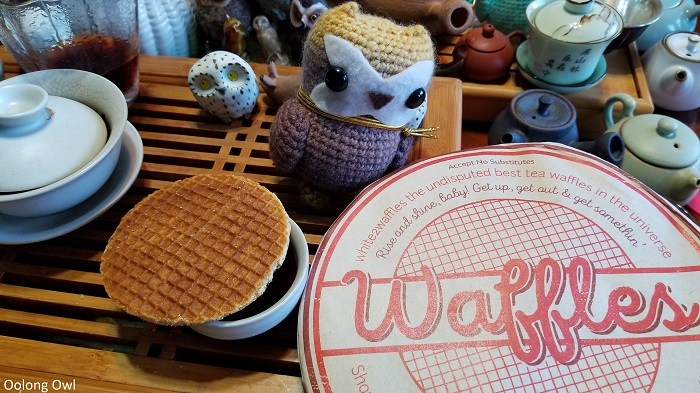 This is a pairing made in tea heaven. The honey of the stroopwafel enhances the sweetness of the shou.
A gaiwan certainly has the better real estate for stroopwafel melting, but risky crumb fallout.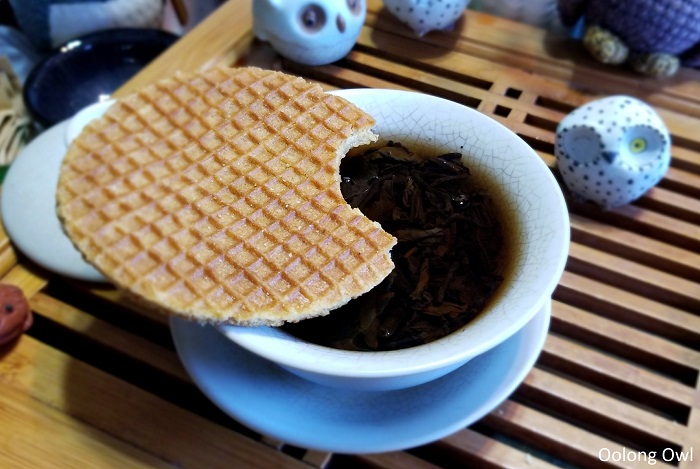 Ninth and Tenth Infusion: Waffles crashed fast and lost flavor. On 8th infusion, it was a touch light with sweet and woodsy notes, but still holding up. On 9th I brewed it 8 minutes and it was light with a crazy red colour.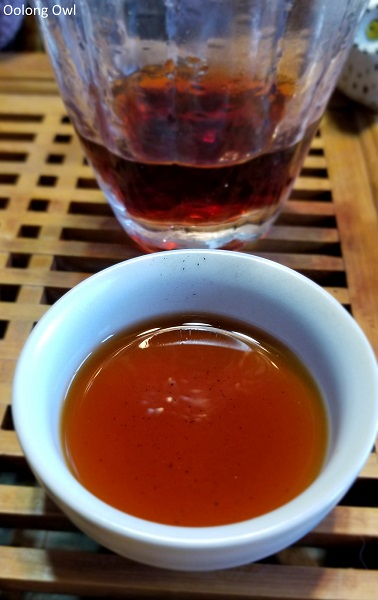 I wanted to do the leaf inside the waffle iron, but I rather not clean it after the fact!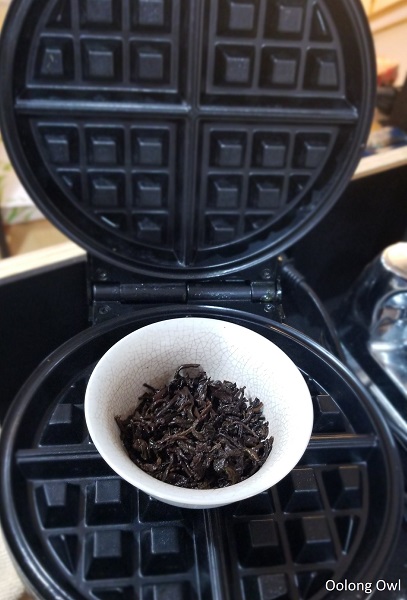 Bonus Grandpa: I threw in 5 grams of leaf in my favorite grandpa style mug. Waffles does not seem to oversteep, maintains a creamy thick texture, and tastes woodsy, with a bright syrup sweetness to it. The longer it goes, the stronger woodsy and sweet it gets, never tasting ultra strong or bitter. Waffles tastes pretty good grandpa style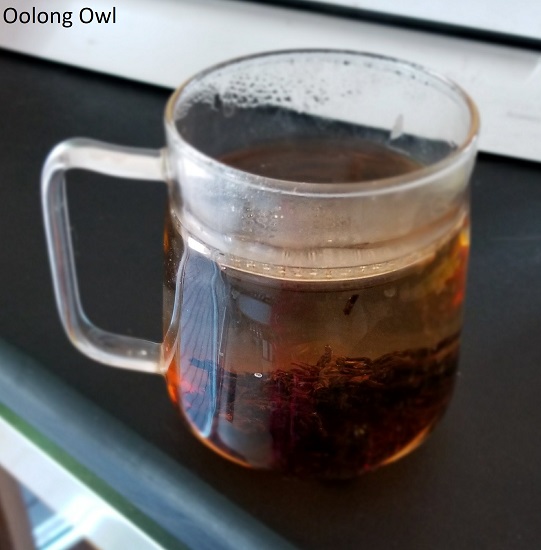 Comments
White2Tea's 2017 Waffles super easy going shou. Most will enjoy this tea and it is a hearty workhorse and travel tea. This is the perfect starter shou too as there are little offensive flavors and no tools needed. The tart notes are the only unpleasant parts of the 2017 Waffles shou, but likely that tartness could be due needing a bit more airing out time, though it easily is ready now to drink.
I can see Waffles being a great tea gift as it has a fun wrapper, no puer tools needed, and easy to brew. It is certainly worth it to own for a seasoned puer drinker if you want low fuss daily drinker that sports a solid balanced flavor. You could easily leave a cake at the office and drink it down, gongfu or grandpa style.
2017 Waffles can't be beat for $16.50 for 200 grams cake (at this time of writing).